Article by Paul Beasley Sunday, April 8th, 2018
OXFORD UNITED 0 OLDHAM ATHLETIC 0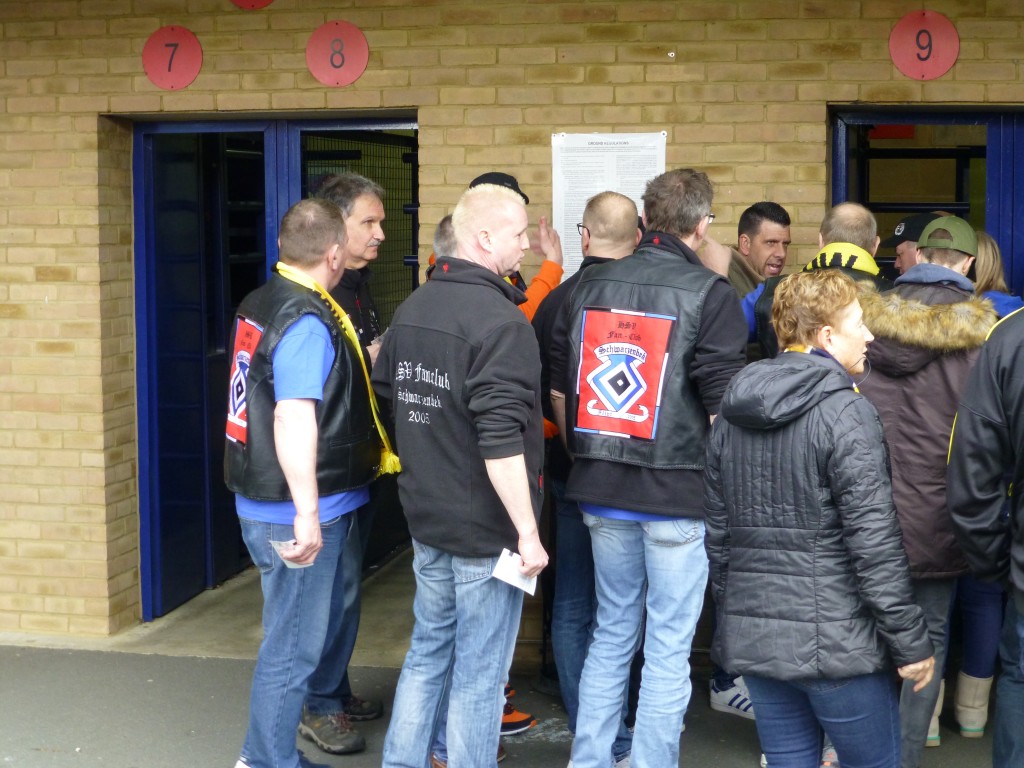 Wonder what these German lads made of the game.
Some Saturdays I leap out of bed with a spring in my step because it's football day. Here though I just wanted to pull the covers over my head and not face another trip to the Kassam Stadium such has been our poor form, lack of entertainment and downward plummet towards the relegation zone.
Away games I can handle, with the prospect of different scenery, different pubs, and different beer. Whilst the football is never secondary, the additional entertainment helps to get through the day and the horrors it might, and often does, bring.
Home games are different. Being honest there's no pub within reasonable walking distance that has much appeal for me so I've taken to just hanging around in the Quadrangle watching, and taking little interest in, whatever football is being screened. That should be a vibrant hub of home support but it isn't. Far from packed, it is noticeable how few people actually drink in there. I certainly don't – there are only bottles available and the choice is very limited. Prices are ludicrously expensive too and of course profits don't go to the club. It's all very depressing.
I had this game down as our most important since the last two games of our promotion season in 2015/16 against Carlisle away and Wycombe at home.
Some people had this down as the easiest of our remaining fixtures. To that I'd say firstly the way we are playing there's no such thing as an easy fixture. Secondly take a look at Oldham's form compared to ours. From the last eight games they'd gathered 14 points. Us, just the five.
The first half an hour was pretty even with neither side setting the world alight but during the final quarter of an hour of that session the visitors looked much the better outfit and way more likely to score than we did. Space which they had been finding in midfield was now being found in our penalty area. The swing in their favour may well have coincided with Josh Ruffels being replaced by Isaac Buckley-Ricketts. That's the first time I can ever remember JR having to go off injured.
Even before Oldham had set the momentum towards Simon Eastwood's goal I'd concluded that we very much have the look of a serious relegation candidate about us. We were doing our best to hide our glaring weaknesses but it wasn't necessary to look that hard to find them.
There was no penetration, a lack of pace, little movement, no real threat up front, and an infuriating tendency almost every time a player got control to then turn and play the ball backwards instead of turning and running or passing forwards. Add to that the fact that not one fan I know trusts our defence and it was easy to conclude we were doomed to face a defeat.
The second period was much like the first 30 minutes with little to pick between the teams although it was telling that it was Oldham who had more of the ball and were doing more of the pressing in added time. Surely as the home side that was the role we should have been playing.
Truthfully this was another very unsatisfactory performance but, if we choose to ignore their two very strong penalty shouts, there's a just about reasonable case that we were worth a point.
Although I'm still very much down regarding OUFC's current on the pitch performances there were positives to be had.
The clean sheet we achieved cannot be dismissed lightly. It was only our third in 2018. Other than luckily not having to face a couple of spot kicks we did, whilst not appearing impenetrable, have a more solid looking structure at the back than of late.
For a change we actually had a few players that deserved special mention come the final whistle.
On my scorecard there was much evidence pointing the man of the match award Rob Dickie's way.  He had strength and did some proper centre half defending. No nonsense stuff and not afraid to get hurt. Additionally he is both willing and capable of carrying the ball out of defence. His reading of the game is also improving. A bit of metaphor mixing when I've previously said we need men to step up to the mark to get us over the line and perhaps we've found one such man in Dickie.
There's also arguments to support Joe Rothwell and Ricardinho as rivals for any meaningless motm award. Rothwell had drive and determination to get forward. The sight of him setting off with ball at feet running towards the heart of the Oldham rear guard was one of the few things that really got the crowd going, a crowd it must be said that gave excellent support in the circumstances.
Of all the overseas players brought in, our small ageing (football wise) Brazilian is the one that Oxford fans have taken to and there's good reason for that. He still has an obvious enthusiasm for the game and clearly wants to be with us again next season. In midfield, whilst not being that master craftsman we lack who can unlock doors, he gives something different to those around him. He has a bit of trickery on the ball and is mostly looking for attacking opportunities. When by necessity he had to drop back into his more accustomed left-back slot, his attacking intentions were still to the fore. Defensively though there was more space down Oldham's right flank than when Ruffels had been there. Our local lad had been doing well. He never gets injured so why on Saturday? We need all the fit and willing bodies and minds we can get for these last few games and Josh most definitely fits into that category.
My abiding memory of Ricardinho in this affair though was when he burst down the touchline covering about two thirds of the length of the pitch in the second half. Sheer willpower produced speed to out run a blue shirt occupied by a larger and younger opponent. He got as far as the corner flag but, as ever, the team as a whole had not gone with him. We didn't have many breakaways but when we did we never achieved it as a unit. On one occasion we did get four men right up front (and onside) but the rest of the team were over fifty yards away. That doesn't help the cause of scoring goals although I do acknowledge that it does help in not conceding and a defeat here would have been calamitous.
For the players that deserve praise there are others that warrant the opposite. "Leave a lot to be desired" is an oft used saying and many times it can fittingly be used to describe the performance of a football team or individual player. I don't think that applied to Isaac Buckley-Ricketts. The appropriate phrase would be "leave everything to be desired". I can't remember a player in a yellow shirt being so goddam awful. Everyone in the crowd knew and saw it from his first touch (or lack of) onwards. Someone said something like, "bloody hell that's shit". I replied that he has to be better than that, doesn't he? He must be – he's played for England at U18, U19 and U20 level. He's been at Manchester City since he was 13. Logic said that yelling abuse at him wouldn't help one bit. I concluded that he probably felt like a piece of shit anyway. He didn't just look like a kid thrust into a man's game for which he wasn't suited, but a very little boy lost. He had no control, lost the ball every time it came to him and when he tried to knock it and go past someone, didn't have the pace (or was it determination?) to get away. This was in marked contrast to Ricardinho's effort referred to above and IBR is 13 years his junior. I don't know what the problem was. Physical or mental attitude? Or was it just one of those worst of days at the office. In a way I actually felt very sorry for the lad but feeling sorry isn't going to help us in our plight. We're not here to give a gentle work out to those in MCFCs huge squad who are never going to get within a million miles of their first team.
Fourteen minutes plus a few added for stoppages and that was his lot. I've never seen that before in a league fixture. I just wonder what it has done to his confidence, not that he demonstrated any anyway. Someone needs to sort him out and the responsibility for that lies at the Etihad Stadium.
I must confess it all got so bad that I did let heart take over from my brain and was on my feet a time or two hollering I know not what. It might well have been directed at individuals although I try my very best to hold that sort of stuff in.
IBR wasn't the only one that caused me great frustration. Jon Obika was doing what a lone isolated striker with no genuine service or support does for much of the first half. Hard to blame him for a lot that was, or wasn't, going on but producing nothing to inspire. He won a few balls in the air. It is debatable whether that was down to him or others that they went nowhere near a yellow shirt. What really got me was his lack of reading of the game or intelligent movement. If the ball was passed in his direction he would look at it then set off. I can't remember spotting any run he made which demanded a pass. He hasn't scored since the year was in its infancy when he achieved three in three. (Record – 301.4 mins played per goal scored. Conversion rate 10%)
I've covered about half the team thus far and the others to a greater or lesser degree played a part in ensuring that we didn't lose.
Eastwood came and took a few crosses although wasn't inundated with them as has been the case in some recent games. Not letting a goal in can't be bettered although his distribution easily could.
Todd Kane was a steady presence and his "'I'm not f*****g coming off' when the stretcher was about to be brought on is exactly the attitude that is needed to keep us up. Forget fancy football. Some loan signings work out way better than others.
We saw all the sides of John Mousinho's game we have come to expect. Some good interceptions, assured on the ball, liable to get caught in possession at the back and failure to do the basic hard defending at times. He had though markedly improved on the Shrewsbury game.
Midfielders Ryan Ledson and Cameron Brannagan it has been said are too similar and I'd have to concur with that. However if that's what is needed to eke out those last few points we so desperately need I'll go along with them both being selected. Collectively though they do provide a defensive look to our midfield but Brannagan is probably seen as a long term replacement for Ledson who many are expecting to move on in the summer. On the day each were steady but still there were periods when Oldham had too much room to operate in the middle of the park.
At first James Henry's contribution looked little better than he'd come up with on Easter Monday and whilst getting nowhere near his best, he did improve. It was Henry who had our best chance before the break and should probably have scored but to his credit he created the chance himself by robbing Kean Bryan (Yet another Man City loanee.) We had a case for a penalty in this incident as John Obika hit the turf but if referee Eddie Ilderton wasn't going to give Oldham theirs we were never going to get this. He was rather lenient to the extent that smacks to the head leaving a player prone and potentially knocked out didn't result in play being stopped.
Photo, Simon Jaggs
That leaves Wes Thomas and for me he again supported the theory that whichever striker comes off the bench will be the better of the two. We now had movement. WT is quick of thought but unfortunately not quite so of body. It was he not his strike partner (not that there was anything of a partnership going on) that looked the likelier to make something happen. For those who think he is lazy there was strong evidence to the contrary. Having badly mis-controlled and lost possession he wasted no time in trying to win it back. He was unsurprisingly not fleet footed enough in doing so and rightfully got booked. He was also happy to put his body on the line at the very last knockings and the battering he took has probably removed him from the next game. (WT record –   222.7 mins played per goal scored. Conversion rate 24%)
This leaves us in much the same position meaning that Tuesday's game against Fleetwood is probably even more important than this one was. The pressure increases with every failure to win. No wonder there were NHS people on hand on Saturday to carry out health checks.
I can't agree with Jerome (I think it was him) when he said on Radio Oxford that Fleetwood have nothing to play for. They may have been on good form with four straight wins prior to losing at Rotherham, but on 51 points they have played a game more than us and if we were to beat them and win our game in hand we'd overtake them. The way we are playing the chance of that happening is very low but you never completely know, football being what it is.
Bury now can't catch us. We've known for weeks that this would be the case with a few games to spare. The pisser was that they lost to Walsall courtesy of an 89th minute own goal. We are now only above the Saddlers on goal difference.
One back handed benefit that comes from drawing with Oldham and not losing is that they didn't get two extra points. If they win their game in hand on us they'll too be level on points but currently their goal difference is inferior by six. This coming Wednesday they host Walsall.
There will be much fingernail biting going on around the country.
Second bottom Northampton didn't play this weekend but have still played one more than us. The maximum points they can get is only eight more than we already have in the bag.
For MK Dons that figure is ten but they'd found some form that, if sustained, would have rescued them before they had to host Blackburn and travel to Wigan; the latter resulting in a 5-1 hammering. (I've bought my ticket for our trip to the DW Stadium on April 17th but I don't want to think about what could happen there.)
Rochdale are playing like a team that are way too good for the drop and their 3-3 draw against play-off chasing Pompey should be viewed as a more than acceptable result. If they win their game in hand they'll be two points adrift of us and come to the Kassam for the second last game of the season.
Can we, the fans and the players, handle the pressure that is bound to come our way?
Another team in a worse position than us is Wimbledon. We've both played 40 and we're four points to the good. They achieved what we did, a home draw against a Scunthorpe side who are no longer able to win football matches. For them to catch us they need to better our output at the moment. I'm not sure they are capable but I wouldn't bet on it.
Karl Robinson talks a very good game. His early Oxford record is two draws, two losses and no wins. Having to work with players in the building when he arrived he can hardly be judged on this. There's already talk of next season being better with agents having been contacted and the like. That's all well and good but there's a huge job to be done with the current squad in the last six games. Whether they are going to be here or not in 2018/19, and whether they know it or not, they need to be up for it every second they are on the pitch between now and the final blow of the whistle at Ewood Park on May 5th just gone 7 o'clock.