Article by Paul Beasley Friday, March 30th, 2018
OXFORD UNITED 1 SCUNTHORPE UNITED 1
In front of the sky cameras again for another silly kick-off time. Apparently I know the camera man's brother. 
What an utterly welcome point this was. Not because it is, hopefully, one more in our slow crawl towards safety, but due to the fact that our first half performance had been abject and we were very lucky to be just the single goal behind.
The main talk at the interval was just how bad we were. The question was asked, "Have we been this bad all season?" Well yes we have. There are many contenders, which is why we are in the mess we are. I'd mark that first 45 minutes at about 1.5 out of 10 but there have been worse.
If we had carried on in the same fashion in the second period we would probably have got stuffed. Someone mentioned Wigan. We made the Iron look good but they're no Wigan.
If we carry on in the same fashion for the remainder of the season relegation is an absolute cert. We had so many weaknesses.
If this had been horse racing I would have said that the handicapper had got mixed up and given extra weight to the wrong side, such was Scunthorpe's quickness to the ball and movement in general compared to us. Not that we actually looked like we had any meat on us when it came to the physical battles.
I'm not very good at picking up on formations. Those pesky players tend to move about to a greater or lesser extent and make it difficult to work out where they're supposed to be. (NB: We were the ones claiming the "lesser extent"). I did however spot that we didn't have much of a midfield. We weren't winning the oh so important battle in that area and Scunny had room to operate there. Our tacklers weren't really tackling and if they did, they got booked for it so stopped doing so immediately. Post-match I learned that we'd been playing the diamond. (Or at least trying to).
Our full-backs were hopelessly exposed and poor Ashley Smith-Brown just did not look like a defender that can get stuck in and win the ball or indeed stop crosses coming in. When crosses came in it looked like the defence were crapping themselves. Well we were in the stands.
We didn't mark. We didn't track runners.
It was so easy for Scunthorpe to keep the ball when they had a throw in. And so easy for them to get hold of it when we had one. Bloody basics.
Nothing seemed right. I hate to think what the rate of accuracy of our passing was. Perhaps I should rephrase that. I hate to think if we'd excluded the most simple of passes, what the rate of accuracy would have been because such was our lack of movement and vibrancy that we did a lot of that slow across the back stuff looking absolutely clueless as to how we were to get anywhere near the goal Matt Gilks was defending.
It was the usual story of threat from any quarter decent ball played into our penalty area with us seemingly unable to show we can cope. Corners and free-kicks = ****, we're likely to concede here.
The visitors looked way more dangerous than us and created way more chances. I think we had one that Wes Thomas was kind of close to doing something with, but that was it. They must have thought, hey we can fill our boots here.
They didn't because for once the gods were on our side. By the time referee Darren Drysdale signalled time for a piss and a cuppa, Scunny had hit the frame of our goal and had what to me looked like a deliberate handball which prevented a goal missed by the officials. If spotted we'd likely have conceded the penalty and gone down to ten men for the second game in a row.
When we re-started something was different. We looked more solid and when we did not have possession, yellow shirts slotted into their positions quicker than hitherto. Most seemed to get goal side much quicker, giving our opponents less space to play in which meant that they were now just as likely as us to play the ball cross field in areas that were never going to hurt us as they looked for the space further up field that no longer existed.
They did hit the bar at the fence end but the chances they were creating were nowhere near as abundant as when they were going the other way.
Another big difference was the introduction of Jon Obika. On the face of it Thomas had not justified his place in the team, but closer analysis shows the service he got hardly existed and he did again win one big header when defending a corner. There was also one though when he almost set up a green shirted striker.
Obika just had more of a presence that worried defenders and at least got up a bit to go for high balls.
(It was noted that Karl Robinson said something about two new strikers in the fans forum. Are four needed? Has he already decided that these two are not what we need going forward?)
Going forward is something we did much more in that second half. Players were willing to run, reasonably quickly, with the ball, in a forward direction. What a difference that makes.
It was Obika who won the penalty. Initial euphoria quickly gave way to the memory of Fratton Park. That angst grew the longer the kick was delayed. Come on Drysdale, get on with it.  I raise a glass to James Henry for the way he coolly slotted it away.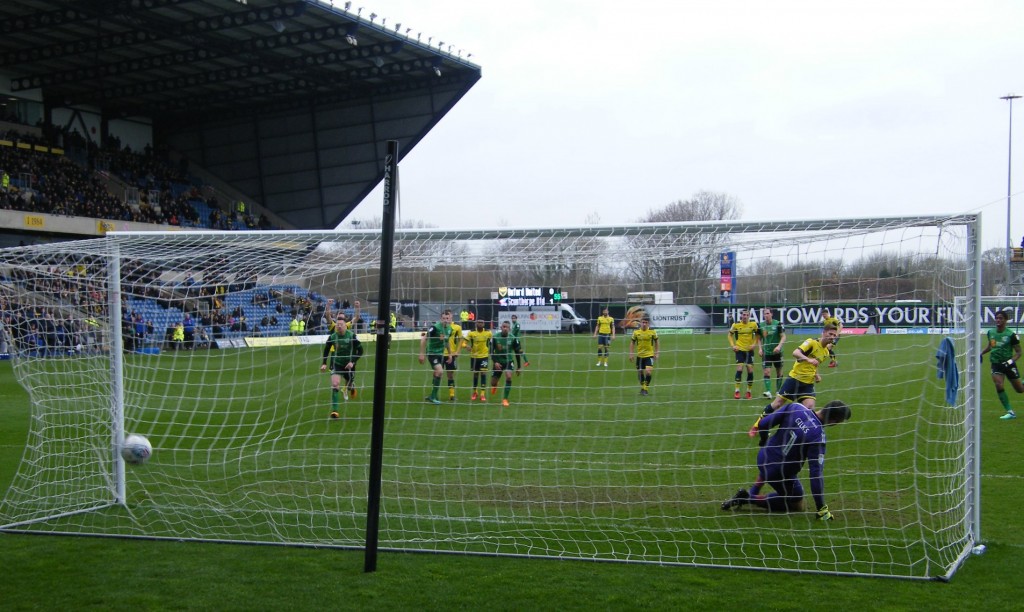 That's the way to do it. Photo, Simon Jaggs
There was still a long way to go at that stage but as much as both teams were going for all three points, it became increasingly evident that each were probably satisfied to come away undefeated. I can sort of see that.
If we get a point per game we'll be safe. (Er, we've got to travel to Shrewsbury, Wigan and Blackburn. Get very real)
Scunthorpe are well in the play-off battle, however they'd not won in eight before they came to Oxfordshire, picking up just five points from a possible 24. If they don't start winning soon they'll be below that coveted sixth place. But as I keep saying the occupier of that position isn't likely to be all that, so they must have something of a chance. (If only that was us). I would still have expected them to have flung a bit more at us as the game entered its final stages but perhaps all really isn't quite as the league table shows because after all they decided to dispose of Graham Alexander after their previous match.
Could it be that all is not well behind the scenes either. Their accounts for y/e June 2017 have just been published. They lost £3.4 million. (£2.6m in the previous year). Of that loss £1.3m represents expenditure on the new stadium, which the last time I looked seemed to be going in the wrong direction. For the record the player wage bill was £2.7 million.
So where does this leave us?
We're struggling. (No shit Sherlock) If we weren't we would beat teams coming to us with a record like Scunthorpe have. We are not the only team struggling though so it is not full on gloom. I'm checking out what others down the bottom are doing and looking at the points difference between the maximum they can get and the number we have at any one time. Every time they drop points or we pick any up the swing is in our favour and I don't feel so bad.
I hate all the negativity which some of our so called supporters love bringing to the party which makes me want to rebel against such attitudes and only be one of those everything is and will continue to be okay guys. But I can't because that's not reality.
Simon Eastwood did not come for crosses and I'm of two minds as to whether he made a good save before they score or if he should have either held the initial shot or at least got it away from the danger zone.
John Mousinho once more read the game well and got into positions to tidy up but unfortunately he then did nothing of the sort. His footballing instincts tell him to keep the ball and dribble or pass his way out of trouble. Often that didn't work with his first touch almost setting up a rival. Has he ever won a header sending the ball a considerable distance from our goal? How often does he put his foot through it? I'll repeat that I don't think he's as bad as some would have you believe but neither do I think he's part of a central defensive answer for the future.
I'm not an early riser so didn't get to the ground in time for the Fans Forum, nor did I plan to do so. It was someway in before I realised it was available online. The bit I saw I was reasonably happy with. I really don't know what some people expect to be said. Our moaners will moan and moan some more.
I'll just wait and see what the future brings. The first target is to stay up and only then will planning for 2018/19 have true meaning. What's the budget? Etc. Etc.
What is making me feel quietly less pessimistic is the attitude of our new head coach. He turned things around in the second half, if not to such an extent as to bring the win, but to gain a point. The weakness in our formation was spotted and acted upon.
He knows that we have needed 10 more passes on average to score a goal than other L1 teams. He knows that trying to score the perfect goal to the detriment of getting the ball in the back of the net L1 and L2 style needs to be addressed. Seeing his passion and animation and will to succeed he is a pretty good man to have in place to sort this out. The tools he currently has to work with will not be those he would have gathered if he'd been around for a close season or two.
I think it is a case of survive, possibly by the seat of our pants, and then watch this space.