Article by Paul Beasley Wednesday, March 28th, 2018
KARL ROBINSON
It can't be denied that the wait for a permanent replacement for Pep Clotet dragged on and on but I wasn't one of those who went into melt-down claiming that we were a laughing stock. Much better to get the right man in than appoint someone with undue haste. Some seemed to go rather twisty knickerish when Stevenage brought in Dino Maamria just two days after parting with Darren Sarll. Who and who? And who cares? It's also worth noting the two in charge at Broadhall Way prior to Sarll were Teddy Sheringham and Graham Westley. Neither were successful there. Beware big names with no managerial experience and those who play a certain way.
I am very reluctant to give an opinion on names being bandied about prior to any appointment actually being made because whatever will be will be and it makes no sense whatsoever to show negativity towards the new man before he has done anything either good or bad at Oxford United. What's best for our football club? I'd say positivity over negativity. And even if you're not over-joyed at least give the new man a chance. I'm pretty sure I saw somewhere on social media an Oxford supporter (??) calling Karl Robinson a c**t. I can't get anywhere near understanding why anyone would do this.
Now we at last have a new manager, or should that be head coach which I believe to be his official title, I'll be forthcoming. I'm very pleased it's not Sven (a 70 year old who doesn't know EFL 1), Patrick Kluivert (never managed a first team club side and doesn't know EFL 1), Craig Bellamy (no experience), Frank Lampard (no experience), Steve MacLaren (his face has the look of a football manager who can't take it anymore) and …… I could go on but there's no point.
I never believed we'd get a wow manager in and always thought with Tiger's grasp of the English language not being quite all that, his view of wow is probably different from mine. Wow could actually have been a big worry.
As ever it's the proof of the pudding that will provide the answer but I'm probably happier with Robinson than almost any other name mentioned by the bookies at any time. He knows this division well. He is very experienced with over 400 games as manager already clocked up. Yet he is still only 37 years of age. That is a phenomenal stat.
He had a 42.5% win rate at MK Dons and got them promoted out of this division but they (and he?) couldn't hack it in the Championship and with only four wins by 23 October 2016 back in EFL 1 he was sacked. Success obviously is not guaranteed but I recall the quality of the football the Dons (spit) played in his early days and I subscribe to the theory that after a few years a staleness creeps in and it is time to move on which is best for all concerned. There have been examples of this at Oxford. Chris Wilder and Brian Horton are examples that spring to mind and I bet Arsenal fans can't wait to say, "Tell me about it mate, but we can't get rid of the bloke".
At Charlton Robinson's record was not so good, with just one more win than defeat being achieved, but it has to be borne in mind that they are considered by many as a basket case of a club under the ownership of Roland Duchâtelet. With a sale supposedly imminent, Robinson decided that 16 months was enough and it was better to jump to Oxford instead of waiting to be pushed when the new people coming in would bring their own ideas and management team.
Other positives are that he lives quite locally so shouldn't be travel lagged on a daily basis and seems to have a real enthusiasm for the club and kind of understanding of what we're about although I do think he may have over-estimated the size / potential size of OUFC.
PORTSMOUTH 3 OXFORD UNITED 0
As I got a lift with some walking footballers I left the Shire at 9:40 a.m. even though kick off wasn't until 4:00 p.m. courtesy of Sky TV cameras.
Whilst our walkers remained at the Roko Health Club on Copnor Road, home of Portsmouth FC's training base, I marched off to the pub. In Thatchers on London Road I was greeted by a life size Elvis sat on a bar stool with guitar in hand and blackboard informing of live Easter Monday music in aid of the Oakley Waterman Caravan Foundation. So an Oxford United connection there. It is sadly 13 years since young Oakley passed away. RIP young fella.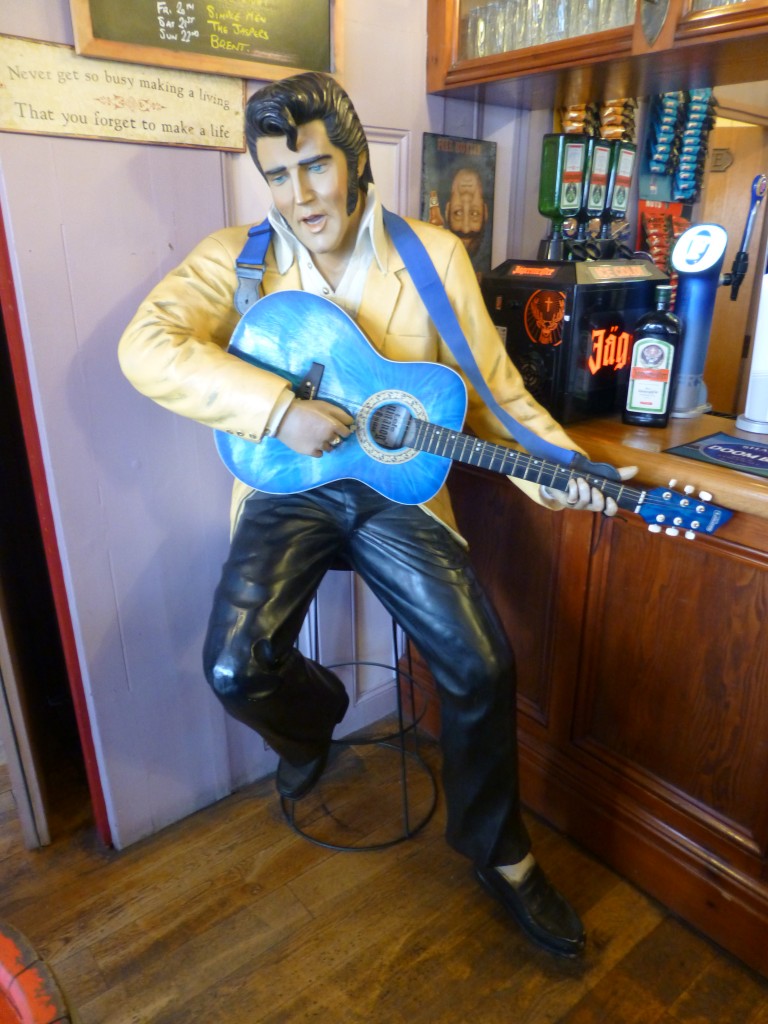 Back at the training ground I witnessed about 20 minutes of this walking football lark. I have been tempted but have used lack of fitness and very occasional sciatica as reasons to steer clear. There's no doubt that people come off the pitch dripping with sweat and looking knackered. That's undeniably due to the age factor and the fact that this was really very gentle jogging, not walking.
Here they were playing three touches. There were just five players from Pompey and as it was five a side no rotation from them unlike the visitors. That didn't affect the outcome. Those in blue with their 72 year old keeper scored quite a few more than the Oxford men and lady.
This though isn't all about winning and losing. It's about the social side and exercising as the years catch up with us all. The Portsmouth hosts could not have been friendlier or the hospitality bettered. They were such a mild lot I couldn't help but contrast them with the way the average home supporter in Fratton Park came across during the ninety plus minutes of action.
Before the main event there was refreshment laid on in the form of a quality buffet, tea and coffee in the "Pompey in the Community" Building. As a hanger on I partook and was impressed with the way the mascots and their parents were being looked after and organised in this building prior to their big day out.
Not only all this but parking permits were provided a minute or so (that only applies if you can find the car after the game, I couldn't) from the ground and quite a few free match tickets too. The downside to that though was that they were in with the Pompey fans. Even if I'd been a walker I think I would have politely declined.
Bearing in mind the television coverage I thought the yellow turnout, a touch over 1,000, was quite impressive and with the roof on the Milton End being what it is noise can be generated without the greatest of effort. Any Oxford din though would presumably have been more than drowned out by the blue occupying the remaining three and a half stands.
With a new boss on the touch line and on the back of a spirited showing against Peterborough I was expecting a start somewhat different to that delivered.
All the good things we'd seen eight days earlier had disappeared. Our passing wasn't accurate and we were not winning any battles with Pompey seemingly free to come at us at will. No player looked on their game and whilst not wanting to single out James Henry I think it can quite often be said that how he's doing is a good gauge of the teams overall performance.
It only took five minutes for that oh so familiar feeling to descend upon us. Whenever we concede a corner it's "shit, we're in trouble here" that takes over my thinking. And we were. There was mention of a foul but having seen the replays I've seen a lot worse not given. It's that we've not got a dominant centre half or dominant goal-keeper. Nor are we organised or appear to mark effectively.
Whenever we let in a goal in such fashion a debate with my mate ensues. He has never rated Simon Eastwood that highly. I have but can see where he is coming from and am now of the view that he's getting worse. When we first got him, compared to Sam Slocombe, we had a keeper who was way better at coming and taking crosses of all descriptions but let's be honest that bar was set incredibly low. I've argued that the centre halves have to take some responsibility too but that is fairly countered with the point that it is a goalie's job to organise them and shout and bawl at his defence as necessary. That does not happen. For this goal Eastwood was nowhere other than lost.
Not for the first time a disagreement broke out near me. "I wouldn't have him in North Leigh Reserves". (Bit of an over-reaction). "What do you mean? If we didn't have him we'd be in the bottom four". Um. I'd say he's done us proud since he's been here but at present is on the wane. Hopefully it is something that can be sorted one way or the other.
After about a quarter of an hour we improved and by the time of the break we'd been the team that had the greater share of possession and were unlucky to be behind, possibly unlucky to not be leading. We were winning possession, picking up anything dropping loose and knocking the ball from one yellow shirt to another.
Henry began firing and rattled the bar from the edge of the box. An inch or so lower and it would probably have gone in.
Malachi Napa, in his first start in the league, from slightly further out forced Luke McGee into a stretching finger-tip save.
We nearly got the ball over the line following a scramble after a corner from the right which is proof that we're not the only side very vulnerable in such situations. This didn't go in though.
There were other efforts but we started the second period still a goal behind. Possession wise this half began much like the last half hour of the first although I didn't think we were now actually fashioning many chances.
Some football matches have pivotal moments. It does not take a genius to work out what that was in this fixture.
Referee Charles Breakspear, although not the worst I've seen this season, was another official reminding us that the standard is not very high. He'd missed a deliberate handball from one of ours that was clear from the stands. Soon after we'd won a corner. If only he had awarded Pompey the free-kick they were entitled to and the ball had been delivered to our half of the field I'd be writing a very different piece from here on in.
Alex Mowatt swung the ball in with his left foot, and there was some pulling and other activity that's seen in every penalty area at every corner which caused Breakspear to blow and point to the spot.
If this goes in we are level and the momentum is with us. Portsmouth have not won at home in 2018. Their crowd might be very much 12th manish with their support when they're going forward and things are going for them but there had been a small but noticeable under-current of discontent when their team weren't seeing as much of the ball as they would have liked. I'm sure that would have surfaced if Mowatt had converted.
From where we were stood it appeared to be a perfectly struck kick as it flew past the keeper. But again those lines between success and failure are so tiny with an inch or two to the left and the net would have bulged.
Failing to convert is bad enough because it gives a real fillip to the defending team but here that was compounded many fold by what happened next.
It goes without saying that Mowatt should not have reacted as he did. The laws of the game dictate that he has to be shown a red card so that can't be argued with. So much better if he'd just glared back at Nathan Thompson and then let his football do the talking, but football is a highly charged game. We want to see passion and who knows how each of us would have reacted in a similar situation. I think I would have probably restricted it to verbals.
Amazed that he's sat up given the force of the slap. Hard man. Photo, Simon Jaggs
Thompson is of course still smarting from the post-match Chris Maguire cry baby taunt at the County Ground. Seems he is blaming Oxford United instead of the individual concerned. At the time Mowatt had just signed for Barnsley from Leeds. If Thompson had any balls he would save such behaviour for when he next comes across CM. However we all know that the Bury substitute has it in his locker to just take the piss even more and make Thompson look even more of a twat.
His play acting from that little slap will not have done him any favours in the circles of good honest professionals (if such a thing exists).
But when all is said and done he probably managed to ensure that his team won quite comfortably from that point on so his team mates and supporters will be saying well done that man. What would our reaction have been if the boot had been on the other foot?
The way the officials dealt with the whole situation left a lot to be desired. Breakspear had his back to the slap so it must have been the linesman who'd seen it happen. That being the case he must surely have seen Thompson's run from over 10 yards away to get into Mowatt's face. I don't know enough about football's laws but if that does not warrant a yellow card I would expect to see such behaviour many times during a game. Did the fact that he was already on a yellow come into play?
Seven minutes later we were two behind and never going to get anything out of the game. We were undone easily down the right by some simple but highly effective Portsmouth passing and when the ball was played across the box Brett Pitman was there to emphatically finish.
Then with a further ten minutes on the clock he added his second and Pompey's third with a tap in after we'd again been breached quite easily.
Bloody Pitman, a player you absolutely hate. Unless he plays for your team, then you'll love him. I lost count of the number of Oxford fans comparing him to Danny Hylton.
The home side didn't impress me but they got the job done and took their chances so in a way, fair play to them (other than Thompson). They've got a bit of a shout for a play-off berth and as I've said more than once, I don't think the side that ends up in 6th place will be very good, so who knows.
Whilst 3-0 will go down in the record books that doesn't really tell the story but there were too many things wrong with this performance for us to have a cast iron claim that we wuz robbed and definitely deserved to come away with something.
Defensively we looked susceptible and still really bad at dealing with high balls from set pieces launched at us.
We didn't score when we had eleven on the pitch and we mustn't forget we did miss another penalty. Gift horse and all that. (Goal scoring is currently a huge problem. We've got just five in the last seven games).
Plus for all our decent retention of the ball when we portrayed ourselves as at least a half decent footballing side we had players who performed well below par for L1.
I don't particularly like singling individuals out but when analysing a performance it's not really possible to do so without.
Ashley Smith-Brown again didn't look like a defender.
Wes Thomas had a pretty atrocious game. The ball never stuck and he had no influence whatsoever. I've stuck up for him many a time but it's hard to do so on this effort. Many were questioning whether he was putting everything in.
Napa at times did look like a little kid and was so very easily dispossessed.
There's no room for passengers in this game and if there are those who are not carrying their weight (some are heavier than others) Robinson will soon see to that. He will have learned such a lot from what he saw here and is seeing in training.
For all that though I'm not having any of this bloody nonsense when we have fan's declaring things like. "He's f***ing useless". "I'd score more goals than him even wearing a blindfold." "Mowatt should never play for us again".
I know some of this is said in jest but often it is totally meant, and probably believed. I'm having none of this or perhaps I don't understand the definition of useless.
Thomas is still our leading scorer with nine goals. I can't recall him getting any service at all here. He won one header when we were defending a corner and got the ball further away than when any of our defenders try to do something similar. It was also very noticeable that when we had shots on goal he was there in the right place waiting to pounce. Not the 20 goal a season man we crave but for me certainly not useless. Also, perhaps he's not fully fit.
And as for anyone who thinks Mowatt should be shown the door because of what he did, how bloody righteous are they? As the saying goes let him without sin and I'd add another. "One might as well be hanged for a sheep as a lamb".  In hindsight he might as well have gone for a full-bloodied fist to the face if the punishment would be the same. (But I don't condone violence).
We move on very quickly. Instead of having a whole week to get his methods over and the team beginning to play the way he wants thanks to TV and Easter KR has a somewhat reduced timeframe but I still think we'll see a change.
I very much liked his post-match interview. He was so passionate and had noted that we're not getting the ball into the box or playing passes at the first opportunity. Hopefully that will translate into something altogether quicker and sharper.
The times ahead are challenging but also interesting too, starting with the visit of Scunthorpe on Good Friday. They're in a play-off slot but having played more games than those around them cannot afford to slip up.  Nor can we, can we?