Article by Paul Beasley Monday, September 3rd, 2018
SUNDERLAND 1 OXFORD UNITED 1
When the fixtures came out this was the game more Oxford fans had an eye out for than any other. For tier 3 the Blacks Cats are an absolutely massive club. This is only the second season in their history that they've had to play at this level, the other being 1987/88. The Stadium of Light has a capacity of 49,000 and is the eighth biggest league ground in England. Compare and contrast this experience to the venues we were visiting in the Conference just nine years ago. That season we played a game at Grays Athletic where the crowd wasn't that much greater than 1,000. We took more fans than that up to the North East where the total attendance was 32,193. I doubt we've played many league fixtures in front of more people.
We have played there a couple of times before but for many this would have been a new place to visit. I'd been once before but much has changed with the arena having been extended and the surrounding land having been built on.
Throw in the Stuart Donald / Charlie Methven factor, oh and that other Oxford United connection, Chris Maguire, and there were all the ingredients for one of the most eagerly awaited encounters for many a year.
I'm an Oxford United supporter. I feel a compulsion. If I had millions and millions of pounds I would almost certainly not invest in / throw money away on any football club but if I did, Oxford United would still be the only one for me. SD may be an Oxford United fan but that obviously has not been to the exclusion of all others for some time now. He's put money into OUFC via sponsorship and was until recently co-opted onto Oxvox. But now he's traded in Eastleigh for a model that is vastly up-market, in football terms if not the area in which it is located, he is now in direct competition with my football club.
Here's a few quotes from the Oxford Mail on 28 May:
The successful businessman is a lifelong U's fan and has come close on more than one occasion to being heavily involved – and even owning – his hometown club.
However, when former United chairman Darryl Eales pulled the plug on a deal involving Donald and Juan Sartori to instead sell to Sumrith Thanakarnjanasuth, the new Sunderland owner knew he had to move on.
"That was the chance," he said. "Once that deal was over, I was done."
The irony now is that the duo are set to be reunited at the Stadium of Light and go head-to-head with United next season after Donald spent the weekend in Monaco with Sartori discussing his potential involvement with the Black Cats.
Another lifelong U's supporter, Charlie Methven, also part of the duo's bid for power at Oxford, has already been confirmed as a minority shareholder.
Donald will pay £40 million over two years to former owner Ellis Short, having had the club's debt wiped out. Coupled with Sunderland receiving Premier League parachute payments totalling almost £50m over the next two seasons, he believes the figures stacked up.
"It's a phenomenal club," he said. "When you actually see it and appreciate what you have here.
"For the price and given the stature of the club, it was a very difficult deal to say no to."
Personally I would have thought it is very easy to say no to. Just because you can't get the team you support doesn't mean you have to go get another one does it?  I still don't get the why, I really don't, but then I am looking at things from my perspective and that's someone who has not missed an Oxford United competitive game (other than the Checkatrade) home or away for a few years now. That's an addiction I want to continue to fulfil as long as I am able.
I'd heard that on social media the home fans had us all down as Oxbridge types and were expecting to give us stuck up types a good hiding on the field. My experience was far different chatting to the locals in the pubs in Sunderland pre-match and in Durham where we combined a four night break with the football.  Some understood that arrogance and expectation, amongst both the club and fans, that they will walk the league, will get them nowhere.
Two of the pre-match establishments we visited, Chaplins and Fitzgeralds, were absolutely rammed with red and white and that was also the case in many other drinking holes we walked past as we made our way to the ground. This again brought home to me the size of the club we were playing and that this was proper football territory in terms of community and numbers.
So did this make me feel apprehensive as to how things would turn out? After our first four league games I was fearing a hiding, but following the Burton win and cup progression at Newport was feeling much more confident, particularly as I'd been informed that our opponents had kind of got away with it at Wimbledon. I was nearly tempted by a combination of the odds on offer for the draw and away win. But not quite.
When the game was 11 v 11 I thought we were the better side. (I'd expressed that opinion before I knew that post match Karl Robinson had said the same, but I don't think you need to be that clever to have come to this opinion.) We looked in control, moved the ball quicker and had better movement than they did. Players were confident on the ball and had the beating of their markers. It was all very encouraging and there was little argument that the goal was deserved when it came as early as the 16th minute. Fouls were plentiful and when Shandon Baptiste was brought down on the edge of the box we had a chance of scoring because in Ricky Holmes we have a player who can make a free-kick from the right position a genuine goal-scoring chance. A goal it was.
If Sunderland had been rattled at the way we had started, they got even more rattled after the goal and three minutes later had lost Max Power to a red card.
That we only picked up a single point from this position is a touch disappointing but overall I'm massively encouraged by this performance and I don't get the moaning from a few as we were exiting the ground, "ten men, blah blah blah" and there were even some who were focusing on how "shit" Jon Obika is. Bloody hell, he played for six minutes plus stoppage time. Lighten up folks.
I'm greatly heartened that we now look like a team that can be competitive against everybody in the division and also provide some great entertainment along the way. Having been highly critical earlier it is now only fair to praise our manager for the turnaround, although I'm not ignoring the fact we're still third from bottom.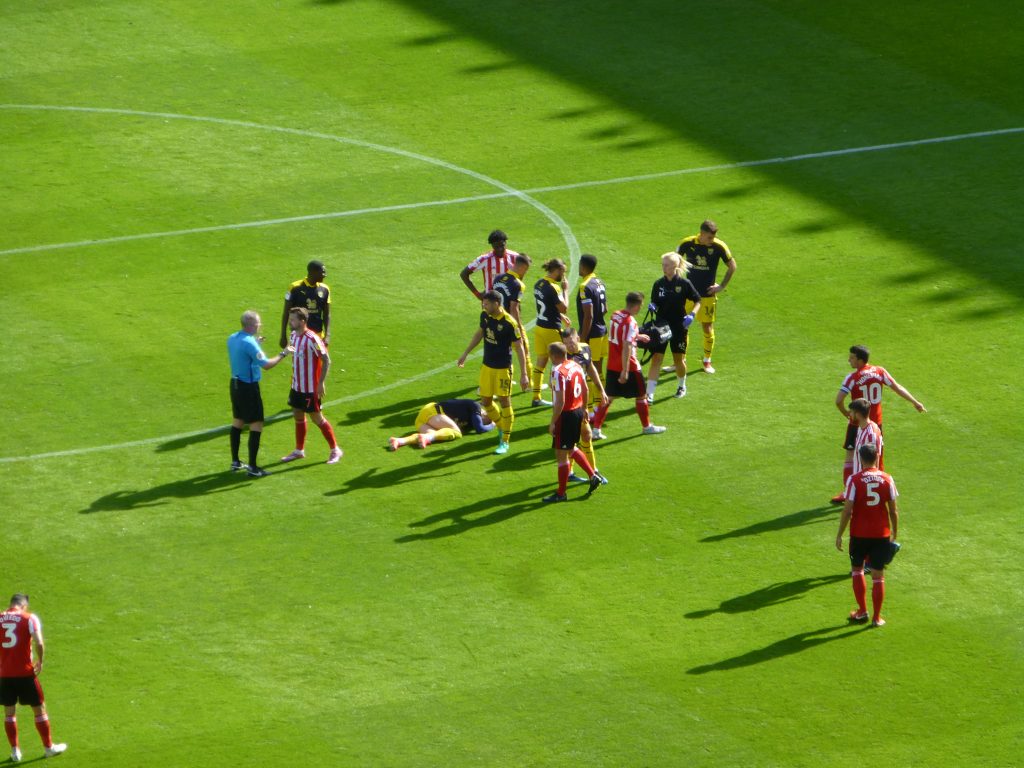 Yes we were a man to the good for over 70 minutes but to be honest I don't think that did us any favours, daft as it may sound. The highly vocal home support cannot help but be that extra man in the form and mood they were in. I don't know if they really believed Power's dismissal was an injustice or whether they knew they could now howl for everything in the not forlorn hope of influencing the officials. Irrespective of which it was I'm damned sure referee Mark Heywood was greatly affected. He was never going to give a second home player their marching orders. Those that picked up yellows realised they were immune from getting another. Chris Maguire was particularly lucky in this regard. In fact after the red card I thought the ref largely favoured the red shirts. Baptise got booked when he got his body between man and ball and used his strength to shove that man away. When roles were reversed in what appeared exactly the same circumstances, with red shoving black, play continued.
On the day I shouted red card immediately but will admit we were so far away up with the gods (not complaining by the way, the view was magnificent) that we were never going to spot the little details. Having seen it again in slo-mo I think the foul was absolutely despicable. Anti-football. I don't agree with it in any circumstances but kind of get why an underdog who is being greatly outplayed might try it on. But this is Sunderland against little old Oxford. Mighty Sunderland with thirty thousand fans behind them. Mighty Sunderland with their parachute payment riches. Marcus Browne had the ball under control a yard ahead of him. From behind, Power just scythed into him nowhere near the ball and with no intention of playing the ball. I don't know what particular line in the laws of the game meant he had to go. Perhaps it was dangerous but it didn't look like a potential leg breaker from my vantage point. Refs amongst our fan base may help us out here but I'll say it was morally the right decision.
On the subject of cards I thought Cameron Brannagan was unlucky to get booked. My interpretation was that he got the ball. A mate thought otherwise, saying it was a nasty stamp and thought he was going to walk too. If it was the latter then that's what should have happened. (Perhaps Heywood wasn't that influenced after all).
I will say that Sunderland did play with spirit with ten men and whilst we had the greater claim to the win based on chances, can see why they remain undefeated. They never gave up and although their goal was their only effort on target, did have a couple of others that were close after they had equalised, one from a well worked free-kick.
Although their goal didn't totally come out of nothing there didn't look to be a lot on.  It was an incredibly accurate shot. An inch to the left and it would have hit the post and come out, a bit to the right and Jon Mitchell might well have saved it.
Not for the first time now the back line looked much more solid. Familiarity helps. Is that our preferred league line up? Josh Ruffels is playing well enough to keep our specialist left back out as is Cameron Norman on the other flank. His marauding runs are become ever more noticeable.
Curtis Nelson is now improving by the game and that was something I feared may not happen. His partnership with John Mousinho now has real understanding. These things take time at the start of every season, be it in the friendlies before it all kicks off for real or later. We need to remember that the planned back four only included one who is now starting league games: Nelson.  Robinson would not have expected to have Luke Garbutt, Rob Dickie and Tony McMahon on the bench out of choice as we enter September. But he's made the right decision and fair play for that.
It's not just the defence that's looking more compact but the midfield too and we're no longer saying, "We've got no shape". Brannagan is now doing real midfield graft and Baptiste is a revelation.
There was skill and work rate all round further up the field too. A Sunderland fan I spoke to in Durham had picked Browne out as a quality danger man and I'd say the class of Holmes shone through too. It's a pity he had to go off just after the hour mark but by then his influence was perhaps fading a bit. Nice to be able to bring on someone else who can pose slightly different problems. Not surprised Northern Ireland have noticed Gavin Whyte. In a way I wish they hadn't but good luck to the lad.
James Henry did what he does and up front Jamie Mackie put in that shift players in that position are supposed to. He did well to nearly last for the duration. Replays show he was offside when he found the net after Jon McLaughlan could only parry a long range shot but it does show he can finish.
If we continue to play like this we will climb the table and that's something I never thought I'd be saying just 11 days before this game when we'd just lost at home to Accrington and were pointless after four games.
Long may this turnaround continue.