Article by Paul Beasley Sunday, August 26th, 2018
BURTON AT THE KASSAM
Late Friday night thoughts
Following a football club is about so much more than watching the eleven men that on the day are representing you and your fellow supporters taking on another eleven men once or twice a week during the months of August through to May. There's the culture, the history, the camaraderie that comes with travelling away, the beers, the chat, the memories, the memorabilia and more.
Then there's the behind the scenes stuff that concerns ownership, takeovers, finances, appointments, sackings, disputes, and probably all manner of other goings on, things that those of us who only roll up on match days have no idea take place.  We might get a little sniff but what to believe? Who to believe? And what's the next surprise that awaits us, possibly sooner rather than later? Good or bad?
And which owners have we been able to truly believe in to the extent that we've felt our football club is on solid ground with a fair chance of progressing further up the Football League or at least be competitive and entertaining in trying to do so? (Yes, I know that's down to the manager but managers are employed by owners and backed by owners)
Firoz Kassam said he'd take us on a journey. Okay, being pedantic he did, but we all know it was in the opposite direction intended. Minimal if any investment all round, including in the playing staff, saw to that.
This week when clearing out some old papers I found the letter from the club that arrived with the season ticket renewal form for 2014/15. I'll lift a few quotes. "These are very exciting times for Oxford United; a new head coach in Gary Waddock who believes in the new Oxford United philosophy".  "Already signed for next season is the highly rated, Oxford born, Josh Ashby".
Days later Ian Lenagan wasn't the controlling shareholder in OUFC, Daryl Eales was. GW wasn't the manager, Michael Appleton was. Under IL we got back into the Football League but never looked seriously like going up a further level under his leadership and never once made the L2 play-offs. As for young Ashby, now 22, he's forever out on loan at one tier six club or another.
I've got another letter to hand with DE's name at the bottom dated 21 Feb 2018 saying that he's stepping down as Chairman of Oxford United in favour of Sumrith Thanakarnjanasuth. "I look forward to continue to help Tiger and the club, albeit in a slightly different role, as the club moves forward".
DE celebrating promotion in 2016
On Wednesday he resigned from our board as it was announced he was investing in Solihull Moors of the National League. He said, "I fondly remember watching Moor Green with my Dad when we lived in Robin Hood Lane." (Moor Green merged with Solihull Borough in 2007 to form Solihull Moors).
This once more got me thinking as to why anyone would ever invest in, let alone become the majority shareholder and therefore owner, in any football club other than the one they genuinely support. There's possibly money to be made at one or two clubs if you're a dodgy geezer and get lucky in one way or another but not the likes of Oxford United surely. If I had millions I'd never contemplate putting dosh into any club other than the yellows. Even then I probably wouldn't on the basis it would probably all go sour and the arm's length relationship I currently have as a longstanding season ticket holder would be gone. I readily admit though that we do need the likes of Robert Maxwell, Robin Herd, FK, DE and Tiger for better or for worse. (You decide).
Daryl also said "If I look back four years then I know I leave Oxford United in a better place, not just in terms of the league they are in but also with the training ground and the infrastructure". League position yes simply because we are one division higher. Training ground yes, assuming it will become fully functional very soon. Infrastructure, I can't really comment on because I don't really know what that entails. Overall are we in a better place? Probably, but our start to the season, if not turned around, can mean only one thing: relegation, and so that would suggest not really.
At the start of the 2015/16 season when DE and company did a tour of local towns, I went along to the Littlebury Hotel in Bicester and reported in a FV at that time what a positive event it was. I recall having a quick chat with Daryl afterwards when I told him that I was impressed with what had been said but that we'd had a few owners over the years who had promised us this that and the other and most of it had turned out to be bullshit. He gave the only answer he could. "This isn't bullshit".
I didn't feel I'd been conned but what I did feel was that, God willing, I'd be around Oxford United, after Daryl and his regime had moved on.
Once Mapp sussed the vigour of L2 everything began to look totally hunky dory. We were playing winning and attractive football and were watching players of real quality. Players that were better than the level at which they were then earning their livings. History proved this to be so. Kemar Roofe. Callum O'Dowda. John Lundstram. Chris Maguire. Ryan Ledson. Joe Rothwell.  This doesn't happen by chance though. There's a whole infrastructure (that word again) that ensures the chosen business model is implemented efficiently and effectively.  We'd been told the team that would take us out of L2 would be geared to continue momentum to get into the Championship although our chairmen admitted all along that he would need help with the funding at that level.
I'd heard rumours that things behind the scenes (those three words again) weren't as they should be long before it became evident on the pitch that we were stalling. Some point to Mark Ashton (Chief Exec) leaving in December 2015.  There were jibes aimed at DE placing blame on him for many good people leaving the football club. He became "slippery." I didn't find this particularly helpful particularly when concrete evidence is needed before anyone removed from the inner circle can form a sound opinion. I was never bought by a sausage roll nor swayed by my half pint he once paid for in the Red Lion in Islip. I do accept though that there were those who probably knew but couldn't say and fully acknowledge that things weren't as they once were.
Anyway, we've now got Tiger. Who knows what's next? As ever it's a case of wait and see and in the meanwhile support as supporters should. One major factor, the most important one probably, is the relationship between the football club and stadium company, between Tiger and FK. I think DE probably thought it would be a lot easier to negotiate with Kassam than it is. The arbitration dispute rumbles on.  OxVox met with Niall McWilliams, OUFC MD, on June 19th when he told them he expected the dispute to be resolved shortly. I'm assuming if that had happened we would have heard, so not "shortly" as I understand it.  Perhaps it will move along at a quicker pace now DE has left the building (but kept his shares).  I think there's a lot going on in this regard and could do with a bit of proper investigative journalism. I'll currently hold fire because I've only picked up bits and pieces here and there listening to people chatting around the ground.
The opposition
Although we were pointless after four games, the Brewers had only managed three so if we did the right thing it wouldn't be too difficult to catch them, goal difference aside.
They were relegated from the Championship last season but having won their three matches before the final day they had it within their control to stay up. They lost at Preston but with just a few minutes to go were safe because Bolton were losing 2-1 at home to Forest. Goals in the 86th and 88th minutes changed that. Such fine margins. So here they are at Minchery Farm.
I hold Burton in high regard for what they've achieved. In 2000/01 they were in the Northern Premier League and only gained promotion to the Football League nine years ago. They were by far the smallest club in the Championship with the smallest budget by some distance. To have played two seasons at that level was some achievement. I have always had them down as playing honest attacking football.
The trend is for relegated clubs to bounce straight back but given Albion's size they're likely to buck that trend. Nevertheless I'd expected them to start better than they have done.
Sing, "We're not bottom anymore" – Oxford United 3 Burton Albion 1
It was a good move only making one change with Sam Smith coming in for Jon Obika. I'd been worried when, after the midweek defeat, Karl Robinson had said he had one other permutation to try at the back. It's not fair to judge any combination be it in defence, midfield or up front until they've played together a few times and got to form an understanding.
I was surprised how dirty Burton were and with Trevor Kettle refereeing it was all a bit of a worry. It's almost a given but we had the usual inconsistency in what was and wasn't given. Go down when nothing much has happened and get a free-kick, although to be fair Kettle wasn't always fooled. Get fouled but stay on your feet and try to keep going and get nothing. Naïve?
More strange figures with us allegedly committing 23 fouls to their 17.
Possession was shown as 50:50 but I think if it was split between halves the visitors would have had at least 60% in the first period and us the same in the second.
They were dominating and whilst our back line didn't look as lacking in cohesion as it has done, there seemed a much greater likelihood that we would concede than score ourselves. It was therefore a surprise when we took the lead in the 18th minute. Marcus Browne can hit a telling dead ball and did so here. Burton had placed their defensive line sensibly on the edge of the area but Browne bent the kick just beyond them for John Mousinho to run onto and touch on with a hair or two and into the back of the net via a bounce and passage through keeper Stephen Bywater's legs. He was probably expecting any touch to actually change the ball's path.
We did have other chances but it mostly reverted to Burton having the ball. It is always a worry when our opponents are able to deliver into our box be it from a free-kick or, as in the 39th minute, a corner. This was looped in from the sky and won by Ben Turner. There was a reasonable case that he had used Curtis Nelson for leverage but it wasn't given and we really do have to be stronger at such times. One short scramble later and Martin Sordell had forced it in. (His lack of goal-scoring at Burton beats Obika's with us. Eight in 54 starts compared to five in 22)
Given our fragility the expectation for the second half was more of "same old, same old" than we would seize the initiative, but that was what we did. Kicking towards the East Stand we were immediately on top with strong direct running with the ball by Gavin Whyte and Browne being a large part of this. It was only five minutes in before we'd re-taken the lead. Whyte progressed from the half way line to just outside the box before feeding Smith who had made a clever run. As our Northern Irishman pointed where he wanted the return, Smith moved the ball to his left and curled a peach of a shot goal wards. It took a flying stretch from Bywater to keep it out but the ball had soon been put beyond him by the excellent James Henry with a volley.
From a leading position against Accrington we quickly weakened and lost the game. This was different. What we saw told that we were the stronger and fitter team.
Nineteen minutes after our second we got a third and in the meantime had not been put under the type of pressure that usually has us concerned that we will throw it all away.  Henry unleashed a shot with some venom from a way outside the area. The best Bywater could do was parry it with his fists all the way back to the edge of the box where Henry won the duel with Kyle McFadzean.  One pass later with his first touch of the game, Ricky Holmes had finished low and accurately.
It turned out to be game over even though there was over twenty minutes remaining. It's not often we can say that when we're the team with the lead.
Our rear guard looked a much more cohesive unit and individually each did their jobs to good enough effect. The noticeable Mous errors were on this occasion only noticeable by their absence. Our captain has got better since the beginning of the season and we now have full backs who get forward more than the two they have replaced. Cameron Norman is being particularly noted in this regard and although it is not his preferred position, the more Josh Ruffels plays at left back the better he is likely to become in that role.
After the game I commented that I'd hardly noticed Cameron Brannagan and James Hanson and posed the question whether that was a good or bad thing. Probably good my son informed me and he's probably right.
I've already mentioned Whyte, Browne and Henry. The way they played make them well worth watching. Whyte's direct style and pace are refreshing after some of the ponderous viewing we've had to suffer and Browne has incredibly quick feet. Sounds a bit weird but it's as if his left foot and right foot understand each other and one's already moving to receive the ball from the other even before he's gathered the first pass. Very good as they were, for me Henry possibly shaded them for man of the match. He was consistently influential throughout.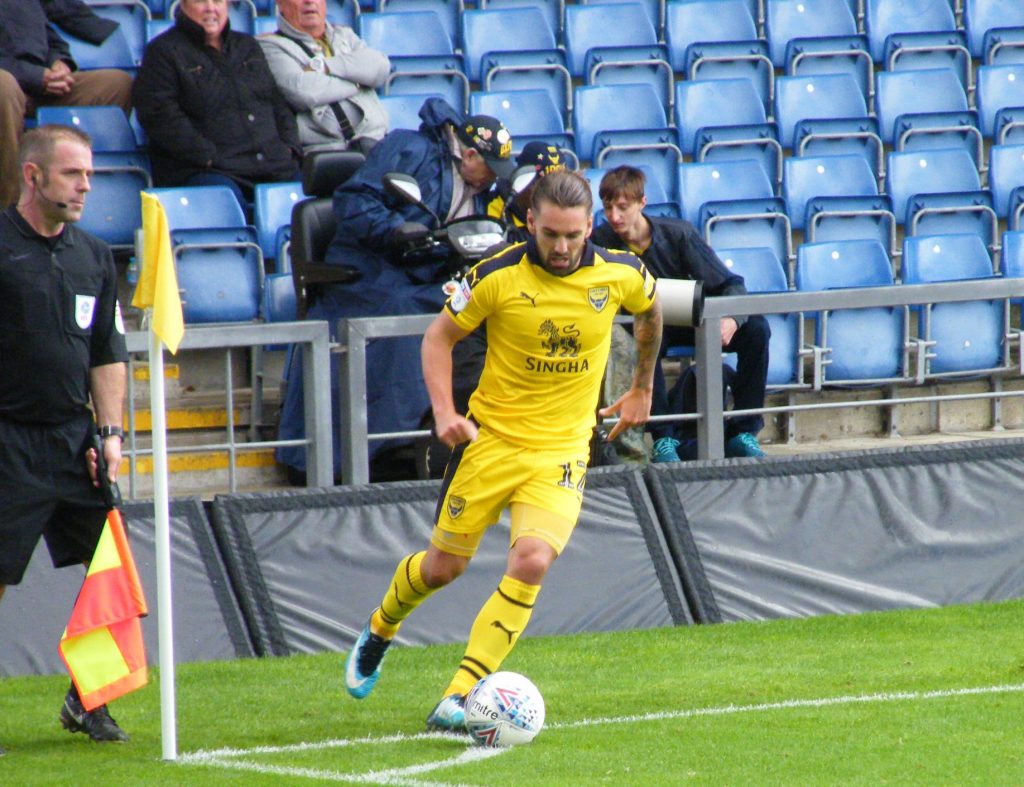 Photo, Simon Jaggs
I'd quite like to know how much game time we're expecting to get out of Holmes but now I know what's what, provided he delivers as he did in the 27 minutes he had here, I'll be pretty happy. He's got some class and there's a little bit of the Chris Maguire about him. He knows how to win a free-kick.
The conundrum we've not really solved is the striker / centre-forward / one up top whatever you want to call it role. The way we're set up someone has to be there. We've got fans who judge the person playing there purely by the goals they score, or more accurately by the goals they don't score. I think there's a lot more to it than that. It's about the number of goals scored by the team not by a specific individual. They may be under instruction to be the link up man, bringing others into the game and have an assist target to focus on more than goals scored. (It's the Ryan Taylor debate). I've thought for a while now if we are to accumulate a decent goal tally they need to be shared around and not clustered with a 20 plus man.
Obika hasn't been the answer. We've seen bits from SS that hint he could be but replacing him with Jamie Mackie on 65 minutes was an interesting one, as was the post-match interview with the ex-QPR man. I've not come across an Oxford fan who had been impressed with Mackie so far but here being played down the middle he looked more of an asset. It was also telling that he has not done a proper pre-season and is playing catch up. So it doesn't make sense to write him off just yet.
I do love a good stat so here goes
For all our worries about a lack of goals, we've scored as many as any team from 11th downwards in the table.
We've still got the worst defensive record and goal difference.
For goals seen at home games we're averaging 3.7 and that's only been exceeded at Rochdale where the figure is 4. So get on down to the Kassam if you want to be entertained, particularly as a neutral.
The teams that have beaten us sit 3rd, 5th, 6th and 8th in the table. So perhaps we have had a relatively hard start to the season and with Sunderland next that's hard to argue against. (But of course they're where they are with the help of the easy three points each has taken when they've beaten us).
Common theme
I went into Oxford very early on Saturday having been persuaded to play a "gentle" game of walking football as the OUFCWF old men were struggling for numbers. The promise of being taken to the Masons Arms afterwards was an enticement that was too tempting. It then struck me that this season I've now been twice before matches, Coventry and Burton. Two wins. I didn't go before the fixtures against Fleetwood and Accrington. Two defeats.
Pity it is not in walking distance of the Kassam but I don't need much of an excuse.