Article by Paul Beasley Wednesday, August 22nd, 2018
ACCRINGTON AT THE KASSAM
Monday Blues
It's Monday and the cloud of gloom, caused by OUFC's terrible start to the season, that has descended upon me has not dissipated one bit.
In previous FVs I've already covered massive problems that it does not take a genius to identify: defence like a sieve; Curtis Nelson half the man he used to be; Rob Dickie's positional sense; full-backs (Luke Garbutt in particular) might as well not bother to turn up; recruited old has beens and crocks; selecting players out of form; not selecting those whose performances seem to have justified being picked; no midfield; no creativity; no unified closing down; lack of discipline on the pitch and touch-line etc.
These things may be rumours, but the more I hear the worse I feel and the greater my fears for the future. Ricky Holmes having failed a medical at Hull – perhaps monthly injections were not acceptable there. The money Garbutt is on – £1,456,00 per annum apparently. (Source: https://www.spotrac.com/epl/everton-f.c/payroll/) That's £28k a week. It's been said the more he plays the less we pay. That can't be right, surely. If it is, the world is even madder than I thought. Or we're the biggest suckers in the English football world. (So it could be true).
Yes we have experienced some bad luck with unexpected injuries but don't all teams? The loss of Samir Carruthers was huge and I've heard the team was going to be largely built around a recreation of the partnership he and Robbie Hall had at MKD. We signed Hall when Michael Appleton was in charge. It was a gamble because of his injury record and he was missing for a large chunk of the 2017/18 season. He's out once again and there are now question marks as to whether he'll ever come back. It's a sad fact but specialists can only fix (patch up?) knees so many times. I feel incredibly sorry for the guy but the harsh reality is we need a squad of fit players whose bodies largely work without malfunction or discomfort.
Simon Eastwood's loss was a nasty shock but his replacement should in theory be more seamless, as Jon Mitchell is quite highly rated and has an England U21 cap. That said, others have come here supposedly highly rated and have looked very poor and with a dreadful defence in front of him JM will have his work cut out. Good luck with that.
Of course it's early days and there are some who quote the fact that we lost the first four under Mapp and Plymouth had a dreadful start last year yet nearly made the play-offs as proof that we'll be okay.
I'd challenge them to look deeper. All of those defeats at the start of 2014/15 were by a single goal. Three were 1-0 and the other 2-1. We were not leaking as we are now and although it wasn't working, I could see what Mapp was trying to do. I also think he was astute enough to make the necessary changes to start winning once he realised League 2 is what it is. I've no idea how KR is trying to get the team to play nor have I seen evidence that he will observe, re-think, adapt and turn us into an efficient and effective outfit, particularly as man management skills are a big part of this.
Plymouth were indeed dreadful. After they'd played 14 games they'd won just one and drawn 4 having scored just 10 and conceded 23. We've already let in 10. Also it was their first season back up in the third tier so "getting to grips with it" is a fair argument of sorts. No such thing applies to us. This is our third season back.
I probably should leave the Pompey game behind and move on but I'm not going to. From time to time I get a response to the FV from followers of our opponents. I got one from a Portsmouth fan and think it's worth taking a few quotes from it which makes me realise I'm probably not being overly pessimistic at present.
As a Pompey fan who has seen Oxford many times and can honestly say that was the worst oxford side to rock up at Fratton I've seen.
I'd like to believe Pompey are that good but I think the truth has more to do with your horror show than our brilliance.
Firstly well done to your fans who made it. However, it was actually a poor turnout as if your fans knew what was in the 'offing'!
Your RB spent more time engaged in verbals with Ronan Curtis than actually playing. Why, I don't know RC was all over him.
Your LB was murdered and as our own WOWAD Oxford (fan report) said probably went home to find his son had disowned him, such was his incompetence in dealing with Jamal Lowe.
The CBS were bullied at every moment by another Pompey non-league find in Hawkins.
After that the midfield you started the game with hit aimless balls into channels that meant the ball coming back at you instantly.
With NO attacking intent it was a miracle that it was goalless at halftime.
At 3-0 Pompey seemed to stop pressing so high and Henry took advantage. He is a good player. That said after pulling a goal back Pompey simply pressed higher again and the 4th was a worldie from Lowe.
Overall, I'd be worried if that's the best you've got but I'm sure you must come good sometime.
Never rated KR though and his sides always come a cropper against us.
Your fans deserve better.
The opposition
Ignoring their defunct version, Accrington Stanley have only been a football league club since 2006, a year we'd rather not talk about. They are without question a small football club in terms of support and finances but big on spirit I'd say. They had a very low budget even by L2 standards yet managed to become champions last season leaving Luton in second place. The year we went up they finished fourth and although they dropped back to mid table the following season, obviously bounced back thereafter. John Coleman is a canny manager and knows the club inside out. He managed them for 587 games between 1999 and 2012. He returned in 2014 and has subsequently clocked up another 200 plus games.
At the start of this campaign the bookies had them as the least likely to be champions at 150/1. You can now get 250/1. Over the same period our odds have risen from 25/1 to 150/1. That is spot on I'd say. Anyone fancy a gamble?
So far they've lost at home to a Gillingham side who have started well, won at Brizzle and drawn at home to Charlton. A record that trumps ours. They've averaged a goal a game and have let in six fewer than us.
The omens do not strike me as being good. A lot though I think depends on whether we have the following fit and selected: Ricky Holmes; John Mousinho; and James Henry. And if I see certain names on the team sheet I'll probably hold my head in despair, but best not to go into that. For all that I'll still do my very best to get behind the XI that are selected as starters.
We will at some stage score a league goal for ourselves and win a match.
Two goals, hurrah, but still embarrassingly pointless – Oxford United 2 Accrington Stanley 3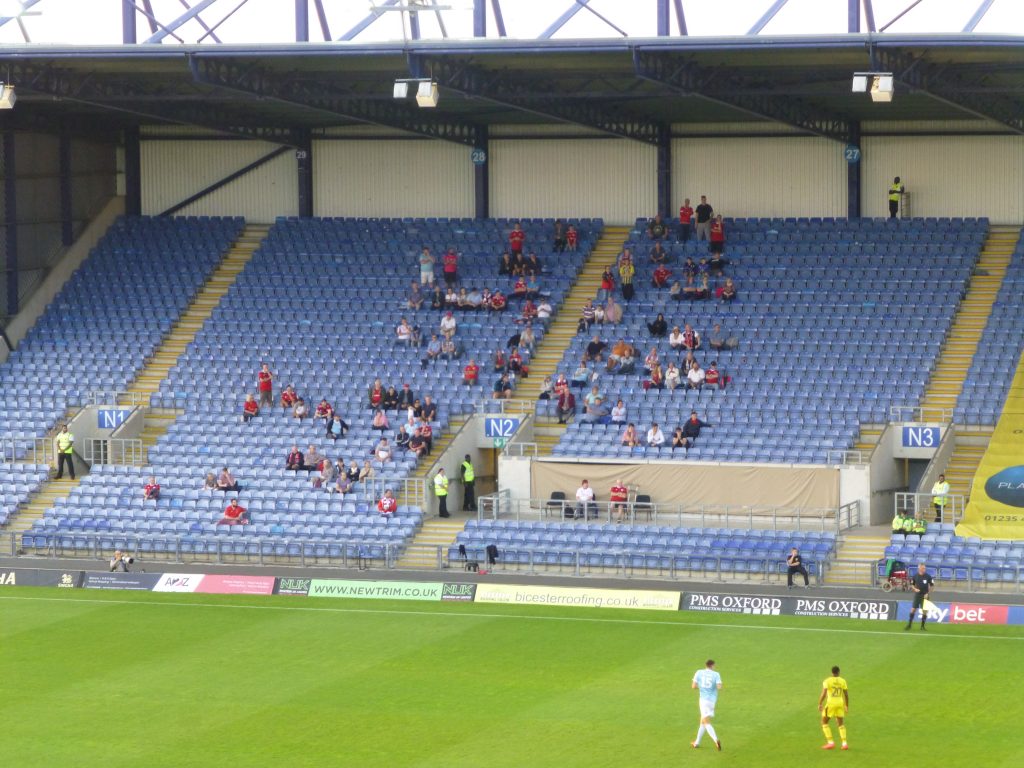 Another tiny away following that will go home very happy
Confession time – I have so little faith in the football team I support that I placed a little bet on us not to win. A 75% return on the stake was just too tempting.
I got something of a lift when I saw the line-up that KR had selected. Full-backs out. Dickie out (snigger). Mackie out. Shandon Baptiste out (possibly unluckily). Cameron Norman in. Mousinho in. James Henry in. Gavin Whyte in. I am though a tad worried that we have no specialist left back to replace Garbutt. Nor am I sure whether it is best to start with Jon Obika or Sam Smith.
At 1-0 up it looked like Bet365 might be a few quid better off.  I was very pleased. I was still quite pleased at half time even though we'd been pegged back. From an attacking perspective we'd improved no end and had shown intent from the start. There's another whole debate to be had about the defence though. Nevertheless we'd been the better team to that point.
Accrington were never going to be push overs and there were times when they played neat one touch football with their players moving quite effortlessly into space. What I can't recall from previous meetings with Stanley is thuggery and cynical cheating.  Scott Brown's stamp, or whatever it was, justified a red not yellow card in the first half. Jamie Hanson suffered a reducer that noticeably affected his mobility as the break approached. Their diving looked very contrived from the back row of the SSU. I thought referee Geoff Eltringham was inconsistent in what he gave as infringements and what he didn't, getting some things very wrong and others spot on. In the lead up to our second goal he'd not fallen for another Accy dive as their players appealed for a free-kick.
I'm baffled by the stats that show we committed 22 fouls to their 12. I know we're not innocent of all sins but this seems ridiculous.
Our opener on 27 minutes was a proper attacking footballing goal. We were moving the ball quickly and going at their defence at pace. When Henry found Whyte the defender looked quite well positioned but speed wins the day. Quick movement to right created just enough space to lash home from the edge of the box.
If only we'd got another when we looked well on top it could have been a different story. As it was we did hit the post, through that man Whyte again, and had lots of other chances, but none were what you'd describe as clear cut.
In all this despondency it must be said that Whyte looks some player, particularly bearing in mind he was only part-time last season. Perhaps we've actually got something right.
Whilst the visitors' defence looked a bit shaky, they didn't crumble and looked less likely to concede than we did from high balls into the box. It was a worrying sign when we started to give away a few free-kicks which enabled Accrington to test us out. (On reflection perhaps I can see where the 22 came from).
I thought we should have been awarded a free-kick but a second later Accy had one, possibly rightly given. On 43 minutes into our penalty area it went. Henry got a foot to the ball but only succeeded in helping it on its way. It then looked like a pale blue shirt was trying to control and turn to get a shot away. With all the bodies around it was difficult to discern what actually happened. It did however seem that Norman did his job for him by lobbing over Mitchell.
We began the second period in fairly similar vein to the first but probably without quite as much possession. (Final stats were 60:40 in our favour).
Twelve minutes in we'd got another quality goal. This was all down to Marcus Browne. He's quick and sped down the wing as a winger should do before driving into the box, beating a couple of defenders, cutting the ball back onto his right and striking a high classy side foot finish past Connor Ripley who hardly moved.  He's a loan signing we've got right.
This time we only retained the lead for five minutes. A routine ball into the box wasn't dealt with. Mousinho was out muscled by Billy Kee and when the ball dropped, he lashed home. It should have been bread and butter for a strong dominant centre half.
With stoppage time there was still over half an hour to go and it was increasingly likely that we would not only not win the game but again end up without even a point.
Isn't it supposed to be the team doing the chasing and closing down that gets knackered first, i.e. the one with the least possession? Not so here. As the game entered the final quarter I thought Accrington were the fitter and stronger. They'd broken through quite easily once before they went ahead and it was only good goal-keeping that meant we did not let in that third before we did. We never did similar to them.
Once the legs start to go that's usually it. Norman began to struggle to get up and down but fair play, he dug deep and kept going. Hanson and Cameron Brannagan were now in the game nowhere near as much and where earlier they got stuck in and afforded our suspect defence some protection and help, that had largely disappeared.
With the visitors coming at us purposefully we were undone when a spritely Jordan Clark was brought down by Josh Ruffels, who was rushing to get back in position after a foray up-field, Brannagan having been easily bypassed on the edge of the area. If he'd not been on a yellow card I think he would have made much more of an effort to end the run, be it by fair means or foul.
No penalty heroics from our custodian as there had been three days earlier.
Smith did then force a very good save from Ripley but we never had total belief or a reserve tank of gas to get even an equaliser in the minutes that remained. We'd got two magical goals (well they were our first two of the season so please allow me to go OTT) but there wasn't likely to be a third as the earlier zip from the scorers had gone and their back line had got the measure of what we had to offer much more so than earlier in the match.
In the post-match interview our manager said "I'm not coming up with an opinion, I'm telling you facts. The facts are we deserved to win today. We did more than the opposition to win". I have to take issue with you here Karl. Like many people you have got totally confused over what is a fact and what is an opinion. A fact is something that is known or proven to be true. As in we lost 3-2. We have no points after four league matches. We have let in 13 goals in those four matches. An opinion is someone's view or judgement based on facts or possibly not.
I don't think we deserved to win this. Why? Because our defence was so porous. Because Accrington were the fitter team. Because they managed the game better than we did. That's my opinion not fact and anyone is free to disagree with me.
As for that defence, I will say that as individuals each of the back four were better than each of the back four at Fratton Park but collectively as a solid strong unit, they were no better.
Nelson was the only survivor and I thought here that he didn't have a bad game. He brought the ball forward on a fair few occasions as if he meant it and when he was left one on one with substitute Offrande Zanzala at the back, did well in marshalling a sizeable foe.
Mousinho's calm footballing skills were noticeable early on and helped influence our early play. Unfortunately that over calmness and confidence which we knew from last season is liable to get us into a tangle at times, started to manifest itself again. Here he didn't look the most robust of CH's. I'd still like him in the team though, perhaps in midfield? But has he got the legs for such a role for 90 minutes?
John Mousinho. Photo Simon Jaggs
Ruffels could not have been worse than Garbutt but as I said earlier he's no specialist in the LB position. He did get forward more than our loanee has done but I wonder if he'd stayed back late on whether we would have stuck it out for the draw.
Norman was a man of the match contender. He put in more than he had a right to, which is encouraging.
That Henry went off was disappointing but I think those who were bemoaning the decision were wrong. He's not fully fit and his impact on the game was no longer there. His replacement surprised me. If I was going to bring Smith on it would have been Obika coming off. I would have replaced Henry with Baptiste. Neither Obika nor Smith, for whatever reason, have worked out in the lone striker role and I can see nothing to suggest that playing the both of them will bring reward. In fact by doing so we became lighter further back at a time when we needed to make sure we were not hit with any sucker punch.
It's all getting a bit much, especially for a couple of blokes in the back row right behind the Directors box. From where I was sitting I could only hear it but the police had to move in. Whatever one's feelings are, downright abuse doesn't help the club one little bit. Hard as it was, any logical thought process when we'd gone 3-2 down would have concluded that getting behind the team would have been more useful in helping seek an equaliser than abusing club employees.
Dark times indeed. When I got home I felt the need to comfort eat. A big plate of cheese and biscuits isn't recommended at that time of night. Cheese equals nightmares. No, that'll make no difference. OUFC are giving me nightmares anyway.
I've already put a fiver on us not beating Burton. Either the bookies rate the Brewers higher than Accy or they're getting wind of how useless we are but these returns won't be quite as high.
Don't know where, don't know when but I'll repeat that at some stage we'll win a league match.