LUTON AWAY
Luton Town are a football club that I think it is fair to say are generally not liked. In fact I would go as far as saying hated, and I don't use that word lightly, after all football is a sport and life is too short but there's no denying there's a history there. Should that now be forgotten?
That bloody plastic pitch. Horrendous. David Evans and his banning of away fans at Kenilworth Road. Very much a step too far. Never stopped me though. So two fingers stuck up there and the three points taken on 4th May 1987 to keep us in the top flight, thank you very much.
One thing Luton related that really sticks in my mind has nothing to do with Oxford United though. That was back in 2010 when they were in the Conference and had just lost the play-off semi-final so had no Wembley trip to look forward to and were thus consigned to another season outside the Football League. The players of their conquerors, York City, were trapped by a pitch invasion and unable to reach the tunnel at the end of the game. Being bombarded with missiles including coins and bottles they had to take shelter for a quarter of an hour in the police control room. As far as I'm aware there were no repercussions. Afterwards Chairman Nick Owen said, "It's absolutely dreadful, you can't condone it. Most of our fans are magnificent, but one or two have let the club down very badly".  One or two Nick, come on.
Then there's the effing awful away end. A view that is as much pillar as turf, seats so close to the one in front on shallow terrace that anyone 6 foot or over just doesn't fit. And for this dubious pleasure the bastards have charged us £26. That's more than I've paid on any other ground in L1 this season and not much less than I paid to watch England play the Czech Republic at Wembley recently and let's not forget that the sight lines at our National Stadium are a 1000 times better than at LTFC's home.
When the fixtures came out this day had potential disaster written all over it. We said just imagine if points were needed for survival or promotion by one or either side.  As the league table took shape it looked as though we could be scrapping for survival, if we had not already been doomed to our fate. Meanwhile at the other end the Hatters had been giving a very good impression of a side that would have sewn the Championship up by now.
More recently there have been turns in form and fortunes as we've played our way to the calm waters of mid-table safety. Luton on the other hand have stuttered rather alarmingly and after the results on Saturday 30 April were not even guaranteed to go up automatically. The scenario was horrendous. What if they needed to beat us to go up and we stopped them doing so?
But then, Tuesday night. Portsmouth v Peterborough. 0-1, 0-2, 1-2, 2-2 … shit there's only one way this is going. Pompey will still be able to catch them. Except this happened, 2-3. Phew. All they will have to play for is the championship. They're up with Barnsley. To come first is just a little cherry on the cake. Promotion is what it is all about. That's the same at all levels really, except the very highest when there's nowhere else to go. Winning the Premier League is still the ultimate focus for our top flight clubs. Liverpool must be desperate to get their hands on that trophy again after so many years. (Not so sure about Manchester City though. I reckon they might swap this domestic honour for the Champions League title).
Anyway I digress, what I want to get round to is to now praise Luton for the football they've played this season, goals scored and promotion. This would have made a bit more sense if they had not now faltered but they deserve to go up. The current crop of players cannot in any way be held accountable for the sins of the past, the not fit for purpose ground and behaviour of an element, I'm not saying what size, of their fans.
It also has to be said that like every club they'll have a significant amount of decent supporters. Back in the day there was a guy called Timothy who sorted us out with tickets when we were banned. I'd like to think he is still around and enjoying his club's resurgence. And we shouldn't forget that they too have been on the wrong end of things. There was that huge points deduction, the drop out of the FL and of course the night Millwall came to town in 1985.
LUTON TOWN 3 OXFORD UNITED 1
I have absolutely no issue with the score line. The home side were two goals better than us and walking up the Oak Road after the game I was struggling to think of a team that had put on a better performance against us in the league this season. The only viable alternative I could come up with was Barnsley where it all began way back in August. Rightly so these are the two who have gone to a, supposed, better place. Sandwiched in between we've witnessed a mix of pretty decent, mediocre and pretty bloody awful opponents.
What I do have issue with, and this will come as no surprise to anyone who has read previous FVs this season and indeed the first part of this one, is the officials (lots of yawning) and the oh so predictable behaviour of some of the home fans.
The referee was Michael Salisbury, a man who I actually praised earlier in the season, but a man who has also demonstrated his standard can easily reach the low required to be an EFL official. Here his first half showing was shockingly poor. He very much seemed to be the standard homer, awarding Luton free-kicks but allowing the game to continue when the boot was on the other foot.  We had a player blatantly pushed off the pitch and into the area housing our manager and company. Salisbury was a couple of yards away meaning his proximity to any incident had little bearing on whether he made the correct decision. So when, Marcus Browne I think it was, went sprawling close to the half way line when it looked as if he had got past the high line that the Luton defence had at that point in the game set up, I had no faith in him getting this right. With his pace he could have been through on goal. A free-kick and card of some colour? Well, no. So then a booking for diving? No again. An accidental slip. Yes, that must have been it. Silly me.
Football fans as a collective have completely unjustifiably got bad press over the years but there are some amongst our number whose behaviour I cannot comprehend.
Just like the last time we played at Kenilworth Road the occupants of the Executive (I think such a description is fair stretching the imagination, but there you go) were intent on goading us visitors and giving the old wanking signs. I don't know who started it but I couldn't see any of our lot doing the same in the other direction. To be honest they might just have been pissed out of their heads, with no real intent, because there were times during the game when most of them were back inside, presumably downing more bevvies. There was one guy though who stayed out in the fresh air more than others who appeared to applaud almost anything that happened on the pitch. Luton hit I think just two hopelessly mis-placed passes all evening. They got a good clapping too.
I know pitch invasions post-match when promotion has been achieved is the done, but nevertheless illegal, thing, and unlike the Blackburn morons twelve months ago at least the Bedfordshire inhabitants waited until the game was over, but it's what they did when they got onto the turf that showed what a bunch of pathetic, embarrassing, classless dullards they are. Instead of celebrating their team, which had justifiably won the Championship trophy with this win, their focus was to head straight towards the away section to provoke, gesticulate and throw objects. From the large group I saw one smoke bomb lobbed into our supporters. Two wrongs don't make a right but I'd say launching it back from whence it had come wasn't the worst of the two sins. I witnessed no attempts by the police to identify the culprit at the time. But don't these people ever learn? In July 2016 a Luton fan who admitted throwing a flare during their match at the Kassam was jailed for over a year. The judge at Oxford Crown Court said the actions were of "gross recklessness" that represented a "considerable danger." Chances of CCTV being used and the guilty party being apprehended and dealt with appropriately?
Many players when they score a goal of importance or high skill instinctively remove their shirt and give it a good waving around above their heads. Is that why some fans feel the need to do likewise in certain circumstance, like promotion for instance? What's revealed is very different. Far from the toned tanned bodies of your professional footballer. There were also attempted victory dances but these made John Sergeant look nimble. More likely to attract an on heat over weight blobfish than instil fear in those looking on.
Okay let's be honest, many clubs have their fair share of these types who come out on a day like this and behave in a way like this. I also assume that the majority of any fan base consists of fairly rational folks who would want to disassociate themselves from such acts.
I ask could blame to a large extent be put down to the 17:30 kick-off? It is clearly correct that all matches start at the same time on the final day of the standard league season. It doesn't however logically follow that police can advise / insist k.o. for Charlton's visit to Oxford be moved forward to 1 o'clock yet here there were 12 matches throughout the country starting in the early evening when the biggest of issues could well be settled with all the fallout that could bring after hours and hours of drinking.
But that's not really it at all is it. There's more to it. It's something I fail to understand. The scenes at the end of the MK Dons v Mansfield game make the Luton goings on look like a tea party. Yes, MK Dons. They'd just beaten Mansfield to win promotion to L1 thus consigning the Stags to the play offs. There were over 5,000 away supporters clearly not happy so no wonder there was a reaction when they were confronted by those who had left the stands with the clear intention of incitement. What is wrong with people?
Anyway we stopped for beers on the way into Luton. A couple of pubs that supposedly had good ale but average was a fair description. The smell that hit on entering the first was BO and the second was full of Luton fans. We didn't feel like striking up conversation. Once within a missile's throw of Kenilworth Road a pint of Guinness trumped the previous two drinks. (Real ale doesn't always win).  That was in the Conservative Club where it was a pound to get in. Here home and away mixed in perfect harmony and conversation with the opposition was to be had in civilised and friendly fashion.
The Luton fan, who I think had travelled from Kent, thought that his team had more chance of beating us now that they were already up. I disagreed. "We'll be really relaxed and play our football", he said. I replied that if Luton had really needed the points they would have been more up for it than they would have been otherwise. Its people like him I feel pleased for when teams like Luton do well.
The way the game went yells he was right and I was wrong.
From the first second Luton were bang on it. They did things quickly, looked strong, moved about all over the place, the lot of them, and seemed to have extra men in many areas of the pitch, and down the flanks this was particularly noticeable.
We did not play badly, although nowhere near the standards we have recently been hitting, and there was a brief spell after the introduction of Gavin Whyte and the pulling back of a goal two minutes later   that it looked as if we could well get something from the game. That though was just an illusion and normal service was soon resumed presumably after the Hatters had worked out how to negate the initially very dangerous Northern Irishman.
For all our excellent recent form this demonstrated how far short of being a very top L1 side we are. We need to move the ball quicker. Perhaps if Ahmed Kashi had been out there we would have. We needed a bit more physicality in the very centre of the pitch perhaps. Amazed I'm saying that when Cameron Brannagan was playing. Then there's the man up front situation. I very much admire what Jamie Mackie has brought to the team and his part in turning things around but I couldn't help thinking the pace of what went on was a bit much for him. I'm still very much undecided about Jerome Sinclair. Would someone who is really good have been able to stamp their influence on this game?
Full-back is an area where questions have been raised on social media. Are the two we've got now good enough for a promotion chasing side? A fair question I'd agree but firstly it should be remembered they've been part of a team that has turned itself around. What I would say is that it is very healthy to have strong competition for all positions in the starting line-up.
Are there other things to put this defeat down to? They had a piece of silverware to play for whereas our reward for victory was just two steps up the L1 ladder in mid-table.
Instead of it being pissed on we opened a bottle of champers just three minutes into the Luton party. As things were happening rapidly before us I had no opinion on whether the free-kick the home side were awarded just outside the box was the correct decision. That apparently was given away by Nico Jones. He would not have played if Rob Dickie had not been taken ill and this was a huge learning curve for him. Of course he made mistakes as most would have done if asked such questions as the Hatters were posing. He also did some things that bode well. Once more, he's just SEVENTEEN years old.
That dead ball was bent expertly around our wall giving Simon Eastwood little chance. There then followed words between Easty and Sam Long. My interpretation of what was happening was that our keeper was blaming his full back for not blocking the shot. Eastwood was quite vocal throughout and very much focused on the team not letting goals in.
The scorer, George Moncur, was born in Swindon. His father John Moncur played for Swindon. Junior Moncur thought it necessary to run towards our supporters and give it a bit. I understand and can accept that as a consequence of something that has just happened more than the post-match antics of supporters. However I think that merits a booking much more than garment removal.
We were gifted a very good opportunity to get level when a wayward Luton pass was perfect for James Henry to turn first time into the path of the alert of mind Mackie. He shot from the edge of the area and to be fair to him forced a stretching save from James Shea. A pacier player may well have got closer before unleashing.
For Luton's second eight minutes after the re-start our marking was poor. Elliott Lee was all alone and able to sweep the ball high and wide past Eastwood. Long should probably have been keeping him closer company but there were many others who were not tight on anybody and when that happens covering is necessary and shape can go a bit to pot. Fair play to Luton for doing that to us though even if they had been helped by Mackie losing the ball in midfield. He'd set himself to put body between man and ball but got it all wrong.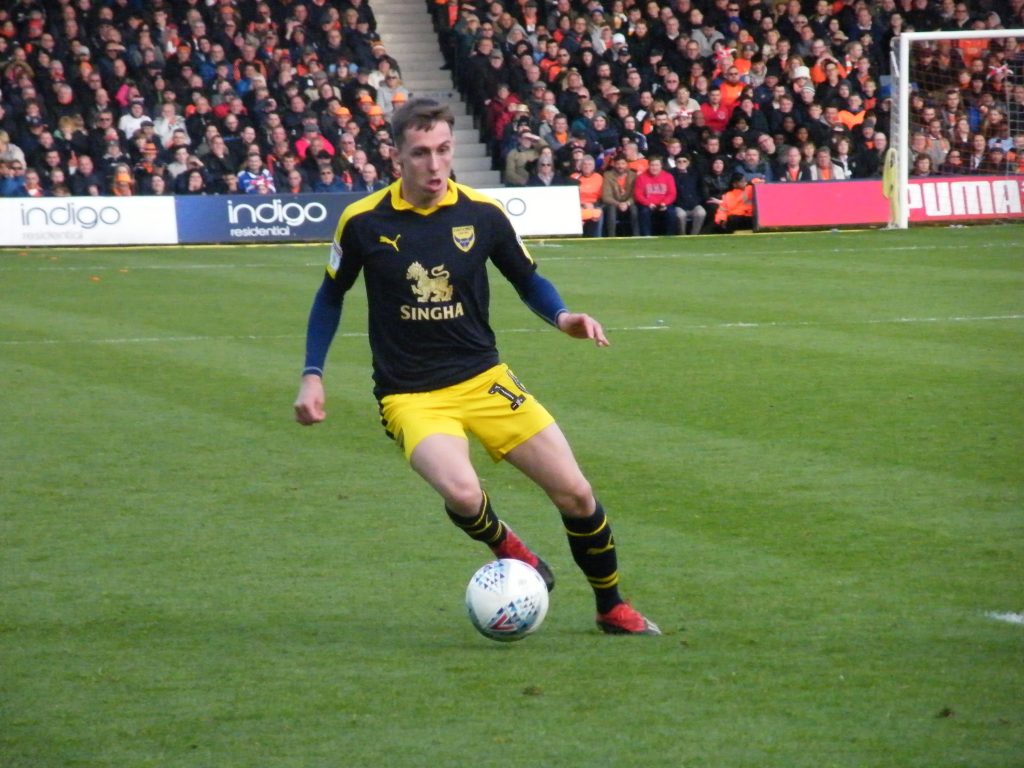 Photo, Simon Jaggs
Then came the short space of time when we had hope. Whyte slotted the ball through to the possibly off-side Marcus Browne who took it on and fired quickly across Shea. The post prevented a goal but was kind enough to put the rebound back into the area where Luke Garbutt reacted quickest and placed the ball past a sliding orange leg.
That didn't knock Luton back one bit though. We might have had seven men defending our penalty area but that didn't stop them playing their football in that area of the pitch. With his studs Andrew Shinnie rolled the ball behind him to Pelly Ruddock who went down under a tackle of sorts from Long. It could have been a penalty but Ruddock carried on and fired just over.
This was ominous but if we could keep the game in their half we might have had half a chance.
Eastwood kept us in it with a good save following a corner and with Whyte's running still something a new ingredient giving us some much needed zip he set up Browne again but this time Shea's legs saved.
Being honest Luton looked the likelier to score next than we did and that's what happened in the 73rd minute. With most of our players some way up-field a break caught them out of position. Jones was noticeably absent from his post and it was Josh Ruffels who got back into the centre half position. This meant that the two or three home players who had positioned themselves to the right of the area were unmarked. We were being caught out defensively in a manner not seen for many months. JR did indeed cut out the pull-back but his clearance was no such thing. It went straight to Moncur who poked in his second.
Now the worry was that they would rattle in another two or three but Eastwood ensured that wasn't so and that was it, another season over.
Part 3 of what does the short, medium and long term future hold?
There's nothing really insightful I can say about OUFC's long term future. In recent months the lack of staff wages being paid on top of a few winding up orders gave genuine cause for concern. Would we even have a football club to follow? Winding up orders are apparently ten a penny but one day a club will be wound up or sent the wall, or out of the FL, by some other means. Bolton Wanderers anyone? Or even Coventry City.
With Eric Thohir now more involved I am a bit more optimistic. This guy is supposed to have money. We now have another board member in Anindya Bakrie who is also an Indonseian businessman. More money?
I still though don't truly know how much these people are worth or can get their hands on if need be. Perhaps more to the point how much they would be willing to put in to keep the club going because we are losing significant amounts year on year?
It's still not clear to me what the master plan is or why any of our directors, and that includes Tiger, are involved at all. Oxford as a city is known all over the world. Yes we know but that doesn't explain why they want a piece of that via the football club. Am I being cynical or just curious? More of the latter than the former I hope because after all someone has to own Oxford United.
I'm not one who demands any owner throws millions at making my club a success. Firstly the infrastructure has to be correct and a sustainable base set from which to thrive. That said, the academy looks like it is a solid starting point from which to build.
But we all know that the big stumbling block is stadium ownership. Yes the subject has been done to death but it has to be done some more and some more again until a solution is reached. A solution satisfactory to all parties concerned. But does one exist?
The club have said they are looking at alternative sites to the Kassam. The experience moving from the Manor informs how long and problematic that can be. Identification of the site, purchase of the land, obtaining planning permission, legal challenges, inevitable delays and securing the funding. Where would the money come from and what interest would be charged?
At a guess I think there's six or seven years left on the current agreement with Firoka. Presently we're paying about £1m p.a. in rent and service charges. I've heard, although I'm not sure how true it to be, that the original figure of £12m for the club to buy the stadium still stands and the current owner(s) would be willing to pay that if the ground had been looked after from day one. But it hasn't so they don't think it is worth the asking price. But if we've got to pay that £6m (not taking account of inflationary increases) over the next six years why not buy the stadium now, whatever state it is in? It could then be argued that it only cost £6m in total. Problem then is though it would cost £x to get it back up to something half decent and that is without fulfilling the dream of a fourth end and the corners filled in. Money, money.
Let's say it happened and revenue is then generated from the conference facilities. The future is bright with football club and stadium under the same umbrella? Well that was actually the scenario when FK owned both.
Personally I'd like to see us playing in a ground, be it the Kassam or elsewhere, owned by the Council for which we pay a fair rent but obviously get to keep all income generated.
A wild dream that of course but I'm cautiously optimistic about the future. Very cautious I'd better emphasise.
Fan's View in the future
One day for whatever reason I'll stop writing FVs. I don't have any immediate intention to do so and will probably come back to it all in August feeling refreshed but who knows. Mostly I enjoy doing it and it does make me think a bit deeper about some footballing topics and challenge my own initial thoughts which has to be a good thing. There is the odd occasion when I've found it a bit of a drag and looking back it has taken up more of my time than I had intended. At the start of this season I set out to write less but what always happens is it takes on a life of its own. I actually wrote more. Lots more. Instead of doing one a week and doubling up when we played twice I spewed it out after every game.
Thanks for feedback people have given me, mostly positive I'll add.
On the subject of positive feedback may I recommend a couple of other OUFC bloggy type stuff.
The FV given how bloody verbose it is will never be popped out into the wild immediately after a game. Tom Matthews gets his take on Oxford games out there – well on Facebook in the Oxford United Fan Page – quite promptly and I have to say I'm usually in agreement with his view on team and individual performances.
And finally, if you don't already, take a look at OxBlogger. Some of the best tweets around. Here's an example – "Congratulations to Luton's players for going up to the Championship, and it's fans for staying down in the gutter."
Have a good and relaxing summer one and all.