DONCASTER AT HOME
Pre-match
We've not been involved in a single league game this season that has been irrelevant regarding the outcome of automatic promotion/the fight for a play-off slot or battle against the dreaded drop. Quite amazing really with this being our penultimate fixture.
The top five will remain the top five with any two of the top four still believing they can go up without having to negotiate the play-offs. Only Charlton are assured of being in those play-offs. If they'd beaten us instead of our 10 men taking all three points it would have been a different story.
That leaves just the final play-off place up for grabs and currently occupying 6th position are today's visitors Donny. They have a better goal difference than and are three points ahead of 7th placed Posh who have a game in hand. So for the visitors it is very much all to play for.
Oddschecker noted that Doncaster were the most backed team to win in L1 at the weekend at 11/8. That told me there were likely good odds on us to be had so I put the remnants of a small away day drinking kitty on an Oxford victory at 2/1 with Bet 365.
Oxford United 2 Doncaster Rovers 2
Having played some delightful football in this draw and being a million miles away from the ramshackle side we were at the start of the season, I should have felt pretty happy on Saturday evening. I didn't though because we should have won and the reason we didn't was almost entirely down to the officials. Imagine if the extra two points were crucial for us.  I reckon I would have turned into a seething ball of anger and exploded.
Putting that to one side for a moment, certain players, however well they played, failed to do the correct thing at vital times, and if they had done then Donny would be a point worse off in their quest to hold on to that coveted sixth place.  James Henry I'm looking at you.
We started well kicking into the wind storm Hannah brought along. That wind at times refused to allow any high clearance to leave the East Stand end and on one occasion the penalty area appeared to have some gravitational pull on the ball. There were other times when everything seemed relatively normal and the extremes were much less noticeable in the second period meaning Doncaster benefited from the elements much more than we did. That and the utterly shite performance from Charles Breakspear and his clown of an assistant on the near side.
Me having a go at referees is not new but I always hold my hand up and confess to being a biased football fan and at times have admitted my initial reaction was wrong. For those reasons I've tried to keep the language I use to describe referees and their side-kicks fairly civil but here it was hard not to describe them simply as ****ing w****ers. "Referee, referee you're a ****" sang the East stand.
In those first few minutes Doncaster had played good attacking football too. Simon Eastwood was the first keeper forced into meaningful action tipping over a long range shot but was beaten on seven minutes. Rovers had built well down their right with the impressive Leeds loanee, Malik Wilks, being at the heart of this. After some trickery on the ball he lent it to a colleague and when he got it back, stoked a sumptuous ball into our box dissecting Sam Long and Curtis Nelson. The always dangerous goal scoring John Marquis also got between our pair to head home.
I think we must have been defending a free-kick or corner immediately before this happened because our defenders were not in their normal positions. The young tall debutant centre half Nico Jones was in the right back position and Long and Nelson had swapped places. Given that Nelson was marking someone else it was probably down to our full back to do more to prevent Marquis adding to his tally.
In an open game we levelled five minutes later with a quality goal. I think it was Cameron Brannagan who found Jerome Sinclair. The Watford loanee used his strength and rolled around his man. Meanwhile Marcus Browne pointed where he wanted the ball placed and Sinclair obliged by twisting the outside of his right foot. The West Ham loanee was onto it and a yard ahead of Matty Blair. He bore into the area and as veteran Andy Butler came across, turned away from him. Henry had freed himself up for a tap in but from a tight angle Browne did the job himself, finishing low and across keeper Marko Marosi.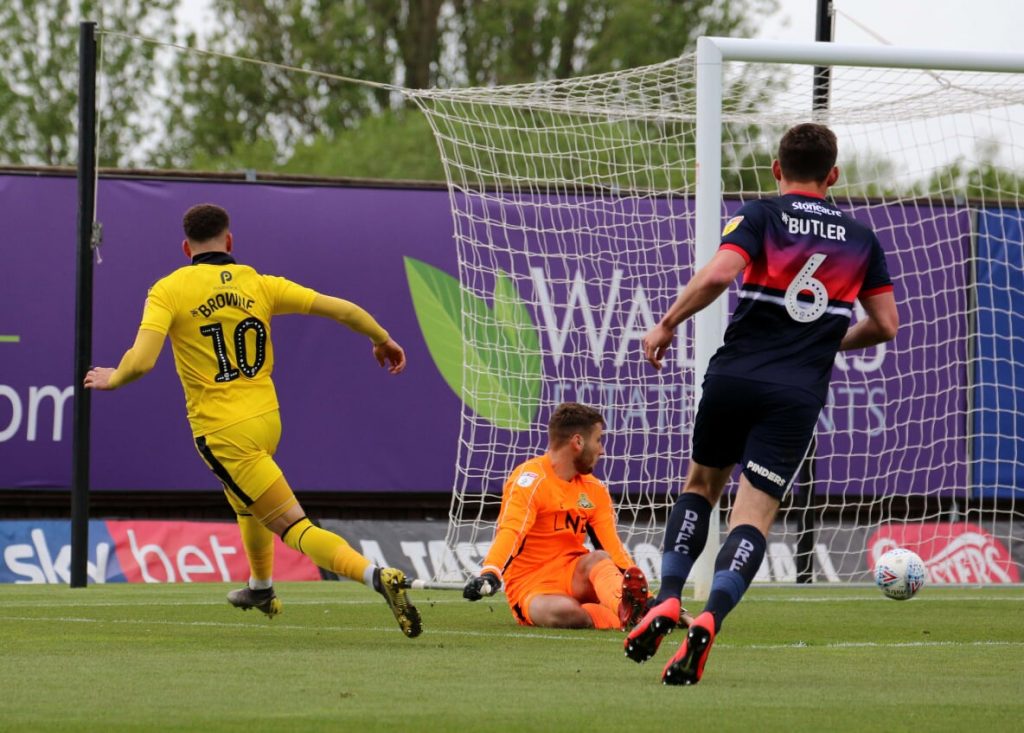 Photo, Steve Daniels
Browne was back to his very best putting on a 9.5 out of 10 display down the left wing. (I deducted half a point for him firing way over from a position he was never going to score from). On the other side Gavin Whyte wasn't having anywhere near as much success. That may have been down to the way they were being dealt with by their markers. They were tight on Browne enabling him to use his skill in turning and getting away but seemed to be standing off from Whyte just the right amount of distance to negate his pace and not allow him to get going.
A word here too about Sinclair. After his last game I wrote that he frustrates me and received comments from a number of people agreeing with my points but there was an equal number saying how good he is and noting the work rate he puts in and what a difficult time he gives defenders. So with that in mind I took another look. As with the assist there were some quality moments and good movement and runs but I didn't see him giving defenders a hard time in any 50:50 duels and it appears that he hardly gets off the ground when having to jump for the ball with a marker.
Having equalised we continued to look dangerous playing proper attacking football.
Although it was still level at the break we continued in the same vein kicking towards the East Stand and it only seemed a matter of time. We thought that time had arrived a minute after the re-start. A long range shot from Browne wasn't held by Marosi and Sinclair was there in a flash to put the ball in the net. Quite predatory and a definite positive in his game. That it might be given offside hadn't entered my head. This was the linesman's call and the referee obviously has to take his word for it. It was the usual I'll need to see it again but when someone sat near me who was listening to Radio Oxford said that the play back had been viewed and he was one or two yards on-side that nearly became good enough for me. However having now played it back many times myself I have to say I'm not so sure and Sinclair certainly wasn't a yard onside. It is very difficult to tell but I'd say he was at worst (or best when considering how superb his timing was) level. It's down to how far forward any part of the body an attacker can score with is compared to defenders.
How the assistant could tell is beyond me. Guess work I'd say.
Offside ? 
Three minutes later though we'd got our just rewards for the way we were performing. In this half it was Whyte who was causing the havoc and was no longer being kept quiet by the Doncaster back line. Eastwood's long clearance from his hands was gathered by Whyte who popped past Blair and in an instant was in on goal. For a split second a shot looked the best option but not for the first time Henry had taken up an excellent position more centrally in front of goal. He got the ball and although Marosi kept the first attempt out he couldn't do the same with the second.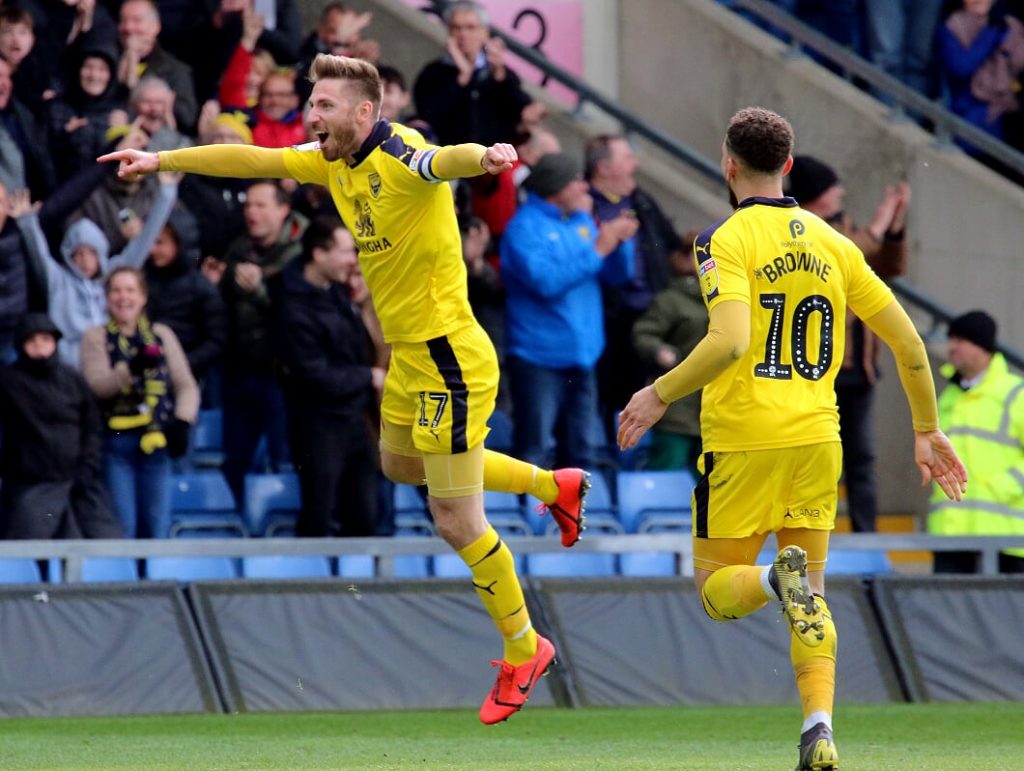 Photo, Steve Daniels
Doncaster had looked a pretty good side but we were better.
At least one more goal should have followed and surely that may well have put the game to bed. Henry, who was involved in so much that we were doing, played a one two with Long. The return was flipped up but Henry did remarkably well to control with his upper chest or top of his shoulder. His next touch was to fire home a magnificent effort. That was never a handball but Charles Breakspear, who was in no position to get a decent view, decided it was. Tosser. I've played this over and over and get angrier each time. On the day we thought the whistle had gone before Henry actually took his shot. We also thought the defenders then switched off and Marosi made no effort to keep the ball out. Play back shows this not to be the case at all. Another telling factor is that not one Doncaster player appealed. The linesman had a much better view but I couldn't see whether he flagged or not. Anyway being biased I don't trust him.
We'd definitely been robbed. EFL on Quest called it a "stroke of good fortune for Rovers".
After incidents like that it is natural to have the eagle eye open for anything with which to slag off the officials. I and most around me thought Whyte was brought down as he was about to enter the box. My son though thought the ball had been played first. I also thought there was another incident involving Whyte. This time I thought he was about to either shoot or cross when a subtle little nudge pushed him off balance resulting in the ball going out of harm's way.  And wasn't Browne almost rugby tackled for what could have been a penalty?
There was another time when Browne required treatment on the pitch. After the treatment was over MB remained on the field of play. Did that really happen and is that right? I thought the law was changed a couple of years back so that a player who had been fouled and needed treatment didn't have to go off if a yellow card had been shown but subsequently changed back. Whether it had or not I've not seen a referee allow this for a while now. I just can't keep up.
Anyway despite the officials' best endeavours to ensure we got no more than two we still kept at it with intent. It was mostly down the right hand side we continued to raid with Henry and Whyte having the Donny defenders pulled here and there.
Henry's form has been off for quite a few weeks now but in this he was back to his best. Much livelier and looking really up for it. However if I was his manager I would have been livid when, with Whyte un-marked to his right and with a clear sight of goal, he chose to go left, face traffic and have a shot himself. A dreadful decision and one you'd expect from a greedy non team player and I've never had JH down as such an individual.
It could well have been 3-1 if we'd played that right. Instead it was soon 2-2.
We'd tired a bit and Rovers had always carried some threat. They were getting more space and a cross from the left was turned into his own net by Jones. Nelson made an effort of sorts to block it and that may have contributed to Jones not being ready at all. Things happen quickly at L1 level, probably much quicker than he's used to. He'll learn from that as they say. In the first half he trod on the ball and allowed an attacker to have a clean run towards goal but at no time did he let his game go to pieces. I'm not going to rave about him (yet) but clearly there's potential there. He's got the physical attributes and will get even stronger. The way he gave Marquis a tasty shove by the flag in the corner between East and South stands bodes well for the future.
With us having been pegged back I wondered if we might concede another but neither team really asserted themselves and a point a piece was the outcome.
Breakspear and his cohorts were roundly booed as they walked down the tunnel. I think they owe our kitty a tenner and OUFC two points.
There are one or two other things of note to take from this final home game.
We now have many options in central midfield and the Brannagan/Jamie Hanson partnership looked an effective one. The latter is now showing he is a footballer worth having at our football club. With some players it happens quickly, with others a lot longer and with others not at all.  Patience is the name of the game but there is a limit.
On the subject of patience one has to applaud Robbie Hall for getting back on the pitch for the first team for the first time since August. His Radio Oxford interview was emotional and he told us how close he'd been to having to pack it in altogether. I really hope he'll become properly fit and his body holds up because if it doesn't he'll soon be found out. He was never going to be skipping around opponents like Browne or sprinting away from them like Whyte but just being there was good enough for starters.