WIMBLEDON AT HOME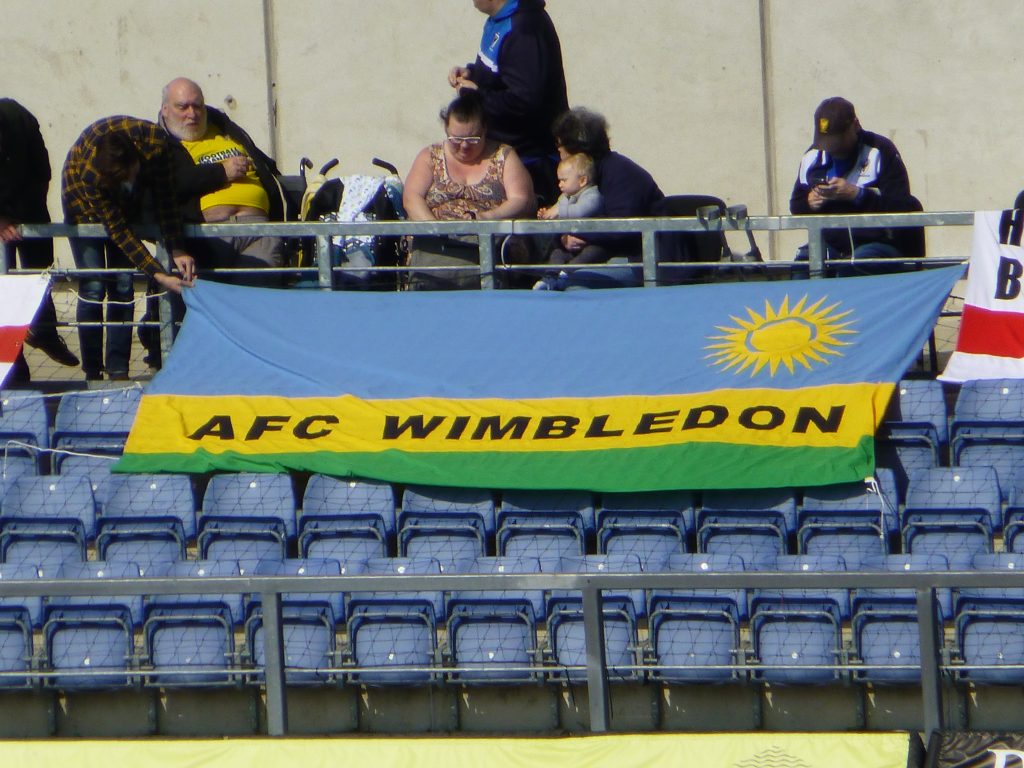 Pre-match thinking
In the last ten years the team going down from League One occupying 21st place in the table, the last of the relegation slots, has never got more than 50 points. In 2011/12 just 44 points were required to survive.
Only rock bottom Bradford cannot now overtake us but as we're on 52 points already, which is just four fewer than we obtained last season, and with almost every other fixture being a relegation six pointer, there's no way we're for the drop.
Earlier in the week some bookies were still offering odds on us playing L2 football next season. 300/1 said it all though and that has now disappeared. We're in that neutral mid table area, apparently sitting all alone. Betfair and company are still quoting odds on promotion for Coventry, Blackpool, Burton and Fleetwood ranging from 250/1 to 300/1.  Doncaster would have to cock up big time for any of them to make the top six.
But are we safe? What if we're met with padlocks and chains in retaliation for unpaid bills and can't enter the Kassam Stadium to fulfil any of our remaining home fixtures? Just throwing in the worst case scenario there. Points deduction?
Blackpool found out in the week that they could heave a sigh of relief. Under EFL rules clubs that experience an "insolvency event", such as being placed in administration, usually are hit with a 12-point deduction because they are deemed to have gained an unfair advantage by getting rid of debts other clubs have met. The appointment of receivers by a judge – in this case to force through the sale of the club to settle ex-owner Owen Oyston's £25million debt to former business partner Valeri Belokon – could have been viewed in this light. However the EFL board when they met for their April meeting considered this a special case, unrelated to the club's actual financial position, and therefore any deduction not applicable. They also discussed matters relating to four other clubs. Coventry?
Our visitors are in a very perilous situation on the field of play. They're third favourites to go down after the Bantams and Walsall at odds of 8/11. They shouldn't be without hope though as three wins from their remaining five games would possibly be enough. After coming here, where they'll have more to play for than us, they're at home to Bristol Rovers, away at Luton, home to Wycombe and on the final day have a trip to by then presumably already relegated Bradford.
Intriguing stuff and we have our part to play hopefully continuing our current impressive run and ensuring any side, relegation threatened or not, we come up against between now and the final curtain call don't add to their points tally.
Oxford United 0 AFC Wimbledon 0
If we weren't already safe my feelings on this goal-less affair may well have been very different but as we're where we are and have maintained the unbeaten run with only two points dropped in five games I'm going to spout mostly positivity.
We created enough chances to have won many games of football but that we didn't even register once was down to the usual two factors in such circumstances, the quality of finishing and the performance of the man in goal for our opponents.
Of course we need to be more clinical in front of goal but why do people bother to text Radio Oxford after games like this to say so? (Probably for the same reason I state the bleedin' obvious in these columns but when we have found the back of the net well I'll say so. Do these texters ever let Jerome know when we've done a great job in front of goal? Don't think so. Don't think I've ever heard Mr Sale read out "we were clinical today". Like after Walsall when we made way fewer chances than we did against the Wombles but converted three. This negativity does my head in.)
We really should have had four or five at least but I wouldn't say any were absolute sitters. Nor would I say that Bournemouth loanee Aaron Ramsdale, whilst keeping out many of our efforts in fairly impressive style, was really stretched to his outer limits.
More than half the side seemed to be guilty of not doing as well as they should when faced with the opportunity of getting their name in the goals scored column. Mark Sykes missed some. His mis-kick from a Sam Long pass late on was the easiest we had. Jerome Sinclair never really got that close. I'd like to see him gamble a bit more and wish he were that bit sharper in anticipating where the ball is going to end up because make no mistake there were some bloody good balls played into the Wimbledon penalty area. Occasionally he did make very intelligent runs like when slipped in by Cameron Brannagan in the first half but then his touch let him down and he ended up putting the ball just wide. For me the jury is still out although I do like his work rate.
Jamie Mackie went close and I came away thinking for a seasoned pro he should have found a way of getting the ball past Ramsdale. On reflection that was harsh as he's not going to do what he did against Bradford game in game out, or possibly ever again.
Gavin Whyte. Photo, Simon Jaggs
Gavin Whyte is in many ways an exceptional player but how much better he'd be if he was taught to improve his shooting. We'd then be looking at someone worth a significant amount of money.
It should also be remembered that Cameron Brannagan hit the post in the first half and in the second the now consistently impressive Rob Dickie had a long range effort that surprised us all by going close.
Whilst being massively anti-MK Dons I've never fallen for the AFC Wimbledon love-in for a variety of reasons. The way they play football being a significant factor.
They started well in the first few minutes with aggression being a main feature of their game. I've no problem with that as long as it is within the laws that govern football. It was and then just a few minutes later it wasn't and it soon became clear it wasn't just that but also niggly cheating stuff too.
There were numerous examples. Joe Pigott led with an elbow. Justice was done here but not by the inept referee Alan Young. The perpetrator ended up coming off worst and with a bloodied nose.
Quite early on there was what looked to be a fairly nasty foul on Gavin Whyte which I thought could potentially have resulted in a sending off. We did get a free-kick but not even a yellow was flashed. That told me Young had little authority.
I spotted Scott Wagstaff kicking one of ours off the ball when we were looking for space to receive the ball from either a throw or free-kick. When we decided to start giving as good as we were receiving in the challenge he didn't like it and resorted to moaning. (Can't beat Mackie at that game though. What had the linesman done to upset him?)
Young also fell for the falling of Wimbledon players and incredibly soft awards went their way.  The stats say we committed ten fouls to their nine but that meant nothing. The ref was good at missing the most blatant of infringements too. The visitors were not given the most obvious of free-kicks we saw all afternoon. In front of us an Oxford player, although not in a dangerous way, chopped his opponent over before winning the ball. The game continued. We chuckled.
It didn't take long to conclude that Wimbledon are another of the teams scrapping to avoid the drop that lack class. Based on pure football we were light years ahead of them. Simon Eastwood did not have one shot to save and I can only recall one proper effort and that was from a bit of a way out and was off target. We ended up with 62% possession and during the two thirds of the match that we had the ball there were times when we played some delightful stuff.
Moves that seemed to me like they contained 20 or more passes ended up with efforts on goal. We had the speed and dribbling skill of Whyte, and also that of Sykes, who did his chances of further selection in midfield no harm at all. There was nothing similar in blue shirts who produced nothing pleasing on the eye. I'd struggle to watch such mundane fare every week.
But if you support a team that's what you do. We've done it and been bored rigid by what we've witnessed at times over the years. Not now. It might not quite be of the high standards Mapp eventually managed to get from an OUFC side but there is some entertainment to be had and skill to admire if one is willing to watch with an open mind at present and that's within a well organised framework where no-one is shirking the battling and work-rate required for L1 survival.
Fair play to the Wimbledon supporters for turning up in big numbers and getting behind their side. However I found it a bit bizarre how they and the players at the final whistle celebrated as though they'd won something when the reality of the situation is that they're still in the bottom four and never really showed any ambition to take all three points from this game. Perhaps they'd all calculated that a point against the mighty in-form yellows was one helluva result and that they're confident in gaining the necessary further points against other relegation rivals.
I also found their anti- Karl Robinson chants rather tiresome. I understand why, in the same way as Oxford supporters label (almost) all ex-Swindon players as being the scum of the earth but these people need their mortgages paying and families fed and very few don't take the best offer available to them. Worth mentioning here that the 50:50 half time draw was made by 77 year old Ken Skeen. He was playing for Oxford when I first started going to the Manor as a young kid and went on to play 270 times for us scoring 41 goals. Whisper it, we signed him from the Robins for whom he made 14 appearances.
What does the short, medium and long term future hold?
These are questions I'm constantly asking myself. Having written so much already I just cover the short term here and leave the medium and longer term for another day.
Short term it's all about the remaining four games, the significance of which varies with each passing set of results.
For us the pressure is off but what does that mean with regard to our approach to the fixtures against Charlton, Shrewsbury, Doncaster and Luton? Should we be experimental? Should we give barely seen youngsters a chance? Should we leave out loan players, especially those very likely not to be with us next season? Or even leave Curtis Nelson out as he'll be wearing the shirt of another club for the 2019/20 campaign?
My stance would be to pick the best team available for every game and get as many points as possible. Take each game as an individual challenge in its own right.
Given that we've spent most of 2018/19 in the lower reaches of the league I've not paid that much attention to the goings on at the top. Luton's exceptional performances can't have escaped the notice of anyone with a passing interest in L1 and I was also aware that Sunderland, Barnsley and Pompey are right up there too but as for the rest, without looking at the league table I would have had to guess at the other play-off contenders.
The Addicks arrive for a 1 o'clock Good Friday k.o. way higher up the table than I'd realised. If we think our form is something to crow about they should be shouting from the rooftops about what they're achieving at the moment. They're unbeaten in eleven, have won six of the last seven and have only lost once in 2019. They beat the Hatters on Saturday, which takes some doing and are now only three points behind second placed Barnsley. Although Sunderland and Pompey, who incidentally play each other on April 27th, in third and fourth have a point more than them and a game in hand, given their momentum I wager Charlton very much fancy themselves for the second automatic promotion slot. Other than us they still have to play Scunthorpe, Gillingham and Rochdale.
This fixture will be a huge test for us. In our recent good run the critics in our fan base have thrown out the "we've not played anyone any good" comment on quite a few occasions. Well, this lot are good. I can't wait.
Three days later it's off to Shrewsbury. Like us the Shrews appear to have got themselves out of danger. On 12th March when we were in the bottom four on 40 points from 37 games they were only above us on goal difference. They're now one place and three points below us and we should be seeing to it that they stay there.
Our final home game is against Doncaster. That they had turned around their bad form of seven without a win to take maximum points from their last four games had totally escaped my notice. That form has placed the right to the play-offs in their own hands. So this should be another game with an edge and something by which we can judge ourselves against one of the better of our contemporaries.
Luton could well have the Championship sewn up before we go to Kenilworth Road but with one point from the last two games are they wobbling? They couldn't miss out on automatic, could they?