Article by Paul Beasley Sunday, August 19th, 2018
PORTSMOUTH
Previous
We've played Portsmouth many times over the years and the visits to Fratton Park may have got a bit jumbled and confused as they've rested in the old memory bank for so long.
My first recollection is of Chris Bloody Kamara getting Mick Tait sent off. Can't remember the year or the score. That may have been the same trip where I developed my first football superstition which is never move place on terrace (as it was back then) or seat in stand if Oxford are drawing or winning. We were standing down the side and weren't losing. Given the type of place Portsmouth is we opted for a quick getaway and with a couple of minutes to go moved behind the goal to get nearer the exit. (These were the days of no or very limited segregation). I also think it was raining so it was a particularly stupid move as we'd gone from dry to wet. Pompey then scored either an equaliser or winner. I think it was probably the former.
I went there on at least one football special. Pulling into the station my mate said I can't see any coppers, we're dead. Then as we began to alight they appeared. Phew! It wasn't the sort of place I'd have been happy to have had no police presence in that era but I couldn't tell you the exact year, or score.
Then there was the game every Oxford fan of a certain age will remember. Father Christmas. Alan Biley. It was a top of the table clash in Division 2 (The Championship). It had been a tight game with no first half goals but Kevin Brock put Oxford ahead with just over 20 mins to go. The game was just about over when Alan Biley headed an equaliser but worse was to come because in time added on, the same player got another in similar fashion. The reason for the additional minutes was a pitch invasion by someone dressed in a Santa outfit. That person was Geoffrey Peters but it was only in the last few years that his identity has been revealed in the local press. He's gone down in Portsmouth FC folklore.
How many fans who travelled, and there were a lot of us although as ever well outnumbered, can remember Billy Hamilton hitting the bar after we'd gone behind? I can. Yes, right. Isn't You Tube great for bringing hazy memories back to life?
I suppose we can laugh now.
Actually we really could have afforded ourselves a chuckle at the end of that 84/85 season as we went up as champions to the top division. Portsmouth failed to make it on goal difference.
In more recent times we had that marvellous 4-1 win under Chris Wilder in 2013 in the opening game of the campaign, coming back from a goal down. Two apiece from Alfie Potter and Dean Smalley. (Yes, Dean Smalley).
Under Mapp's two games in charge when we went down there we didn't concede and our only goal was good enough to win one of them.
We were well beaten there last season though but that was after the Mowatt moments and the outcome could have been very different.
Not just the ticket
I saw the message informing that the game was all ticket and that they were already on sale not long after the announcement had been made. What I didn't see was that priority for purchase had been given to season ticket holders, then members as promised. They just seemed to be on general sale. That didn't really bother me but I thought it best to buy one without hanging about too long in case they were to sell out. So I set about ordering on line.
It looked like things were going smoothly and I'd just about got to the end of the transaction when I got a message saying there was a problem with the site. I wasn't sure whether I'd actually bought a ticket or not. As there was no email confirmation I attempted to go through the process again. First time the site wasn't working but it was soon playing ball and I ended up buying a ticket and getting an email confirming I'd done so. That's one email, one reference number. Nothing more.
Next day in the post came two identical envelopes. Each contained a ticket. I then checked my credit card statement. Two lots of £24 had been taken. That's £23 for the ticket and £1 postage. I then rang the club to be told Ticketmaster have upgraded (probably not the correct term) their systems and the club are experiencing loads of trouble. All I had to do was take the ticket back to the ticket office and get a refund before the Coventry game. I did approach the ticket office only to discover I'd been a ****wit and left the bloody thing at home. So I phoned the club and told them I'd be posting it back. Which I did and they kindly rang me to say they'd refunded £23. I said what about the £1 transaction / postage fee? The ticket office lady said they'd used the system to refund and it was £23 that came up but if I went to the ticket office next home game they'd give me a quid. I then said but it's Ticketmaster that have (nicked) my quid. She said neither I nor OUFC would get that back off them.
Reading the forums I'm not the only one having problems with Ticketmaster. Bunch of bloody shysters if you ask me. But what choice do we have as they seem to have a monopoly in the ticket game? I suppose we could all ring the club instead of going down the on-line route. I guess a lot of people will revert to this but then you're likely to be met with the engaged tone, especially for big games.
Rant of the day over.
Expectations
Pompey had started their league fixtures really well. We had not. They had maximum points. We had not even one. On that basis and the fact that the bookies have them as third favourites at 8/1 to win the league I would have been tempted at 10/11 the home win had it not been for our efforts against Coventry. That had given me hope that had previously not existed. (You can now get 100/1 on us being champions. Before a ball had been kicked in anger the best odds available were just 25/1. I laughed at that. Even at 100/1 I'd strongly advise anyone to keep their money in their pocket).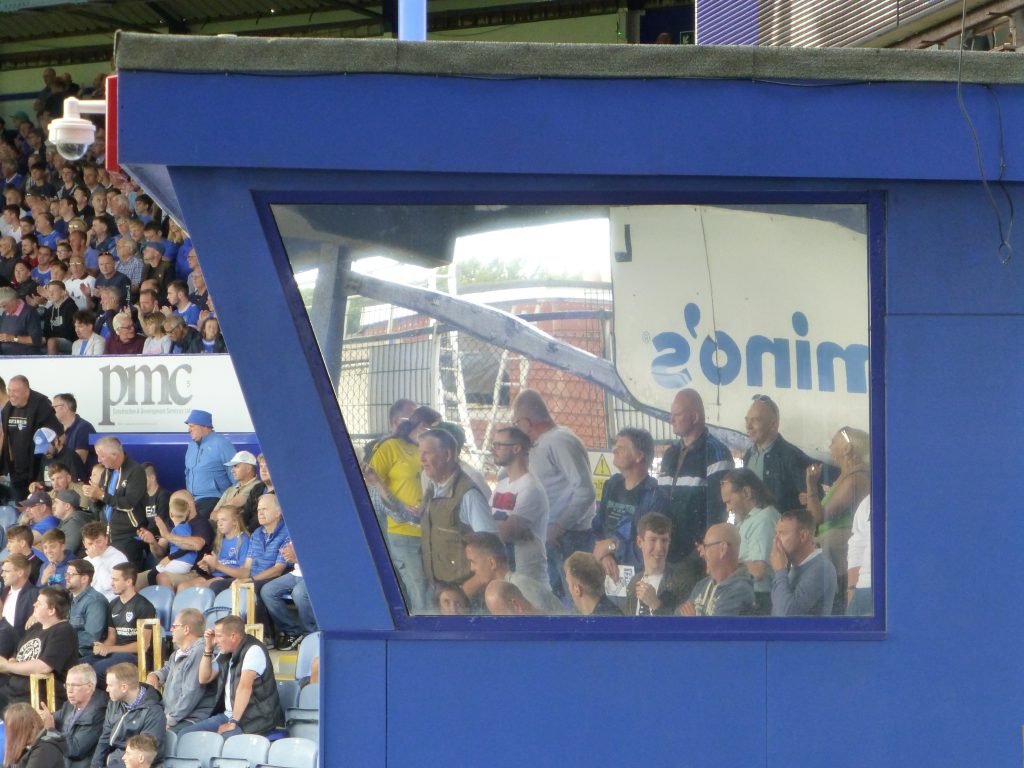 Plenty to reflect on
Back to the league so back to our stinking form – Portsmouth 4 Oxford United 1
Last season we weren't happy with Pep and quite rightly so, although before it became obvious we were going backwards with him, we'd just about gone forwards enough to get sufficient points on the board to ensure we'd be playing L1 football again now.
We got the last few points under Karl to get us over the line but losing two more than we won wasn't the best of records. Still, never mind it wasn't his team and he could only be properly judged on the 2018/19 season when he'd had time to bring in players and get them fit and organised.
So wtf – three league games played, points none, ten goals conceded and not one scored by an Oxford player. The only goal in the "for" column was put in the back of the net by a Pompey player, probably out of sympathy.
As things stand we're the only team in the division without a point and a goal difference that's five worse than any other team already. Some real life football teams are a joke in a Barnstoneworth United kind of way. Having holidayed up there many decades ago I'd put Fort William of the Highland League in that category.  Last season their record was played 34, won 0, drew 5, lost 29, goals for 31, goals against 184. That's a typical season for them.  On Saturday they lost 10-0 at home to Turriff United. If we carry on as we are we'll end up, for this season at least, being the English version of the Fort. Or Barnstoneworth – I can see myself turning into Michael Palin.
I can't recall a worse start. And yes there's still 43 games to go, blah blah blah. Well there were 44 games to go after Fleetwood came and took an easy three points. Where will it end?
Having waited to see what this league season brings I have to say that KR so far has done absolutely nothing to inspire me. After Pep I thought he was the right man for the job but now the evidence (3 league games) says that is highly questionable. So far those amongst our fan base who weren't happy from day one appear to be right as is the view of fans of other clubs, including those who he has managed, who describe him as a "mouthy scouser" who makes it all about himself. I'm damn sure his constant ranting and raving at the officials does not set a good example to the players and if he is like that when actually doing the man management bit, disaster lies ahead. Initially I thought it was genuine passion which I quite liked after Pep's seemingly detached approach.
All the bad things we've seen and I've described in previous FVs this season covering league games, were on display once more.
A defence that didn't look like a defence. It was a major surprise that we got to half time with the score still goalless. That was down to an excellent Jon Mitchell penalty save. I knew though that was just papering over the huge cracks and it would only be a matter of time. The full-backs didn't really defend or attack. The Curtis Nelson / Rob Dickie central partnership looked as crap as it had done in the earlier games. Also I don't think Nelson performs like a captain and here he again looked a shadow of the man he used to be, getting bullied and showing no leadership that I was able to detect.
The way John Mousinho played on Tuesday he would have been one of the first names on the team sheet for me. But KR knows best.
All teams need a blend of youth and experience. Last season there were legitimate complaints that we brought in players who were past it. That's a big problem. I'd argue Cameron Norman deserves to start ahead of Tony McMahon. Looking at McMahon and Jamie Mackie as they are playing at the moment I'd say we've done the same again and flushed a couple of salaries down the crapper. The former seems more intent on getting involved in altercations with opposition players and fans than doing the job he is paid for, which is defending. I like players who will stand up for themselves and their team mates but that attitude gets on my nerves. Poor discipline doesn't help a team in the long run and there have been times in our history when we've let ourselves down in this regard. I think Chris Wilder helped stamp this out when he came in and Mapp certainly wouldn't stand for such behaviour. Now we've got Robinson.
Mackie doesn't seem to have any legs. The tempo we had against the Sky Blues was nowhere to be seen. As someone pointed out on social media, there's a reason clubs let the likes of him and McMahon go.   They may turn their form around, and I really hope they do, but I'm not holding my breath. It looks like we've been suckered.
The midfield wasn't really effective in doing anything defensively or attacking wise. That alone equals big problems. For a raw youngster I thought Shandon Baptiste did okay when more experienced heads around him should have been showing the way. It would also be unfair to judge Jamie Hanson on one game but he had time when Mitchell rolled the ball to him before losing possession and conceding the penalty. At that point the game was too fast for him. When I say the game, I mean Portsmouth's game, not ours. We were slow as if trying to allow him a gentle debut.
We didn't have any discernible shape that one would associate with a football team and there was almost nothing down our left side to stop Portsmouth attacking that flank whenever they felt like it.  That's where the goals came from.
The first arrived not long after the restart. Mackie didn't do much to stop the full-back knocking a ball down the line for Jamal Lowe who went past Luke Garbutt as if he wasn't there. Oliver Hawkins couldn't connect properly when it was pulled back but he picked the loose ball up and fed Gareth Evans who beat a man before registering. We had six yellow shirts between the penalty spot and goal but still couldn't block it.
Their second started with a long kick from keeper Craig MacGillivray's arms. Lowe got a flick on. Garbutt managed to get himself hopelessly out of position. He got quite close to Lowe but not close enough to make a challenge. Hawkins was able to get the ball back to Lowe whose cross was never going to be cut out by Garbutt's little wave of the leg. Dickie's glancing header did the rest.
Number three came from a corner from, well you can probably guess which side. We had eight men plus the keeper in or almost on the 6 yard box. The ball was delivered past the far post and needless to say it was a blue shirt that won it. The header back across the box was won by another man in a blue shirt. Two men then went after the second header. Not a defender and attacker but two attackers. A foot beat a head to the ball to put us three behind. We really were utter shit.
That happened in the 65th minute. Four minutes earlier we'd made three changes. Josh Ruffels came on for Garbutt (yet another loan that won't work out?), James Henry for Baptiste, and Jon Obika for Sam Smith. I can see logic in each of the swaps but not keeping one sub up your sleeve isn't something I advocate.
Even though Ruffels isn't a specialist left back, Garbutt had been incredibly poor. Smith was isolated all game and received not one piece of service and doesn't appear to have any individual magic in his boots that could turn such dire fare round our way, so trying something else couldn't hurt. Baptiste was on a booking and I'd have James Henry in the side on almost every occasion. Except that he had taken a knock against Coventry and KR had not wanted to risk him.
There was little evidence of him being hampered and he almost immediately became our best player on the park. With things having been got going a bit, I noticed Marcus Browne who could be a threat in the right team with the right players around him. That's not looking like us at the moment.
Obika contributed a bit too and both he and Henry hit the post. I thought Henry's effort with the outside of his foot was sublime.
Were Portsmouth genuinely a bit dodgy at the back when put under pressure or had they just lost concentration and focus because we had been such feeble opponents was a question I was asking myself. If dodgy was the answer, taking account of added time, there were seven minutes left being just two goals behind so there should have been the tiniest sliver of hope. Foolish me. We've not yet shown any proper spirit and belief in the league. We've not even scored a goal ourselves and they weren't going to gift us another two.
What happened was they scored themselves another. Ruffels and Dickie got in a tangle and away Lowe went down that same flank before producing a super finish.
This may have come over as almost one big moan, and so it should. There's no other way of looking at it for me. And here's a couple more gripes to almost end on.
So Ricky Holmes, our only bright spark against Fleetwood, needs injections and can't play every week. It's not his fault but have we brought another crock through the door? On the way home we had some debate as to whether most clubs at our level have to keep patching up players and use them selectively as they wear out. On that subject – what of Robbie Hall?
And those effing free kicks. Player one holds ball above head with arms outstretched. Player two the free-kick taker starts to run up and player one places ball on floor. Player two hits a crap kick. Every bloody time. We should receive a booking for being such dicks. Who came up with this routine? Wouldn't it be better to get the bloody basics right like angling the ball in with a bit of pace or loop on it to at least make the defenders think they weren't playing against a circus team full of clowns?
Oh yeah, they didn't save the day but two excellent pubs did help. Thatchers in London Road Portsmouth beforehand and the Steel Tank Alehouse in Chandler's Ford afterwards. Well done walking footballer Tim the driver for getting us out of Portsmouth and to this establishment so quickly after the final whistle.
Not often you see an Austin Seven in a pub garden. Thatchers, London Road, Portsmouth