WALSALL 1 OXFORD UNITED 3
Walsall away is a fixture that is so very easy to attend by train. Bicester North to Moor Street only takes about an hour then New Street to just outside the ground a further 20-30 mins. The short walk between the two Birmingham stations obviously takes a very long time with the temptation of public houses in the vicinity. The Post Office Vaults and the Wellington both serve such an array of quality ales we felt the need to visit pre and post-match. Piffle Snonker, yes please. We also popped into the Bull Ring Tavern before we hopped on our transport home. It's not the type of establishment we'd normally include on our itinerary but I have to say there were some interesting characters in there and the prices were cheaper than in the other two.
Old gits on tour
The match started, as one would expect, in competitive fashion and I couldn't help but think even at an early stage that we didn't look like a team bound for relegation, which is hardly surprising given the three game winning streak we'd brought with us. In contrast the hosts' recent record was a worrying, for them at least, four straight defeats, but they too were showing endeavour.
With just over a quarter of an hour played Ahmed Kashi collected his first yellow card. It was one of those "I can see why it was given" affairs. He slid, but didn't jump, into the challenge but may have got the ball first. It's very difficult to tell even when played back in slow motion.
Five minutes later it was looking good as we took the lead. Before taking a free-kick on the right hand touch line Luke Garbutt raised his left arm, which was a signal telling Rob Dickie to head the ball into the back of the net. Simply that. The delivery was pinpoint and our centre-half, who wasn't being particularly tightly marked, duly did what was required, nodding down and beyond keeper Liam Roberts for the opener.
At the time Jamie Mackie was off the field of play having treatment for a head wound. (We were just having a try-out with ten men ready for what was to come.)
Soon after though the outlook had taken a turn for the worse as a mistake led to the advantage being squandered and in first half added time worse still as Marcus Browne was shown a straight red.
Curtis Nelson was the most culpable as we conceded. Although Andy Cook was breathing down his neck and gave a slight push, he had ample time to thwack the ball over the back of the stand housing the magnificent away following and out for a corner. What he did was appear to try and pass back to the stay at home Simon Eastwood without getting a proper connection leaving Cook to easily stab past our keeper.
Not for the first time this season we'd gifted a goal but it was, as ever, now all about not letting it affect us and ensuring nothing similar happened again.
I don't think it did have much of an impact which tells much about the belief that is now in the camp. There were times in the second half when we had to face plenty of balls hit into the box and, as is usually the case in such circumstances, got away with it on a couple of occasions. Our defence completely missed a corner which bent out for a goal kick when Eastwood was flattened by one of his own and another time he'd looked to have produced a spillage that would be tapped in. Bravery and sticking legs and bodies in stopped that scenario playing out.
However the Saddlers weren't creating chance after chance and to be honest they didn't have a lot of class.
Browne's dismissal is naturally a talking point. I guess the fact that he has since apologised says that it was justified but at the time I thought it was a case of the player having put his foot over the ball to hook it away ready to run away from his opponent. Once more I'm still not sure having watched it over and over again. Protestations from Walsall players and chants of "off, off" from home supporters may have had an influence. Yes, I'm biased I know but I don't think referee David Webb had the best of views of the incident. Perhaps he was advised by an assistant.
On the fouling front I thought Walsall (17 committed) at times just set about stopping us getting into any flow with just free-kicks given each time but nothing more. That can be frustrating and when Browne was allowed to get going it was clear he could be a danger.
With a man light for 45 plus minutes we were going to see what we really were made of. That we are now a resilient well organised unit that has self-belief was proven. That we still managed to end the contest with 49% possession shows how we approached the remainder of the game.
We did nothing much different but it was reasonable to wonder where any inspiration for something a little special would come from to get us a second goal with no Browne around.
I need not have worried because playing simply and sensibly would reap its benefits. Don't be flash, don't force it, stick to the basics and it will turn out as desired.
We're usually not very good at throw-ins but in the 63rd minute we re-took the lead from one. James Henry had three red shirts near him when he received Sam Long's throw. None were close enough to prevent him getting the ball back to the advancing Long who knocked it past Aston Villa loanee Corey Taylor and with his second touch from the by-line, pulled it back into the six yard box. A defender hurriedly swung a leg but couldn't block and Garbutt collected. He stopped it with his right foot and put it home with his left.
The celebrations amongst many fans were yet again very joyous. Too joyous apparently in some cases as I believe three fellow yellows were escorted away. I don't know exactly on what grounds because I didn't see anyone actually encroach on to the playing area but a camera man does get buried in the bundle of players connecting with their adoring followers.
Many managers make a change when one of their players is given their marching orders but Karl Robinson, having not panicked, didn't make his first substitution until the 77th minute. That saw Henry, who is nowhere near his best, give way for Gavin Whyte. Being a boring old git I would have brought on a more defensive replacement but it was immediately clear that KR had got this right too. The pace of our winger was most certainly unsettling for the hosts as they wanted to concentrate on their attacking rather than having to work hard on preventing us getting a third.
Our remaining two substitutions came together with Jamie Mackie and Kashi leaving and Jerome Sinclair and John Mousinho arriving with seven minutes of the 90 remaining.
Mackie had run his heart out as usual and his captaincy impressed me when after pleading Browne's case accepted that Mr Webb wasn't for swaying put his arm around the West Ham man's shoulders and ushered him away.
In the few minutes prior to the third being bagged I wasn't over enamoured with Sinclair. It might have been the pressure getting to me but I wanted him to be putting himself about more and doing what Mackie had done. That may of course have been unfair because he's Jerome Sinclair and not Jamie Mackie.
As the influential Kashi was on a booking it was quite logical to take him off. Little did we know. His replacement the obvious one.
What goes on in added time is becoming a huge part of any story of recent OUFC matches. We'd had seven minutes tacked on to the first period and eight onto the second 45 minutes. It is supposed to be in the 94th minute when things take off but here in the West Midlands it was a minute later.
Whyte swivelled and helped the ball into the Walsall half where Sinclair ran between the two central defenders who'd left a yawning gap. His first touch wasn't great but his pace got him there and Roberts dithered and was unable to get enough of a touch to prevent our number three. It should be noted that the move, I'll call it that, started when we won the ball following a Walsall throw.
That was it; we'd definitely won now. More chaos. Don't tell me that loanees don't have their hearts in the club during the time they're with us. I'm hearing that this group of lads is as together as any we've had for many a long year. Just look at the way Kashi and the non-playing sub Jordan Graham celebrated. Totally stupid but also totally understandable. So Kashi is now banned for one game and Sinclair too picked up a card for his shirt removal.
Earlier in the season we didn't at times seem to be quite as fit as the opposition during the final stages of matches. That now is very much not the case. It's not by luck that we're scoring so many late goals.
When it was said on EFL on Quest on Saturday night that since mid-October we have produced play-off form I thought surely not but checked it out anyway. Yes, in the last 29 games we've won 12, drawn ten and lost seven. That's 1.69 points a match and equates to almost 78 over a 46 match season which without doubt secures a top six slot.
Other stats which shouldn't be ignored are four straight wins and three away wins from the last five.
There are of course even now those who refuse to think we're any good or even heading in the right direction. Robinson is rubbish and has to go. Loanees are rubbish. We're only beating rubbish.
This is League One, not the top of the Premier League.
I've been well pleased with what I've seen recently and for that KR, the coaching staff and all those who have performed in an Oxford shirt should be applauded.
If people want to have a go then surely it should be with regard to the off the field mess. I've been reluctant to touch on this for the last few weeks for a couple of reasons. I find the whole thing utterly depressing and can't see any way out and have not wanted to introduce a downer when the team are bringing happiness (at last). Also I'm not in possession of the full facts.
But quickly here goes and apologies for covering old ground but it has to be done every time the subject is discussed and when people continue to choose to ignore the obvious.
The alarm bells have been ringing for weeks and are getting ever louder.
That the staff weren't paid was a damning indictment on the way the club is being run and adds weight to the lack of that pot to piss in. But the wages were apparently only a day or so behind in being delivered. The excuse this time was that their transfer into the country was held up by new stricter regulations concerning money laundering. Excuse after excuse after excuse. Sort it out. If money exists get it into the country and leave it there. Why weren't we ready for any new regulations?
And the statement put out by the club regarding the latest winding up order really takes the piss. It is a known that rent and service charge due to Firoka over a 12 month period is close to £1m. Why tell us again. "The amount in dispute is £204k." They're just words, why not tell us why they're in dispute.
"The club and Firoka had previously agreed to sit down face to face on 26th March to discuss the charges and to try to find a way forward which would be satisfactory to all parties. Last week's meeting was cancelled by Firoka at short notice. We accept that the payment had been missed but immediately asked for another meeting as well as offering to pay the outstanding amount on April 10th in the interests of allowing constructive discussions to take place with Firoka regarding the use of the stadium and to avoid any dispute proceedings being necessary."
FK has us by the short and curlies because of the deal signed by Nick Merry who presumably had been given delegated powers by Ian Lenagan to do so. Blame them? Blame Tiger for not doing his due diligence? Blame Tiger for thinking he could sweet talk FK into being oh so very kind to us? Deluded or what? Blame Mr Eales for not selling to Stuart Donald?
And there we are.
I've now talked myself into depression. I need to close my eyes and picture Sinclair swinging his shirt above his head. Ah, that's better even if only temporarily.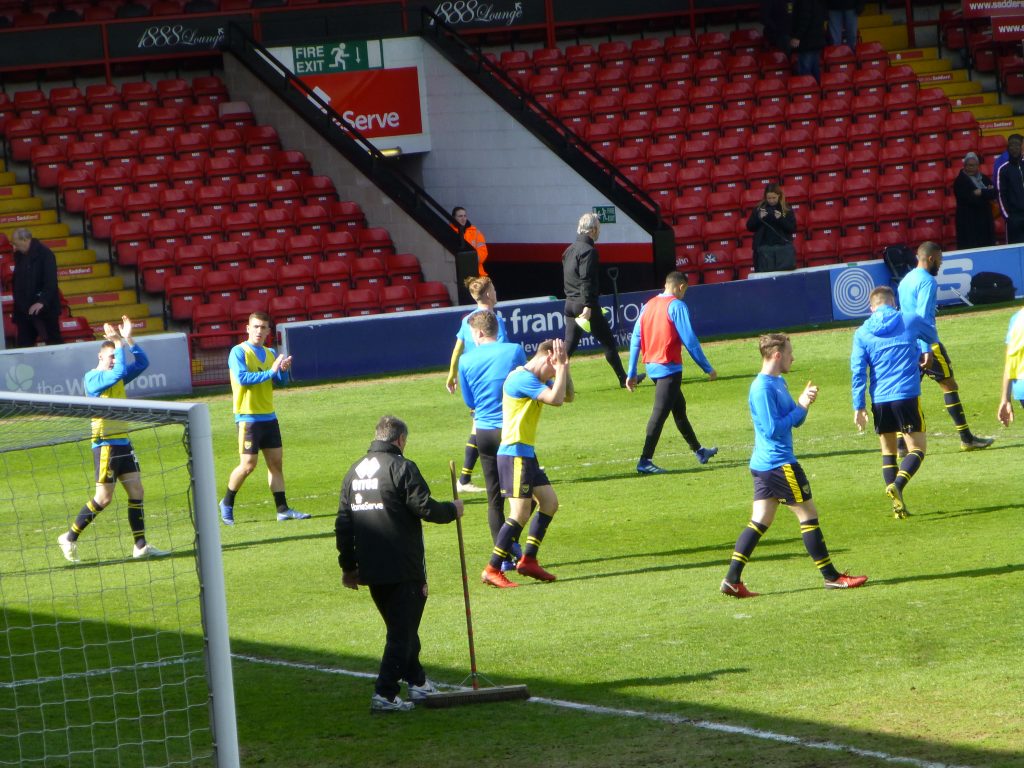 Players showing their appreciation of the travelling support before kick-off