COVENTRY AWAY
Bradford aftermath / Sky Blue anticipation
I knew there were reality checks to be had after the euphoria and subsequent scarcely believable drama that followed the Mackie moment. I however chose to ride the warm glow well into the week before giving this serious contemplation. A few others took a different stance. So much for the half full or half empty debate, there are some who will only stare at the bottom of the glass searching for dregs that largely don't exist.
With the dust hardly settled, Karl Robinson still had to go, the players were crap, our finishing shit and we're doomed because it took us until the 94th minute to score against a rank awful side.
I've regularly given my opinion on KR and think to dispatch of his services now would be utterly ridiculous. (10 points from the last 15).
We have some really good players, some of whom are regularly crap at certain things.
As for our finishing, on recent evidence it's hard to disagree that it is crap, but the goal against the Bantams was superbly taken. No-one should forget that. But a team like, say, Luton would have hammered in double figures. No wait, the Hatters won 1-0 at Valley Parade on Tuesday March 12th.
This is now history, history which has taken us out of the bottom four and within two points of the top half of the table. Lunacy. That's L1 in 2019.
It's likely to be lots of all change through to May.
Given Doncaster's faltering form, Coventry very much have their eyes on that last play-off slot. In their last seven games they've picked up 16 points including a draw at Kenilworth Road.  Their home form over the season though is exactly the same as ours, 29 points from 19 games. There are a few stats around that don't quite seem to fit with the perception of how we're doing this campaign that most of our fans, me included, have. Only the sides occupying the top five places in the table have won more home fixtures than us. Away though every other team has won more than our miserable once. We have however drawn 11 times on our travels which is three more than anyone else.
Coventry City 0 Oxford United 1
On many away days we have tried and tested drinking establishments listed to visit but the Foleshill area is relatively virgin territory us having played at the Ricoh Arena only once before. That was an evening game in October 2016.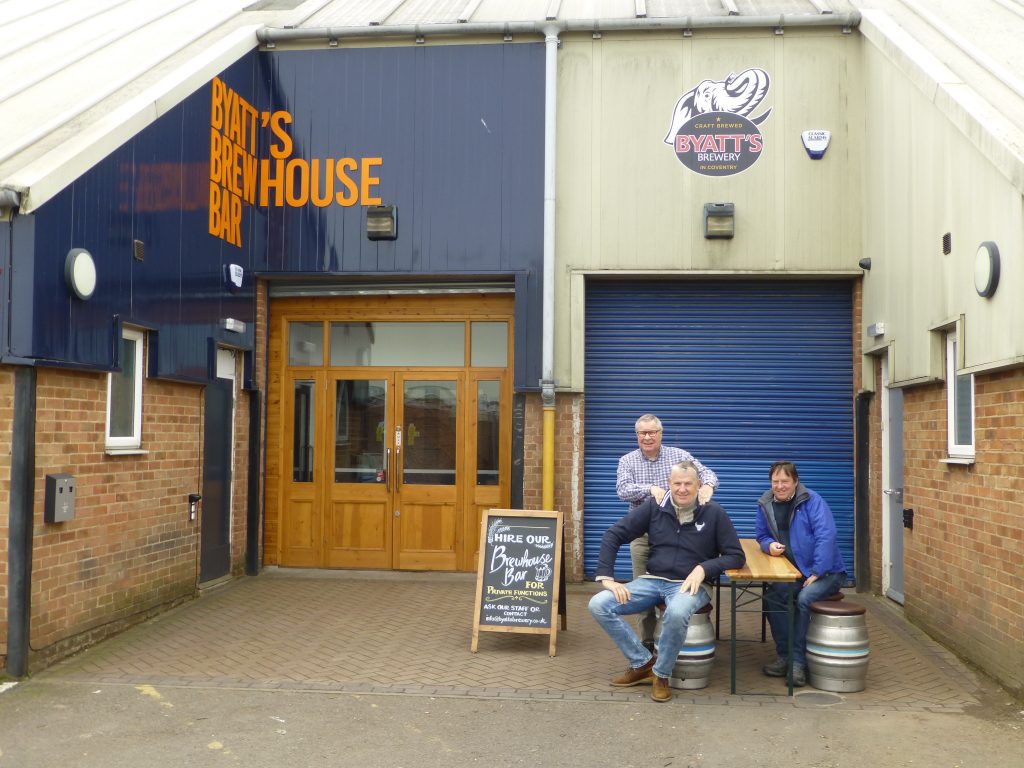 We needn't have had any concerns that we weren't going to be catered for. Less than a mile from the ground is the home of Byatt's Brewery. Located on an industrial estate it has a modern style two floored tap house that opens just twice a week. That's Friday from 4:00 – 9:00 p.m. and Saturday from midday to 9:00 p.m. First result of the day. It took our chauffeur just an hour to get us from Bicester and we were ready to enter as the doors were being opened.  There was a choice of five of their ales of various styles that were all perfectly pulled and very reasonably priced with every tenth pint being a free one. Tremendous. There was no debate to be had that we popped in again afterwards.
Compared with the high drama of the finale the previous week this was a much more mundane affair but was nevertheless a highly enjoyable afternoon's football with very little to choose between the two teams at any time during the game.
Given how tight it was there were never going to be many goals, if any, in it.
The home side started brightly. Their talented youngsters were moving the ball about well but we've now got an in built resilience. If one defender makes a mistake, which they all will do from time to time, there was a colleague to help out and do the necessary. Simon Eastwood was that man on more than one occasion.
After an error by Curtis Nelson which resulted in Rob Dickie trailing in Amadou Bakayoko's wake, the Coventry forward's cut back was hit by Luke Thomas but blocked by our excellently positioned keeper. The man who eventually oiked the ball away was Sam Long.
We really rode our luck in the 23rd minute when a Bakayoko header hit the post before coming off Eastwood and up into the air. He didn't know anything about this but once again we got the ball clear. Long's head was involved this time as was a tackle by Marcus Browne when Tom Bayliss was about to fire a shot off and finally Ahmed Kashi stabbed the ball away for a throw. Each playing their part.
Eastwood's best save was probably in the second half when low down he got a strong hand on Thomas's shot after Josh Ruffels had failed to deal with a long cross-field ball. This time it was Nelson who cleared.
I've no reason to disbelieve Ian Holloway on EFL on Quest when he, presumably having been informed himself by a researcher, told us that this was Eastwood's 48th clean sheet in 150 games for Oxford.
We too had efforts on goal. Ten shots, half of which were on target. The Sky Blues had one fewer of each although they did achieve 56% possession for what that's worth.
The man who looked our biggest goal threat throughout was Luke Garbutt. At times the Coventry custodian, Lee Burge, needed to push or fumble the ball away to ensure his team did not concede but didn't look to have the safest pair of hands.
This was more than evident when we took the lead 12 minutes into the second half. Brannagan's corner may have been taken from marginally outside the arc and was bent over towards the far post. Nelson got his head on it, well more like the top of his shoulder truth be told and Burge, despite getting plenty of fingers to the ball, only managed to push it in just enough for a goal to have been registered. Nelson then gave it another little touch to make sure. All very scrappy. They all count though, so we don't give a monkey's how it was scored.
With still over half an hour to go I was expecting Coventry to ask us more serious questions than they did but I thought we looked more likely to get a second than them to draw level. Through to the end we were mostly in control and that may well have been down to us having more experienced heads than our opponents.
I didn't spot any noticeable timewasting, cheating or foul play but a very readable Coventry City blogger (Sideways Sammy) thought we had "a physical and cynical, bordering on nasty, edge" to us and that we "broke up play with niggly fouls both on and off the ball, wasted time and were generally looking to disrupt rather than dictate the flow of the game".
Water Break?
Whether that was true or not what we did do worked. It was an organised team effort with everyone putting in the required shift with no stand outs playing eye catching football in midfield or up top.
They had a tiny penalty claim late on when there was a coming together of Jordan Shipley and Dickie and perhaps we did get a bit lucky here and there but these fine margins are now favouring us whereas earlier in the season they weren't. I'd say we are playing better now than we were then so it is probably a case of earning such things.
Now KR has a bigger fitter squad from which to pick. The outlook is so much better than it was after that defeat at Accrington just over a month ago when there were just 311 yellow travellers present. On Saturday there were 2,007 roaring the team on and from what I could hear mostly supporting the team in the right way.
That we're now 13th in the table is kidding no-one though that we're anywhere near job done, feet up, minds on a beach holiday mode. We are just four points off the drop zone and there are three teams below us who have games in hand that could see them leapfrogging us.
One of those outfits is Wycombe who come to the Kassam next Saturday. They've won just three points from their last nine games but I'm expecting the usual hard tussle against Gareth Ainsworth's men.