SCUNTHORPE AT HOME
Pre-match thinking
Stuart McCall was appointed manager of the Iron in August 2018. On Boxing Day they lost 2-0 at home to Luton. That in itself was no disgrace given the season the Hatters are having but it was their sixth straight defeat in the League and left them second bottom, having played the same number of games than us but with five fewer points.
If we'd experienced such a horrible run I'm darned sure the decibel level of the call for Karl Robinson's head would have been an ear drum shattering one.
I've not a clue what the feeling was amongst the Scunthorpe faithful but the owners stuck with McCall and brought in five new players in the very early days of the transfer window being re-opened. One of the incoming bodies was Adam Hamill and those who witnessed the Wembley loss inflicted on us by Barnsley will know what quality he has.
Scunny then went on to win five of the next six with the other being a draw against Sunderland.
Their form has dipped a bit since with their four most recent games resulting in two losses, one draw and then a defeat to Gillingham last Saturday.
Nevertheless going into this game they were in 16th position, five points better off than us, which is some turn around. Stating the obvious if we were to win we'd be within touching distance of them but an eight point gap with just 11 games then remaining is rather large.
You don't need to have a very high IQ to work out that we need points, but the fact that we have not yet achieved back to back league wins in 2018/19 is a sobering one. But neither had we won away until the previous Saturday so let's hope we'll clock up another – and may I add again very long overdue –  first of the season.
KR will be faced with a tricky, but very welcome, selection conundrum if Gavin Whyte and Marcus Browne are fit enough to be considered. As we've had the luxury of a full week without a game, if it were down to me I'd start with the same XI that triumphed at Bloomfield Road, provided they're all fully fit. None of that lot deserved to be dropped and it could leave some real attacking pace to come off the bench.
Very pleased to see the Chairman in attendance. Photo, Simon Jaggs
OXFORD UNITED 2 SCUNTHORPE UNITED 1
The first half was one of the worst I've ever seen and that's saying something. To make matters even more terrible, the visitors, whilst looking no more than mediocre at best, were much better than we were.
We started in hesitant fashion and posed not the slightest of attacking threat. It's hard to describe how poor we were. There was nothing being produced on the pitch or in the stands. Good to see Manny Omoyinmi back and making the half time 50/50 draw. Can't believe he's now 41 years old. Time just flies by. Couldn't agree with him saying the support in the first half had been good, but hey, people say strange things with a mic shoved in their faces. I liked the guy when he was with us and good to hear that he's now a primary school teacher.
We looked like the pressure of desperately needing three points was going to be too much for us. Clearances were miskicked, the ball was given away and it seemed like we were at some stage going to give Scunthorpe a gift of a goal they couldn't refuse.
We were easily breached when Kyle Wootton got beyond our defence only to be sent flying by Simon Eastwood. I'd have to see that incident again before making a fairly definitive comment but perhaps we got away with one.
Jordan Graham has quality but it wasn't being utilised to good effect as no one else seemed to be playing with him. This was summed up well when he managed to beat a few opponents under pressure just inside our own half only then to hit a horrendous pass backwards that went out for a corner. I don't know whether that was intended for Eastwood or not but he'd needed a midfielder or forward busting a gut to get into a position to receive the ball from him.
There were a few other incidents that demonstrated how out of sorts we were in those first 45 minutes.
When for once we did break well, a quality pass from Jerome Sinclair put Mark Sykes away. He knocked the ball too far ahead as he ran towards goal and was tackled as keeper Jak Alnwick remained unemployed.
The first shot Alnwick had to save was on the stroke of half time although the level of threat posed by Sykes's effort was somewhere between negligible and non-existent.
Earlier it had looked as though we might genuinely test Alnwick when the ball looked set up for a shoot but Sinclair and Sykes got in each other's way. Who was the better placed I'm not sure but there was very little understanding throughout the team or players forming partnerships. Sinclair was mostly isolated up front. There was no zip from anyone with everything being done at a slow pace and instead of moving the ball on first time, two or three touches were taken.  It was something of a relief when we were allowed to play the ball across our back line as then we were at least having some possession.
This may have been the same team as started at Blackpool but standards were way down. I'd say James Henry, Luke Garbutt and also Sykes were fell into that category and others could be added to that list too.
The best that could be said at the break in such circumstances was the usual "At least we're not losing." With Gavin Whyte and Marcus Browne on the bench I'd not given up all hope. A bit deeper thought made me realise that for all our patheticness as an attacking force, Scunthorpe had not run our men at the rear ragged nor had they created many clear cut chances. So there was something we were doing reasonably well. The job of a defence is first and foremost to stop the other team scoring. (Yes, really).
In the second half we improved marginally and Scunny appeared to me to be that little bit worse. The two may have been related but it wasn't until the 59th minute with the introduction of Whyte that we really came to life and took on the persona of a proper football team.
This prompted some to question him not starting but I don't go with that. His fresh legs against a tiring Scunthorpe left back was just what was needed. What an asset to have on your bench.
A game is won over 90 minutes by using up to 14 players as seen fit by the manager according to the circumstances. So credit to Mr Robinson.
We've seen Whyte's pace in a few games now but whilst that still amazes me, it was his ability to go either way and beat men that struck me here.
Others started to play better too and we put together some passing moves where men were finding space and making Scunthorpe work ten times harder trying to keep us out than they had been required to do earlier.
Graham who hadn't had a bad game up until then looked more dangerous as did Sinclair with the ball at his feet. Add that to the shift he had put in throughout and he's a player I'm very glad to have at Oxford. Oh yes, he got a couple of goals too. When was the last time a centre-forward scored two headers in a game for OUFC?
The first came just six minutes after the crucial substitution. Graham, fed by Josh Ruffels, went down the left in now familiar style and attracted the attention of two red shirted defenders but was still able to get the ball into the box where we had four men. The closest was Sykes whose first touch was away from goal and with plenty of defenders in the vicinity I thought there was little danger. However, he controlled with his right, turned away from a defender and shaped as if to cross with his right. Instead of doing that he stopped dead and put a super ball in with his left. Two defenders were on Henry and Tom Pearce was quite close to Sinclair, but not close enough. Our striker (I'm going to call him that) didn't have to leave the ground to guide the ball down, onto the goal line and over giving Alnwick no chance whatsoever.
The skill shown by Sykes in this was L1 and some. Another with massive potential. He grew into this game and I have to ashamedly say that in the first half I thought there were times when he looked off the pace as things were happening around him much more quickly than they will have done in the NI Premier League. That though is to be expected.
At this point my brother commented that we would need to score two more to ensure that we gained all three points. I got the sentiment but I wasn't quite that pessimistic.
A quarter of an hour later with ten minutes remaining we doubled our lead. This was the first time we'd held a two goal lead for just over a month.
A twisting Whyte on the edge of the box took his man on with two others close by and then delivered a pass to Sinclair. A defender managed to get a foot in but not make a decisive clearance. That's what happens when a team is being properly pressurised. The ball came out to John Mousinho who had no Scunny player within 15 yards. In the penalty area there were seven defenders plus Alnwick up against four yellows. The cross was bent in with utter perfection. Sinclair got between two red shirts and leapt to plant the ball, this time to Alnwick's left. Again he was never going to stop it.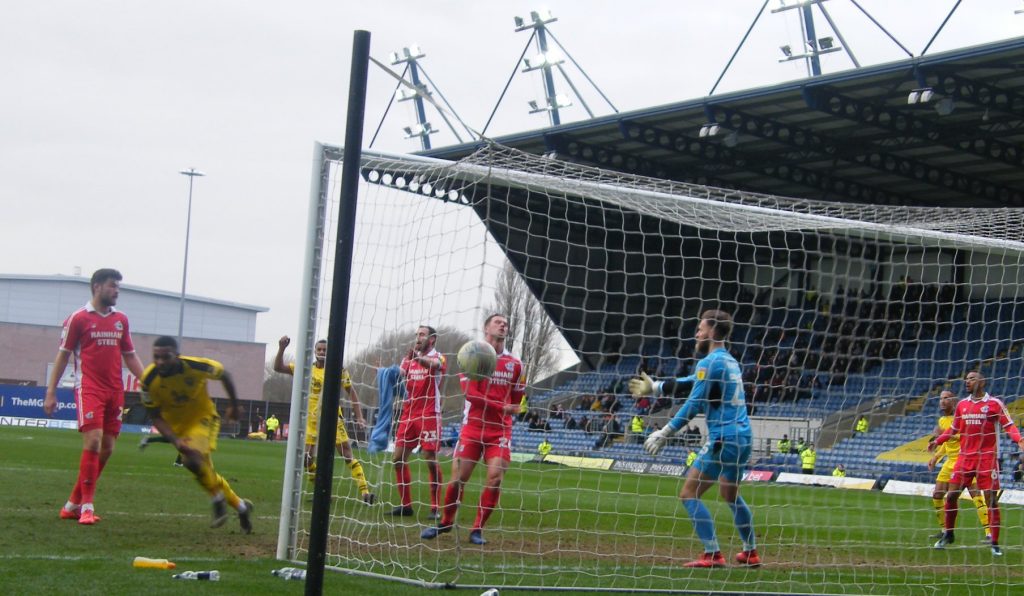 Number two goes in. Photo, Simon Jaggs
Mous's calm unhurried approach had paid off. I have to admit that much earlier in the game when we weren't playing well I was getting frustrated that he wasn't doing things quicker.
Credit again to our manager, this time for instructing Sinclair to get between the sticks more often. He was in the right place for both of his goals and anticipated the second excellently with his run.
That made us the first team, other than Luton and Barnsley, to score two against the Iron since before Christmas Day.
We obviously now felt safer even if the conceding of a three goal advantage we let slip in the return fixture was providing a little niggle in the back of the mind.
Having got to the point when the board was raised showing the added minutes still two goals to the good, even the five minutes shown shouldn't have been a great concern should it?
Well yes, when with three of those five remaining our lead had been halved. Sam Long looked like he was about to head away a cross field ball knocked in from near the halfway line but appeared to be eased past it by Kyle Wooton and ended up sprawling to the floor. There possibly wasn't a lot in it but it doesn't take much to sneakily foul an opponent in such a manner. Referee Michael Salisbury was never going to give this as he had allowed much more blatant pushes to go unpunished when he clearly had a good view of them. I find it hard to believe that this was the same Michael Salisbury who officiated in our game against Luton earlier in the season. Then I praised him for penalising foul play and gamesmanship. Time and again Curtis Nelson almost had his shirt removed. It wasn't a case of 50:50 at best 90:10 but nothing doing whistle wise.
Anyway, the ball ended up with Tom Pearce. Putting aside the grieving for his old grey mare he crossed first time. We had more men back than they had up but this time our defending wasn't up to scratch. George Thomas, who netted for Coventry against us at Wembley, was able to score easily from close range.
We saw it through to the final whistle not without some stress but also not subjected to any outright hostile bombardment.
And then that was that, we'd done it. Back out of the bottom four and up to 19th but just two points ahead of Bristol Rovers in 21st and they are in good form with a game in hand. This league seems to get tighter by the week. The whole of the bottom half of the table are in a relegation fight. We're incredibly only two points behind Southend who are 13th.
Play like we did at Blackpool and in the second half here we should end up comfortably safe. Play like we did at Accrington and the first half here and we'd almost certainly be playing L2 football next season.
The tension is almost unbearable and not for the first time you ask yourself why you put yourself through it.
Next on the itinerary is a visit to Priestfield to face a Gillingham side a point and a place better off than us. They would have had a couple of extra points to their name if Fleetwood had not got an equaliser in added time on Saturday. Their form over the last six games is the same as ours, two wins, draws and defeats netting eight points.
We have not won three league games on the spin since the last three fixtures in our first season back at this level. (* edit – see below). About time we did it again then.
The sponsors naturally gave our two goal hero the man of the match award. That's the law. I'd agree he was very much a contender but there were others too. Sam long deserves a mention but I feel a need to give a big shout out for Rob Dickie, or the Dickster as Mrs FV has christened him. A few games back he wasn't doing it but form comes and goes. Just like at Bloomfield Road he won just about everything in the air and got stuck in with total commitment. Yet all I hear some do is moan about him. If he hit a long forward pass that didn't find the man he was decreed not good enough. Yet not one bit of applause for the battles won.
We have eleven battles remaining. We need battlers and footballers or more to the point, footballers who are also battlers.
(*) – My good mate Mr T Brown has pointed out that this is incorrect as we won three in a row under Pep in 2017/18. 30th Sept – Posh 1 Oxford 4, 7th Oct -Oxford 3 Wimbledon 0, & 14th Oct – B.Rovers 0 Oxford 1.