PORTSMOUTH AT HOME
PESSIMISM
Yes, pessimism. Lots of it. What more can there be under the current regime?
Monday afternoon (14/01) arrived with nothing much having changed. The second half at Fleetwood had given a tiny bit of hope but no proper striker had arrived or even a hint that one would. Curtis Nelson and Marcus Browne were still here though.
Then a few hours later it started. A third HMRC winding up petition. I trusted the source but plenty on social media thought it was just a bit of fishing or rumours that obviously couldn't be true because of the assurances that were given after the last episode.
Later it was confirmed as being true and supposedly it was going to be or had been settled within 24 hours or something.
For me a line has been crossed. The way things stand I have no trust in Tiger and his board members. I and the rest of the supporters have been lied to and have been given nothing of substance on to which we can cling to give us hope that we have a future at L1 level or even in the Football league. Actions speak louder than words. I'll refer again to the OxVox meeting at Court Place farm when Zaki Nuseibah wasn't very forthcoming when asked questions but did give what I took to be a categorical assurance that we would never again under their watch be subject to a winding up order. The second winding up was supposedly caused by difficulties moving money into the country but processes were being put in place going forward.
I'm quite reluctant to start spouting off about the owners of our football club at any particular time because I don't have detailed knowledge of what goes on behind closed doors or what causes various negotiations to break down. When our impressive forward momentum under Michael Appleton, with Mark Ashton at the club and Darryl Eales the owner, was starting to unravel I wasn't for slagging off our then chairman because I had no hard facts on which to fall back. Would we now be in a better position if the subsequent sale had been to Juan Sartori / Stuart Donald / Charlie Methven? Perhaps. Oh go on then, almost certainly.  But DE will have his reasons for selling to who he did and as the owner could do whatever he bloody well liked. As could Firoz Kassam, as could Ian Lenagan and as Tiger now can.
So what can we deduce and what worry some more about? If we were late paying the tax man again what's happening with other payments? Are we paying Firoz Kassam on time? Are the players worried that wages might be paid late next month? Or not at all? Shouldn't think this will do much to attract new players of worth to OUFC.
Some of our Directors are supposed to have significant wealth but they clearly haven't put anything significant financially into Oxford United. Nor from the evidence so far have their business skills been put to any use to progress the club in the direction demanded by the supporters. Perhaps it is all going on quietly behind closed doors. Do I believe that? No, not at all. We don't even know what role each director has. But hey, they're rich, successful wealthy men. So that's alright then.
Give me the truth. Don't try and bullshit. Give me evidence that the finances are sound. Give me evidence that each director is bringing something positive that can be shown in results on and off the pitch. Then I'll support the board as well as Oxford United FC.
Angry? You better believe it. Me and god knows how many other fans. I doubt Tiger and the Board give a **ck though. If they did this latest winding up order would never have happened.
Then, to make matters worse, we had the Gavin Whyte incident. I'm hoping it was just a one off (the wrist). See, I'm at it too. Taking the piss and joking about it. Humour is often a defence mechanism and let's face it at the moment we're very reliant on gallows humour. I just don't know how else to deal with the situation.
For crying out loud, The George Best Breakthrough Award, wtf was that all about? One of the best footballers the world has seen but also a sad alcoholic who should be no role model for any aspiring footballer. Surprising that our young winger got drunk at the do when receiving his award and then behaved in the way he did.
He's probably devastated now and knows he will have to face vicious abuse from opposition fans. I just hope he's strong enough to deal with it and now makes the headlines for the right reasons. We need him. He did what he did but I'd like to see the little sod who posted the incident on twitter get his comeuppance. What sort of mate does that? Oh, a drunken one I suppose. A mate no more, I hope.
There's been some activity on the transfer front but still no STRIKER. An absolute necessity. But we have got another bloody midfielder in on loan. A 30 year old who doesn't score goals from Troyes in the French second division.  Our manager knows Ahmed Kashi from their time together at Charlton. A job for his mate or an asset? It would only be fair to wait and in calmer moments I can see that we are probably light in central midfield due to injuries and Josh Ruffels and Jamie Hanson now being our preferred full-backs. But the way I'm feeling now I ain't happy. Our team building and squad balance seems a bit askew.
Cameron Norman sold to Walsall is something I can't get wound up about. Well not much. He was okay but after his initial spell in the first team he began to look a bit lacking for L1 to me and although he got forward with enthusiasm, he had nothing much in his locker once he got there. I'd say this was almost to be expected given the step up he's made from Kings Lynn. He could develop though and what worries me is that he fell out with Mr Robinson. From my observation of the way Karl was treating Canice Carroll on the tour of Ireland, I'd say that our manager's man management skills when dealing with a certain type of young player are somewhat lacking which could mean we lose players with talent who go on to progress well at other clubs.
We've also loaned out Charlie Raglan which I suppose means Curtis Nelson will stay until the end of the season. An injury to him or Rob Dickie now though means Sam Long or Mous will have to play there. If it's the latter he'll be missed in his position just in front of the back four and if it's the former he's also our cover at right back. When I say cover we now have no player at the club who is a genuine right back by trade.
It's all a very depressing mess.
And that's without the little matter of table topping Pompey coming to the Kassam where we've lost the last two against opposition inferior to them. They'll be looking to bounce back after a surprise home defeat last Saturday.
Be brave. Try and believe. It's XI v XI blah blah blah!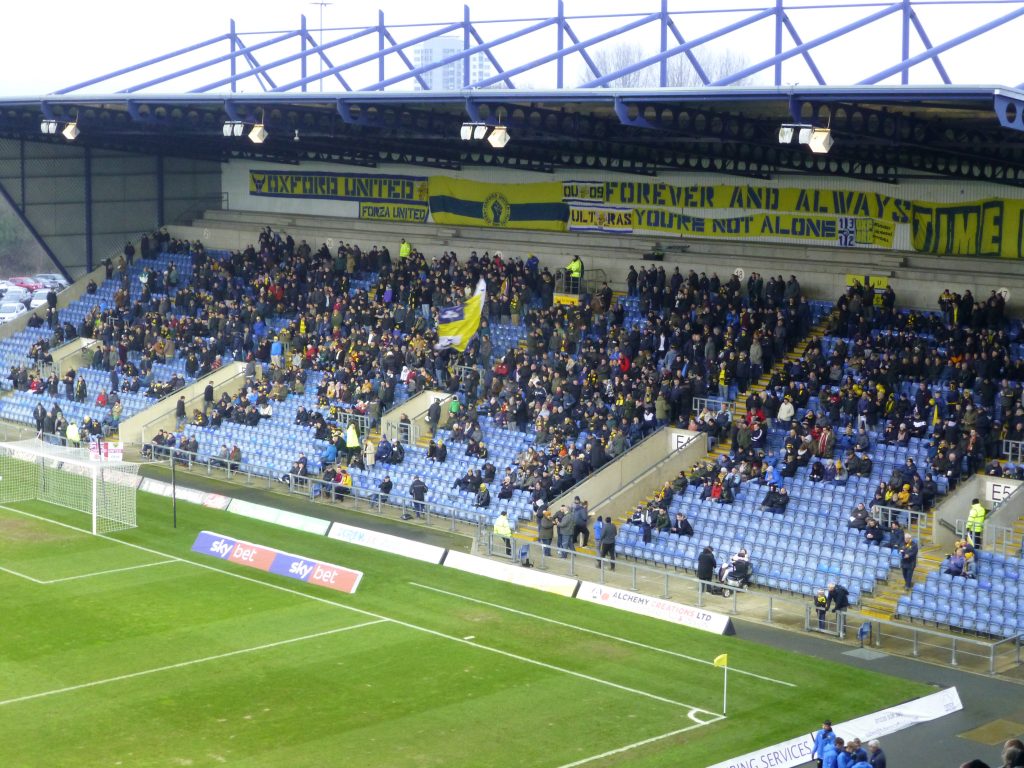 Four minutes before kick-off. Understandable but a pity the East Stand wasn't rammed. 
Oxford United 2 Portsmouth 1
Come the day of the game, as is often the way, I did have a bit more belief than the bleak outlook painted above would suggest with regard to the outcome of the game. That belief increased a notch or two when I received feedback on the view of some Pompey fans on the current form of their team. A mate had played walking football for OUFC against their Portsmouth equivalents and had learned that the visitors had peaked and had been lucky to have got some of their recent wins. Also their supposed best player had been recalled by his parent club.
Half way through the first half I was questioning whether this new found touch of optimism had been ill conceived. My brother had turned to me and said "we're not in this". I agreed but added "yes, but we're not being battered". The visitors looked the better side but nowhere near the standard I would expect a team at the very top to produce.
Our excellent second half performance at Fleetwood had been largely down to the introduction of Jamie Mackie at the break and Jordan Graham shining. Up to this point the Mackie we had seen was the niggler who was getting no change out of his markers or the referee and wasn't contributing much football wise. Graham didn't look sharp and was having little influence.
Then as we entered the second quarter things changed. There was something that didn't look quite right about Simon Eastwood who wasn't his usual assured self and we were later to learn that he has a knee problem, which is a sizeable worry. He mis-kicked a clearance but, instead of ending up under pressure, luck was with us. Jordan Graham gathered and ran diagonally before finding James Henry. He moved the ball on to Whyte who was able to set up Cameron Brannagan. The finish from some distance was perfect. He was my man of the match which meant this was one of the very rare occasions when I was in agreement with the sponsors.  From time to time we eulogise about energy levels and putting it all in and some more but his performance was absolutely exceptional. Amazingly he didn't tire. This was his best game in a yellow shirt.
Our winger from Northern Ireland played throughout as if that little (or big, take your pick) incident hadn't happened. He was lively and quick and difficult for the Pompey defenders to get a grip of. (Bloody hell, I'd not even thought about it but it's difficult to find the words that smutty minds can't pick up on). Anyway, I think he's largely put it to bed and we all move on. I heard a lot of good Pompey support but didn't detect anywhere near the amount of ridicule I'd expected. But there was a football match taking place that involved a further 21 players.
After we scored Graham began to play a bit and we suddenly looked the superior team. Chances were created but it wasn't until almost the stroke of half time that we got another.
Henry slipped a neat pass to Graham and he set off down the touchline. Even though there were a couple of blue shirts in attendance they couldn't contain him. He's difficult to stop because he's two footed and can go on the outside and also cut inside. Here he opted for the outside, knocked the ball forward and went past his marker to the byline then plopped it over to the unmarked Mackie who had by now become much more effective in his hassling and football. He took it on his chest and when it was obvious that a clear shooting chance wasn't on, with a neat bit of control involving each foot, he laid the ball on a plate for Henry to blast home from close range. Some will no doubt blame Mackie for not being a proper finisher and putting it away himself. Poppycock I'd say to that. Any forward who had tried to finish themselves would almost certainly have seen their effort cannon out of harm's way. Mackie showed all his experience and knowhow. Excellent play.
The hot chocolate consumed during the interval tasted all the better for that two goal margin but I'd no way pencilled this in as a home win.
Other than the surprise at having this lead, the big half time talking point was that Jamal Lowe had been shown a yellow card by referee Christopher Sarginson and not a red one. I thought it was one of the most obvious cases for a sending off you'll ever see. From my vantage point Lowe appeared to deliberately lead with his elbow right into Hanson's face. A Pompey fan sat in the SSU thought no contact was made and I also heard one United supporter say there wasn't much contact and pointed to the fact that our full-back was soon back up on his feet. Not having had the benefit of seeing the incident again I'll say perhaps Mr Sarginson hadn't made the howler I initially thought he had.
We continued to play well as the second period began but were not to score a third and all but ensure the three points. As in the first half we headed corners over when, having won the ball, should probably have done better. We also went close with shots on many occasions, one of which caused the side netting to give some home fans the impression we'd got that third.
However, instead of extending our lead on 64 minutes it had been halved.  Rob Dickie, who had defensively done almost everything correctly up until then, cocked up. Instead of smacking the ball into the SSU with his left foot he tried a fancy stupid little flick with his right. A split second later a cross had been delivered and Brett Pitman had produced an overhead to score a goal that probably will be the best individual finish we concede all season. Fair play to Dickie for accepting full responsibility in his post-match interview on the radio.
Considering how poor we've been recently we saw the rest of the game out fairly comfortably.
That we got the invaluable three points wasn't down to playing pretty, pleasing on the eye football, although we did play a bit of decent stuff in spells here and there; it was down to every player giving absolutely everything. Some though had more to give than others and I thought that Henry was a spent force long before the final whistle. Examples of the 110% (yes, I know) desire to be winners was exemplified many a time but I would pick out Jamie Hanson when he ran at full tilt across the pitch to win a challenge. The commitment was total but within the laws of the game. It is incidents such as this that makes a fan think their team has every chance of emerging triumphant.
With such spirit the chances of remaining a L1 team next season will be greatly increased but by no means a given of course.
To make the day even better other results largely went our way. Bottom club Wimbledon were hammered 4-0 at home by Barnsley, our next opponents. Bradford, who are now 2nd bottom but started the day on the same points as us, also lost by the same score on their own patch, Southend being the victors. Bristol Rovers were another team to lose at home, 1-0 to Wycombe and as a result have slipped into the bottom four. We've climbed out of those places by dint of having a better goal difference than Plymouth, the only other winners amongst teams at the bottom. That Gillingham lost and Shrewsbury (Sam Smith's new temporary home), Rochdale and Scunthorpe dropped points was also nice.
That's the good. Now returning to the finances and Tiger's comments on Radio Oxford after the game. Not so good by any means. I'd be fibbing if I said anything other than this mostly sounded like a load of old bull to me. Unexpected expenses? Couldn't have been very good due diligence. Okay, not everything can be predicted but surely there should have been a contingency fund of sorts. So the training ground still isn't finished. Rome wasn't built in a day but this has been dragging on for ages. Neither was Inter Milan sold in a day so perhaps when Erick Thohir's 30% stake which is worth approx. £130m is sold we'll see some of that money. That is a big perhaps but we have to guess because when Tiger talked about incoming money in February he didn't mention the source or how much. We're all still nearly a year into his reign very much in the dark.
After the previous winding up petition we were told that processes were or had been put in place to ensure that it would never get to that stage again.
So, had these processes been put in place? Yes or No.
If yes, were they fit for purpose? Yes or No.
If two yes's then some individual must have screwed up.
What to believe, hey. And why would these "unexpected expenses" take preference over payments due to HMRC? Interestingly a caller to Radio Oxford who was an accountant explained that this latest petition was likely to be with regard to the November wage bill, not the December one, such was the timing.
I'm still waiting for concrete evidence that Tiger and his board are going to use their finances and skills, expertise and contacts to take our football club forward. The evidence we've seen so far indicates we're more likely to travel in the wrong direction but I do acknowledge investment has been made in the U23's etc. That's not the team that's going to be playing the next 18 games as we bid to stay in League One though is it?
Pompey sold out their allocation in no time at all