FA CUP ROUND THREE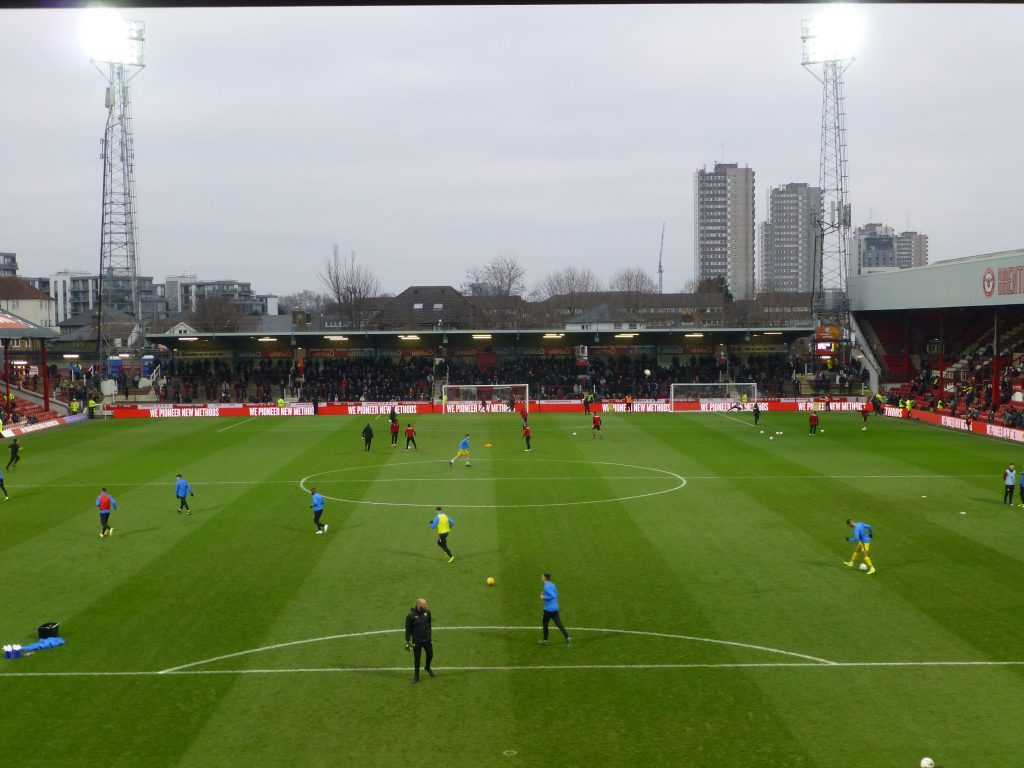 Pre-match pessimism
This is likely to be a regular feature of every Fan's View from now on until there is sound evidence, not smoke and mirrors evasive bullshit, to the contrary.
In the lead up to Christmas, with form being what it was, I only had Brentford down as marginal favourites to progress to the next round. But now following our 3 losses, no goals for and six against I'd have them down as about 1/3 on to knock us out and quite probably by an embarrassing margin.
Having beaten Bolton just before Christmas Day, which admittedly doesn't take much doing, they've drawn away at Birmingham and Bristol City, which are sound results, and in their NYD match took a point off Norwich at Griffin Park. Norwich are second and have only lost once on their travels all season.
Like all supporters of all teams I'm looking closely at the transfer window for some comfort but fear it may well be the opposite provided. What else is there? Shandon Baptiste returning perhaps.
There's an obvious cost when players come in though and whilst we've got it right occasionally, with Gavin Whyte being the best and possibly only recent example where we appear to have come up trumps, there's so many when we've pissed thousands of pounds up the wall. It wasn't Jon Obika's fault he wasn't much cop or that he got a nasty injury, but we've paid him and are still paying him. Ivo Pekalski is back here and taking a wage too, obviously. How much I wonder. This is a very strange one with not even the remotest hint he's being considered for the first team. Not even on the bench where we've got young kids that will only at a push be given a few minutes game time.
The Window
Wed Jan 2 – In, Mark Sykes: 21 years old, midfielder, on a two and a half year contract from Glenavon. This could at last be something to get excited about but to what degree we won't know until we've seen him play in yellow, obviously. But if he's as good as fellow Northern Irelander Gavin Whyte we'll have done alright, assuming the "undisclosed fee" and wages are not ridiculously high.
"I was really impressed by the Manager at Oxford, by the plans the club have and I can't wait to get started," is a comment he's made. That's the type of thing one would expect any newbie to say. But I don't know of a single fan who is impressed with KR or has much of a clue what the club's plans are. It's quite easy to say we want to be in the Championship, but even a little detail on how that is going to be achieved wouldn't go amiss.
Anyway, good luck and welcome.
Wed Jan 2 – Jordan Graham in on loan from Wolves. Again this could be a positive but please let's not get carried away here. He did look talented when he was with us in 2015 but perspective is clearly needed. He didn't get many minutes in a yellow shirt. He was involved in just six games. In the first he had 18 minutes as a sub and in the second came on in the 27th minute. Then came the game which sticks in people's minds, the Football League Trophy (a competition yet to be polluted) win against Swindon. He was magnificent. He was taken off on 75 minutes. He then played a whole 90 minutes and in the next game departed in the 67th minute having been red carded at Brisbane Road. In his last game he was booked. He didn't score any goals for us.
It also has to be remembered that he was playing with George Baldock behind, alongside and at times bombing past him. These are very different times. And he has had a very nasty injury and we've got bad history with this sort of thing. If he does turn out to be a revelation, haring down the wing and getting good crosses in who is going to get on the end of them?  Yes, more signings needed.
Thurs Jan 3 – Tony McMahon's destination was confirmed; loaned to our relegation rivals, Scunthorpe but he won't be allowed to play against us when the Iron visit in a couple of months. Initially he didn't look fit to me and seemed more intent on spoiling for a fight than playing football but when he settled somewhat I thought he was an asset. A good solid steady experienced pro who knows the game at this level and he's someone who can deliver a bloody good dead ball. I thought the criticism people kept throwing at him that he was too slow was overstated.
Another loanee who has returned to his parent club is keeper Jon Mitchell. He made 15 appearances in all competitions for us and kept 6 clean sheets which isn't a bad record. I thought he was a decent keeper with some potential. Technically good but he wasn't Simon Eastwood and he did have a weakness with his distribution. Of course he made a mistake or two, as all goalies do, but the blame he got was unfair in my view. It should not be forgotten that the defence in front of him had been rather shambolic a lot of the time. Bringing him in in the first place made one wonder what is the point in paying Scott Shearer a wage. Anyway young Jack Stevens now appears to be the number two.
Fri Jan 4 – Armani Little and Harvey Bradbury both, not for the first time, joined Woking on loan. Those who wanted to see these two in the first team won't be very pleased. I haven't seen enough of them to have any idea whether they'll have a productive career in professional football. But on the few minutes I've seen of these two I'd say they're not ready yet for what we are about to face. It will only be a mistake sending them out if we don't get more bodies in, bodies and minds which are fully tuned to a L1 relegation fight.
Brentford 1 Oxford United 0
Part of any away day invariably involves visiting a watering hole or two and there are so many to choose from when passing through our capital city. This venture didn't start well though. The Argyll Arms is right outside Oxford Circus underground station. It's a Nicholson's house but the app which should give a whopping 25p a pint discount failed to play ball and over a fiver a drink was stumped up. The beer was decent enough but was served by a barmaid who couldn't care less. She was only concerned with getting us out of the way so a delivery could be made.
Never mind, the Waterloo Tap was next on the itinerary. A small modern bar in a railway arch which opened in 2016 and which opens at 11 o'clock on a Saturday according to their website. Except it was shut which pissed me off. So the Hole in the Wall it was for me and also quite a few other OUFC fans. This is another Good Beer Guide listed establishment but my previous experiences suggest they are lucky in this regard and I'd say the same again.
In Brentford itself things looked up.  The mock-Tudor free house, the Magpie and Crown was much more like it but I couldn't understand why it didn't have more clientele given there was about to be a football match taking place half a mile away. The beer was of good quality and much more reasonably priced, plus this time the bar maid (East European again, not that this has got to do with anything) was friendly. The only tiny downside was that after 1:30 glasses were not allowed, it had to be plastic, due to said football match.
Post-match the Waterloo Tap had bothered to open. It was worth popping in as was the Kings Arms in the back streets around the corner. Both were packed and not as pricey as the Argyll.
But enough of public houses and beer. We were there primarily for football purposes.
Unless we're drawn there again in a cup competition next season or the Bees get relegated and we stay up, this will have been our last ever visit to Griffin Park. So it's goodbye to another old school ground.  For the 2020/21 season their home will be a 17,500 (some reports have it slightly larger) capacity stadium in Lionel Road. It's probably going to be called the Brentford Community Stadium.
It sounds very different to what we went through. Wrenbridge Sport are project managers and client representatives for Brentford FC's new community stadium. I'll unashamedly lift from their website –
The stadium will combine the corporate hospitality facilities expected within modern stadia together with a range of community and sports uses including an education and training zone, climbing wall, sports centre as well as a local pub. The enabling development to fund the stadium includes a residential led development comprising over 900 apartments surrounding the stadium together with the conversion of the existing ground to family housing. This will create a new hub within Brentford and will regenerate a former industrial site as well as providing improvements to the local train station. Part of the planning process included demonstrating and committing to over £11m of community benefits within the borough, delivered through the Community Trust.
There does seem to be "rugby" involvement too so although it appears a really positive short distance move I'm not entirely clear how it will all play out for BFC.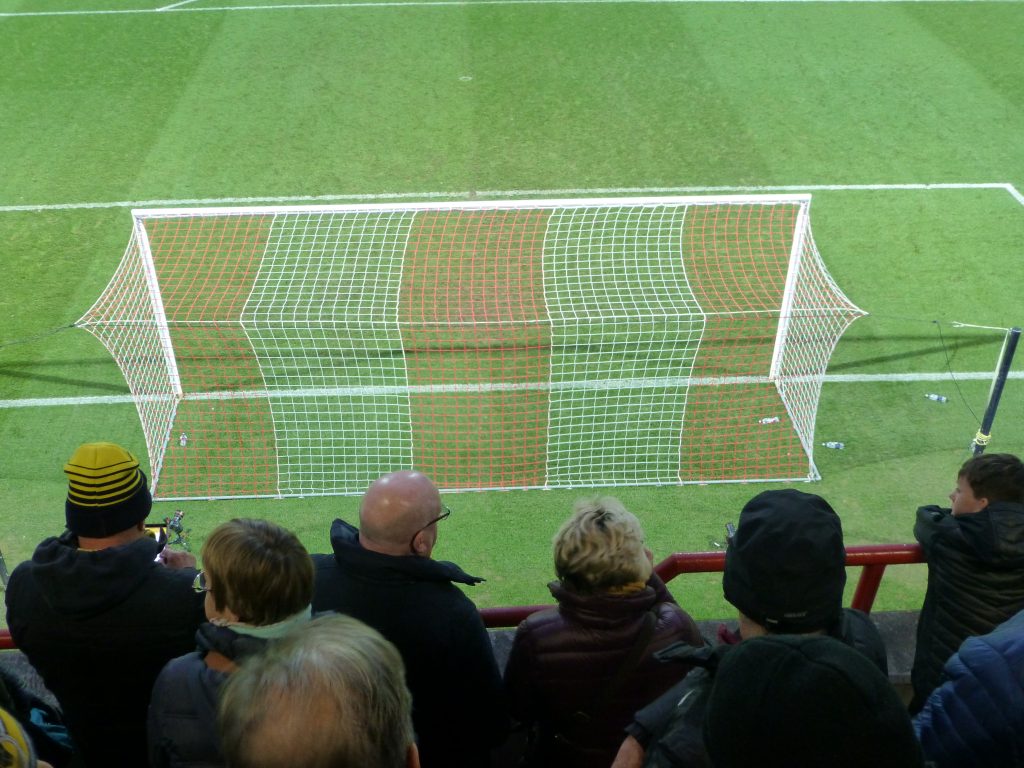 But on the day we were crammed into an ancient structure. We love 'em but also kind of hate them a tiny bit too as they're clearly no longer fit for purpose in this century. We'd opted for seats in the upper tier of the Brook Road Stand. There are no pillars obstructing the view but the design is such that if you're a few rows back and remain seated you can't see the whole of the goal, or goal line and there's no room for any legs on a body approaching 6 foot to fit without some discomfort. And such is the narrowness of access to and from the toilets and refreshments one wonders whether the H&S people have turned a blind eye.
I've still so far avoided talking about the actual match in much the same way as OUFC have avoided scoring goals in recent matches. Here we again drew a blank. We just didn't look very much like getting a goal from open play, although James Henry went quite close in each half with his second effort forcing Luke Daniels into a very good tip over. This record of failure to find the back of the net is incredibly worrying.
That aside this was a vastly improved showing when compared to the previous three. No player had a bad game.
No way though did this mean we got anywhere near claiming that on the football played we deserved to come away at 5 o'clock still in the FA Cup. Anyone watching who had to pick the better team on what they had witnessed would have opted for the home side in an instant.
When Manchester City came to the Kassam it was obvious they were from another planet. Although the gulf here was not as cavernous there was a very noticeable gap between what we watch in L1 and what Brentford produced. They were a pleasure to watch. They all looked assured on the ball, seemed to be able to beat men with consummate ease and from the stands their movement appeared bamboozling.
So we have to take massive credit for only conceding from the penalty spot and never getting run ragged as we worked and worked to make it hard for our opponents. The midfielders and wide men did plenty of tracking back and blocking. Henry on a couple of occasions making timely interventions.
It wasn't until the 80th minute that we went behind and it was just before this happened that I first thought maybe, just maybe, we would be able to see the game out goal-less.  Simon Eastwood had made three excellent first half saves but was well beaten by substitute Neil Maupay's spot kick. He cost them £1.6m in July 2017 and has scored 15 league goals so far this term. There's a gap, boy there's a gap.
It was Maupay who was brought down by Jon Mousinho. It was just mis-timed and 100% a penalty. Jeremy Simpson a Championship referee and massive favourer of the Championship team gave it, obviously. Any referee not having done so would rightly have had the quality of their eye-sight questioned.
But when it came to us being given spot kicks it was a different story all together. I thought we had a reasonable case in the first half when Jordan Graham appeared to be tripped by Josh McEachran right on the edge of the box after good hold up play by Jamie Mackie. Admittedly it wasn't clear cut but it may have been deemed so if it had been their man going down.
What did look clear cut to all of us in the away end was a foul in the area on Marcus Browne after we'd gone behind. I was convinced the referee had to give it. Browne was looking to get on the end of Henry's cross when Moses Odubajo put an arm round either side of his body and for a brief moment looked like he was to administer a bear hug. Both the Brentford defender's gloved hands almost join. It obviously prevented our player doing much although he did manage to execute an overhead effort of sorts.
Simpson came across as being extremely biased against us on quite a few occasions in addition to this non-penalty. When Marcus Browne was shoved off the ball we didn't get even a free-kick but a split second later one of ours did the same to them. This too should have been a free-kick which was rightly given and I won't argue that this was an even stronger challenge than the one he'd let go, but the ******* then got a yellow card out. He booked Browne too after a really good tackle when he took the ball and I didn't spot any Brentford player complaining. That we had four carded and they had none says a lot. Likewise with the penalties and non-penalties. When you are up against a better side you need all the help you can get, not vice versa.
Along with the referee the gods were not on our side. When Shandon Baptiste returned in the 64th minute I felt some genuine optimism for the rest of the season. Yes, he's only one player. Yes, he's young and inexperienced and has not yet played many games for us, but he immediately showed what we've been missing. He used his strength to win the ball (we don't see that enough in midfield), he then skipped round an opponent (we don't see enough of that in midfield) and then hit a perfectly judged long ball out to the wing (we could do with more of that too).  Midfield creativity, yes please.
Then a matter of minutes later that was it. Initially we thought, oh no, it's his shoulder again. Then we thought it was something else and seeing how long it took for him to have treatment and the manner in which he was carried off we knew it was serious. Having now been told the extent of the seriousness and that he could be out for a year I can't put into words the sympathy I feel for the youngster. It just isn't fair. This puts the annoyance of getting knocked out of the cup and worry over our goal scoring impotency into huge perspective. May his total recovery be as swift as possible and may he come back even stronger. He does have the years on his side and deserves things to completely go his way during the rest of his career.
Man of the match for us had to be Eastwood. Curtis Nelson did a few things that said to me he could play for the likes of Brentford. His partner Rob Dickie was back to his better self. Quite solid and amazingly, after his last couple of games, carried the ball forward with good control a few times without losing it. Well done sir. Josh Ruffels and Jamie Hanson did their full-back jobs with reasonable effectiveness but I've got more faith in the former in that position although to be fair he has been playing there the longer of the two.
Other than giving away the penalty, which I'll just put down as being one of those things, Mous did what he's there for.
With three winger types in Browne, Whyte and Jordan Graham in the starting line-up there was potential for us to be unbalanced but we had pretty decent shape. None of them did badly but neither were they skipping round opponents and looking threatening. JG will get better as his match fitness returns.
Henry was much more back at it and as we know, when he plays well we play well, so that may explain why we only lost by a single goal and let nothing in from open play. Mackie put in the Mackie shift too and also improved on the last few league games but a goal machine he's not.
On the evidence here the work rate and solidarity has returned but goal scoring needs to be added to that quickly or else we'll be deep in the brown stuff. The Checkatrade at Whaddon Road on Tuesday should give us some practice in this regard ahead of the real thing at Fleetwood next Saturday.