PLYMOUTH AWAY
Pre-match pessimism
Any realistic reporting of our last two games would have made extremely depressing reading for any Oxford United supporter. We looked broken, both as a collective and individually, in many instances. That's physically and probably mentally too in some cases. Players carrying injuries will obviously be constrained in what they can do and also are willing to do with the obvious risk of causing greater problems.
Almost all fellow yellows I've bumped into over the past few days have had a very pessimistic take on affairs. I've looked for positives ahead of the trip to Devon but can't find any.
The stats are against us. We have gone back to not scoring and not looking that likely to. Plus we're now leaking goals again and that's with Curtis Nelson still amongst us. We've conceded an average of 2.25 goals per game over the last four away in the league.
Put those two things together and we're screwed unless the opposition are hopeless too or we start performing effectively once more.  Given such a short turnaround time between fixtures I can't see how we're suddenly going to turn a jaded knackered outfit without a striker into a slick competitive fighting force that won't make silly mistakes, will be difficult to score against and will pose a genuine goal threat.
And with no league wins on our travels how scary do the next four home league fixtures look? Pompey, Barnsley, Sunderland and Peterborough. Where are the points going to come from?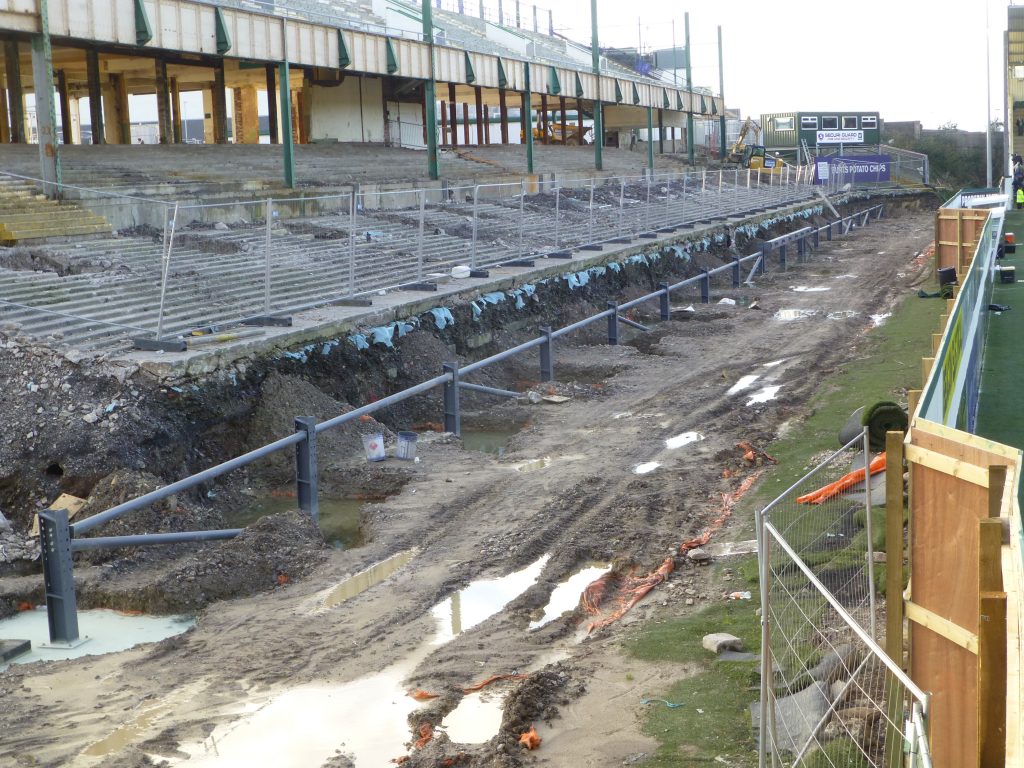 Rebuilding at Home Park, something we need to do with our team
Plymouth Argyle 3 Oxford United 0
Bugger, I wish I hadn't called the outcome of this one spot on but even in my worst nightmares I hadn't seen us playing this badly. If only I'd taken the 2/1 the bookies were offering on a home win as I'd advised Argyle fans to do. Goalless for the third game in a row, very leaky at the back again and lucky only to have conceded three.
I attended the Green Taverners' famous Fansfest before the match and was invited back for another pint after the game whilst the car park cleared. (I wasn't the driver).  So before I lay into the team I support I'll give the view expressed by some of the home fans on our feeble effort at making this a competitive football match, and let's not forget at 3 o'clock Argyle were bottom of the table.
One Argyle fan, "We were good today". Another Argyle fan, "No we weren't, we beat a pub team".
Me to an Argyle fan, "You looked quite good. Are you any good or did we make you look good?".  The reply, "We're not good".
Me to Wozzer (the Green Taverner who gets me the Fanfest tickets), "Please be honest and tell me if that was the worst you've seen any team play against you this season". He clearly didn't want to hurt my feelings but could see I wanted brutal honesty. "Well yes you were. You were very poor".
My feelings had been shattered anyway by what I'd witnessed from 3 o'clock through to just before 5. Thanks OUFC.
The ridiculous thing was that in the Fanfest pre-match there wasn't the usual buoyancy amongst the Green Army. It was, "if we lose this he's got to go". He being manager Derek Adams. "The fans will really turn on him". "They want him out".
This gave me a glimmer of hope. Plymouth were vulnerable. I was hoping that our management team had picked up on this. Go for them from the off and get the home crowd on their players' backs and having a go at the manager.
We absolutely did not do that. Indeed it was summed up by another Wozzer comment, "You just didn't compete". No we didn't. That was evident throughout and in the second half when we had a corner, Curtis Nelson made a reasonable effort to get his head on the ball, and there's no criticism of him intended, but a defender (that would have been Songo'o, I was later informed by Wozzer) really threw himself at the ball and cleared it. At the time I turned to my mate and said, "We've not been doing that".
I can't bear to go through each of Argyle's goals but needless to say they didn't have to work that hard to get them. The second I thought was an absolute gift. But a lot of what we did fell into that category. There were times when I thought we were intent on passing the ball to the feet of men in green in order to set them off on an attack.
The stats might show that we had a few efforts on goal but when they are powder puff stuff straight at the keeper it is just giving the ball away. Mind you we weren't really capable of keeping the ball and the only accurate passing seemed to be the very occasional across the back stuff when Plymouth probably thought great we can have a little breather now.
We were a bit more threatening in the second half but to put that into perspective I'd say the threat level had gone up from very low to just low.
I don't understand why Jon Mousinho was left out. Aren't there others more knackered / injured than him? Aren't there others who have made more mistakes in recent games than him? Aren't there some who are much less influential than him yet they started?
Luke Garbutt? Loan signing. How many of these have we got right? Samir Carruthers got injured, then got injured again, so perhaps we've been unlucky there. Or not. He didn't play that much football last season. Another crock? Ricky Holmes, a crock. We knew this. And then there's the now departed Sam Smith, whoever the **** thought he was the answer to our striker conundrum now appears to be barking mad. We waited so long and so patiently to get him and got so little in return. Or could it be that he is indeed a talented guy but our management and coaching staff have no idea how to utilise those talents?
Which means we're left with Jamie Mackie up front. He now looks as ineffectual as when he first came in and clearly wasn't match fit. It is beyond laughable that we now whack so many balls forward when the chances of him winning them are as remote as someone scooping the lottery when they've forgotten to buy a ticket.
But we're reduced to hitting it forward because again we had not one midfielder showing for the ball and looking to move it meaningfully on. No one tried to boss the game let alone achieved such a thing.
Although we've screwed up with most of our loan signings, Marcus Browne isn't one that falls into that category. However, his effectiveness has diminished in recent games. Playing with an injured toe / hamstring (take your pick) can't help.
I thought Gavin Whyte was pretty decent but the rest of it all was so downright awful he was never going to affect the outcome.
I despair, utterly despair. I've seen some rank displays since Michael Appleton departed but this was right up there with the very worst and I can see no light at the end of the tunnel. Actually, I've no idea where the end of the tunnel is.
Up to the start of October I couldn't see us improving and then the only reason I wasn't shouting for Karl Robinson's head was because I couldn't see who else we would be able to get who would be better. Also it was still relatively early days, although I had not forgotten his record at the back end of 17/18 was poor even though we stayed up.
After the Plymouth game at home through to Donny away when results picked up it was only fair to compliment the manager on the run and to have wanted him out would in my mind have been madness.
These last three matches have put a very different perspective on things once more. So much so that I don't really know what to say.
But I'll end on another conversation from the post-match Fanfest discussions. It went something like this.
Argyle Fan, "****, the scum won"
Oxford fan looks at the L2 results and says, "No, the scum lost"
Having worked out what was going on it was concluded that Plymouth's scum had beaten Oxford's scum in "the scum derby".
I don't normally do this scum stuff because there's so many other teams around and life's too short kind of thing but this was quite funny.
Back to a serious note, wtf OUFC. SORT IT OUT.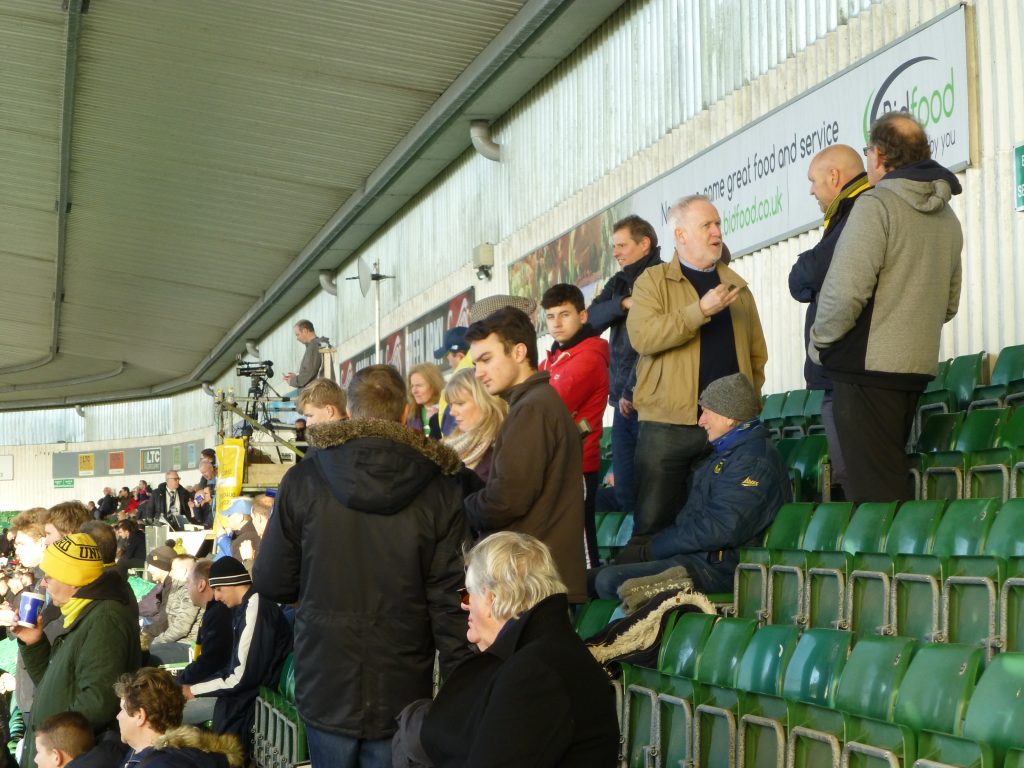 A few of the 534 travelling fans who were let down the team they'd come to support