OXFORD UNITED 0 BRISTOL ROVERS 2
Following our drab Boxing Day showing, the fact that I'd somehow managed to pick up a bloody second cold in a fortnight and that Rovers always do us at our place, I wasn't relishing this one, particularly with a 1 o'clock kick off when I could have done with a couple more hours in bed.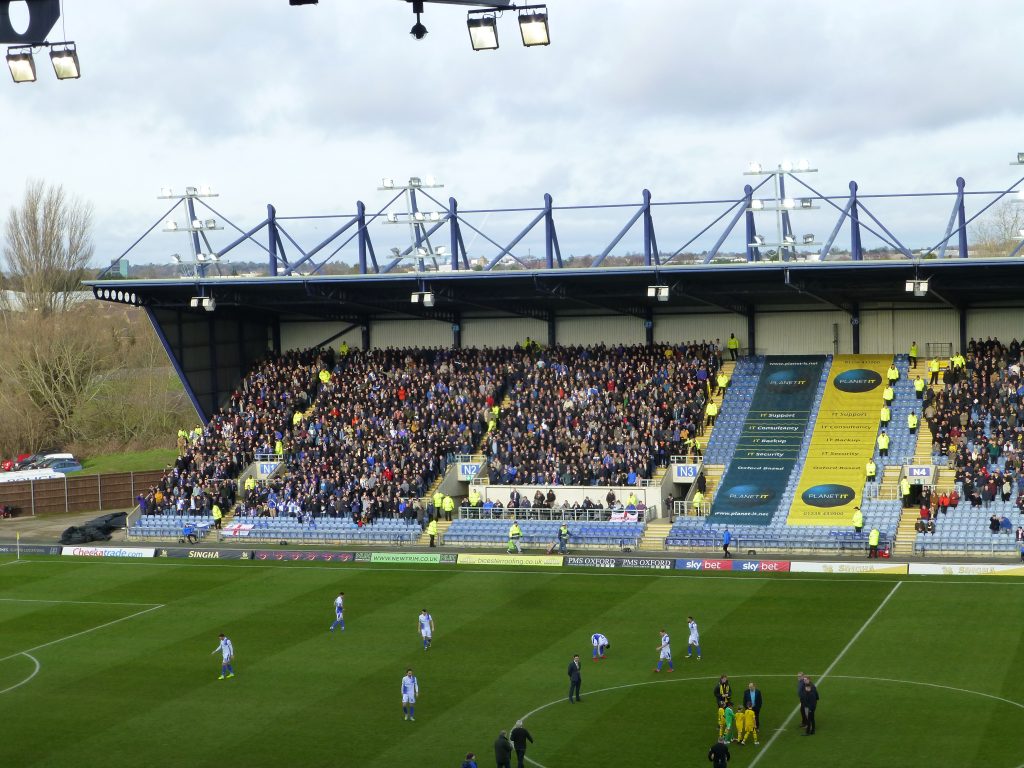 A Gas sellout
After five straight league defeats the visitors had won their last two making it an almost given that the travelling Gas would out sing and out support us home fans. Yes, an away following is much more unified than home support and probably by definition more loyal but we've not got anything like Goodnight Irene and when was the last time we had so many fans on our travels all blaring out the same song in unison? Ever?
After the Southend defeat I was prepared to give us the benefit of the doubt and hope it was a "one off". After all we'd had a pretty good run, albeit without an away win, that had taken us away from the very foot of the table and that doesn't happen by chance. That said we had looked jaded and with such a small squad of fit players the omens were not good.
What we saw in the first 10 minutes or so looked more League two to me than the level we're actually at. Someone near me even suggested that was being generous with it really looking more National League than anything else. This perception may have been because it was such a physical game. Graham Salisbury was another referee who appeared reluctant to book anyone. He though had had enough even before the first half had run its course, to be replaced by Conor Farrell who looked like a rabbit caught in the headlights.
From the officials we saw:
the usual inconsistencies;
a failure to book players for nasty challenges;
the missing of some really cynical dirty stuff (Jamie Mackie being taken out off the ball, a Marcus Browne run to receive a pass being halted with arm shoved across his throat)
players being allowed to stand a yard or so away from a free-kick to delay it being taken thus not only disrupting an attack but adding to the time wasting which was evident throughout.
As usual I'd argue we were the team that was much more on the receiving end.
But there's another "as usual" here – this one being that this did not affect the outcome. Rovers deserved to win; we didn't. We were very poor for the second home game in a row. So it wasn't a one-off. A two-off at best but if it is to be worse than that then we're very much back in a relegation dog fight. And on this showing our opponents had more of the fight needed than we had.
This began to really show when the game settled into a discernible pattern after about a quarter of an hour or so.  They were winning the physical battles and looked quicker to loose balls than we were. I'd almost go as far as to say that we did not have a midfield. We just didn't have bodies there to contest possession or making themselves available to receive the ball when we had it at the back. I can't recall a passing movement of note where the defence played a pass forward to either James Henry or Cameron Brannagan who then played another forward pass to an attacking player. We bypassed that area of the pitch.
We had a huge problem with attacking players too. Pre-match Karl Robinson had got his excuses in telling us that due to niggles, injuries and knocks various players shouldn't really be playing but because we have no bodies, other than very young ones available, they had to be selected. Not that he'd done anything whatsoever for us, other than in the Checkatrade, but wouldn't it have therefore made more sense to have kept Sam Smith for an extra day or two?
Browne and Gavin Whyte were two that were mentioned as being walking wounded and it showed, particularly in the former's performance. The WHU loanee rarely got his head up and didn't do much to suggest he was a team player. Like the majority of players he gave off the air that he would rather not be there. Very worrying. Perhaps he's just seeing out his time before he goes back but to be fair if he is injured there's no wonder we didn't see much from him. I'd also say that teams double up on him and he does get targeted a lot and perhaps does not get the protection from referees that he should.
Whyte did a bit but didn't get going as he can. He was still one of our better players though.
With no credible alternative, Jamie Mackie was again the man played centrally up front. It's a thankless task. He's still trying to wind people up with his verbals but physically he's no longer unsettling defenders.  Perhaps he's another who has run out of stream or perhaps we've been watched enough times for the scouts, analysts and managers to have worked out how to play us as individuals and as a team. I will say that JM did at least win the ball in the air in this match even if it was only once.
Passes went astray and I thought just as three days earlier we were too slow in moving the ball around the pitch, particularly in a forward direction. This might have been because there were none of our players finding space up top or doing anything to drag defenders here and there.
Their closing down was more effective than ours.
There were some in the crowd near me who thought Rovers were poor and there for the taking as we'd come back into it in the latter part of the first half.
I couldn't see much in this optimism but can't deny we did have two or three chances before the break. Whyte hit the bar but he wasn't under pressure when he did so and really should have done better, i.e. scored a goal. Some might have thought this, along with other efforts, were a sign of things to come and the game would be changing. I didn't – I thought it said we weren't capable of hitting the target and that view was cemented when Henry whacked a shot way over the goal in front of the East stand in the second half.
There were hardly any shots on target in the entire contest but the one Alex Jakubiak let go on 17 minutes was properly struck and a goal resulted. In a game lacking quality, that stood out. He was given too much space but he used it well. We had plenty of men back for all the good it did.
As we didn't look much like getting even one ourselves all hope was extinguished in the 63rd minute when Rob Dickie produced a master cock-up. He wasn't by any means the only one making mistakes but this one deserved to be punished. He's one of those players who for a while now quite a few of our fan base have said had at least one mistake in him a game. He completely failed to deal with a hoof forward. He had the option to nod to a colleague, get it back to Simon Eastwood or possibly even bring it under control. Instead he somehow looped it up into the air. Even then though he should have been favourite to deal with it. He didn't and having won possession Jakubiak was away and finished well with a low shot.
"Oxford United, It's happened again" sang the travelling Gas. I liked the humour if not the reality.
Jakubiak's energy was mentioned on EFL on Quest. We could have done with his energy, any energy come to that. When he was with us for that brief spell in 2014 he was way too young. Four years on it is noticeable that Watford are still loaning him out but he's a better player now.
After these two defeats we're not left in a good place. It wasn't just that we got beaten, it was the manner of those defeats. The resilience and fight we'd seen to come away with draws on our travels was blatantly lacking. It was clear we're running on empty and are being found out as we have to play a lot of games with players that are way off being 100% fit. Injured and just plain knackered hands the advantage to your opponents from the start. As we've not got 11 fit players to start with there's no way we're going to have anyone on the bench that is going to come on and inspire a dramatic turnaround in fortunes. No criticism of Slavi Spasov intended but here he looked like the boy that he is in a man's game. And how embarrassing for the lad to have to wear a plain shirt. A completely crazy rule / law if you ask me. But if kids of primary school age were to see young Spasov supposedly endorsing Singha beer, when he's not yet legally entitled to purchase alcohol, who knows what chaos might ensue. A breakdown in society perhaps.
To have the option of introducing a fully functioning Ricky Holmes would have helped our cause no end. But chickens come home to roost. If we sign players with known and persistent injuries we shouldn't be surprised when we don't get value for money. Yes, of course a gamble from time to time but I think it would make sense to be much more risk averse than we are. This by the way is why I'm a tad worried about getting Jordan Graham back. I pray he's not going to be the next Robbie Hall.
After our atrocious start to the season we'd recently gone some way to turning the corner. To have fully turned it in my opinion we would have had to have climbed into the top half of the table and registered an away league win. Neither of which has yet been achieved, obviously. Instead we've gone rapidly backwards. We're now just two points off 21st with all those below us having done something to give us grave cause for concern on Saturday.
Plymouth are still bottom but got a point at Burton coming from behind. They're only five points behind us. So how important is our New Year's Day fixture at Home Park? I bet they'll play better than they did when we knocked them out of the FA Cup.
At least Wimbledon, who are second bottom, only drew at home but the gap between us and them is just four points.
Both Scunny and Bradford who are now just two behind got good wins and the Bantam's form is now rather impressive.
We could so easily be in the bottom four come Tuesday evening.  Time now therefore for a rallying of the troops and someone to step up. But how and who? I'm not getting any positive picture forming in my mind.
The key to where we go in the short term has to be to strengthen in the transfer window. But that is so much easier said than done and every other club in the EFL will be looking to do the same. With regard to both permanent signings and the loan market its questionable how we'll do when we have to go head to head with others as we attempt to bring in new faces. We've still no idea what the finances are, although suspicion is growing. That said, good money can easily be thrown away, particularly on crocks. Do Premier League and Championship clubs think we'll do a good job developing their youngsters if they lend them to us? How good are Karl and co's contacts within the game?
Frighteningly I think we're at least as likely to end up weaker than we are now instead of stronger. I've heard more than one fan comment that if Curtis Nelson goes we'll get relegated. There's a strong case that this would be so but there's also a compelling argument that we need to sell him now so that we actually get a fee which won't be so in the summer when he is out of contract. I thought Nelson the defender was our best player against Rovers. Nelson the attacker was pretty good too but that just shows how garbage the rest were.
On his day Browne was one of the best in L1, a joy to watch and with an end product but at times very frustrating with his greed and lack of team play. The positives more than outweigh the negatives in my view though and we'd be hard pushed to get anyone to replace him if the Hammers do recall, as I'm feeling will be the case.
Not forgetting we have some decent support too, at times. Photo, Simon Jaggs
Happy New Year one and all. Here's to raising a glass to some OUFC happiness in Devon on Jan 1st 2019.