Article by Paul Beasley Sunday, August 12th, 2018
FLEETWOOD AT THE KASSAM
Building a squad
I don't know exactly what caused it, but as the deadline for permanent transfers approached and we'd not done any further business, I have to confess I felt something was amiss and could only see a season of struggle ahead. It was probably a combination of a number of things. The size and nature of that defeat at Barnsley; the injury to Samir Carruthers who was clearly a key component of Karl Robinson's plans; the delay in being able to use the new training ground; the fact that the supposed Ricky Holmes done deal wasn't actually getting done. Yes, that was enough to get me down and produce a gloomy outlook.
Then on the final day things happened. It became a genuine done deal. According to the Oxford Mail the several days hold up was due to administrative issues at the Sheffield end during which time other clubs showed an interest in taking Holmes. Phew! But even if we'd not completed, the loan window does remain open until the end of the month for Football League clubs.
I'd not got a sniff of the two permanent signings until they happened.
Jamie Hanson has been given a four year contract meaning we rate him and want him tied up so we get a decent fee if he takes off and moves on. Perhaps a daft thing to say as he's only been here a matter of minutes but it is always sensible to plan ahead, which wasn't something we did well at the start of last season. He sounds a competitive lad.
Tsun Dai has only just turned 19. He seems to be very much in the "exciting prospect" category and experience tells that this can go either way. (Hope he can too, on the inside and the out.) So far in his EFL career he has only made two starts and six sub appearances for Bury. The club have seen enough though to have signed him up for two years.
We paid an "undisclosed fee" for both, as did Brentford for Canice Carrol. That's an interesting one. I think he could make a very good footballer or possibly fall by the wayside due to attitude. The body language between our young Irishman and his manager on the Dublin tour wasn't great so perhaps it's not that surprising he's moved on. But to the Championship this early in his fledgling career?
Another who has departed, albeit only on loan, is Malachi Napa who has recently put pen to paper on a three year deal with us. How he does at Macclesfield is something else to watch with interest. From what I'd observed in Ireland I thought Shandon Baptiste had worked his way past Napa in the pecking order and with new faces having come into the club, I couldn't see him getting much game time at all.
The Silkmen now have quite an Oxford connection. Tyrone Marsh and Miles Welch-Hayes plus Fiacre Kelleher on loan. Have we ever had a more "forgotten" man than the latter on our books?
Anyway a nice surge of positivity has returned to my bones.
The opposition
Fleetwood Town obviously isn't all about Joey Barton, but since early June when he was appointed as their new manager, there's no getting away from the fact that it's him you immediately think of when there is any mention of that football club.
Given their budget and the players they had, and still have, the owners will probably have considered last season's 14th place finish to have been an under achievement.
Appointing Barton is obviously a gamble. He's got no experience in the role and their opening day home defeat to unfancied AFC Wimbledon was in its way as poor a start as ours. How tactically aware is he? How good is he at motivation and man management? We'll find out over the coming months how this complex character does. Some people loathe him whilst others are fascinated by the different sides to the man we've seen over the years. I've only got admiration for people who try to better themselves and he certainly has experience of life. He's been inside for violence, was a consumer of much alcohol a decade ago even though he didn't like the taste, has used a team mate as an ash tray, and has been sent off a fair few times, including one episode when he assaulted three Manchester City players.
That day he was in QPR colours and that game was without doubt the most dramatic ever seen in the Premier League. It was when City scored twice in added time to whip the title from Man United's clutches. The scorer of the goal that shook the Etihad to the core that gave the 10 men visitors a 2-1 lead was our Jamie Mackie. Also in the Rangers team was Shaun Derry.
In an interview published in the Observer in 2012 Barton said, "I'm quite happy to say I'm fucked up. I'm peculiar and a weirdo. That's me."  Indeed. How many footballers though have developed an interest in philosophy, politics, art and literature during their careers?
He was only allowed to take up his post at Fleetwood once an 18 month ban was served for placing 1,260 football bets between 2006 and 2016, breaching the FA rule prohibiting players from doing so.
Joey giving tactical instruction
So it's Oxford Utd v Fleetwood Town. Robinson v Barton. Who will prove the more astute? I don't think our man had us set up right at Barnsley or made any tactical changes to suggest he was any more blameless than the players for the outcome. I can't decide whether his post-match comments were genuine reasons for the sound beating or just excuses. Give him his due in saying how poor we were, but was it helpful to say that he had to pick two or three players he didn't want to because we'd not got players through the door as expected?
My pre-match prediction was that a draw was the most likely outcome. After our first 90 minutes of 2018/19 we should be utterly desperate to ensure we don't get turned over again. I'm yet to see where the goals are going to come from and the only hope I have in the scoring department is that we have six or seven in our squad each capable of bagging seven, eight or nine because I can't spot anyone with "prolific" attached to their name. The stats suggest Ricky Holmes is our best bet.
As for Fleetwood they have Paddy Madden, Conor McAleny and Ched Evans. They paid £150k for Madden and he's about a 1 in 3 man. McAleny had the best spell of his career when he was with us for half a season. His ten goals in 14 starts is unlikely to be bettered by any current United forward. That said, his Fleetwood return is much poorer but he did show the type of goal he is capable of netting when he hammered that one in at the fence end in April. As for Ched Evans, he has not been the same player since his return to football following the quashing of his conviction, but if he were to ever rediscover his form and goal-scoring he would be a real threat in L1.
Already looking very grim – Oxford United 0 Fleetwood Town 2
Total negativity towards OUFC really pisses me off but it's hard not to go down any other route myself after Saturday. So if anyone is about to read further and is looking for anything more than the tiniest grain of positivity I suggest you stop right here.
A mate had organised a walk down the Thames from the city centre with the meeting point being the Chequers at 11 o'clock. Having arrived a few minutes early we had a wander around the covered market and a little look in the club shop. I was expecting a poster up in the window advertising the day's fixture and the visit of the Sky Blues on Tuesday. There was nothing. Why?
It's also worth a mention that we didn't start in the Chequers because despite the opening time being advertised as 11 they remained firmly closed until 12. So the Bear it was, where we found Deadly sat at the bar. Not a great surprise.
We eventually made it to the Catherine Wheel via the St Aldates Tavern and the Isis, a quirky place I won't rush back to. Walking from Sandford to the ground I received a text from my brother telling me that there was only one turnstile open in "our bit", the SSU at the East Stand end of the ground. Sure enough this was true, with quite a long queue having formed which confusingly wound more than one way around the parked cars. The SSL had two turnstiles manned (or womanned) and the very occasional spectator entering. It doesn't take a genius to see a solution here. One woman in a yellow coat deserves a pat on the back though for opening a gate and scanning SSU ticket holders on a hand held device.
Whilst waiting to get in one person suggested that the problem had been that the stadium company refused to unlock the stadium before 12 o'clock to allow staff in which meant things were not set up in time. I've no evidence if this was true but this needs sorting out and as far as I know the arbitration between football club and stadium company is on-going. Not good.
So already not quite in the best of moods when I took my seat just before kick-off. It was only then that I learned of Simon Eastwood's injury in the warm up. It sounds horrendous. Karl Robinson has told us that "his bone cracked, came out the skin and they had to put it back in and he's rushed to go and see a plastic surgeon. "Some of the players were nearly physically sick before the game."
So that could be a genuine reason / excuse (take your pick) for again producing an extremely poor performance. That's two out of two now.
There's no denying that the football gods are not smiling on us at the moment and it goes without saying that Eastwood will be out for some time. I naturally feel for the bloke and wish him a speedy recovery.
At half time the visitors deserved to be a goal up and it could have been more.
About five minutes or so before the opener, Fleetwood were getting on top. They had kind of forced us back not that there was much force needed such was the paucity of our attacking threat, save for one player. At one time they had the two centre halves stood a little distance outside the box with a row of five or six across the park and the others somewhere further up field. I had very little faith that we'd get through on goal let alone score.
With a defender very tight to him Sam Smith was unable to do anything with the ball. (A lay off to a yellow shirt would have been nice). Kyle Dempsey was quickest onto the ball. He was able to find the unmarked Jason Holt who swiftly moved it on and it was then back with Dempsey. Cameron Brannagan was always playing catch up but we had enough bodies around to have dealt with the situation. Rob Dickie showed no cool in sliding in and hammering the ball against Dempsey which resulted in their man getting away and our centre half and Brannagan ending up in an untidy heap on the floor. I put it to you that your average L1 central defender would have got the ball away. When the ball was passed across goal, Evans was left with an easy chance that he converted with no bother. The goal though should never have stood – he clearly grabs Tony McMahon's arm, swinging him round and to the floor in the build-up. I don't understand why we didn't even protest a little bit. It's cheating, but if a player can get away with it who can blame them? I'd be happy if we were to score such a goal. (Well any goal, the state we're in). I would however prefer the officials to be eagle eyed and award yellow cards for such behaviour. VAR?
We were nearly undone again before half time. We had a corner and they broke four against one. That one was Luke Garbett. Fair play to Josh Ruffels who also dug deep to get back, but if Dempsey had not slipped, Fleetwood's lead would have been doubled.
Up to that point we'd not really played any football of note and I couldn't help thinking there's no way we'd be able to launch an attack similar to this.
As the previous week, I was waiting on Robinson making tactical changes or at least providing some motivation. Again nothing. The lack of this worries me deeply and unfortunately it's backed up by the opinion of quite a few Charlton fans. I thought Karl was the man for the job but he had better start showing something soon. I was hoping he would be able to recreate the good thing he had going at MK Dons here but I've now got this horrible nagging feeling telling me that particular period may be the highlight of his career. I like his passion but continual bawling at the officials doesn't help. Calmness and clever, flexible tactics would. In contrast whenever I looked Barton's way he appeared to be cool. That probably wasn't a difficult state to achieve given he would have realised he didn't have much to beat.
After the break I didn't notice any change but being just one adrift there's always a chance. That chance evaporated in the 89th minute. A high clearance was headed by Dickie straight to an opponent whose first time pass saw Garbett easily taken out of the game. That saw Wes Burns through into the penalty area but well wide of the goal. It was reckless of Scott Shearer to come out as he did and given his rustiness, a spot kick was inevitable.
Although Fleetwood are no Barnsley, much the same can be levelled at those in yellow and the management after this as against the Tykes.
The opposition looked fitter and quicker, better organised, better shape. They closed down much more effectively than we did.
I can't recall us putting a single move together that had me thinking that was good football. We didn't play as a team. There were no partnerships, no understanding; we had no midfield creativity. Other than Holmes did any Oxford player beat a Fleetwood man all afternoon?
Shearer obviously wasn't expecting to play and the fact that we're going to bring a keeper in on loan says he's not trusted. So why is he at the club taking a wage? I will say that his distribution, particularly in the first half, was an improvement on SE's.
Our full-backs again did nothing attacking wise and defensively I can't say I yet believe in them.
For me Curtis Nelson had improved and perhaps, just perhaps, he can get back to something like he was before the injury. I thought he was our second best performer.
I'm beginning to have major concerns over his partner, Dickie.
The defence as a whole just didn't look like a unified body that knew each other's game.
Central defence provided no effective barrier and were basically given the run around. Perhaps we should have had another body in there. I've been very unimpressed with Brannagan. He had a tendency, before he disappeared, to run at speed at an opponent in possession of the football. That made it so easy for the red shirt just to side step him. A waste of energy and not very intelligent play if you ask me.
Early days but I can't see anything that Mackie has brought to the football club. He looked off the pace and missed an easy chance with his head. I'd have started with James Henry ahead of him, but JH did nothing to turn the game our way in the quarter of an hour or so game time he was given.
Robbie Hall was ineffective and watching Smith gets me wishing we had Ryan Taylor in that position.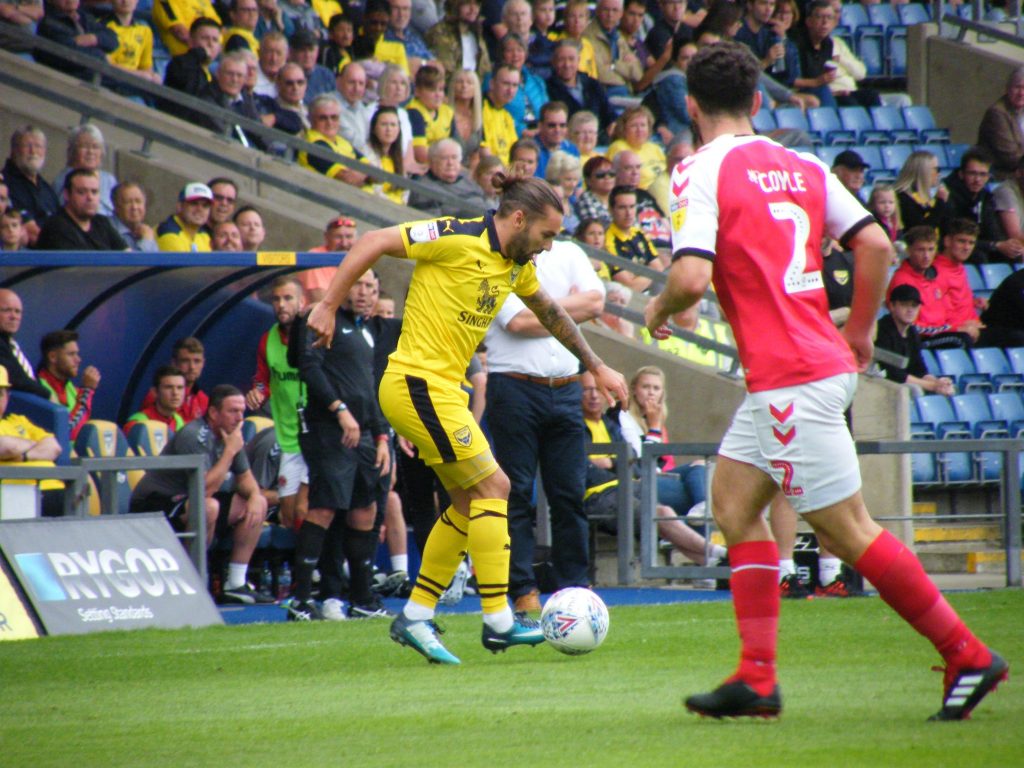 Worth watching. Photo Simon Jaggs
Holmes was our best player by a mile and some more. He was the only one that provided any entertainment on a dismal afternoon. He was brighter, quicker and produced much greater levels of skill than any of his team mates. Perhaps he went down too easily or perhaps he was genuinely being fouled. A tiny criticism is perhaps that he held onto the ball too long at times, but given what he had around him that's 100% understandable. Late on in the game, but when we were not yet two behind, he fired one over the bar from outside the box when Marcus Browne was free to his right. A pass would have been the better option if the loanee from West Ham has some shooting boots? We weren't to find out. Browne was on the pitch for nearly half an hour. I spotted nothing telling me he is going to solve any of our huge on the field problems.
Losing to any team hurts, but to one that brings just 87 supporters possibly hurts even more. If it wasn't for the BES they'd be nowhere. Actually it wasn't just 87 there were two old boys who were fans of the Cod Army sat next to us in the back row of the SSU. We didn't ask why. One of them didn't rate Nelson and their quiet conversation of let's get another and put this game to bed only added to the annoyance of the whole thing.
But early days, early days and hey what about Hanson being the key to it all coming together?