Article by Paul Beasley Sunday, December 16th, 2018
BLACKPOOL AT HOME
The opposition
Blackpool FC is still owned by an Oyston. From afar it is all very confusing and seemingly a bit incestuous. The current "owner" I believe is still Owen. One of his four daughters, Natalie Christopher, is chairwoman. She replaced Karl as chair back in February. Karl is Owen's son and he became chairman in 1999 taking over from his mother, Vicki, who had herself taken over three years earlier when her husband, Owen, ended up in the nick for rape and indecent assault.
I think it is more than fair to say the vast majority of Blackpool fans have had enough of this family and that has been reflected in their home gates for a very long time now.
On the pitch they're a team that seems to go under the radar most of the time but they sat handily just outside the play-off spots. They've put some impressive runs of form together this season. After losing the second league game they went on a run of 11 unbeaten. Two defeats came next but then three wins. Their previous away game was a 2-0 loss at Donny but in their last game they beat Charlton who are just above them in the table.
Fixtures on their travels had not yielded many goals. They'd played nine and scored just eight, conceding the same amount.
So no easy task then.
And they do have some players with wonderful names. Joe Dodoo, on loan from Rangers and my favourite Curtis Tilt. And there's Marc Bola too. Just an n away from ride a white swan territory.
Oxford United 2 Blackpool 0
I knew it wasn't going to be a balmy day but the conditions were way more severe than I was expecting. Checking the weather forecast would have helped. I thought my shoes were waterproof; they're not. My gloves likewise. Not feeling well didn't help. I thought a mate had the same thing as me. He called it the flu and stayed away. I called it a cold and didn't. To make matter worse Mr Bourne informed me he's had the bloody thing for three weeks now. Bugger, that means I've got at least another fortnight to go.
This definitely wasn't a day for the fair weather fan so a hearty round of applause to everyone who turned up to watch, particularly the 294 following the Tangerines. In the circumstances the total turnout of slightly over 6,000 was quite impressive given Christmas is just around the corner.
To have to play with an almost continual torrent of rain lashing down and in a wind that at times refused to allow the ball to cross the half way line must have been hell for all involved in trying to produce a football match for us to watch. I've seen some rare battles against the elements in our three sided ground before so when both Simon Eastwood and Josh Ruffels say it's the worst they've experienced that tells what a challenge it was.
This then was never going to be a game of football for the purists.
As always though conditions are the same for both sides and it is up to each to do their best to find a way to win. And finding a way to win at home is something we are now able to do and did so again here, even if that involved a little luck (they hit the post) and coming up against a side whose finishing, if not the worst I've seen this season, was pretty abysmal.
Some in the ground thought we'd finished two chances really well but at the time I thought our first was an own goal. Opinion near me was split 50:50.
So we could finish past Mark Howard in the Seasiders goal and they could too. That was the reason we won.
The BBC stats have us with five shots on target and the visitors none, which I suppose is technically correct but somewhat harsh with that hitting of the post. I can't work out how Eastwood kept warm, or perhaps he didn't.
With the wind at our backs attacking the fence end we, unsurprisingly, had the lion's share of the ball in the opening quarter of an hour. Although we frequently and patiently played the ball across our back line looking to draw Blackpool out and find space, the majority of the time the game took place in their half.
For all this control we didn't pose a telling threat to Howard's net and the Seasiders then came more into the game and if anything were slightly in the ascendency. They were looking quite threatening coming down their left flank where they were finding too much space for comfort.
But we're now a team that can be dangerous at any stage of a game and with nearly half an hour gone had a free kick in the centre circle which Cameron Brannagan, after raising an arm, hit long. Curtis Nelson headed on but into space patrolled by Bola and that should have been the end of the attack but the clearance was awful. It went straight to James Henry's feet and with his second touch he hit a wicked spinning high ball to the far post. Ollie Turton might have got the touch but Browne applied the pressure.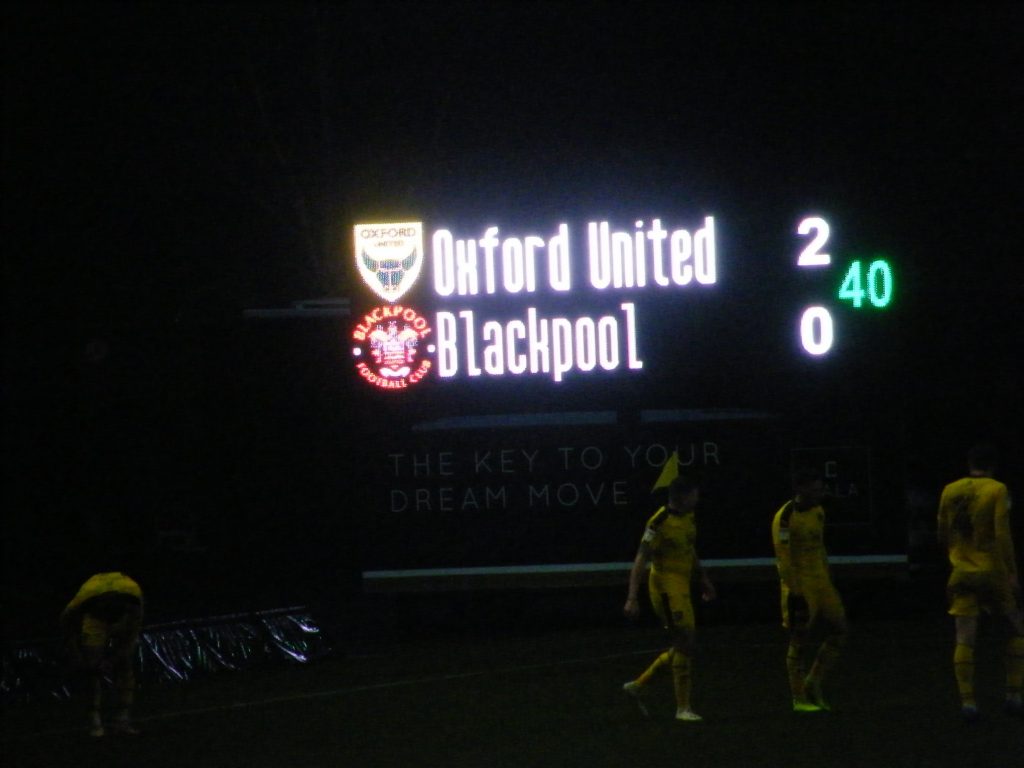 Photo, Simon Jaggs
Then 12 minutes later we'd got another and there was no doubt who the scorer was. Brannagan found Gavin Whyte on the right and our winger progressed with ball at feet before clipping it back whilst fairly tightly marked. That clip was perfect for Henry who had found space just inside the penalty area. He hit it first time with the inside of his right foot high to the rooted Howard's left. The way contact was made no wonder the keeper didn't move. It was difficult to tell where the ball was going to end up. I thought it was going over. Henry knew exactly where it was going.
We've now got a man on the L1 goal scoring charts. Only ten have scored more and Henry is a midfielder. Certainly give him that new contract. Without checking out all the stats I'd say he was on the best scoring form of any Oxford player since we had the pleasure of Kemar Roofe in the 15/16 season.
The way we started the second half I thought we might take the game to the opposition throughout this period and add to our tally, but the gale had other ideas and ensured this was never going to happen.
Blackpool though were unable to take advantage. They weren't clinical, or even semi-competent, in front of goal. Other than that they looked a pretty good side to me. Coming forward they had players who looked good on the ball and were capable of neat passing, but if you can't put the ball in the back of the net it counts for nothing.
For me our two stand out players were defenders; Josh Ruffels and Curtis Nelson. The former now looks a very sound full back and also knocked a few incisive passes to feet. I like the way he plays. Nelson at times is imperious. I've said it so many times but he reads a game so well and is able to snuff out threat before it materialises. He doesn't get bullied either and when we were looking to open Blackpool up at 0-0 as an alternative to the patient play at the back he strode forward some distance with the ball on a couple of occasions looking to set things up. I don't think you'll see any other centre-half at this level doing the same. Indeed there aren't many, if any, Beckenbauer types around anywhere these days.
As to be expected given the vicious weather, mistakes were going to be many but I don't think that's quite an excuse for not getting the ball away.  We were guilty of this quite a few times. Or being too greedy and losing possession. Browne did this more than once and Whyte too near the end of the game.
At right back Hanson looked a bit of a weak link at times and I noted Rob Dickie doing quite a bit of shirt pulling. That's great for us, in a necessarily cynical way in this cynical world, provided you don't get caught. I'll confess that whilst not being happy when he went off injured, I was relieved it was him and not Nelson that had to depart. It was our former captain indicating to the bench that there was a problem. He didn't initially point to Dickie so I thought it was him who was suffering. In the fifteen minutes Charlie Raglan had he did fine.
But being overly critical would be totally unfair and although I talked up our opponents a bit earlier I in no way thought we didn't deserve to be the victors. Perhaps a two goal margin was a little flattering but it's the three points that count.
This was our fifth home win on the bounce which is something we last achieved over 20 years ago apparently.
Earlier in the season Karl Robinson was, probably rightly, getting some criticism. I produced some in these pieces because I couldn't see where we were going, but have always said as the body of evidence grows I'll revise my opinion. At the time I couldn't see how the corner was going to be turned but have for many weeks now been aware of significant progress. Even at that time when players were getting fit, home wins were first coming and the away defeats were being turned into draws there were those who were still mercilessly slagging our manager off, not in a logically argued way but by using disgusting and embarrassing language. (Yes, I know I've said this before). I don't know who these people are or what their view is now but I really would like to believe they get behind him and give him praise for what we are now achieving. I do. Who picks Mous in front of the back four? Who plays Henry more centrally? Etc. Etc.
Also on the bright side we've got Shandon Baptiste and Samir Carruthers nearer fitness than was at one time thought.
Having oozed a fair amount of positivity here I'm going to inject some realism which might bring me down some distance from this temporary high.
We're still only five points off the relegation places. Bradford and Plymouth are picking up points in an attempt to scramble away from those dreaded slots.
We're still without a league win on our travels.
The January transfer window is nearly upon us and we could lose significant cogs from the team that is on this run of one defeat in 14 in all competitions. I can see why West Ham would recall Browne and immediately loan him out to a Championship outfit. We could lose other loanees we want to keep although by the same token we could get rid of some who have not delivered. One of the biggest worries for me though is if a sizeable bid comes in for Nelson.
South Stand Upper Premium. For the extra we pay we get this.