ROCHDALE AT HOME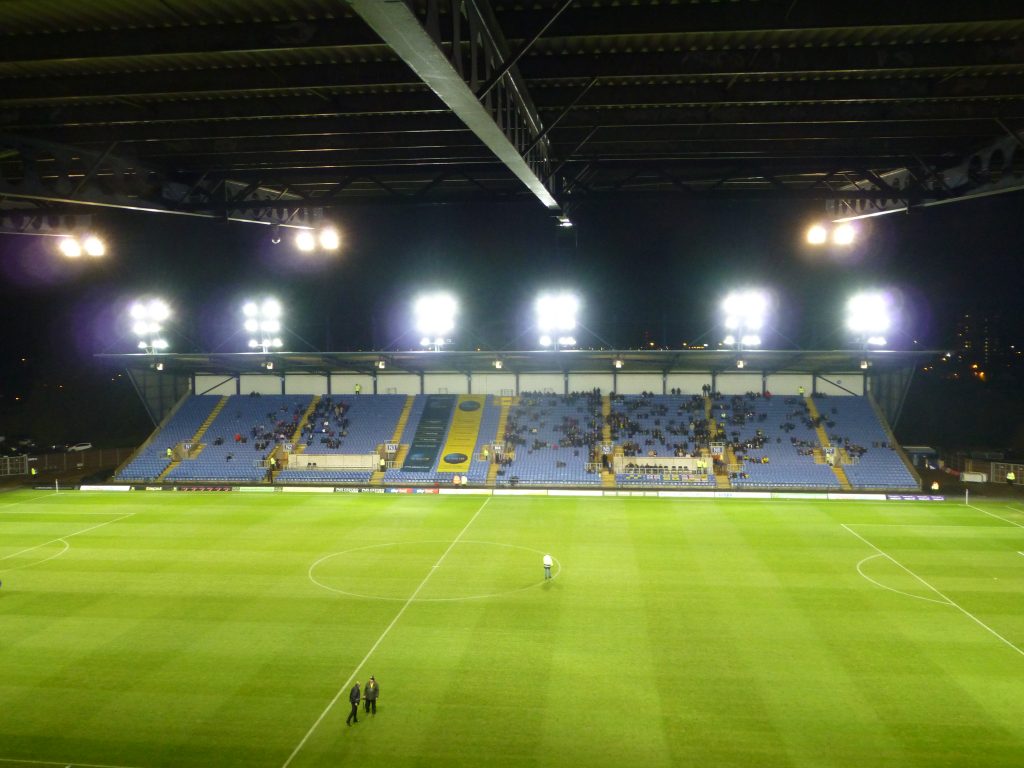 North stand five minutes before kick-off
Pre-match worrying
We could lose to Rochdale and end up back in the bottom four. We could then follow that up four days later by getting knocked out of the FA Cup by a side even lower than us. That would be rather disastrous and if it came about I'd be hard pushed to describe the glass in front of me as half full.
On the other hand win both and the set back against Bradford will be deemed a blip and there could be a massive third round fixture awaiting us in the New Year.
I'd challenge any of our fans who say they have much of a clue how events are going to pan out.
Our defence was fixed and then looked a bit broken again at Valley Parade. Which will it be going forward?
Talking of going forward we failed to find the net last time out which was a familiar story earlier in the season but recently have managed to score three a few times. So again, which will it be?
I suppose the not knowing is what makes football so fascinating. Sometimes I have a reasonable idea of what will happen but here I'm quite blank.
I could also say the same about the off field stuff too. I felt (semi) reassured after the OxVox meeting last Wednesday but still no concrete news that the HMRC issue has been resolved and monies due paid. The same can be said regarding Firoka and arbitration but we all know that this isn't easily solvable and we've heard many a time in the past that there's been positive dialogue. Sorting things "as soon as possible" could mean we can't really see an end in sight. Or it could be a matter of not wanting to tempt fate when things are moving along just fine in the circumstances. What does experience tell us? As we now have a different board let's try and be optimistic but it's hard isn't it after all these years.
 Oxford United 4 Rochdale 2
There was a point made from the floor at that OxVox gathering about everything being flat around our football club. That's pretty much what I've been picking up on at the moment. Approaching the ground about a quarter of an hour before kick-off we were almost alone and there was only the odd car or two heading for the car park. I can't recall a league game so lacking in atmosphere. That only 139 travelled to support our visitors obviously contributed to this but the lack of home fans was a big factor too. That figure was 5075 which will include season ticket holders who couldn't make it for various reasons or just chose not to. Excluding this match the average number of Oxford fans shown as attending the Kassam for league fixtures is 6211. I would argue a fair comparison would be with the gate against Accrington, a small northern club whom we also played on a Tuesday evening. 555 more of our supporters turned up for that one.
This apathy doesn't really make any sense because this win was our fourth at Grenoble Road on the spin and the last time we achieved that was 15 years ago. Are folks just focussing on our poor start to the campaign, still thinking we're in a lowly position in the league so can't be any good and concentrating on the damning stat of no away league wins?
So here we were back to producing goals, an impressive four of them. The last time we did that was just over a year ago at Home Park. There were also defensive cock ups but not enough to deny us victory. These were almost totally down to the normally reliable Simon Eastwood. If it had been our on loan keeper between the sticks serious questions would have been asked.
This game deserved a better back drop than to be played in a three-sided ground totally lacking in buzz and vibrancy from the terraces. It was entertaining stuff with Oxford producing some quality goals.
As we put out the same side as at Bradford where we'd had no potency whatsoever up front to be two up with not a quarter of an hour gone was something I'd not expected.
The game started with both sides playing or at least trying to play fairly quick passing football keeping the ball on the deck with decent movement to help this all happen. The stand out difference was Marcus Browne with his pace and higher level ability. Rochdale couldn't cope with him.
It was Browne who took the corner in the 11th minute from which we scored our first. It was a good delivery into the danger area on the edge of the six yard box and was met by Rob Dickie on the volley. As it was from such close range it would be harsh to blame keeper Josh Lillis for allowing the ball to ping back off him. Jamie Mackie couldn't miss from a couple of inches but had to be in the right place to have this the easiest of chances.
Three minutes later Browne took on Harrison McGahey out wide. I thought given the position of both men and the ball there's no way our loanee is going to get past his marker but he's so speedy he did. (How would he fare against Marvin Johnson in a sprint, or Adama Traore?)
The ball was laid on a plate for James Henry who finished side footed as we know he can to Lillis's left.  Also in the penalty area which showed our attacking intent was Mackie and Gavin Whyte. All very pleasing.
From this point I thought Rochdale became much nastier and cynical with persistent fouling designed to stop our football and Browne in particular. They ended up with six yellow cards but it took referee Craig Hicks an eternity before he produced the first. By not doing so from the very beginning of these antics he allowed them to get close to stopping us playing football.
Hicks was another of those officials who seemed inconsistent in what he was giving and what he wasn't and also missed, or decided to overlook, some incidents where there could have been further cards of either colour.
It was from a free-kick where we were trying to work out why it was given to them rather than us that Rochdale halved the deficit for the first time. This was from way out so didn't merit a wall. The shot bounced in front of Eastwood came back off his body before being tucked through his legs by Ian Henderson. The 33 year old only needs another eleven to have registered 100 league goals for the Dale.
With two thirds of the game remaining one began to wonder whether it would swing against us as we no longer looked as good in possession and Rochdale were playing with confidence.
We made it through to half time though without crumbling and seven minutes after the restart had regained our two goal advantage. This was expertly worked with some neat play and incisive passing and movement by the right hand corner flag by Whyte and Jamie Hanson. The latter's pull back was swept home by Browne from close range. There were other options too. Again, very pleasing.
The way we were playing that should have been it, but on 69 minutes our lead had been halved for the second time. A few seconds earlier I'd started to get concerned as to the ease with which Dale were running through the midfield. Even so I wasn't overly worried Callum Camps had the ball 35-40 yards from goal. The shot he hit dipped just in front of Eastwood but to push it wide should have been fairly routine.  Another big mistake from a good keeper having an off day. He was later to make a really telling save to his right to be fair.
With the lead halved for the second time there was inevitably the here we go again feeling. A feeling I tried to bury for the nine minutes before Cameron Brannagan and Browne did so for us. This time the two goal lead was maintained through to the end.
Brannagan scampered away down the left and slipped a pass through to Browne who had made a run into exactly the right space. His first time chip over the advancing Lillis was delightful.
Realistically we could have had more goals. We had 19 shots and 11 of those were on target. Those in blue managed nine and five respectively.
Some of those that weren't on target were really close. One of which was a really well executed corner routine that would take a while to describe but had clearly been worked on in the training ground. Josh Ruffels got the header in when the defenders were focussing on other movement going on.
Marcus Browne did much to show that he can pass the ball and is a team player after all but after he'd bagged two goals his focus was a little too much on keeping the match ball for my liking. There was one run he had which oozed greed. Things like that do my head in but on the day he has to be forgiven big time and was my man of the match and probably everyone else's too. A pleasure to watch. Fingers crossed the season long loan has no recall clause.
Being a team game it's only fair to mention others too. The outfield defenders were pretty much back at it. Rob Dickie again winning towering headers and it was interesting to note that Curtis Nelson had licence to join in the attack from time to time and not just when we had a set piece. As long as we don't get caught on the break, which we didn't here, this is a real weapon in our armoury.
The two full-backs did their job and John Mousinho cleverly read the game.
Henry and Whyte put a shift in throughout and possibly do a bit more with the ball than we give them credit for because they were never going to match Browne on his showing. I really liked the way the latter got in a couple a perfectly timed sliding tackles.
It's not possible to have talk of putting shifts in without mentioning Mackie. There was a spell in the second half when I thought we looked quite tired as a team and he was one who I thought had run his race. Somehow though he kept going and going some more and saw out the entire ninety plus minutes. Karl Robinson made two substitutions one in the 87th minute and the other in the 89th.  With Mackie not being one of those given a couple of minutes rest, Sam Smith remained on the bench. What does that tell us?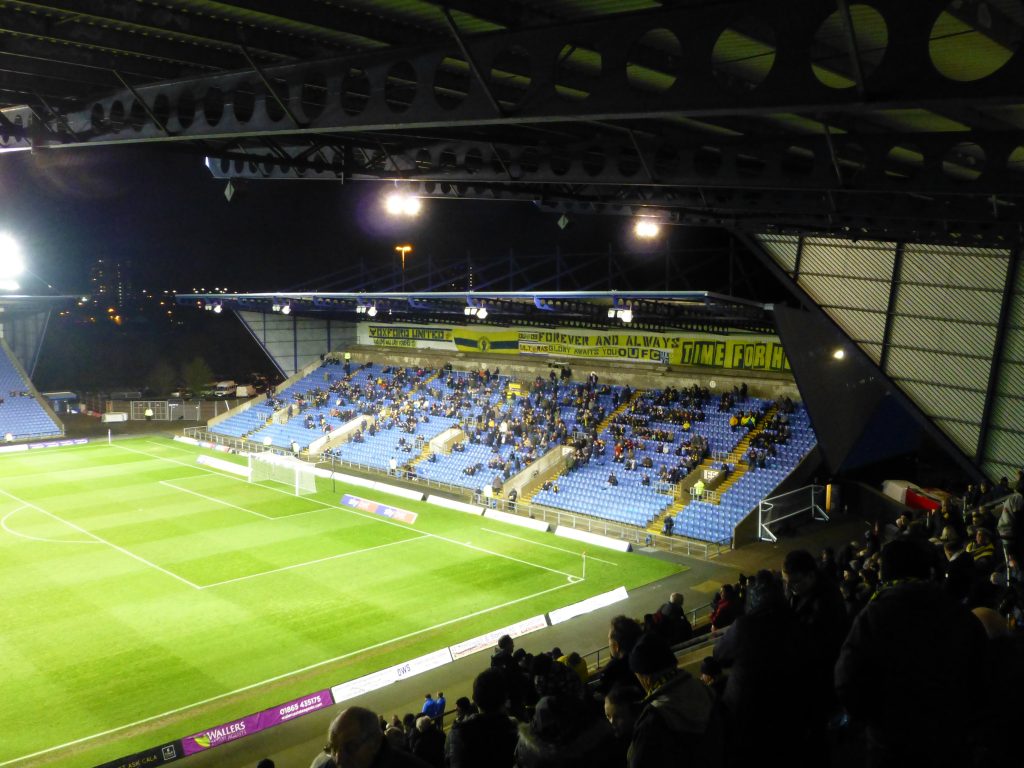 East stand five minutes before kick-off