BRADFORD AWAY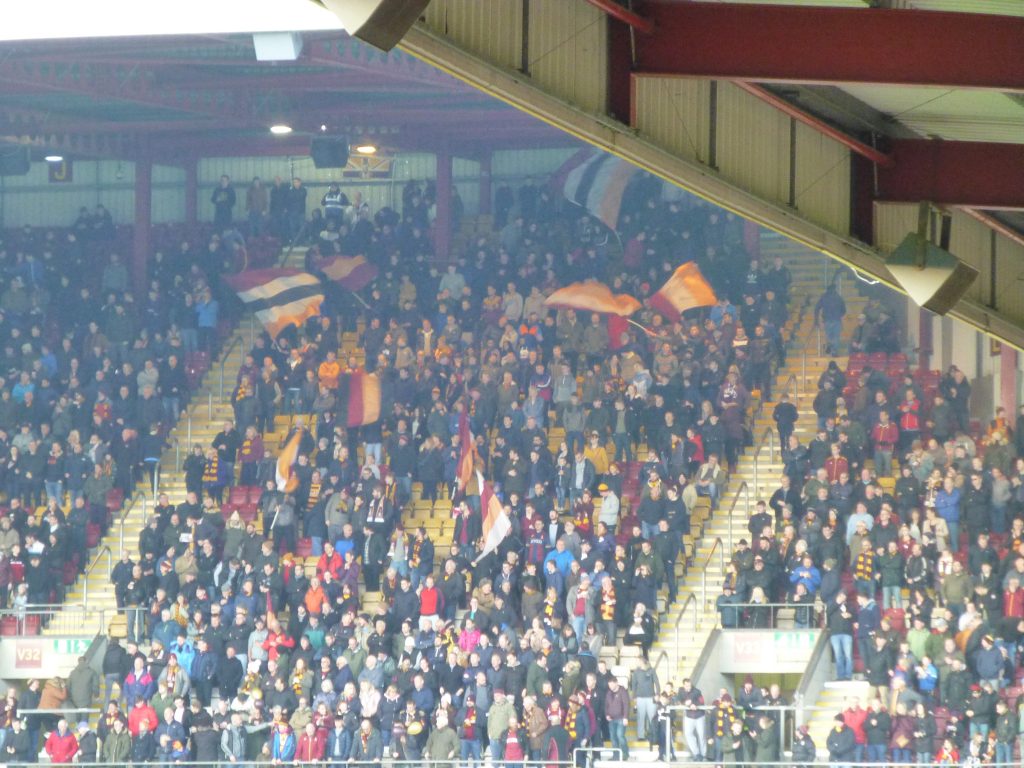 The state of Bradford City FC
Last season Bradford's average attendance, 19,787 was the highest in L1. This impressive figure is largely incredibly cheap season tickets and of course a ground that can accommodate such numbers and still have room to spare. The capacity is just over 25,000.
This season the price of an early bird adult season ticket was £169, a £20 increase. That works out to £7.30 a game. They also have something called a "webflexi" as an alternative to a season ticket. This costs £75 and gets half price admission on match days.
Despite prices fans at almost every other club in the league can only dream of, after nine games at Valley Parade this campaign, the average has dropped to 16,034.
The club which currently languishes at the bottom of the table are so desperate to get their fans back and behind the team that the prices for our visit plummeted to just a quid and that was extended to us visitors, so no complaints here.
From afar all looked rosy in the Bradford City garden but that is way off the mark. An article in the latest When Saturday Comes gives, what I assume to be, a reasonably true picture. I'll unashamedly lift from this long running but now modern day fanzine. In May 2016 a pair of Germans Edin Rahic and Stefan Rupp bought BCFC. Rahic was hands on and alienated club officials who one by one left. Rahic gave himself the role "head of football" and introduced a transfer committee. Phil Parkinson decided being manager of Bolton was a better option than remaining at Bradford. The next manager, Stuart McCall, was asked to step down after the Bantams lost the 2016/17 play-off final but he refused to resign. An uneasy truce continued into the following season with Rahic attempting to dictate tactics and transfers. Meanwhile half the team from the play-off final were out of contract and allowed to leave. Even though their replacements were inferior, with half the season gone they were in a play-off slot. Then there was a rumoured fall out with players over bonuses, disputes over January transfers and a crippling injury list. Six straight defeats resulted. Rahic then sacked McCall even though City were still in the top six. The fans were not happy and a backlash grew.
Simon Grayson was appointed on a short term deal but didn't want to stay. After a six week search for a replacement Rahic appointed their U18s coach, Michael Collins as manager. Yes, that Michael Collins who has now of course been sacked.
Commercial revenue is down. The mood around the club has soured and a number pf sponsors have been upset. Some fans have boycotted and those that have attended have chanted for Rahic to go.
More staff have come and gone. The club have gone through four different accountants in 12 months while their accounts have stopped being made public.
It probably goes without saying that the owners of a football club have the greatest of influence over the direction of travel of that club which obviously eventually manifests itself on the pitch. I'm not saying everything is hunky dory at OUFC or that we'll come away from our visit with even a point but I'll let you judge which way each club is going under their current regimes.
Bradford have had just one win in all competitions since August 21st. As ever I hope this is not famous last words.
Bradford City 2 Oxford United 0
With 25 minutes gone Jack Payne ran across to take a corner in front of the Oxford supporters. A few seconds later the game had changed.
Up to that point I thought we'd played the better football and listening to fellow fans at the break I didn't hear any who were of a different opinion.
We'd moved the ball around fairly fluently and had a gently effective rhythm to our play. That said I didn't think the home side looked like a completely down and out bottom of the table side.
But what does playing better football actually mean? More pleasing on the eye than your opponents? Displaying top quality technique and keeping possession with relative ease? I'm not saying we did all this just asking the questions.
A key fact that struck me though in that first quarter of the game was we weren't really ripping the Bantams apart or creating anything that could be interpreted as a good chance from which we should have scored. In fact I can only remember Richard O'Donnell in the Bradford goal making one save where he was anywhere near to being extended. That was when referee Darren Drysdale sensibly allowed advantage to be played when Marcus Browne, on a battling run, was scythed down. James Henry hit a thirty yarder and O'Donnell, low to his left, pushed it around the post. Drysdale then undid his good work in my book by not showing a yellow card to the perpetrator during the next stoppage in play. (* Edited on 28/11 – Error on my part – a card was shown. I hold my hand up). More of the referee later, which now is almost a given.
I didn't notice it but someone told me that Payne gave a little wave to our fans before he took the flag kick. I don't see why he would have any animosity to OUFC whatsoever and I can't see why any supporter of the yellow persuasion would have anything against our ex-loanee. It was Huddersfield's call to move him from us to Blackburn last January wasn't it? So what makes a few loudmouths near where we were sat think they've got the right to yell "wanker, wanker" at him. Not only is it downright rude and disrespectful but don't they get the motivation factor? I bet little Jack was thinking I'll ram those words down their throats.
From his corner, which wasn't a bad delivery, we went one down and three minutes later he helped himself to a goal of his own from open play. Who were the "wankers" now?
Now Bradford had a spring in their steps and it was they who were looking the better team, and the one most likely to score. The only other effort we had before the first half was concluded was a Curtis Nelson side foot volley following a free-kick. It lacked any power and was easily saved.
So we went in two down. Our recent improvement has been built on the back line keeping many clean sheets but here we'd been defensively poor. From that corner no one challenged Eoin Doyle who was able to get a head on the ball and keep it in the danger area even if he wasn't forcing it in any particular direction. The ball went to the far post where David Ball wasn't really marked. I then thought his header should have been saved by Simon Eastwood who didn't seem to time his jump properly to me. He got a hand to it but the ball went up and over the line.
For the second goal Bradford, with their tails up, had men in our box. We matched and beat those numbers but didn't mark tightly. When the ball came to Payne he was unmarked but not as unmarked as another option Kai Brunker.  Any team defending like that will let in goals. This looked back to early season leakage not latter day solidarity.
At half time I thought the game would likely go one of two ways. We'd either get turned over by quite a few without playing horrendously badly or we'd turn things around. This was the thinking of a crazy person. What happened was as you were. I honestly can't remember much football being played at all in the second period. The Bantams were well happy with this and obviously ensured it was so. Who can blame them? They're in even more desperate need of the points than we are and that's saying something.
I really thought that players went down and stayed down for treatment when none was needed to take time out of the game and also to prevent any flow being built. Fair play to him again though for adding eight minutes at the end.
But that's more than countered by things I think he got wrong. I'll hold my hand up though and admit I have not read the laws of the game recently so am happy to be put right.
Bradford were allowed to take one free kick for offside in our half.
Referees often give free kicks for handball when to me it clearly looks like ball to hand. Here Drysdale signalled the opposite when a Bradford defender blocked an attempted ball into the box late in the game.  The arm was bent and raised and the elbow stopped the ball. It looked a deliberate action.
After one challenge where we certainly hadn't committed a foul two Bradford and one Oxford players were left on the deck with another Oxford player coming away with the ball. Whilst a long long way from goal for once we looked like we might have some space to work with. Drysdale stopped play.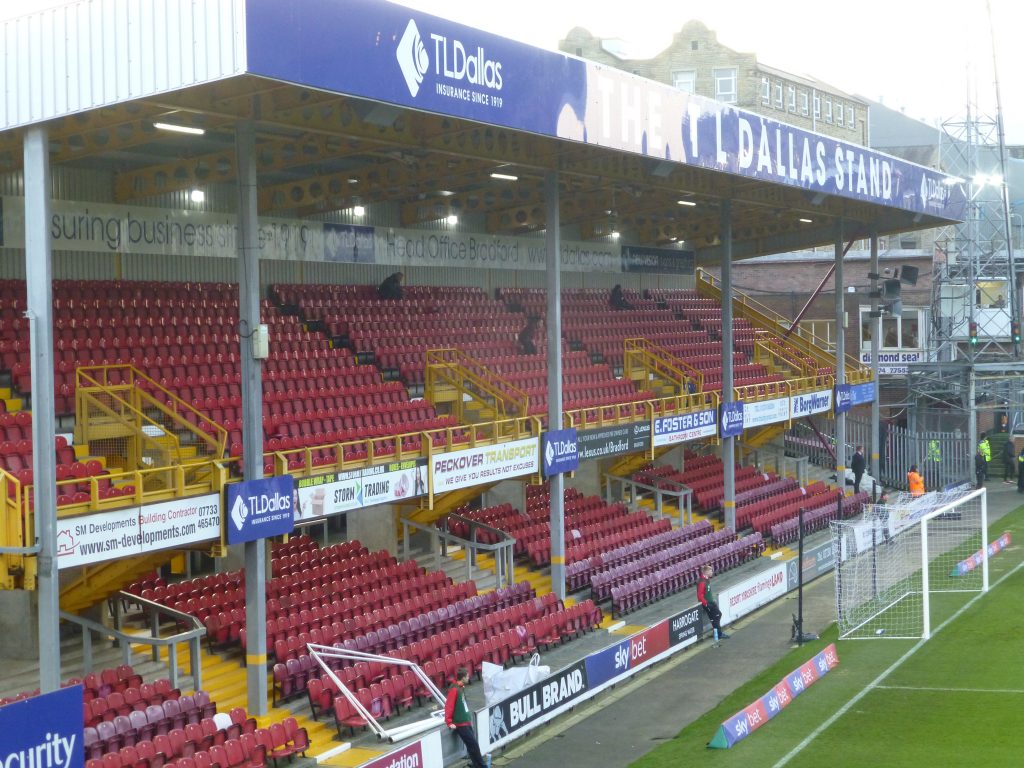 Realistically we had not looked like scoring for most of the match. Playing towards the empty South Stand our biggest threat was Browne running with the ball but that wasn't much of a threat in all honesty. He only got shots away from distance and they ended up with less value than back passes. There was no link up play or understanding up front in a pretty poor effort. Indeed it was quite telling that when we did hit the post with a headed effort late on, the man who nearly got on the score sheet was a centre half. Nelson was a touch unlucky.
With eight minutes of the 90 remaining we made three substitutions but I doubt that there was a single Oxford fan in the ground who thought that the introduction of Luke Garbutt, Cameron Norman and Sam Smith would help salvage a point.  I can't help but feel sorry for SS. Not only is it not working out for him with every few minutes we see of him suggesting he's not up to it, here he got pole axed. For that Nat Knight-Percival was sent off. From my vantage point and having seen the replay a number of times I'm not sure what to make of it. Possibly not deliberate but Nelson's reaction says otherwise.
So we had eleven minutes against ten men which prompted Five Live to report that ten man Bradford had beaten Oxford. Technically true I suppose but it would have been a more honest comment if the dismissal had been much earlier in the game and had genuine influence on what was to come next.
We were always going to lose again sometime and to state the obvious we've just got to move on to the next game which is on Tuesday so not long to stew over this. There's no overlooking though those huge but known issues which were glaringly obvious again in this game. Lack of depth, particularly up front where if Jamie Mackie isn't causing a nuisance we've got nowt and that's without moving on to the striker who can score goals thing.
Other than the actual football the Bradford experience was a rather good one. We'd been moved back to a stand where the view is an impressive one and there was no hassle from the stewards for the first time in a couple of visits. The pubs delivered as usual. Again I didn't get further than North Parade. Unfortunately the Record Café was so full it ended up one out, one in so we gave that a miss but the Sparrow Bier Café and the Peacock made up for that. And in the evening there was the Otley Beer Festival to help drown my sorrows. It would have been rude not to.