Article by Paul Beasley Saturday, August 4th, 2018
BARNSLEY
Lots of people who went home very disappointed
Slowly building a squad
My first FV of the season posted on 23 July covered Ireland and gave a vague opinion of how we'd do this coming season. Since then we've signed Marcus Browne and Sam Smith on loan. They can only strengthen the squad but to what extent we'll only know when they've kicked (and headed) balls in anger.  This of course will do little if nothing to silence our eternal moaners. If Ronaldo had moved from Real to OUFC instead of Juventus they would be yelling he's too old and a bloody foreigner who doesn't know EFL 1.
Browne has yet to do anything meaningful at senior level but is noted as being an attacking midfielder who is exciting, direct, forward thinking and capable of playing across the forward line. Here's hoping he can cut it and doesn't turn out to be another Isaac Buckley Ricketts. They're about the same age. Some players mature and get into the groove of proper league football later than others, some never can quite make it happen.
Smith is also 20 years old but for some reason I'm rather confident he'll do the business, whatever that turns out to be.  thetilehurstend.sbnation.com posted this the day he signed for us, "Sam Smith has today headed out on loan in search of first team football for the upcoming season. The striker joins 'Oxford United', whatever that is, for the full 2018/19 campaign. With the arrival of Sam Baldock, Smith is now well down the pecking order at the Madejski Stadium, so a loan move to Oxford – who play in a lower league than Reading – makes sense for his development. He would otherwise be competing for minutes not only with Baldock, but also with Marc McNulty, Jon Dadi Bodvarsson and Yakou Meite." I'll leave anyone reading this to make of that what they will.
So all in all I'm a tad more confident than I was a couple of weeks ago but, like many yellows, wonder whether the goals are going to be plentiful enough to mount a serious challenge on the top seven once the league has settled into some kind of discernible pattern.
Previous
It's been twenty years since we've played at Oakwell and being honest I couldn't remember much about Barnsley as a place or previous encounters, although I do recall season 1979/80 which I think was the first occasion we were in the same division as the Tykes.
These were nastier times for football fans and I could ignore them but by mentioning them it illustrates how far we've come. History cannot be re-written.
Memory naturally becomes a bit hazy after so long but I recall coming up the London Road for the home game in September when a white van pulled up outside the White Horse. A few men jumped out and absolutely laid in to a few other men, leaving them battered. I do have a vivid recollection of someone shouting finish them off but they were gone in a flash.  All in broad daylight.
The word on the streets was that this episode was in revenge for something that had happened in the city centre earlier. I'd no idea whether that was true or not but what I did know was it wouldn't be very pleasant in Yorkshire for the return fixture. That took place on January 26th.  As I was stopping in Nottingham for the weekend I didn't have very far to travel on the Saturday morning and consequently arrived in Barnsley very early. There's a really big car park backing on to the stands behind one end and I was the first through the big gate. I asked a steward (yes they even had them in those days) where best to park for a quick getaway and he pointed just to my left backed up against the stand.
Being on my own, incognito was the order of the day so I took a seat in one of the stands with the terracing that housed the few away fans that had travelled just to my left. Sure enough home fans also accessed that part of the ground as was the way of things then. Outnumbered, some Oxford fans just climbed the perimeter wall with one or two actually walking, quite calmly into the six yard box, before the police bothered to do anything.
We were poor. We lost 2-0 but as far as I know everyone, myself included, remained in one piece. I didn't hang around on the final whistle and was back in my car in double quick time. Were the gates I'd entered through just a few yards away opened to allow my escape? Were they buggery. Firmly locked they were. Egress was taking place as far away from where I was sat as it was possible to get. Half an hour later mine was probably the last vehicle to leave.
Pre-match expectations
The three teams promoted from L1 in 2017/18 were the three relegated from the Championship twelve months earlier. As Barnsley came down last season and have been much more Championship than L1 over the last dozen years, they are naturally one of the favourites to go straight back up. The bookies have Sunderland as favourites to be top at 3/1 with Barnsley second favourites at 8/1. They do seem to be rated by those in the know and Sky have noted that German manager Daniel Stendel, seems to be building a youthful side with a focus on playing a high-tempo attacking style.
When asked by When Saturday Comes how Barnsley would do, supporter Richard Darn replied thus: "Since February 2017 we have won just 11 out of 62 league games and losing has become a habit. So it's mid-table stagnation for me". (For the record our Piers Pennington has us finishing in 16th position)
They've now got Keiffer Moore of course. We'd have liked to have bagged him. They've also got Alex Mowatt. We've had him. Now he's no longer our loanee, I'll say too slow.
A very challenging first game then with a home win likelier than an away one. (How did I work that out?) That said, my expectation wasn't that we would get hammered and if we were to come away pointless the winning margin would be no more than two. However I hadn't totally discounted picking up a point or even a victory by the slenderest of margins. Quite a bit of hedging but that's how I feel.
Reality – Barnsley 4 Oxford United 0
I got that well wrong then didn't I? A four goal margin and it could have been more. A lot more.
The only crumb of comfort I can think of is holding Barnsley up as this season's Wigan / Blackburn and that we won't be playing the likes of them very often again over the next 45 games.
They were light years ahead of us. Slicker and quicker. They were able to finish in style with clinical efficiency and also carve us open. In contrast it is difficult to put forward a case that we had taken a strike force or even a hint of creativity to the S71 postcode.
It didn't take long after kick off to see which way the game was likely to go and once they took the lead in the 20th minute we lacked everything it takes to make a game of it. We never gave the slightest hint that we might force our way back into it.
Forget friendlies and what the players have done previously, for us, or other clubs, it is how they perform as a unit and individually that will determine the season ahead. Of course this was one game only but it was bloody depressing to watch and suggested that we could be in for some gloomy times.
I thought our new full backs Luke Garbutt and Tony McMahon had been brought in to get forward and get crosses in. That didn't happen. They're defenders though so their job is firstly to defend. I wouldn't say they did that particularly well and the back line did not look like a solid unit. I'm wondering if Curtis Nelson's injury has taken a permanent toll and whether we'll ever see the player again that had a market value of a couple of million quid.
I hate the compulsion to scapegoat but was really getting annoyed with Jamie Mackie's lack of contribution. I was surprised he'd started given his lack of match fitness and the info I'd received on his performance against Leeds. Why he was selected ahead of Robbie Hall I don't know but Hall was the only Oxford man who had any spark and noticeable ability to actually run at and beat an opponent causing them just a touch of panic. One man (sub) a team doth not make and even if one man could, that man needs to know when to release the ball. But releasing the ball to statues isn't going to bring any reward.
When I gave my view on the poorness of Mackie's showing my mate said yes but you could say the same about James Henry, Josh Ruffels and Cameron Brannagan. He was right.
I had been of the belief that Brannagan could be an influential player for us this season but he really pissed me off here. I'm looking for leaders and winners. Players who will stand up and be counted when the chips are down. In the second half Simon Eastwood had the ball in his hands and was looking for someone to give it to. Brannagan wasn't that far away and had no red shirt anywhere near him.  Instead of calling for the ball I noted what appeared to be a deliberate act in turning away with his back to our keeper. Quite cowardly but if there's no one showing anywhere to then receive the next pass, kind of understandable.
Forget his pre-season form, Jon Obika looked no better than he had done in the league last time around and I saw nothing to get excited about in Sam Smith.
To add to the depression, Samir Carruthers is now out for about three months and players we thought we'd acquired have not materialised. They may eventually do so but meanwhile this does nothing to help KR put together a side for the challenge ahead and boy at this moment in time it looks a sizeable one indeed.
It was meaningless when we were top after one game last season so I'll play the same card now that we're bottom but as our goal difference is already minus four, given our lack of goal-scorers, I'd say there is a strong likelihood that we'll remain in the red all the way through to May. A worrying thought but I can't find much to lift the spirits at the moment.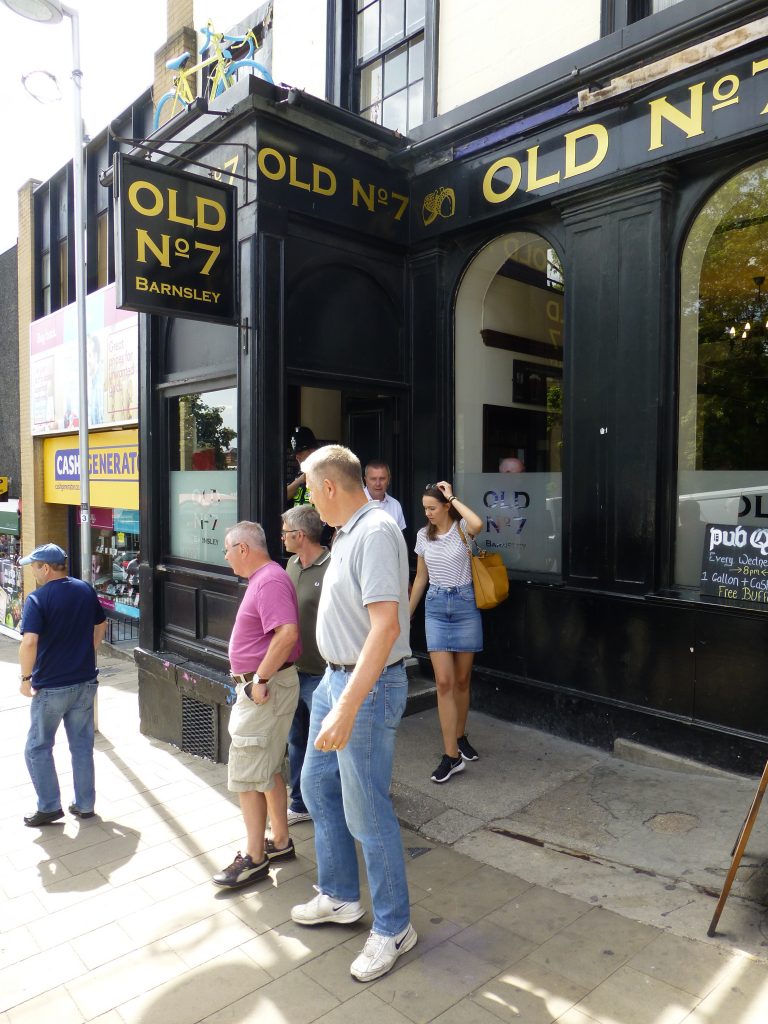 The football aside, the day itself was a good one with the pubs not letting us down. In the centre of Barnsley I wondered what we were about to discover having read on a couple of websites that away fans should beware and noting the police presence. It turned out fine with the Old No.7 and two micro pubs, The Arcade Alehouse and The Tipsy Cow meeting our craving for ale.
The only way is up now isn't it? We're at home next game and Fleetwood surely can't be as good as Barnsley were. (So we'll only get done by a couple of goals then).
So much for early season optimism. Reality doesn't take long to crush that.