CHARLTON AWAY
Pre-match mode
I often slip into pre-match mode for our next fixture just hours after I've heard a final whistle. This is particularly so when we're playing twice a week so after Bristol Rovers I was soon pondering how we'd do at the Valley.
In the Rover's FV I said I was hard pushed to see us coming away from the capital with anything and although we drew with another clean sheet, I'd be fibbing if I said that performance had done anything to increase my optimism. The opposite in fact.
Although some fans spout garbage, there are others whose views I respect and who provide points to mull over. With that in mind I ended up feeling a touch more negative than I had been. And that was with regard to the season as a whole not just the next game or two.
I'm going to lift a couple of quotes from Manorlounger and Juppy.
"Nothing was quite right, the defence was not conceding but didn't look right." I wish I didn't agree but I probably do. I worry that when we come up against one of the very better L1 outfits we'll concede some goals. (I'm trying to work out how many "some" is likely to be). There are little bits here and there where we don't look good enough. Like clearances not going out of harm's way.
"We were lucky to come away with a point… I still believe it's because our fitness levels are not at the same level as our opponents." I'd not given that a thought but it could well be true and if so would be thoroughly worrying along with so many other things. I just had it down as the Gas being better than us in the second half, which was worrying enough as it was.
I asked myself this question. What is the percentage likelihood of us scoring no goals, one goal or two or more goals? I came up with 75%, 15%, 10%. I then did the same for the Addicks. 30%, 35%, 35%.
Truthfully though we never actually know what is going to happen. Remember how this fixture played out last season. And that was with a starting XI that didn't set the pulse racing although Ryan Ledson and Joe Rothwell would walk into this team and the same could probably be said about Alex Mowatt too.
Capital pubs and a bit of culture
An afternoon around London town was too good to miss before heading sarf of the river for the match.
When in Charing Cross the Harp has to be visited and with a generous discount for CAMRA members prices are quite a bit cheaper than those in many Oxford public houses. The beer of course was of good quality. There's so many interesting pubs in our capital city that one could spend months submerged in them. All we did though was the Lemon Tree, the Coal Hole and moving to Covent Garden, the Coach and Horses. Each had a different character and different characters in them partaking of the ale, including a couple of Wigan lads on the way to Millwall. Chey Dunkley is playing well.
We did a bit of culture too, not quite as hi-brow as the National Gallery but the National Portrait gallery enticed us in. One of the small free exhibitions was Bobby Moore: First Gentleman of English Football. The black and white pictures by well known photographers Terry O'Neill and Monte Fresco amongst others made me feel old but also very nostalgic. "Considered one of the sport's best defenders, Moore was a composed and commanding captain with immaculate timing. Known for his intelligence and sportsmanship on the pitch, he was also widely regarded as a great gentleman of the game".  We'll never see the like again. These are such different times.
Charlton Athletic 1 Oxford United 1
I don't think much had happened until Charlton took the lead in the 25th minute when Ben Reeves got past Josh Ruffels way too easily right along the bye-line. At the time with my 100% biased head on and with the help of a few pints inside me I denied that it was a penalty. Replays showed how blinkered I had been. Simon Eastwood's decision wasn't the best he's ever made and if his name had been Jon Mitchell would probably have been castigated for it.
Lyle Taylor, a relatively dangerous forward, dispatched the spot kick with no nonsense straight down the middle.
I thought that meant there was only one winner as we didn't look like we had anything in us to get back in the game.
That was how things carried on until the hour mark when Rob Dickie was replaced by Jamie Hanson. This was a wise move by manager Karl Robinson with our quite raw centre-half being on a booking followed by a further warning from referee Dean Whitestone. Lesson learned following the Shandon Baptiste dismissal earlier in the season?
Dickie wasn't happy though, throwing a wobbler as he went off. The lad has a lot to learn but it has to be a positive that he didn't want to be subbed in such circumstances.
From here on in we looked much improved and I'd go as far as saying we became the better team. This goes against my conclusion that our recent improvement, which has resulted in us no longer losing games, has largely come about by John Mousinho being taken out of the back four and being placed just in front of it.  Now he was back alongside Curtis Nelson but I didn't detect any defensive frailty or dicking about on the ball in dangerous areas.
I'd been quite impressed with Cameron Brannagan before this change but he now got further forward and became more influential. He'd covered well from the start and to that began adding ball carrying towards the Charlton rear guard. That Dickie's replacement, Jamie Hanson, played further back no doubt freed him up to be able to do that.
Our equaliser came just ten minutes after Hanson's arrival and four after Gavin Whyte had replaced Marcus Browne. It gave us a reminder that we do have the capability of playing entertaining quick incisive football with an end product, rare though it is.
Ricky Holmes facing towards the Oxford goal had possession midway in our own half and without turning played the ball back to Hanson who controlled with his first touch and moved it swiftly on with his second. That pass was to Brannagan who played it first time back to Holmes who had now turned and was haring away. This was so much better than most of what had gone before. It didn't matter that Holmes run was halted, we were beginning to get on the front foot and it was Brannagan who picked up the loose ball and beat Joe Aribo as he set off soon to find himself just outside the Charlton penalty area. "Give it to the Paddy" yelled a fan near us. More than once actually in the remaining minutes of the game. I'll leave it to individuals to decide whether the term is derogatory or not or whether it only applies to those on one side of the currently non-existent border. I've always looked on it as a term of endearment.
Anyway, Brannagan did indeed play the perfect pass to his right to Gavin Whyte who was also moving rather quickly. At last pace as a team and not just individually. The NI international slammed home a shot from just inside the right-hand corner of the penalty area. I thought it was a wonderful goal but there were some around me who considered it to be a mis-hit cross. No way does anyone hit a cross that hard.
Other than the goals I don't think that either of the keepers, both of whom looked pretty accomplished, were ever extended. Efforts on goal were either fielded with ease or going comfortably or horribly wide.
That the report on the official CAFC site acknowledges that we "probably deserved a point" means they obviously thought we did.
So it turned out nothing like last season for late drama but so much better than I'd feared it might and indeed looked like it would at one stage.
There are still many things to be very concerned about. We may have gone up one more place to 21st but are now a point closer to that bottom slot than we were at start of play.
Goals still look incredibly hard to come by.
But before I turn my thoughts to the Shrews a few comments on individual performances I've not yet covered.
Nelson – continues to look a classy centre-half.
Tony McMahon – when we first saw him he looked way off the pace and we were listening to Bradford fans who said he was past it. Some of our fans were thus saying it was ludicrous to have given him a 2 year deal. That was hard to argue with but he's now quietly settled in and doing the job of a seasoned full-back with no messing.
James Henry – I was a bit disappointed with him here and also in other games recently but perhaps he's doing this unrecognised stuff that had helped us remain unbeaten in four.
Marcus Browne – don't get what's with him playing down the middle and particularly leaving him there when it wasn't working.
Ricky Holmes – he was fouled so many times it was utterly ridiculous yet the only player on the opposition side to be booked was Tariqe Fosu-Henry for kicking the ball away. Whitestone did us, and Holmes, no favours and I thought that the home fans were quite influential in this. If they can help sway things their way, then why not? It's our duty to do the same I suppose. Again I thought RH should have got his head up a bit more than he did and passed more than he did but my mate reckons he must have been told to just run with the ball and is acting under instructions.
Jamie Mackie – Another niggling game where he let his opponents know they had been in a game. I noticed him rolling around on the floor holding a Charlton player, who in fairness was probably doing the same to him, but I know who I'd guess started it. His mouthing off to the defenders after we'd equalised was a real wind up. I just hope he knows where the line is and not to go over it.
Whyte – already mentioned but there a debate to be had about what attributes he does and doesn't have. My mate (him again) thinks he's got little more than pace. Well pace is good for starters. He's also now scored two very good goals and as he's new to this level surely there's hope that he can be a 10 -15 goal a season winger. I'd also like to think he does have a trick or two and some decent control which was demonstrated when he brought a ball down out of the air.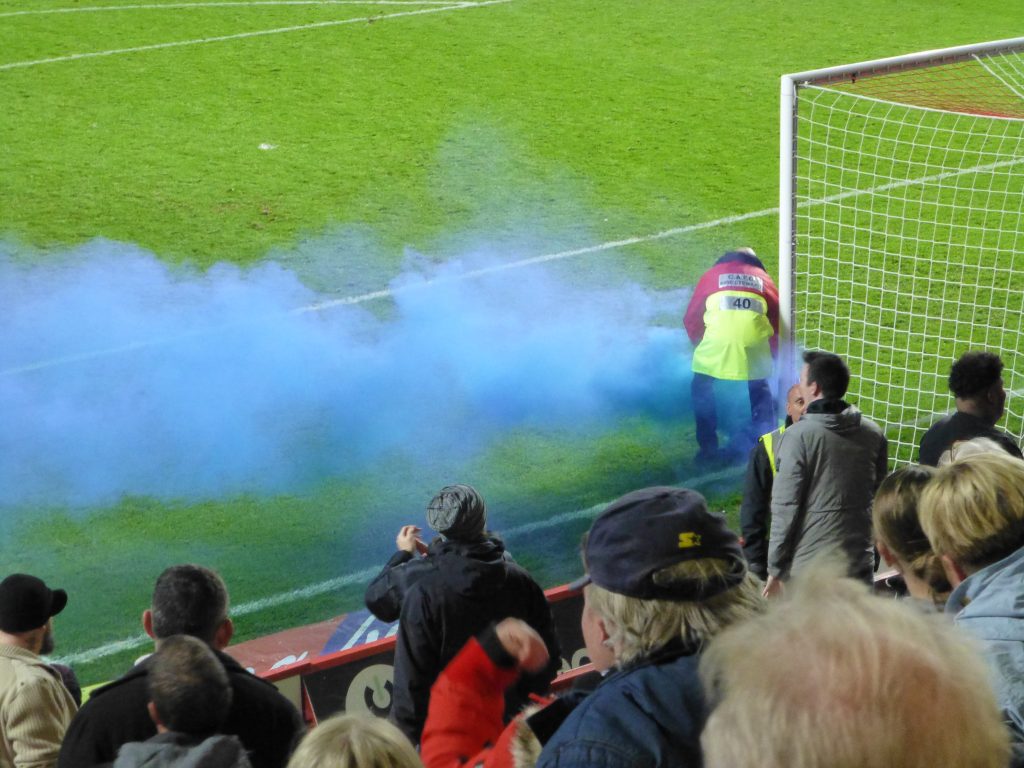 After all the warnings, why?