Article by Paul Beasley Sunday, October 14th, 2018
Plymouth Argyle at the Kassam Stadium
Feelings in the week prior to the game
Track 13 on "No-One Cares About Your Creative Hub So Get Your Fuckin' Hedge Cut" by Half Man Half Biscuit is exactly what I do when it comes to that irritating competition we had to play in on Tuesday night.
If we were doing well (a distant memory) or even bobbing along in boring mid-table obscurity (I dream of this) I would have cared very little about the outcome of the game. But these are different and hugely worrying times so I turned the radio on and listened to the second half. I didn't want any more calamities.
We sounded dreadful. Even PRB couldn't conjure up a positive spin. I doubt anyone could. We were well beaten by the team third bottom of League Two. Following OUFC has been embarrassing for quite a few weeks now but it is becoming almost intolerable. That's how I feel even though it makes no sense because I'll still keep going, home and away and have the piss taken out of me by my football club not to mention the money taken out of my wallet.
Have I now abandoned all hope? Honestly, the answer is just about.
I can't see Karl Robinson doing anything to turn things around. If he gets the boot I can't see anyone else on the staff doing so either. I can't see anyone with a decent CV and the required skills and experience who could turn things around wanting the job.
I can't see that Tiger has a grip on things as he's so far removed nor do I think he has the contacts needed to sort this mess out. Wow, what a mess.
Nothing has changed since the "exciting appointments" of Saki Mohammad Nuseibah and Horst Joachim Franz Geicke. Rome of course wasn't built in a day. A football team and whole club, can though be slowly destroyed in the short to medium term.
What's Erick Thohir football thinking? Does OUFC feature?
The relationship between the football club and Firoz Kassam is at an all-time low.
Greenfields (specialists in the development, production, installation and maintenance of synthetic sports turf systems) had been employed by the stadium company to look after the pitch under the terms of the agreement with Oxford United. On 28th September a statement was issued: "Oxford University Sport (OUS) took over the preparation and maintenance services for the Kassam Stadium pitch from Friday, September 28." There are apparently on-going legal issues with Greenfields. I assume, although that can be a dangerous route to take, these issues are with the stadium company and not directly with OUFC.
If memory isn't playing tricks, when OUS previously had responsibility for the upkeep of the grass it left a lot to be desired. That though is perhaps being unfair because rugger types were churning it up and creating more profit for FK.
Everything does appear to be a bit shit doesn't it and that's without focusing on the squad. A squad that have lost five out of six home games so far. Desperate, desperate times.
All bookies now have us odds on to go down. I can't even begin to make the slightest case that they are wrong.
To repeat, we do have some pretty good players but we don't have the right blend and there are vital ingredients missing. We have no chance whatsoever of rectifying that before the January transfer window. Then there's the obvious question of who will be available and where is the money going to come from for us to be able to afford the wages or even a fee?
Ricky Holmes, Marcus Browne, and Samir Carruthers are all talented footballers. None are ours.
We have no strike force. Our patience in waiting and waiting and then waiting some more for Sam Smith looks misguided in the extreme. Jon Obika already being here under contract.
Jamie Hanson and Cameron Brannagan have not turned into Ryan Ledson and Joe Rothwell. Should I add "yet"? (I'm looking for a straw or two).
Our best defender will soon be off for nowt.
Gavin Whyte is quick but for L1 you need more than that. (I'll wait and see). But we'll lose him from time to time anyway to various Northern Ireland benches.
Before Shandon Baptiste is to be the asset he has the potential to be, he needs to get the disciplinary side of his game sorted out and have the captaincy taken away from him. How many fans trust KR to do the right thing here?
Blimey, that's a lot I've got off my chest before I set out for south Oxfordshire.
At least the sun is shining now. There has to be the tiniest bit of hope, doesn't there? Wozzer from the Green Taverners informed me that whilst Argyle have seen a "slight turnaround" they still have nine out injured and are down to the bare bones.
They've scored two goals less than we have and have picked up even fewer away points than us. I'm trying to force myself to believe, I really am.
My mood wasn't improved by the journey to the match. For the first time this season I opted for the A34. Mistake. Queues and then the Southern By-Pass just a single lane. This route used to take about 30 mins max. This time it was nearly an hour to get to Sandford.
A WIN, YES A WIN, AND BY TWO GOALS SO THERE WAS MUCH REJOICING IN THE SHIRES
Once inside the ground a bit of optimism kicked in when I got a bit of feedback from a mate who works with Plymouth fans. Those fans think they're garbage and not worth watching. And so it proved.
These three points were thoroughly deserved and I have to say that on the day we were vastly superior to our visitors. I'd felt that to be the case long before the final whistle but was loathe to mention so for fear of tempting fate. Given where we're at, a one goal advantage isn't something that gives OUFC fans confidence that such a lead will remain intact. We did though manage to maintain that slender gap on the scoreboard between us and them from the third to the 74th minute and when the next goal went in it extended our advantage. Even at two up we knew that if we were to concede things would look dodgy such has been our record thus far into the season.
But Plymouth were really awful and looking back that was never likely to happen. I'd go as far as saying that they were the worst opponents I've seen at Minchery Farm for a couple of years. Possibly the worst since we've been back in League One.
I'm not complaining of course because the poorer the opposition the likelier we are to take the points but Argyle are a team I have a lot of time for and any true football supporter has to feel for their travelling fans, all 1,285 of them.
So any eulogistic outpourings that now follow have to be tempered with the caveat of the awfulness of the men in green. We've been bad so far but I'd say we'd not reached the level of badness they'd brought with them from Devon. No way can I work out how they managed to get a draw at Oakwell 11 days ago.
In games up to now I'd noticed very few mistakes committed by our opposition compared to us but here we hardly came up with any whilst Argyle were riddled with them.
The game had only just begun when Rob Dickie played a swift pass out from the back to James Henry who, with an improvised neat tricky drag back kind of thing, beat Yann Songo'o then cut across another opponent before driving forward many yards. It was a well-intentioned pass he clipped for Jamie Mackie but didn't get it quite right. It ended up at a defender's feet. Luckily for us that defender was Mr Clumsy and allowed some pin-ball off his legs. The ball ended up in Mackie's path.  Our striker (yes, striker because that's what he was) had found the right position from which to strike, used his strength, took the ball on and struck from quite a tight angle. Perfect. Couldn't have asked for a better start.
However, it didn't take long for us to wonder if the usual was going to happen as Dickie decided to make a claim for the best Mr Clumsy on show. The one with the hair all the way down his back managed to get a cross in despite Josh Ruffels outstretched leg. Dickie, under no pressure, looked poised to tidy but he didn't. He went as if to trap the ball but instead only succeeded in making contact with the back of his right foot. He managed not to fall over but his efforts to make amends weren't great. His clearance was poor, not even finding touch and he then stumbled backwards and didn't do the returning Simon Eastwood any favours. As Plymouth were crap, the cross that came in did no damage, although Eastwood needed treatment having been trampled on by his centre-half. Against better quality we may well have paid the price of a goal in the against column.
After this little incident I can't remember us committing any further cock ups of note. From then on in other than once when we were exposed in the first half and a relatively easy chance was blasted over the fence, it was us who had the chances and looked 100% more likely to score than Plymouth did. Their stats were just one shot on target from five. Ours were five from 21. That suggests that we were not very accurate but I thought a fair few of our efforts were pretty close.
Henry unleashed a few of those efforts but it would have helped our goal difference if he'd been more clinical and also been a tad less greedy. That said though he had a fine game as did many in yellow.
It wasn't just individually that we looked good but as a team too and I will give Mr Robinson due credit for this. John Mousinho sitting in front of the back four has made a huge difference to our effectiveness. He reads the game, helps out defensively, and plays a bit of football.
We had a shape and a game plan. Whilst never getting drawn out of position we sent men haring forward singularly to put Plymouth players with the ball at the back under pressure. Ricky Holmes did it. James Henry did it and they did it quickly. They weren't the only ones. Argyle didn't look comfortable and their defence looked suspect throughout.
Speed makes such a difference to a team. I wouldn't go as far as saying that we moved the ball about very quickly but we did have pace in this game. The number one pace man was Marcus Browne. He is exceptionally quick for this level of football. Twice in the first half he really hurt Plymouth. To me it looked a natural gift but with a need to dig deep because he's not properly match fit having been out for a while. I'm sure Holmes and Henry would be in his wake in a training sprint but they too looked fairly speedy. It was noticeable how much effort they were putting in to achieve what they did. It has to be said though that the Plymouth back line were slow. Even Mackie was out-running them.
That was not meant as a backhanded compliment directed at our ex-QPR man. Anything but. I'm possibly going to go out on a limb here and say he came up with the most influential performance of any Oxford player for many a long day. It wasn't a Chris Maguire type performance; it wasn't a Danny Hylton type performance; it wasn't a Kemar Roofe type performance but it was exactly what we needed at this point in time. We saw a bit of it at Sunderland and last week at Roots Hall but here I thought he was magnificent in a workmanlike old school seasoned professional kind of way. It was what we have been crying out for. We've been too weak. We've lacked nous. We've not bought things.  We've not managed games. We've not let the opposition know they've been in a game. Mackie ensured none of this was the case against Plymouth and by doing so he brought the others along with him. I absolutely loved how he played. Me, a purist? If I ever was I ain't no more. He looked like a knackered has been when he arrived but if the issue was fitness and that has now been overcome, I am very much looking forward to watching him in the coming months.
From that you can deduce Mackie was my man of the match but there were others on the short list. One being Curtis Nelson, scorer of our second goal. That was set up by Mackie in a very unselfish way.
There were other positives. Tony McMahon looked a lot fitter than when we first saw him and delivered a few dangerous dead balls, which is something we've been missing. Shandon Baptiste's trickery and confidence was a pleasure to watch for half an hour. Four points from six and two league clean sheets in a row.  It could have been so very different if we'd lost. It would have been mutiny and Robinson out.
I'm feeling ridiculously good. This could have been utter disaster. It was not. "We're not bottom any more". Sing it.
But let reality kick back in, we're second bottom.  Next game is against fourth bottom. Massive as was the one this weekend. It's strange that I get as much pleasure from winning such encounters as I do when we triumph when we're near the very top of any league. It might also be true that I feel worse if we lose when we're near the bottom than near the top so perhaps the euphoria I'm still experiencing in the early hours of Sunday morning contains a high percentage of relief.
Before I bring this FV to a conclusion there's a couple of other things I'd also like to mention.
Referee Andy Woolmer did nothing to alter the outcome with wrong decisions or appearing to favour one side over the other, however, there were many things in his performance which to my mind made no logical sense.  Early on the Janners had a throw in and stole about ten yards. We then did similar and soon I'd say they grabbed even further. Woolmer had his back turned with no interest on these occasions but many times he was quite insistent that the ball was re-introduced to the field of play from the exact spot it had gone out. Very strange.
He also blew for a nonsensical free-kick when advantage was totally denied to the side with the ball.
Ashley Smith-Brown who had already been booked and had then been warned a few times appeared to chop Holmes down by connecting with his thigh. I interpreted the gesture that Woolmer made to indicate that it wasn't a foul and I couldn't detect any advantage to us. After a bit of shouting from the crowd and players he blew up and walked back towards the prone Holmes. I thought, bloody hell he's going to book our man. He didn't. He gave us a free-kick and booked no-one.
One of many things football related that really annoy me is the failure of the defending side to retreat the full 10 yards at free-kicks. Its 10 yards, not 10 paces. The penalty spot is 12 yards from the goal line and the depth of the area is 18 yards. Those and other dimensions can be used to roughly calculate the distance a wall is from the place the kick should be taken from.  After Holmes had been brought down just outside the box in front of the East Stand it looked to me as if Woolmer drew his white line three or four yards short. That makes a vast difference to the potency of any delivery.
On this subject my brother made a very good point and one which applies to all referees not just Mr Woolmer. Why don't they mark out what they deem to be the correct yardage immediately they've put down the blob where the foul occurred? So much time is wasted for them waiting for the defending team to form their wall much too close before they march forward do their spraying and only then making that barrier move back. It also surprises me that teams who are behind and should be chasing the game never seem to hurry to get their defensive act together in such circumstances.
Woolmer though was bang on correct in dismissing Yann Songo'o. The Cameroonian had sailed close to the wind more than once and was a bit more thuggish than others in what very much was a man's game. There was a case that he should have been given a straight red in the first half for a forearm smash into Browne's face. Possibly accidental but looking at the incident through yellow not green tinted glasses I'd go for 25% not meant.
Finally, and this is probably nothing of consequence, but someone rang in to the post-match phone in and said they'd tried to hire rooms at the Kassam only to be told that no bookings are being taken after 29th October. Does that mean anything? Nah, as I said, probably nothing.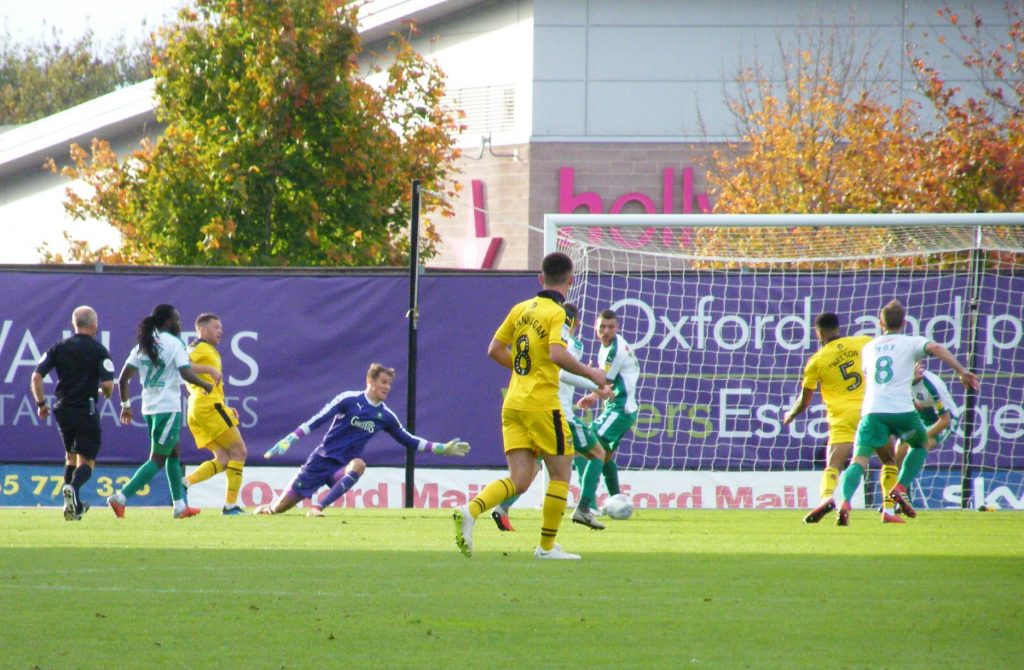 Goal number two about to be slotted home. Photo, Simon Jaggs