Article by Paul Beasley Monday, December 3rd, 2018
FA Cup Round 2 – Plymouth Argyle 1 Oxford United 2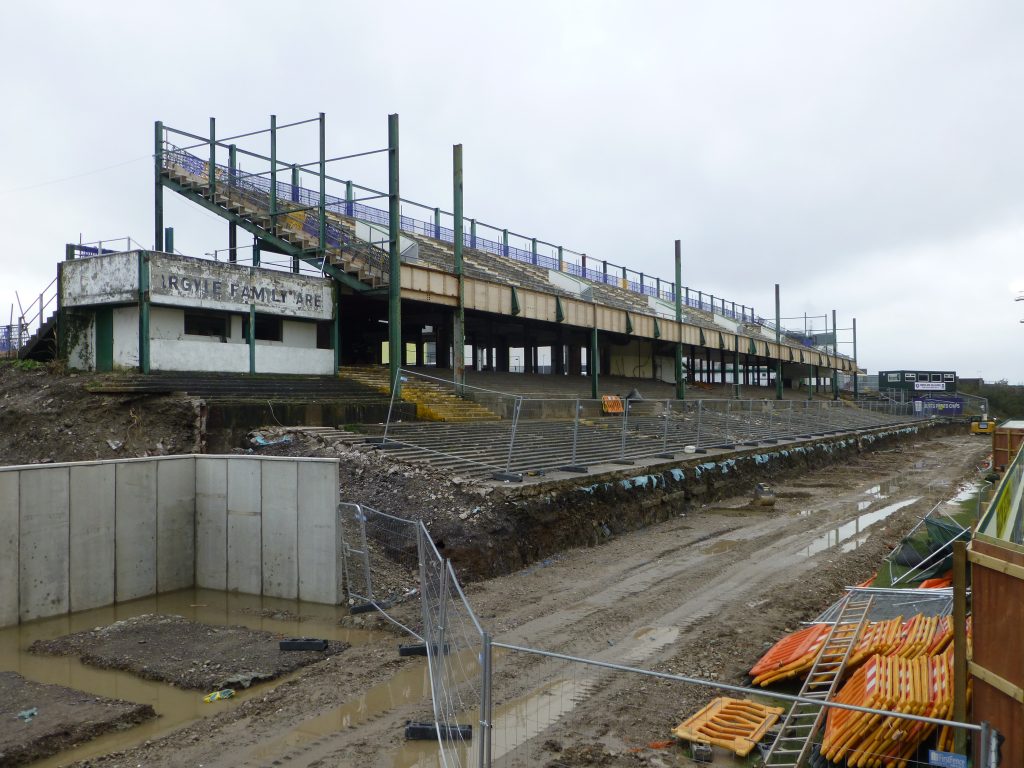 At half time I could safely say I had not been roused in any way by what I had witnessed or felt. There were many factors contributing to this. We'd played pretty badly. The whole thing was taking place in a three-side ground and we know what that brings to the party. A gaping hole through which any atmosphere generated by those present can escape into the big wide world as if it had never existed. Not that the FA Cup has the magic of yesteryear anyway whatever some commentators and pundits would have us believe as they try to talk up the product their employers have purchased. These are very different times to when Ricky George scored that late winner against Newcastle United. That Newcastle side was 100% a genuine first team.
It was only a tenner for season ticket holders of both clubs to get in and a little more for others. Much cheaper than for league games. The attendance was 5,984 and of that 381 were of the yellow persuasion.  When we last played at Home Park just over a year ago in the league there were 10,805 spectators present with 837 of us travelling.  I rest my case.
Did this mean I didn't care about the outcome? Absolutely not. The state I was in when the score was 2-1 attests to that.
When the final whistle blew I thought we had just about deserved the win. However, having then consumed the views of others, including an Argyle fan on Twitter who thought they'd dominated the game, and on seeing the highlights being made aware they'd hit the post at the very death, it's only fair to have a bit of a re-assessment.
I could see potential in both teams but also evidence of why each is where they are in the table. In the first half we made a whole host of mistakes. Very little clicked from an attacking perspective and if we did something semi-impressive what came next would immediately negate that.
The Pilgrims were much the better team in the first half but we all know finishing is a vital ingredient to a successful team. "Better" counts for nothing if you can't finish.
I thought Freddie Ladapo looked the most dangerous player on the pitch in the first 45 minutes. Joel Grant looked decent too and with Ashley Smith-Brown down their left flank gave us quite a challenge. Could they score? Could they **ck. Between them they missed more than one very good chance. Rob Dickie's clumsiness re-emerged when he knocked a Plymouth corner right back to Grant in front of goal. As the Plymouth midfielder was facing away from goal a simple short pass back to a colleague would have set up a very good chance of putting his side one up. Instead a back-heel was attempted. It only just went wide but that's not the point. Poor decision making but fine for us.
We did have a couple of opportunities in that half and on one occasion hit the home side on the break but our finishing was no better than theirs.
When the teams re-emerged it was a different story. We didn't look like the same outfit at all.  For the first half of this half we clicked. Within eight minutes we'd gone two up. Passes were no longer going astray, movement was really good and we were working together in little partnerships. No more was this evident than down the right wing. Argyle couldn't get near some neat short passing movements. For a while we played some of the best football we've produced in quite some time in this area of the pitch. It even had me thinking of George Baldock and the Mapp days, it was that good.
For the first, John Mousinho played a long side footed clearance which Jamie Mackie chested to Gavin Whyte who all but over ran it. His momentum though blocked the defender's effort to knock the ball forward and sent it back into Mackie's path. Our battler progressed down the wing, entered the box and with the outside of his right foot gave James Henry's overlapping run the pass it deserved. In a flash we were through on goal and from a tight angle Matt Macey, on loan from Arsenal, was beaten at his near post. For all they did in the first half Plymouth had not managed to do similar to us.
Number two came after Simon Eastwood had launched a goal kick. Marcus Browne won it with an unintentional hand before feeding Henry whose shot was blocked. Plymouth were far from being out of the game at this stage but we had momentum and when a team has momentum it is they who pick up the loose balls. Whyte did so and then left it for Mackie who quickly found Brannagan and his second touch was a shot of accuracy from distance that Macey could do nothing about. Plymouth had not managed such shooting.
I don't know if it was at this stage or after our lead had been halved that Mous, after yet another good piece of football down the right flank, failed to hit the target. If that had gone in the game would have been dead and buried.
Plymouth's goal arrived with a quarter of the game remaining. They really needed it because their fans were just starting to get on at them a bit.
I thought the crosser of the ball was afforded too much space but other than that I'm not going to be critical. The touch on the ball was a very good one, flicking it on its way across Eastwood and into the net. Very hard to defend for keeper and marker of the scorer.
Now I really became shakily nervous but as the game neared its conclusion I began to reason that even if we were to let in a second we had it in us not to let in a third. The least we would therefore come away with would be a draw which would not have been the biggest disaster that has ever befallen OUFC result wise. Okay yes they did hit the post but I thought we saw it out quite professionally.
So have I reassessed my opinion on which team were the worthy winners? Nah, possession was 50:50 and we had more shots on target than they did. But probably even more marginal than I'd originally thought.
Off the pitch
In the previous FV I wrote that I felt (semi) reassured after the OxVox meeting last Wednesday but still no concrete news that the HMRC issue has been resolved and monies due paid. The same can be said regarding Firoka and arbitration.
In that meeting there were some very non-specific answers given to certain questions but I thought an assurance was given that the HMRC winding up application would be sorted in the week of the meeting. There has however been silence on the matter. I feel I've been lied to.
Lack of clarity has prompted OxVox to go public. Members will have been updated and anyone can read the Oxford Mail so I'll leave it at that.
I will say I have not given up on the new owners but am nowhere near convinced that everything will turn out hunky dory.
Once more this brings me back to the fact that chairmen / owners come and go whilst most, but I'll admit not all, fans remain loyal for life. What are Tiger and the board really planning? What are they committing? What's in it for them?
I watched the live FA Cup game on Friday night. There was Darryl Eales wearing a yellow and blue scarf with that grin of his on his face.
Then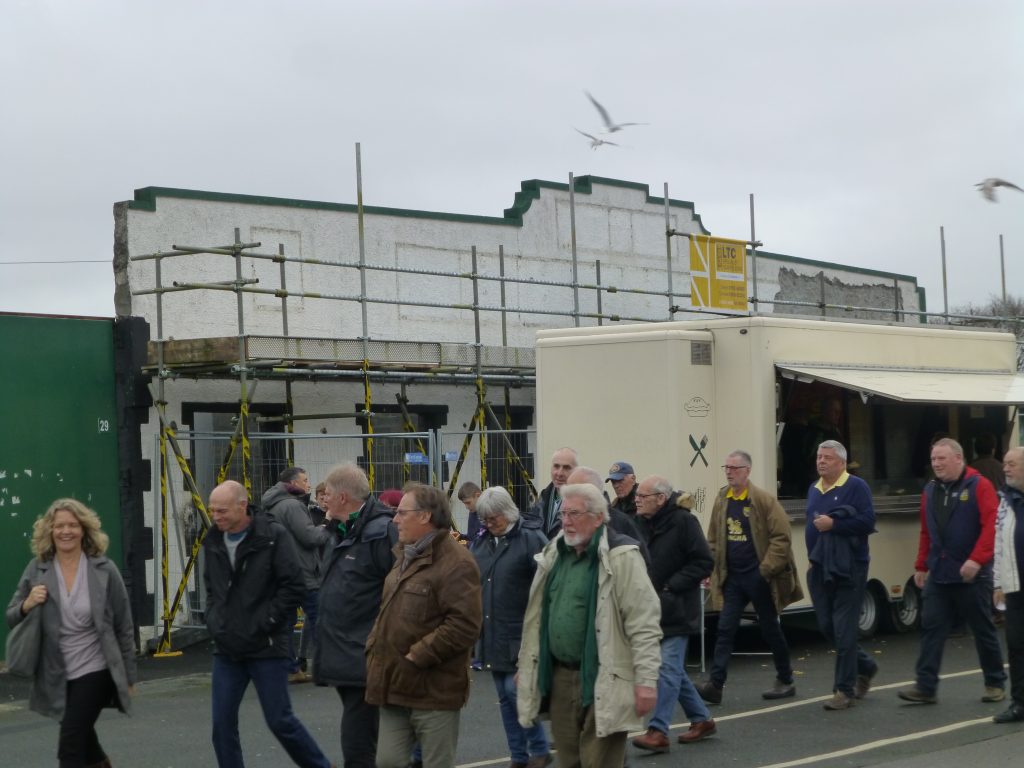 And now. Another piece of iconic football history has bitten the dust. (Supposedly has concrete cancer, which often isn't anywhere near as bad as it sounds).