Article by Paul Beasley
EFL DIVISION ONE GAME 46: SHREWSBURY
This game was one of twelve in the final round of League One fixtures and it was obviously right and proper that they all kicked off at the same time. But why on Sunday not Saturday? And even more contentiously why at midday and not 3 o'clock? I've not researched this but I'm guessing it was all about TV money.  Bolton v Peterborough was live on Sky Sports 2. Still makes no sense because that was up against Manchester United v Swansea on BT Sport 1 at the very same time. Who makes these decisions and what hand did the bloody EFL have in this? Do they give even a passing thought for travelling fans? Of course they don't. Bury fans (what few of them there are) travelling to Southend. A journey of over 250 miles taking over four hours.
Also I don't understand the logic in League One finishing this weekend whilst League Two, which started the same as we did back on August 6th, carry on one extra week. L1 teams by definition are better than L2 hence are likely to progress further in the abomination of a trophy that is the Checkatrade so those that are successful (us) are likely to have to play more games in less time. No wonder we're effing knackered. Bollocks to the EFL I say.
Once we'd sussed the traffic going to Bicester Village (don't get me started) had blocked the usual escape from our home TOWN the journey to Oxford was incredibly swift. What to do before kick-off at such an hour? There was a sign up outside the Catherine Wheel declaring that they were open from 9:00 a.m. Shall we go in for a coffee? I said to Mrs FV. Of course we went in. Of course we didn't have a coffee.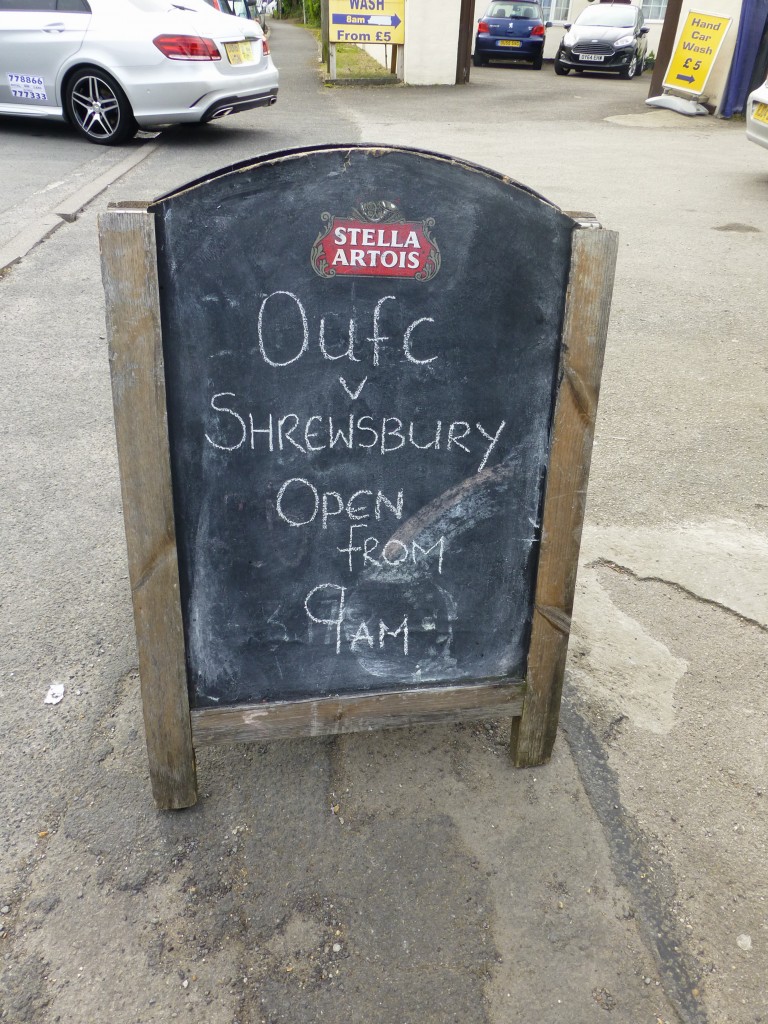 That the pub filled up with people wearing swimming arm bands and dressed as Popeye and contained fans I knew who I had never seen in there before took me by complete surprise. I knew nothing of "the sambucaboat". But as Mr Chown pointed out – "the Thames doesn't go through Bicester."  I've now seen the video and it would all have been a bit early for me, plus no real ale in sight.
After all that the game was, unsurprisingly, your typical end of season spectacle. The second half in particular was dire but no one seemed to care. We were winning and about to finish 8th, our highest finish since 1998/99 when we got relegated from the second tier. The Shrews had, barring an unthinkable turnaround in goal difference between themselves and the awful Port Vale, ensured survival before they arrived and even at two down were quite into time wasting. It was rather ridiculous
The telling action had all but been completed with barely a quarter of an hour on the clock.
We'd lost both our full-backs. Off went Joe Skarz looking as if his nose was being held in place and on came Sam Long. Off went hamstring victim Christian Ribeiro and on came young Canice Carroll.  It was a shame for both but particularly Ribs who must feel cursed.
These incidents happened in minutes 11 and 13. We then scored in minutes 16 and 17. So much for being unsettled.
For the first, Curtis Nelson strode forward with authority from the back. Such striding is something he has in his locker. One smart back heel later from Marvin Johnson and Nelson was able to proceed towards goal and then bang the ball home. I didn't know he had such banging in that locker.
The second was also quality, which was very much out of keeping with the rest of the game. With the outside of his foot Joe Rothwell played a sublime ball down the left which sent Chris Maguire away and to the bye line. From there he pulled it back and Robbie Hall got it over the line.
Was that time for a chant of something like, "eight more and you're going down"?
Match wise there's not a lot else to report really. There were a few exhibition moves that verged on the showboating from us and Shrewsbury had a few chances but on this evidence one can see why they ended up near the bottom. That didn't stop their fans, who everything considered had travelled in fair numbers, getting quite excited when they managed to hit the side netting. Some of them had turned up as if they were about to embark on a crusade and a couple as the 118 advert twats. (All other clubs should just give up and applaud Hartlepool. This year they were mimes. They do it so much better than everyone else).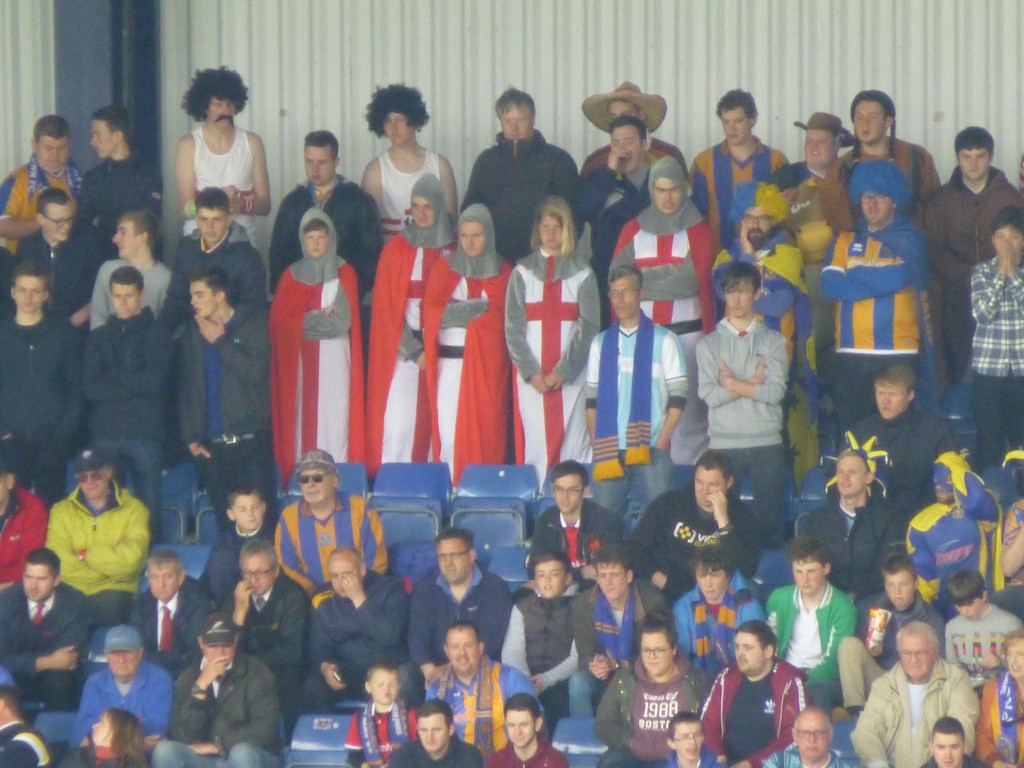 The biggest threat the visitors posed came in the form of the muscular Stephan Payne although he seemed at least as interested in holding as playing football.
In that second forgettable period Maguire went close with one effort that went just over and Kane Hemmings did brilliantly to beat players and get clear sight of goal only to put the ball horribly wide. Putting easy chances away was what we thought he could do. Creating the chance for himself in such a fashion wasn't something I thought he could do. What was it we thought we'd bought? I've not given up on him yet, but wtf.
So that was it. Season finished. The players came back out (well not quite because they never went off in the first place) to show their appreciation to the fans. Us not being Millwall and being older than about 12 we stayed off the pitch. Nice touch that Wes Thomas was there. Next season, Wes?
In old school report format I'd give us a B for 16/17. (I'm a harsh marker). The reason no higher being our home form and our regular lack of being unable to overcome the more physical sides who aren't that interested in playing football.
Given our style of play we need a much better playing surface than that currently at Minchery Farm. The lack of smoothness is not always noticeable but it's there and every now and again shows itself as in when Long was about to take control of a ball that decided to pop up from ankle to knee height.
That needs sorting as does the squad for next season. Maguire? Conor McAleny? Toni Martinez? Raglan? Phil Edwards? What are the odds on none being with us and similarly the odds on all playing for us again next time around?
One thing is for sure though – we'll be in league one again. Swindon won't. Which way does that shadow fall now I wonder? And Orient won't even be in the Football league. We've waited patiently and now it has happened.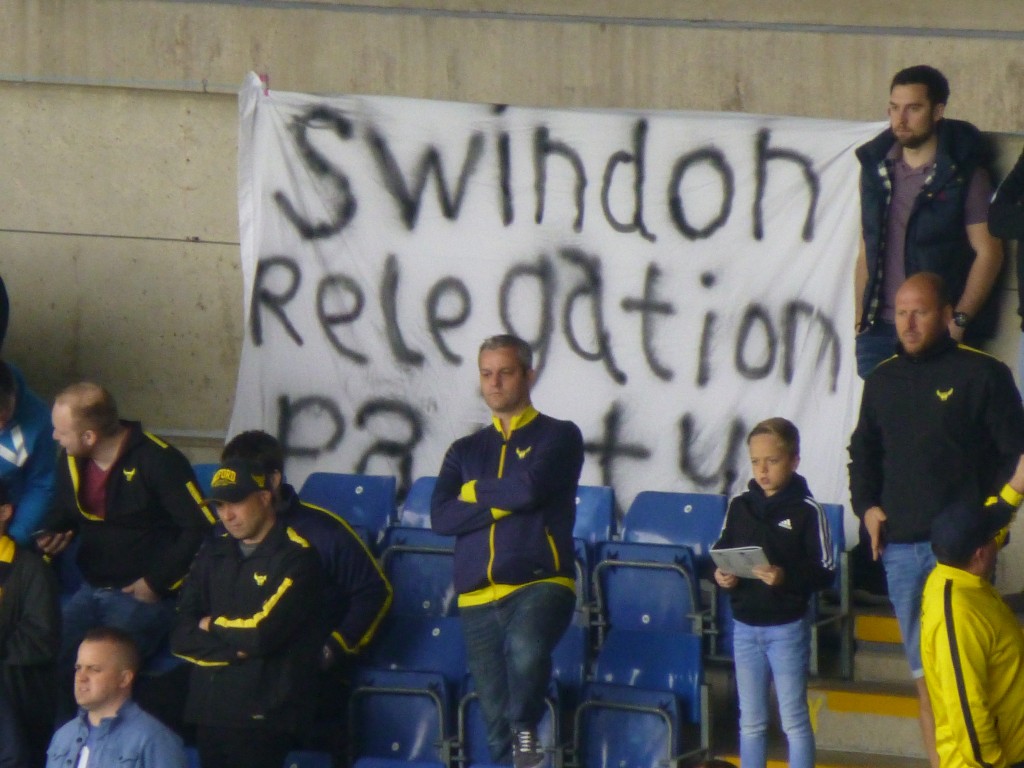 Thanks to all who've worn yellow over the last nine months. Thanks Mapp, Faz, Chrissy Allen, all the backroom staff and of course Darryl. You've given us some great times and memories.
Just watching football exhausts me. I need a rest now.