Last season we won the first three. This season we've won the first three. Last season we lost the next six and from then on were playing catch up. We never really caught up properly
This season the next six are yet to come but I'd be incredibly surprised if we were to lose them all.
This season I feel we have more "winners" in the team in terms of that extra bit of determination to come out on top. I had absolutely nothing against Liam Davis (good luck to him at Yeovil) and Damian Batt but Tom Newey and possibly David Hunt – more of him later – appear to me to have these qualities. Johnny Mullins obviously does and knows how to win promotion from this league. Throw in Jake Wright and Andy Whing and of course the newly acquired experience of Dave Kitson and there's a feeling that whatever we've got is built on stone not sand.
It goes without saying though that this season like every other I'm not going chicken counting but as my mate says we really now know what League Two is all about. Pompey, for example, don't. It was once we sussed out the realities of the Conference that we were able to escape its depressing clutches.
Saturday's victory at Plainmoor was a great example of the spirit needed to win football matches and also proof that we can cope without certain key players making my previous assessment that "our squad lacks depth – worryingly so" look somewhat suspect.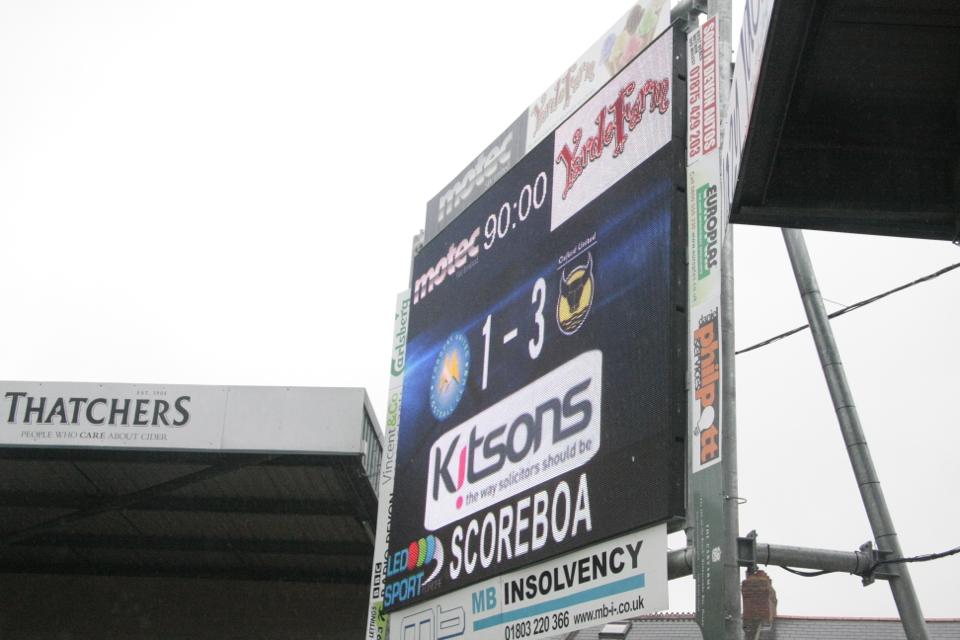 We were without Dave Kitson from the off and Riggy and Alfie from the 24th and 57th minutes respectively but we coped admirably.
Dave, my Torquay supporting mate, thought the first half was quite even until the last 10 minutes. I thought they had shown as the better team before then but was trying to work out if we were just not playing that well or doing rather nicely given the windy conditions which would be to our advantage in the second period.
For the time of year and weather we've been having this summer, August 17th was a freak – by the end of the 90 minutes the irritating fine rain that persisted for hours had left standing water on the playing surface. For some reason Ryan Clarke always went for the high clearance which hung on the wind and stubbornly refused to venture very far over the half way line.
No wonder we were under the cosh as the break approached. But we held firm with Wright coming up with one magnificent saving header after Clarke had misjudged the impact of the breeze. The header was even more impressive as he got a shove in the back from the troublesome Karl Hawley as he jumped.
The referee must have seen it but chose to ignore it, as he did many things, the most baffling being the kick Alfie took in the face whilst in the penalty box. He may be a little 'un but at 5 foot 7 his nose is hardly at ground level, although it could have ended up there instead of spread all over his face.
Torquay may have thought the referee didn't do them any favours either but I thought Hawley was trying to manhandle Rose out of the wall when the "goal" they scored from the second half free-kick wasn't allowed.
Our first-half set pieces may have gone back to the standard of last year but within four minutes of the restart we'd scored from a corner. With players making runs as the ball comes over, the likelihood of scoring obviously increases. It was Deane Smalley on this occasion who, with perfect timing, attacked Hunt's delivery.
Not long after this Callum Ball had rattled the bar with a quality rasping shot as the game really came to life. Fine margins and all that. It didn't go unnoticed that a very poor header from Hunt was the precursor to this piece of skill. (Do "winners" make as many mistakes as our right back does?)
Within a few minutes of coming on Beano showed how to hit the target. He's rarely, if ever, struck a ball more sweetly. A Clarkey clearance, now with the wind, two bounces, smack, 2-0.
With the weather on our side we should have been cruising but seven minutes later were only one up. The BBC cameras missed it and given the positioning of the new stand I can't comment on whether the throw was taken from the right place or not. Perhaps we switched off, perhaps we have cause for complaint but that was the third league goal we've conceded and they've all come down our right side. Um.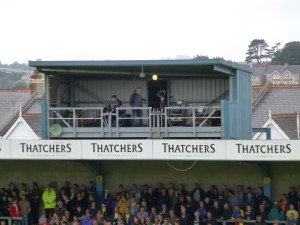 We didn't panic, we continued to play, and after another seven minutes had got our two goal cushion back. (Why is it always a cushion?)
The scorer Asa Hall. There were groans when he came on. He has not played well so far this season. Fans wanted a more attacking option; a like for like swap. I think Chris Wilder was going for the more experienced and solid option than an untried youngster given the way the game was going. It worked a treat. I thought Hall had a great game. He worked hard, found space, passed the ball simply but effectively and took his goal well, albeit at the second attempt. There were many contenders for man of the match and I'd list Asa amongst them. No, I'd go even further. I'd give it to him, even if only to stick two fingers up to those who have given him stick recently, me included.
What of the opposition? They may not be the play-off force they were two or three years ago but appear to be on the mend following their decline during Martin Ling's sick leave.
But never mind them, let's concentrate on us.
One of the problems since our return to the League has been scoring enough goals to make us a real force. At this early stage we're the leading scorers averaging three a game. We've had six different scorers and most of our forwards are finding the net.
What has brought about this change, is it all the sports science analysis stuff paying dividends at last? If I was a proper journalist I'd bother to try and find out, but I'm not, so I won't.
What I did observe was Andy Melville and a guy with a big clip board come and sit at the back of the stand just before kick- off.  I think it might have been the same bloke who stood with Chris Wilder on the opposite side of the pitch to everyone else at Ardley. But I'm not sure, it's all a bit of a mystery to me. But whoever you are keep up the good work, sir.