Article by Paul Beasley Monday, July 23rd, 2018
FAN'S VIEW – SUMMER OF 2018
Summer, yes. We can truly say we've had and are having an absolute scorcher. I like a break from football, it helps with the old relaxation and battery recharging but there's never really a break as such because no sooner is one season over than we're wondering and worrying what the next will bring for our football club. There was also that little matter of the World Cup.
I've never been one to profess to speak for other Oxford fans as a collective, although I think I can generally pick up significant moods within our fan base, which let's be honest, is rarely if ever united in outlook.
I do though think that more Yellows will have been disappointed with 2017/18 than were happy with what played out over the entire 46 league games and poor cup efforts. I know I was, but having taken a breath I've changed that view by a degree or two.
Our 16th place in tier 3 was our second highest finish in nineteen years. Okay, our best finish had been the previous season under Mapp but very few clubs make onward and upward progression without a setback or two along the way.
On reflection I'd also now say that those who played regularly and ensured we ended up with those 56 points did quite well in the circumstances given a huge slice of our salary budget had been flushed down the toilet by Pep. Ivo Pekalski, Dwight Tiendalli, Xemi, Gino Van Kessel, and Agon Mehmeti. I dread to think how much they took out of the club. We can also throw in a bit of bad luck with the enforced retirement of Christian Ribeiro and Curtin Nelson being out for five months. A fit Nelson would probably have seen more points on the board and / or a sizeable transfer fee banked in January.
At the start of last season I made the following statements:
1 – "Of those (players) that have come in I'm going to wait and see. It could go either way".
2 – "We do seem to have an element (of supporters) that are just waiting, poised to have a go."
3 – "I just can't see where the goals are going to come from."
I'll take my usual stance and stick to statement no.1 but will add that I feel those recruited will almost certainly be more attuned to English football and L1 in particular than last time around. Unfortunately unless that elusive prolific goal scoring rabbit is pulled from the hat in the next few weeks statement no.3 stands as strongly as ever making a top seven challenge so much more less likely. Looking at what we've got on paper defensively and in midfield, even if a couple are only loan signings, I think we'll be fine in those departments, injuries aside.
Which leaves statement no.2. I think a mistake was made by very early talk of eight or ten coming in, "wow" signings and getting our deals done early. Knowing the real world though I didn't get concerned when, day after day, there was no or little news on this front. When we did get bodies in, out came some of our so-called fans. Not good enough. Slagging off players they knew very little about. Saying we weren't splashing the cash. Players that have signed for other clubs coveted but I reckon if they'd come to us they would have been slated too.
I saw Samir Carruthers on the Ireland tour and was impressed. I'm really looking forward to seeing Jamie Mackie and also the pace of Gavin Whyte. If I can't show some optimism now when we start with a clean slate when can I?
We also now have a manager much more understanding of the task ahead than when the starting gates were raised last time around.
It should also not be overlooked that L1 is a pretty good standard and whilst I want us to do the very best we can with the finances and players available, it would not be an unmitigated disaster if we were to firmly establish ourselves at this level. At a very rough guess I'd say there are seven or eight clubs that it could be argued are bigger than us due to their size or because it is known they'll have relatively big budgets. So our natural level could well be just above midway in the division we have now put ourselves. Time to throw that thinking away and note Accrington's promotion and the spell Burton had in the Championship. Using that mind set says that the title isn't already Sunderland's before a ball is kicked although the bookies seem to think so. They're 3/1 and we're about joint 9th favourites which I think is about right. Best odds at present are 25/1.
I rarely do pre-season friendlies. They just don't really appeal. I'd not bothered with the pre-season tours of recent years but Mrs FV and I couldn't resist the lure of Dublin. More than one person asked if I was going to write a piece on this excursion and someone even suggested I do a compare and contrast with 1983.
How the hell am I supposed to remember 35 years ago? I recall very little, not even the scores in the two games we played against two sets of Rovers, Sligo and Shamrock, who incidentally play each other in the League of Ireland Premier division on 27 July. The standard of opposition we took on this time was not so high. I can remember most of the names of those on the club mini-bus Mick Brown drove over (I won't mention the little bump): Martin Chown, Steve West, Mark Harrison, Steve Hawkins, Bill Side, an Irishman who had only gone over to see his relations and an American. That's about it although I do recall the following: Chicken George being brought on as sub and then taken off very soon after to a rollicking because he wasn't playing as instructed; the high perimeter fences at Sligo that ran the entire length and breadth of the pitch being constructed in such a way that they would have assisted any spectators trying to encroach, but made it almost impossible for a player to climb up and over to get onto the crumbling terraces; in the social club afterwards where some food had been laid on for the players and us few travellers, one of our squad executing the one and only double nostril nose pick I've ever seen.
So fast forward all those years.
Just before we were due to fly out we learned of the potential Ryanair pilots' strike scheduled for the Thursday, the day we and many more Oxford fans were due to return and that the airline would notify those affected on Tuesday. The thought of being stuck out there at the mercy of that airline had us toying with the idea of not bothering and just writing off the cost of the flights and trains. That would have been daft so off we went.
I assume that the first match on the Monday had been deemed to be a gentle introduction as the opposition, Portmarnock, play in the Leinster Senior League 1, which by my calculations is level four in the pyramid system over there. Such is the state of their pitch given a hose pipe ban, we were denied a trip to the coast and a sandy beach with the fixture being moved to Tolka Park, the home of Shelbourne. This switch had slipped the attention of at least one person who didn't rock up in Drumcondra until half time.
Tolka Park is old fashioned and also quirky. What a shame then that Shelbourne, who lease the ground from the Council, are moving out having been there since 1989. The ground was only opened in 1953 but felt to me as if it had much more history than that.  It has hosted national cup finals, international matches, Champions League qualifiers, UEFA Cup & Cup Winners' Cup ties and was used in the 2000 Rugby League World Cup.
A few of the Portmarnock players looked to be carrying a bit of weight and their second half keeper was the most unlikely looking goalie I've ever seen. We wondered whether he had won a raffle or was playing for a bet or something.  But that's doing them a complete disservice. We didn't score after the break and the opposition kept going to the end with a fiery challenge or two going in and Tony McMahon looking at one point like he was going to get into a scrap. At least we had scored a goal in the first period so came away with a meaningless win.
The Tuesday game was far from Dublin based and necessitated at 3 o'clock jumping on one of the three coaches that OUFC had organised for the 240k round trip. I'd only had a pint or two of Guinness before embarking. Two mates had each had nine. Where's the toilet they said not long after we'd left. There wasn't one. Of course we had to stop. It very much reminded me of the old days.
Longford Town FC are in the League of Ireland first division (tier 2). Their ground is in the middle of nowhere 5k outside the town. There's basically nothing there so it was drop off in civilisation, more Guinness and then taxis to the ground which was interesting enough but not a patch on Tolka character wise.
It soon became evident that the opposition were better and fitter than that of the previous night but there was an improvement in the U's performance and the 5-1 victory was a fair reflection of what went on come full time. That's quite a few goals but we again showed that we regularly lack that clinical finish. Seeing Sean Derry come on and actually score from the spot was a nice little bonus.
The final game on Wednesday was subject to a couple of changes in kick-off time. Firstly from 7 o'clock to 4 and then by a further quarter of an hour. That was of course all to do with England playing that evening.
This was an altogether different experience to attendance at the previous two matches. I've no complaints but it wasn't as pleasurable and the laid back Irish feel was missing here. At the first two games I'd told the turnstile operator our ages and we'd been nodded through with a wink at the discounted rate. Not a bit of that here. And unbelievably they actually had stewards who were sat in front of the stand facing the fans.  The ground, the UCD Bowl, just doesn't have any feature worth mentioning except perhaps the trees.
University College Dublin (UCD) A.F.C. has a scholarship scheme which gives players the chance to combine senior football with a college degree based on the North American model. They play in the same division as Longford and had a couple of players who were a bit lively and one at the back who caught the eye. Given that players will come and go with even greater regularity than at a more conventional club there is little wonder they've only got what seemed like a handful of spectators. That it was a work day and an early kick off probably made little difference. Dermot Morgan (Father Ted) used to be an occasional spectator at UCD games and when asked why he attended replied, "because I hate crowds".
This game saw a 2-0 victory with one of the goals being particularly well worked but our shooting was wayward in the extreme on many occasions, prompting an old UCD supporter (yes there was one) sat next to me saying "you and I would have scored that". He really meant it too.
Club tops country for me but when England are in major tournaments on a match day the feeling of intensity gets very close to the OUFC when we're at Wembley playing York thing. It's not every day your nation plays in a World Cup semi-final.
Who would have thought that a couple of hundred Oxford fans would be watching their nation at this stage of the tournament in a pub, the Clonskeagh House, in Dublin. Twelve screens meant it wasn't that difficult to get a decent view. The drinks were flowing. The landlord must have thought it was Christmas. He kept putting out small baskets of sausage and chips. They were free. They were probably the saltiest food I'd ever tasted. We knew what he was up to and he knew that we knew. Not a problem. We were being made very welcome as we were throughout the visit.
A few of the locals, who were vastly outnumbered, were supporting Croatia but many were pro- England not least because of the Premier league sides they supported. We got chatting to a friendly bunch of lads who knew their football. One of them who works at Paddy Power even said he'd try and restore the benefits taken away from me earlier in the year such as special offers and best odds guaranteed.
What a start. The pub erupted when that Kieran Trippier free-kick went in but when extra time was done the best team had won. When this England side faces the very best it comes up short. We are not technically as good as them overall and that's throwing the real top stars – Ronaldo, Messi, Neymar, Mbappe, Modric etc – into the equation. Whilst we have now got something of a handle on being dangerous from set pieces, our lack of creation from open play is a huge problem we don't look like solving any time soon. The pundits are saying we've got a young team and we'll become more experienced and learn from this. Experience doesn't increase natural ability. Plus the French team is even younger than ours. Where we possibly could see something special is a bit further down the line when all those youngsters who are winning things at U17, U19, U20, U21 level come of age (if they ever do).
So that was it, World Cup as good as over even though the final was still to come and back home with the Ryanair strikers not stopping us getting back to Birmingham.
Ireland had been a blast. More so for some than others. I especially liked the Hairy Lemon and Toners Bar but there were so many to choose from. The latter was used in a 1971 Sergio Leonne film "Duck You Sucker" starring James Coburn and the pub is still exactly as it was all those years ago. Drinking in there you feel like you are linking up with the past.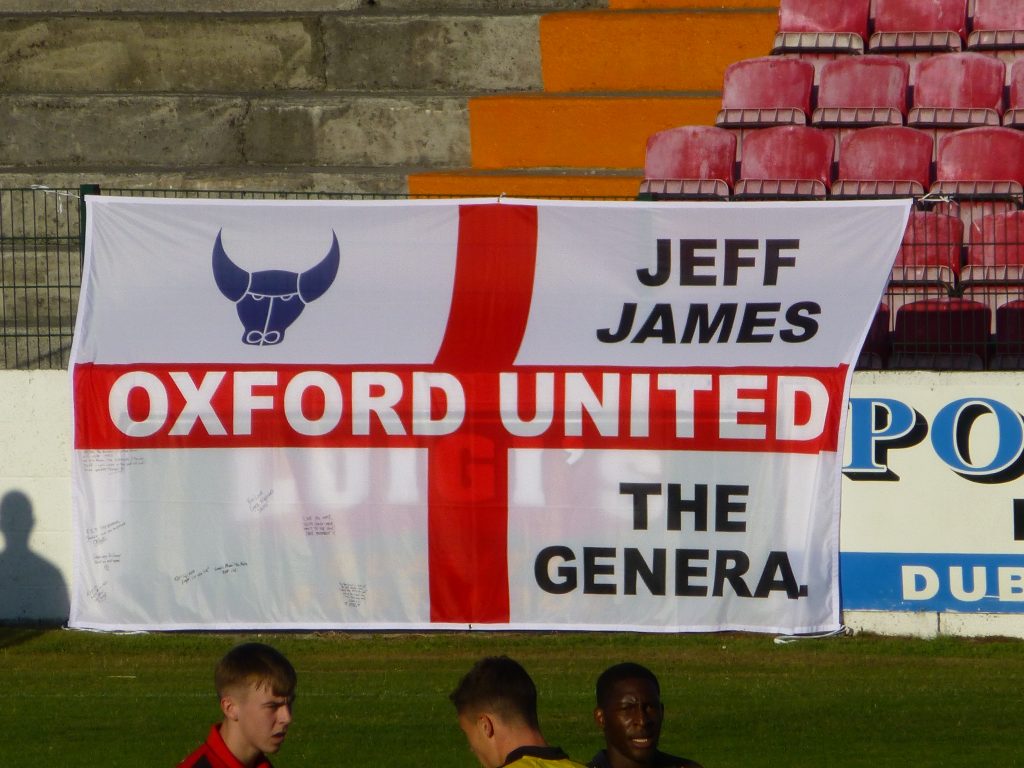 But in just over a week's time all this will be even more behind us than it is now as we get stuck into the real stuff.  I've already sussed out a few drinking establishments in Barnsley and I'll no doubt come across many familiar faces that I've not seen for about three months. One I won't though will be Jeff James. I didn't really know him but he was one of those who was usually there. I only ever spoke to him a couple of times; the last being outside St Andrews two years ago before the League Cup game. I had a spare ticket. He didn't have one. Ticket and cash exchanged. He saved a couple of quid and I wasn't left with a wasted ticket. Genuinely polite and grateful. The turnout at his funeral speaks volumes.
I just hope the side Karl Robinson has put, and still is putting, together will be one that would make Jeff and those other Yellows who are no longer with us proud.
Up The Manor.