MOANING
Last week I closed my piece by asking fans not to be vocally negative at the Kassam.  Truth be told I wasn't being that serious. But football is a serious game and a lengthy debate ensued on Yellows Forum.
I therefore did a minimal bit of investigation and have concluded that the players, whatever might be said publically, do not like playing at home and yes the negativity does come across and affect them. I'm not saying that this is an excuse for some of the stuff we have seen and lack of decent stuff we so dearly want to see.
On Saturday I took particular note of the home crowd's performance. In the first half they were pretty supportive with the east stand making a few efforts to inspire what turned out to be the un-inspirable. I didn't note anybody near me throwing demoralising comments the way of individuals, the manager or team as a whole. But after a particularly poor piece of play not long after we'd conceded the second there were collective boos from the east stand, and as the players trooped off at half time more booing rang out. I didn't join in but having seen that first half display had sympathy with those that did.
In the second half there was a brief period where those behind the goal seemed to be really going for it. Sadly those on the field didn't do likewise. I think my son summed things up nicely. He pointed out that often when we capitulate after severe pressure we could "see it coming" but even though we did put a certain amount of pressure on the Shrimpers goal we never saw anything coming.
Right, one thing that really gets me is why there seems to be an obligation amongst some of our fans to have a downer on any one or two players at any one time.
Asa Hall had a very poor game in my opinion, but I think the delight that some in the crowd showed when he went off was out of order. They don't afford him a similar level of gratitude when he has played well and recently he's been one of our better and steadier players.
When Deane Smalley went off the booing from the OM wasn't for the oncoming Beano, obviously, but for the fact that Deane was departing. Cut to the chase – they wanted Dave Kitson to go. There seems to be a growing number of our followers who are getting it into their heads that DK is lazy and is not putting it in. For crying out loud, the guy is 33 years old and has taken a battering over his career. What do people want, for him to run around at Usain Bolt pace for 90 minutes? That ain't gonna happen is it?
Like almost everyone else Kitson didn't have a very good game but I thought he was better than Smalley who apart from a bit at the start was largely anonymous. At least in the second half Kitson came deep, controlled the ball and passed it to another yellow shirt a couple of times. Overall I've been a bit disappointed with his contribution since he arrived but I don't think the blame for this rests with him.  When he came I was expecting him to play right up top and get a decent supply line from our two wingers to enable him to score plenty in the air. That has been nowhere near happening.
MORE MOANING
I've had enough of watching us at Minchery Farm, I really have. But what does this mean in reality? Nothing really because I've got a season ticket and will keep going irrespective of the drivel being served. On top of this I hate the JPT yet have bought a ticket for Tuesday night. Why? It's because I'm an Oxford United fan but it must also be because I'm a sucker too as many football fans surely are.  People who get no enjoyment from the theatre or cinema soon stop going. Hardcore / sucker (take your pick) fans won't walk away but gates have dropped horrendously in the last couple of years.
Early on we had a couple of chances but once Southend scored in the thirteenth minute that was just about it. They were better than us in every department. We were woeful, pitiful, embarrassing to watch, clueless, wretched. Perhaps I've gone over the top here but as I said I've had enough and have to let my anger out somehow as non attendance isn't an option for me.
The opener came from a Hall clearance which wasn't worthy of the name.
In fact, our midfield wasn't worthy of the name either. Asa has already been cited and alongside him in the centre Danny Rose has not shown much form since the start of the season. We were well outnumbered in this department with the opposition moving both themselves and the ball about in much slicker and quicker fashion than we were.  I don't think we had any players that formed an effective partnership at least when it came to attacking and the slowness with which we do things weighed heavy on the heart.
Fitness wise I thought we were lacking too. In the second half a Shrimper picked up the ball on the edge of his own box with Rose alongside him. You would have thought that Rose without the ball would have been quicker than the Shrimper with the ball. But that wasn't how it was. Sports science – don't make me laugh. Someone please explain to me what difference it's making.
I was left holding our beer kitty after Burton away and as Alfie Potter was on some good form back then it was decided that I would put it on a horse with Alfie in its name. I never got round to it until Friday when I went to the Ascot beer festival. The favourite in the first race was called Myboyalfie. The money went on; the horse finished 5th. I was hoping for much better things from the real thing on Saturday but again was disappointed. Very disappointed. The only Alfie contribution that sticks in my mind is the lung busting run he made just before half time. That this was a marvellous piece of defensive work tells the sad tale of this game.
To do well we need Alfie to do well. On the other side Sean Rigg did better and was quite willing to receive and carry the ball but had two, three or even four blue shirts around him in a trice. Space for the rest of the team to use one would have hoped. But no, we didn't nip into these spaces; we were ponderous.
Each game that passes strengthens my feeling that we were much better off with the two full backs we had last season.  Oh how we could have done with them to offer some more attacking options.  And even if the end product wasn't always what it should have been they at least produced some entertainment; a commodity which is now in very short supply.
We did however have quite a few chances but they weren't such that we should definitely have scored. Young keeper Daniel Bentley looked assured and we just weren't good enough to beat him.  Michael Raynes probably had more chances than anyone with a few headers going wide and over the bar. I'll have to observe a future game more closely to understand why it is he and Johnny Mullins and not Kitson who are winning the headers when we have corners and free kicks.
Don't let these chances fool anyone into thinking we deserved anything from this game. Ryan Clarke had a good and busy game too.  Southend failed to score some easy chances and were denied a blatant penalty from another referee of alarmingly bad quality. As for their second the general consensus of the muttering classes was that it was Clarkie's ball all the way. Two more considered opinions were that it was one of those whipped in balls that are almost impossible to defend. I thought we could have done better to keep it out. The free kicks we took were rather more mundane.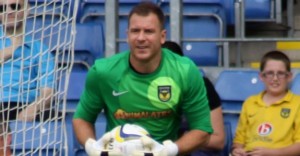 Our substitutes didn't make any telling difference. Scott Davies added some much needed energy but we needed more than energy. Calum O'Dowda is 18 years old. He is not going to turn around our home form but the crowd want to see the youngsters so best we give him a go. He came on and the poor lad fell over. He did put in one really good cross from which Beano nearly scored but again it was noticeable how many defenders were trying to crowd him out.
A SHRIMPER'S VIEW
I've got a mate who supports the Shrimpers. This is the text I received after the game. "Another comfortable victory at the Kassam! Love coming here."
I bet every team in the country loves coming here. We're a joke on our own patch but I'm not laughing.
 BUT ALL ISN'T LOST JUST YET
Stating the bleedin' obvious, we're fourth and I reckon if our home and away form had been reversed the level of disquiet would, if it existed at all, be greatly reduced.
This is going to be a very tight league. I'm taking this to be a good thing. Form comes and goes. (Except our home form which has just gone). Strange things happen.
I expected Chesterfield, who everyone was raving about two weeks ago, to have a slight blip at some stage but not this soon. They've lost their last two and on Saturday let a three goal lead slip. Mansfield were the first to turn the Spireites over but lost 4-1 at home to Hartlepool who in turn looked pretty awful last week.
What's the best we can hope for? Just to hang on in the mix and hope that everyone takes points off everyone else?
It's a shame next week we are at home again. Northampton are in the bottom two but that counts for nothing. Before they came to our place Southend had taken just three points from a possible 18.
A FINAL MOAN
About callers to Radio Oxford:
"I didn't go to the game but …." fair enough, but then don't start talking about the players as if you know anything about how they are actually playing.
And then there's the guy who keeps ringing in saying we've got to invest big time.  Someone please explain to him (again and again and again if necessary) the financial reality of the situation and how much we are already in debt. Lots of millions as it happens. All cosily covered for us by Ian Lenagan, by the way. That may not last forever and as gates fall the debts are only going to go one way.
 If I hadn't played my "please shut the **** up" joker last week I'd be tempted to do so now. Does Jerome have one?