Article by Paul Beasley
This has without a doubt been a long hard season. When it is all over we will have played 62 games comprised of 46 in the League, 8 in the Checkatrade, 6 in the F.A Cup and 2 in the EFL Cup. I doubt any club will have played more. If Manchester United get through to the Europa League Final they will only have reached 61. They have the size and depth of squad to make coping with so many games a breeze. Our squad is of course rather smaller. No wonder there's evidence of both physical and mental fatigue now showing in our play. And it's spread to me. I've thoroughly enjoyed this campaign but am ready for a rest. This is the first time I've really had to motivate myself to write the Fan's View but having come this far without missing one, quitting now would seem wrong.
EFL DIVISION ONE GAME 41: FLEETWOOD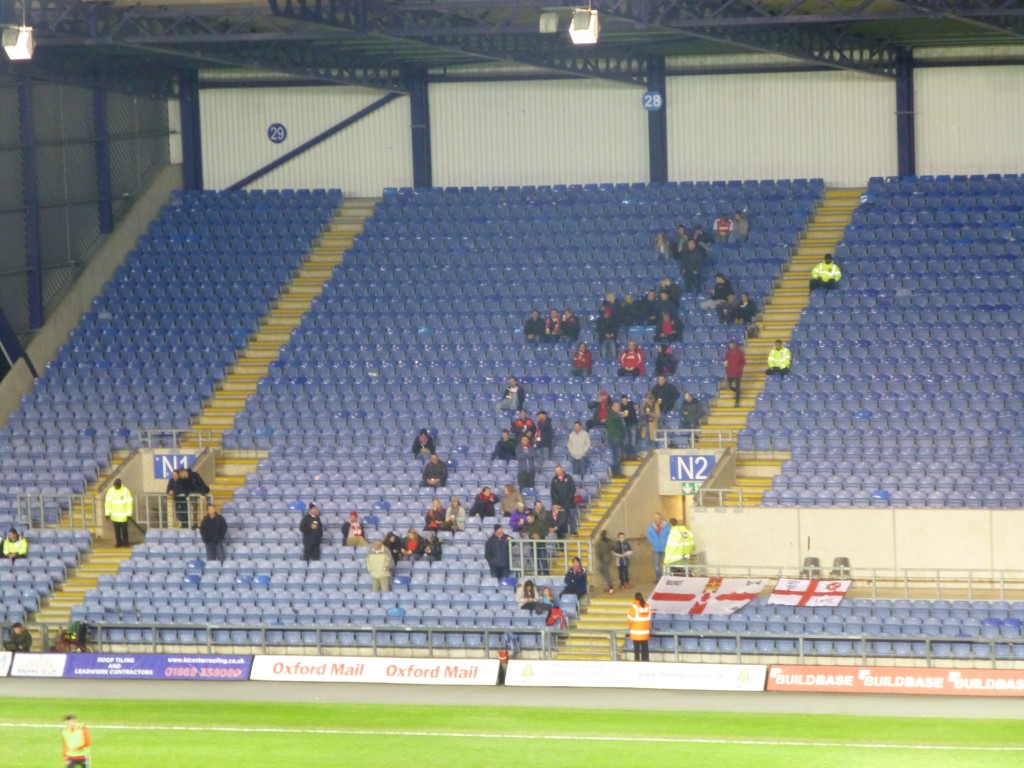 Poorest away following of the season?
The Fleetwood / Rosler approach and the performance of the officials are two key topics at the forefront of any discussion on this game. However for starters I'm going to put them to one side and cut to the chase.  There was confirmation here that we are, without a doubt, not good enough to achieve a play-off spot. Whilst it is still a realistic possibility, even if a very long shot, it would be wrong to not "believe".  But after this we're even behind Bristol Rovers and Rochdale having played the same number of matches.
After the game one bloke in the toilets commented "we were never anywhere near the play-offs". Whilst not actually true, he was kind of right. I don't think we ever got into a position where our number of wins compared with losses was greater than two. That is not play-off form although our low number of draws did help in this regard.
Even a few weeks back to have got into the top six we needed to have gone on a decent run of consecutive wins. But that is just not something we do. We've only managed to rack up three on the bounce once this season. Furthermore we've only won twice in a row three times. Our mediocre home form is obviously a big factor in this.
There were times here when we did play some decent football but it was a display with many mistakes and depressingly I don't think we gave their keeper one shot to save in the second half.  We just did not have any physical presence up top.
When it was obvious that the approach of the visitors was triumphing over ours we had no plan B. That is a criticism levelled at Mapp – he won't or can't change things. If his style of passing football eventually wins out then he will deserve all the plaudits that will come his way. After all he took a while to suss out League Two and this is our first season back up a level so he will be looking and learning all the time. The selection of Canice Carroll hinted at experimentation and the possibility that deep down Mapp had reasoned that the play-offs were beyond us and / or if we were to go up we wouldn't be ready for the challenges of the Championship.
It was also interesting that Carroll, who will not be 19 until next year, was selected ahead of Christian Ribiero who is nine years his senior and was brought into the club to fill the right back slot.
I thought our youngster had a decent enough debut but doubted he was really man of the match. But who else was there? With no stand outs, why not?
It was Carroll who gave away the penalty in the 4th minute from which Fleetwood took the lead. It was a clumsy tangle and probably the correct decision but I was left wondering whether the spot would have been pointed at if it had been the other way round. In the 16th minute Marvin Johnson didn't win a penalty.
By then we were all square so who knows how things would have ended up if Chris Maguire had been given the opportunity to give us the lead from 12 yards.
Fleetwood were only ahead for two minutes as Curtis Nelson banged home following some pinball after a Chris Maguire corner which Dunks headed to the edge of the box for Liam Sercombe to return. (I think there's a very strong likelihood that this will be the last time we see Sercs in an Oxford shirt. Thanks, good luck and all that. We all move on).
That goal wasn't the signal for us to get on top. Unlike some teams we rarely (Bury) seem to put on a dominant home display or even appear to be striving to do so. Possession football in areas that don't hurt does not equal dominance, but the stats here say we only had the ball 41% of the time and Fleetwood 59%. I can't remember a game since we've been back in L1 where the ball has been in the air so much. Just because the ball is in play doesn't mean it is in either team's possession. (More like them 47%, us 33% and no-one 20%).
Although I wasn't filled with confidence that we could take all three points, the longer the game stayed at 1-1 it was a case of just maybe.
A goal did arrive with about a quarter of an hour to go, but it was for Fleetwood and we only had ourselves to blame. There's an argument that Maguire was fouled as he tried to play his way out of trouble near the corner flag but I'm not really buying it. Carroll showed for a pass but instead of playing the simple, sensible ball which could then have been cleared, Mags lost it. One pass, one cross, one header later all in a split second it was 1-2. No dicking about here. Again Dunkley wasn't sharp enough. Any player that makes intelligent runs get the better of him most of the time.
Pushing forward for another equaliser that never looked like coming Fleetwood hit us on the break more than once. They looked super fit and full of running. With three minutes left they got another.
Nelson unconvincingly got a header on a long ball and George Glendon showed more grit and determination than the Oxford players he came up against. First he got the better of Lunny then easily got beyond Johnson who had an opportunity to put his foot through the ball.  Neither of our centre-halves was up to stopping the goal.
By dint of the fact that we deserved nothing, Fleetwood did, but their style whilst effective was at times bloody horrible. I read somewhere that they don't usually play like this and if that is the case it tells that Uwe Rösler will adapt his team as he feels necessary to win football matches which is a rather different approach to that of Mapp.
In the 12th minute Conor McAleny was blatantly hauled back on the halfway line to prevent a break. It rightly resulted in a booking and showed how they were to play. I'm not condoning it. I don't think we would have done similar, but they ended up winners; we ended up losers. Just saying. Perhaps we have not quite got the winning mentality or should that be a willingness to cheat if it brings about the desired outcome? There were other examples of over physicality yet we seemed to be penalised as much as those in red shirts. Time wasting, play acting and histrionics from Mr Rosler, who didn't think the technical area was for him, were all features.
Graham Horwood was another referee who makes you think the statement "we only get shit refs" is a true one. He didn't exercise proper control. In addition to the Johnson penalty shout we had another legitimate claim for a spot kick. It was one of those where no one bothers to appeal but why is dangerous high kicking that results in a free kick elsewhere on the pitch, overlooked when in the area?  Throw-ins were awarded the wrong way with both sides gaining and missing out but Mr Horwood can blame his assistants for that.
None of this bleating will change anything though. What needs to happen is we learn how to play against such sides refereed by such officials and that may well be some way off.
So 6645 yellows went home knowing for sure the level we'll be playing at in 2017/18.
83 away fans headed back up North knowing they'll probably be in the play-offs. I'm all for smaller clubs doing well but eighty-three really is taking the piss. The owners of Fleetwood might have serious ambitions to play in the Championship but there is no noticeable fan base to go with this.
EFL DIVISION ONE GAME 42: WALSALL
When my lift pulled up outside the house at 20 to 12 I was expecting to jump in the car and head straight to the M40. But no, one of our party had made some cider so we had to have a quick tasting session. A more than acceptable start.
Even though we'd left quite late we got wind of the M6 problems and managed to avoid the delay by taking a different route and still made the public house of choice for a beer (or cider) or two. The Black Country Arms boasts 16 handpumps serving 11 guest ales mostly from microbreweries. Due to what now seems to be the customary confusion over buying rounds we ended up in this establishment a bit longer than intended. The phone app told us that the walk to the ground would get us there 7 minutes after kick off. The sun was out, I'd written off the play-offs and I surprised myself by not caring. Most strange.
As it was we must have walked faster than Mr & Mrs average because we easily got there before the off.
What we saw was an excellent match particularly given it was supposedly end of season fare. Both sides kept the ball on the floor. The pitch, although rather muddy in places, was flat and played true.
In the first half I thought the Saddlers were the better side. They were more direct than us with their passing football and running, being more focussed on getting a shot in.
They found the back of the net with a header from a free-kick. I don't know why it was chalked off but would guess at off-side. Perhaps we got away with one.
Then they hit the post after we'd messed about from a throw and lost the ball. Not for the first time this season and probably not the last.
But for all the entertainment it remained goalless at the break. Soon after the re-start it wasn't though. In just three minutes we'd gone behind. It was a well worked goal although with the number of men we had back we should have made a better fist of preventing it. That we didn't was down to not getting tight enough on the bloke who got the header back across the box and the finisher, Andreas Makris.
We didn't let this setback bother us and carried on playing in the same way.
It was then our turn to hit the post, or rather a defender did so on our behalf after Maguire had robbed the ball. When it came back out McAleny wasn't as deadly as he sometimes is and then there was another dangerous high kick that got the ball clear. It could have removed Toni Martinez's head.
We were not to be denied a share of the spoils and the equaliser came when Kane Hemmings, who I thought did well when he came on, found Maguire some distance outside the area. He let fly with a low shot and thanks to a big deflection it gave Neil Etheridge in the home goal no chance. Shooting from open play is not one of CM's strongest points but it made sense to have a go here such was the space in front of him.
In the final 15 minutes we looked the likelier side to get the win but it never came.
Over the 90 minutes a draw was a fair outcome and we were well entertained.
I don't know if it was just because it happened right in front of me but it was hard not to marvel at some of the things Maguire did when on the ball and it was also noticeable that Carroll had a quality touch too, which has to be encouraging.
The defence too, although undone a few times in the first half, looked a bit more assured than it had done the previous game. Joe Skarz being back and Charlie Raglan replacing the probably over played Dunks may well have been the reasons for this. I didn't have my usual panic attacks when we played the ball across the back line.
Barton Arms
Post-match we tried to turn the clock back 30 ish years by visiting old haunts. The Bartons Arms in Newton, Birmingham was re-opened in 2003 after being closed for several years but thankfully the interior, which is grade II listed, has been retained in all its glory. There can't be many, if any, better anywhere. They serve good real ale too of course although it is now run by Oakham and my mates are not fans of the beers this brewery produce.
Although the pub is in Villa territory there were a couple of Baggies drinking in there who acknowledged that Southampton, who had beaten them that day, had been the better team.
Next it was on to Azim's in the Lozells Road not far away. We believe that this may have been the first Balti house to be established in Brum. Problem was when we got there it was closed for refurbishment and wasn't going to be open again for three weeks.
Refusing to be beaten we headed for the Ladypool Road and ended up in Imran's which was last visited when we played Birmingham in the League Cup back in August. Where has the time gone?