Photo courtesy of Steve Daniels
Article by Paul Beasley
EFL DIVISION ONE GAME 40: Bury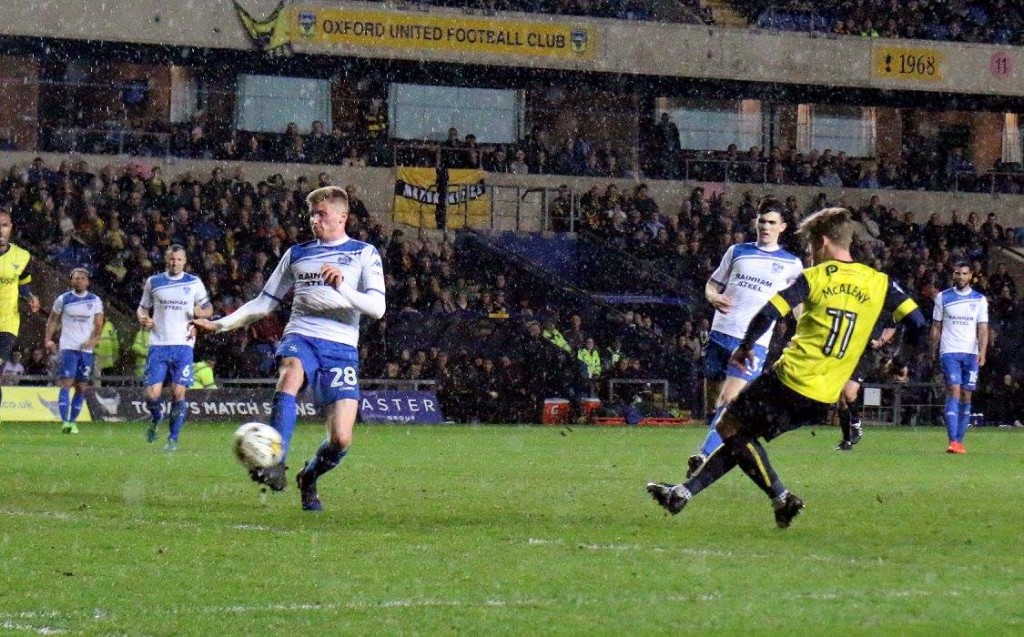 Conor McAleny completes his hat-trick. Photo, Steve Daniels
On Tuesday afternoon my Bury supporting mate sent me a text including, "Could you let us have the three points please?" I replied, "You do not have a lot to worry about. We are not very good at home".  When telling my wife this, I added we will really turn someone over at Minchery Farm sometime. I genuinely believed that but had no idea it would be that night.
The Catherine Wheel was almost deserted pre-match. Good for getting served and a seat but didn't bode well for a sizeable gate. 6367 home fans is poor given what the club has achieved. Okay, games have come at us thick and fast and it is not cheap to attend them all, but a football club is for life, not just a day out at Wembley. (I've probably said this before).
Bury are still very much in a relegation fight but having lost only one of their previous ten league games I would have expected more than 185 of their fans to turn up. I can't recall those that did raising one chant. Quite bewildering.
I hope the Shakers pull themselves together after this battering because three of their last five fixtures are against teams above us and in another they host Rochdale who are a point behind with a game in hand at the time of writing this.
For many years the visitors have had a reputation for playing, or at least trying to play, football. They're not negative spoiling kickers. It was soon very apparent that on the night this was a huge problem for them. We were so much better than they were at this playing football lark. We also looked the stronger, more aggressive side. For a change it was us doing the bullying.
Bury were terrible. Having drawn with Fleetwood and Millwall in their last two games they really had a massive off day.  To some extent that was down to us in the way we won and kept the ball. I refuse to believe the stats that say we only had 47% possession.
We were the team with the slicker, quicker and noticeably more skilful players. It was a superb display albeit against really weak opponents who, if they'd been half decent, could have inflicted some damage on us. For all our pleasing on the eye football we played a few awful passes directly to white shirts that could have resulted in goal chances. Lunny and also Marvin Johnson, I believe, were guilty.
But for mistakes and all round crappiness Bury had us well beaten. They didn't close us down, their skill on the ball was nothing when compared to ours and their passes were as likely to find touch as a colleague. Their shooting was woeful too. Usually from distance with no chance of scoring and the effort ending up nowhere near the goal. Simon Eastwood had very little to do.
In the other goal Joe Murphy had an evening to forget. Bury have tried a few different keepers this season and on this evidence have not yet found what they're looking for.
Murphy was first beaten in the 11th minute although he has every right to be angry with the outfielders. When Johnson gets going at pace he takes some stopping and more often than not, when he is stopped, it is by foul means. He ran half the length of the field here. When he's allowed to do so from deep, provided the defensive requirements of the job on the day are not very high, he is obviously the right selection for the LB berth. No one got near him. The defence backed off and although there wasn't much of a clear sight to goal, what little there was Johnno found. Murphy's feet remained rooted to the ground.
For all our dominance number two did not come until the 35th minute. It was Johnson again. Setting off deep in our own half he motored past a Bury attacker who pulled out of a challenge that would clearly have led to a foul. Some teams would have been more cynical in that instance. He kept going before playing a forward pass that didn't quite find the mark and should have been easily dealt with by the defence. Murphy thought otherwise. Instead of staying on his line for a defender to play the ball back to him, he came rushing out to the edge of his box. The best couple of options would have been to hack it clear or drop on it. Not what he did which was to go on a confused kind of one touch dribble allowing Joe Rothwell to take it off him and clip home his first OUFC league goal.
Our right back Phil Edwards then became a battling winger, keeping the ball under pressure and cutting it between two defenders to Robbie Hall who had three defenders coming toward him. He knocked the ball with his left foot onto his right and was gone. Skill right out of the top drawer. At the time I thought the ball might have gone out of play before he pulled it back, but replays clearly show it hadn't. Edwards then executed an air kick but Conor McAleny didn't. He's a finisher so he finished. It would have been harder to miss.
Up until this point I thought referee Andy Haines had done everything a top referee should do. He was in charge. He allowed the game to flow, only stopping it for a free-kick when no advantage was evident. It was impressive stuff. Then it all changed. The Bury bench may well have requested that their charges get more physical with Johnson but I doubt they quite had in mind what Ryan Lowe produced. His late jump from behind at MJ was way out of character for Bury. It was a potential leg breaker and the way Haines ran towards the incident we all thought red card. We didn't need to be playing against ten men. To be honest in the circumstances I was happier to be playing against eleven, but a dismissal was necessary to show that this sort of thing would not be tolerated. Heads were shaken when only a yellow was produced. Lowe was replaced at half time.
From then on the game became more stop start and that may have coincided with a deterioration in the performance of Mr Haines.
The second half was not long started when Murphy was at it again. With ball in hand there should have been no danger to his goal, but he slipped as he cleared and presented possession to our captain who had the centre of the field all to himself. He controlled, brought the ball forward, beating Kean Bryan as he went, before passing to the unmarked Hall. He found the also unmarked Conor McAleny just outside the penalty area. Two touches later he was in it and his third touch again sent the ball across the keeper and in. This time Murphy to his credit got quite close to stopping it.
At this stage we perhaps got a little complacent and conceded just before the hour was up. It was a reasonable corner that James Vaughan headed home for his 22nd league goal of the season. Our marking should have been better though. Vaughan emerged from a cluster of players unchallenged with Josh Ruffels not being quite tall enough to head away. Vaughan went for a quarter of a million back in 2011 but the level at which he can score at an impressive rate seems to be the one he's currently at.
We were never really threatened with being pegged back further and should have had more before the fifth was added in the final seconds. A multi-pass move involving about half the team and the linesman ignoring offsides, left Hall with another of those easier to score than miss chances. He missed.
It was right and proper that we got that final goal, particularly for my brother. He'd backed us at 40/1 to win 4-1 but cashed out for a profit of about four quid. This one was largely down to the tenacity of Edwards plus strength and touch of Toni Martinez. And of course McAleny's finishing.
That was a very useful workout before Wembley. Mapp said that what happened here had not changed his thinking regarding the team he is going to select for the final. It is just as well that he'd already decided because otherwise he would have one helluva dilemma.
There's no case for leaving out a fit Chris Maguire is there? Unless you subscribe to the view that we play at a slower pace when he is in the team and we're better when we're quicker.
There's no case for leaving out a young lad who has only been out of our team for a couple of games because he's been selected for England U20s. So Ryan Ledson must play mustn't he?
But game time improves players and Josh Ruffels and Joe Rothwell have done enough not to be dropped. Ruff is a very good ball winner and on occasions when he lost it, soon got it back again. He's probably a bit more skilful than he's given credit for because comparisons are being made with those around him. At times Rothwell looks a class act. He has an awareness and can beat players.
And to add to the joy of a four goal margin victory, both Millwall and Rochdale lost. If things had gone the other way we could have been seven points adrift of the Lions, not just the one and four behind the Dale instead of two ahead.
The football feel good factor soon dissipated when Shaun Harvey's comments were brought to my attention.
The words of Mr Harvey, EFL Chief Executive
Taken from twitter. Well done sir.
"Ultimately the comparison was a competition previously where clubs were as interested in getting knocked out in the first round as they were in getting to the final. That can't bode well for the longevity of the competition."
Plenty of clubs still wanted to get knocked out at an early stage but there's no such thing as a first round because it has been changed to a group stage. That's a minimum of three bloody games not one.
"What we have created gives us a real opportunity of using this competition for the benefit of our clubs, the benefit of young players in this country and, as we will see on Sunday, the benefit of in excess of 70,000 fans hoping to cheer their side to victory."
"Our clubs" being? Is that just the EFL clubs whose (long term) interests you are supposed to be looking after, or those in the Premier League who need their young players developing because they've hoarded so many of the buggers that they're nowhere near getting first team starts?
The benefit of young players? Yes, right. McAleny has been DENIED the right to play at Wembley in front of a vast crowd because he turned out for Everton U23s at Bolton in front of 1,540 people.
I think under the old format a Coventry v Oxford final would have attracted at least the same gate. No, I'll say more because the boycotters would have been there. So he's talking s***e imho.
"There is no doubt this competition would benefit from the more senior, higher-profile clubs playing in it next year. They will make their own choice."
But Sean, it was a one season experiment and the more senior higher-profile clubs of which you speak are not really that are they? It's their U23's. And the future of the competition is not going to be decided until a vote on April 11th. Yet you've already scheduled in dates for next season with the format being the same as in this one.
Let's be honest, it's all about the money. We're supposed to be happy that the TOTAL prize fund this season is £1.95m and I believe next season, if the format remains the same, this will go up. In 2015/16 the total was just £478,000. As a lower league club the money obviously helps, but I feel it is forced prostitution particularly when you stop and think that Premier League TV rights for 2016-19 are worth over £5 BILLION. With all that money awash how the **** can't they develop their players without using the likes of us as a plaything? How about forcing starting line ups in the Premier League to include at least two or three youngsters? Experiment with your own bloody selves.
"The reality is the competition was in decline. We have tried to do something to reinvigorate it. We believe we have."
How about the option of letting it die? Give the players a rest. No, they all want to play at Wembley.
As for these boycotters, I admire them more than I admire myself. I've boycotted up until now.  Wembley is meant to be a unique, almost once in a lifetime, experience (well nearly) for clubs like ours so I never expected us to get there again this season, even though it's not that hard when you stop and think about it.
I was well up for the pre-match demonstration organised by the Again League Three collective and kind of felt that justified my attendance. But the EFL have thrown their legal weight around and put a stop to that.
There was some talk of a walk out in protest. That was never going to happen. We've got a core of something between six and eight thousand who regularly attend home games and a couple of thousand that go to a lot of away games each year. Of those, there will be many who can't get worked up about U23 teams. Which means the vast majority in attendance either massively won't care or will be unaware that there is even an issue here. The same will go for those supporting Coventry on the day. If a chant of "You can stick your B teams up your arse" (It scans better than "your under 23s") was to build, I for one would join in with more gusto than anything else I might bellow out, but the demographic is not going to be right for such an occurrence.
Checkatrade Final
I don't mind getting beaten in a poxy tournament like this provided we play well and give a good account of ourselves. Last season in the JPT we put on a very good performance in an entertaining final, losing to a very good side who were bound for the Championship.
This season we were poor in a game of much lower quality, getting turned over by a team who weren't really anything much and are heading for League Two.
We're supposed to have a better team this year than last, so why did this happen?
We've been told that the players really wanted to play at Wembley so after earning the chance to do so, why didn't they?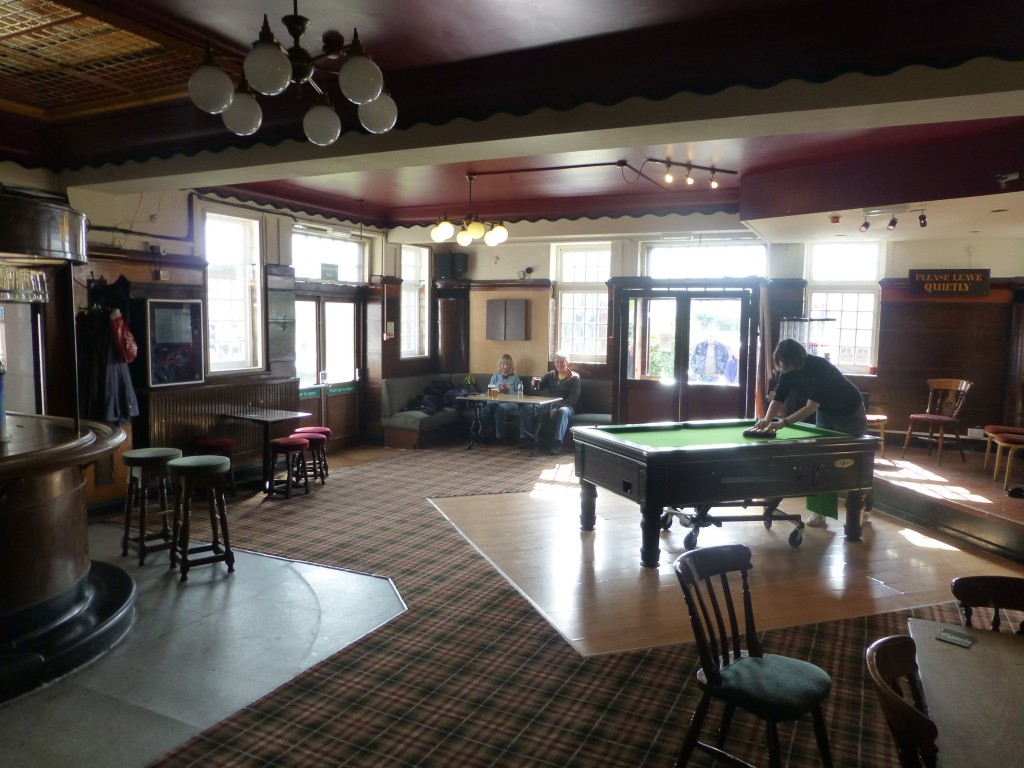 No queuing for beer in here. And the landlord served us ten minutes before he was due to open at 11 o'clock. 
Wembley pubs don't really appeal to me. It is a real ale desert and I can't be doing with fighting my way to the bar / queuing for over-priced drinks that I'm only buying because there's nothing else on offer. So I scoured the Good Beer Guide and discovered The Windermere about two miles from the stadium and that became the pub of choice. A few lads on the 9:03 from Bicester North had overdone it with their beer supplies so I gratefully accepted a bottle of Peroni. Cheers.
The route to the Windermere took us through Coventry territory and past the Green Man. The walk to and from confirmed what I knew would be true: that their fans would be more up for it than ours. I'm afraid I never did buy into the "we'll out-sing them even though we'll be outnumbered" view.
They have not been to the national stadium since 1987. As well as the Milk Cup victory a year before, this was our third visit in seven years so it was much more of a novelty for them than us. Plus this was a diversion for them from their inevitable relegation (13 points adrift with just six games left) and the split between many of their fan base and owners SISU with home gates indicating a boycott or loss of interest when compared to their Premiership days. Those must now seem heady days indeed.
They also have an anthem to the tune of the Eton Boating song which the vast majority of attendees knew.  For all the tremendous work our Ultras have done we have nothing similar. We've never had the situation where thousands of Oxford fans have simultaneously belted out Sweet Caroline and I'm not sure I would want that.
I think you could categorise all of our players on the day as either average or poor. The pitch looked lush but from the off it was evident that it provided a drag on the ball which meant that zipping it was harder than normal. For all our excellent passing football, both actual and attempted, this season, a fair criticism is that we often don't execute this quickly enough so with the pitch playing slowly it wasn't going to help us.
Mrs FV summed up much of what our first half consisted of: we're not trying to get at them; we've no idea how to get through them; we're playing in front of them.
Coventry had the edge but to achieve that they didn't need to be much because our endeavours were so modest.
Conceding early on wasn't in the script but we deserved to get punished. We easily allowed them to get a cross in following a throw in and had players ambling about in the box not bothering to mark properly or looking as alert as our opponents. Dunkley and Johnson looked utterly lost and after a Stuart Beavon shot had come back off Nelson, it was put home by Gael Bigirimana. Our centre back combination again looked dodgy. It needs to change.
There's no case for arguing that referee Christopher Sarginson favoured us. When Kane Hemmings looked like he might get on the end of a John Lundstram centre, a shoulder from Ryan Haynes in his back meant he did not. Penalty at the time I thought and having seen a replay on the screens in the concourse at half time, was even more convinced it should have been. It was a good movement from Hemmings but this was yet another game when I thought he's not any of the pieces to the strike force puzzle which we need to solve for next season.
There was another penalty shout as we kicked toward the Coventry fans. A high boot near, I think it was, Edwards's head. Anywhere else on the field and the referee blows up.
But we honestly did not deserve to be level at the break. We nearly got punished again when City took a quick corner. We'd switched off and Lunny had his back to the play. School boyish stuff and schoolboys who had no idea how a football match should be played at that.
I was hoping that we'd come out a different team in the second half but we didn't. Mrs FV commented that they wanted it more than us a couple of seconds before George Thomas got their second. They did want it more than us. Both physically and mentally it was showing.
In an attack down our right, Coventry showed greater strength than us before Kyel Reid reacted quicker than Edwards. Reid's cross to an unmarked Thomas was put away with perfection. What Nelson was doing out of position only he'll know and again Dunks was close to no sky blue shirt. I wonder if Joe Skarz and Charlie Raglan will be expecting to start the next game in those positions. And Josh Ruffels at left back?
We came close with a trademark Maguire free-kick but he, like everyone else, was way below his best and subject to criticism from those around me. "Too slow".  Johnson was having "an awful game". Hall was getting slagged off too – a lot by a bloke behind me when in fact the player who'd done something uninspiring each time was actually Hemmings!
Two minutes after it became 2-0 Liam Sercombe replaced Ryan Ledson and brought an extra energy to the sorry show. It was he who pulled a goal back with a quarter of an hour to go as we at last started to play a bit of proper football and it became noticeable that Coventry no longer looked quite so comfortable.
Hall, when facing keeper Lee Burge, should have scored or squared it to Hemmings who would then have had a very good chance of equalising, but on a day when so much wasn't good enough, what he did here wasn't good enough.
And then with the game about to be brought to a conclusion, Burge pulled off a fantastic instinctive save from a Ruffels header with Edwards being unable to make proper contact to get the goal that would probably have turned the game.
So that was it. Out of the stadium on the final whistle and back home by ten past six thanks to the efficient service of Chiltern Railways.
This was one of the worst performances I've seen from an Oxford side since Mapp has been in charge. Basics were forgotten. Real genuine effort and organisation appeared to be lacking. At one time Lunny, who was one of the better performers in a collection of huge under performers, gestured to the crowd to up the noise level. I felt for him but also felt he should have gone round his team geeing them up instead. That in turn would have got the crowd going.
We could have done with the extra £50k for winning, but what worries me more is how this woefully inept display will affect morale for the run in as we aim for that massive long shot of a play-off slot. A long shot that became even longer after Saturday's results.
Mapp now has to somehow force a performance out of the players on Wednesday by insisting that they show they're the team that beat Bury not the one that turned up (or more truthfully didn't turn up) at Wembley. At least he'll be able to select McAleny and Martinez. I've got a feeling if those two had been available, it might well have been a different story on Sunday.
But as they say, we move on. I want to wish Coventry good luck for the rest of the season but we know what's coming so that would be meaningless. If they showed the spirit they did here they could perhaps do us a favour against Rochdale and Scunthorpe. I'd like to wish Coventry good luck for next season but that will not be in the same division as us so it would sound like I was taking the mick, which I'm not. They're a club that have suffered over the years and we know what that's like. They will continue to suffer under SISU. They deserved their big day out. The way we performed both on and off the pitch we didn't deserve anything. But we've got bigger fish to try and fry albeit in front of a much, much smaller audience. We've still got 18 points to play for. I bet there were many face painted day trippers out in the Sunday sun who probably don't know that Fleetwood are a football league club let alone the fact that we are playing them at home on Wednesday.  The importance of winning that to keep our season going cannot be overstated. We cannot put on a display as dire as this one can we?
Fleetwood may be 3rd but they've not scored in their last three games. I'm looking forward to it already.