Article by Paul Beasley
EFL DIVISION ONE GAME 38: BOLTON WANDERERS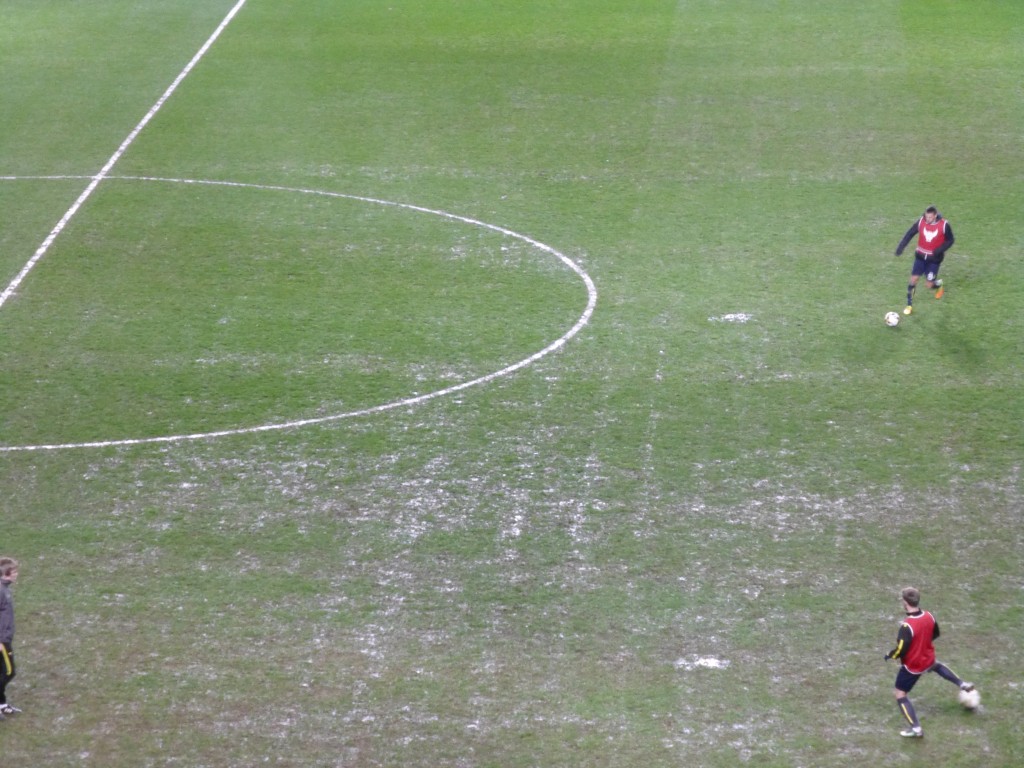 After the pre-match watering it looks like we've produced a paddy field not a football pitch
Bolton had only lost one game since January and that was to the best team in the division, which suggests that they may well be the second best. I know some were not overly impressed with our visitors, but I was and on that form think they're deserving of the runners up spot.
I thought that we were well beaten. Their speed of movement and sharpness was well above that of the average L1 side we've seen this season. Even though they conceded two I thought they looked defensively strong; much tighter than we were. And up front they had an edge that we didn't.
On the day I didn't think we had a strike force worthy of the name and am yet to fathom why Marvin Johnson was played down the middle. A wild guess would be that it is something to do with continual experimentation, the flanks being a bit boggy (although one is much worse than the other) or even getting Joe Skarz back in the team.
Having given Kane Hemmings big praise for his ten minutes against Scunthorpe, watching this 90 plus minute effort I was back to thinking this guy just isn't quite good enough. He did of course score and there will always be that churned out argument to consider – he's not getting good service.
"He'll soon end up at Mansfield" was something I heard in passing from two completely independent supporters, talking about different players. One being Hemmings, the other Skarz and it has to be said that "the best defender in the land" currently does not look the time and again solid 7 out of 10 man we have come to expect.
Matt Green, Paddy Hoban, Alfie Potter, and Macca. (And before anyone says Danny Rose, it's not that one). Could they be joined soon by others deemed not good enough for what we are trying to achieve?
None of the above means that I have abandoned all hope of going up. It's not the top two we've got to prove we're better than, which we're clearly not. We just need to perform well enough over the remaining eight games to end up as one of the next best four teams. We play the teams occupying third, fourth and seventh. That should show if we've got what it takes or not. As will every other game. Another three are seriously battling relegation, although to be fair to Bury they've put an impressive run together.  The other two are mid-table. One of whom are Walsall, just two points behind us but having played one more. Which just proves it could soon be game over for us if we are not bang on it. That leaves the next game, Northampton away. They really are as mid-table as you can get. But we know how difficult we find it against them and how they love to put one over.
Clearly no easy games, and nor should there be.
It didn't take long for us to fall behind in front of the Sky cameras in this difficult game. Just the four minutes. Wanderers' accurate passing got the ball to the bye line then all the way back to the corner of the penalty area from whence came a first time cross. We had numbers in the box but most of those numbers were not fully switched on.  Curtis Nelson and Chey Dunkley looked a bit lost which meant Skarz, instead of the centre halves, ended up challenging the impressive Gary Madine. So when the loose ball fell to Filipe Morais after an absolutely phenomenal save by Simon Eastwood, he was not being marked by our left back as should have been the case. The fault here was not Joe's.
I'm beginning to think that Mr Eastwood is better than those immediately in front of him.
With just a quarter of the game gone Bolton had doubled their lead. Maguire like, Bolton hit a free-kick from just outside the D onto the bar. Eastwood is so bloody good I'm going to say he got a touch on it. I rate Phil Edwards but any more of what he then did here and he too can offski to Mansfield as far as I'm concerned. Mark Beevers is a defender but he reacted like a switched on striker as the ball flew through the air. Edwards just stood and watched. It is all split second but that's the difference. That's why they are where they are and we are where we are. When Edwards saw that Beevers had reacted and he hadn't he then dropped to the floor into a sprinter on the starting blocks pose. Strange.
I don't recall us having much of a sniff in the first half but we managed to halve the deficit just before the break. Skarz' header from a Hall centre looked like it was going to beat keeper Ben Alnwick who managed to get a little flick on the ball, delaying it enough to allow David Wheater to get under the bar and divert the goal bound effort onto it and out for Hemmings to bundle home, first with his head and then feet. Unfortunately it only counted as one.
Bolton only viewed this as a minor setback and on the hour mark were two ahead again courtesy of a Dunks own goal. Again the defending was far from good enough. Beevers was able to flick on a long throw even though we had two men, Nelson and Skarz, close to him. Those two are supposed to be able to head a football but Beevers is a big lad. To me Dunks seemed more interested in holding than getting his positioning all right, so got in a bit of a tangle and finished clinically. Other end please Chey, otherwise it's Mansfield for you.
We certainly didn't give up and Johnson hit the post from closer to the half way line than the penalty area. It was a world class effort that deserved better.
Then we did get another. With a quarter of an hour remaining we saw another trademark Chris Maguire free-kick. This one was from just inside the D and if Alnwick moved it was only an inch or so. Pointing was not the order of the day as it had been back in August as we were still behind.
The stats show that we had 57% possession and 15 shots of which eight were on target to their ten and 6 but I don't recall us ever being in control even though there were a couple of spells in the second half where we really tried to take the game to Bolton.
Going by what I was witnessing I never quite had total belief that we would salvage a point and was not surprised when we conceded a fourth with a few seconds to go. Dunks should have dealt with a big long clearance but let that man Madine get the better of him. Madine used his studs to pass the opposite way to that which he was facing, feeding Josh Vela who Nelson wasn't able to do anything about and Eastwood was beaten yet again.
All very disappointing but in a kind of resigned way because it was clear quite early on that they were better than us. By how much I'm still trying to work out. Is it a wide margin or are we close?
The case for there being quite a gulf is set out above.
However let's write the last goal off because we were going all out for an equaliser and got caught on the break. The free-kick that lead to the second goal for Bolton never looked like a foul to me and I'm told Sky coverage confirmed this. And then there was the McAleny booking which at the time we thought should have been a penalty to us. (Note, I said at the time). So no chasm then.
Forget that though, it is history.  On the one game at a time basis we need to ensure that there is a gap, of the satisfying kind, between us and the Cobblers in league game 39 of a season that seems to have gone on forever yet only started a few weeks ago.
EFL DIVISION ONE GAME 39: NORTHAMPTON TOWN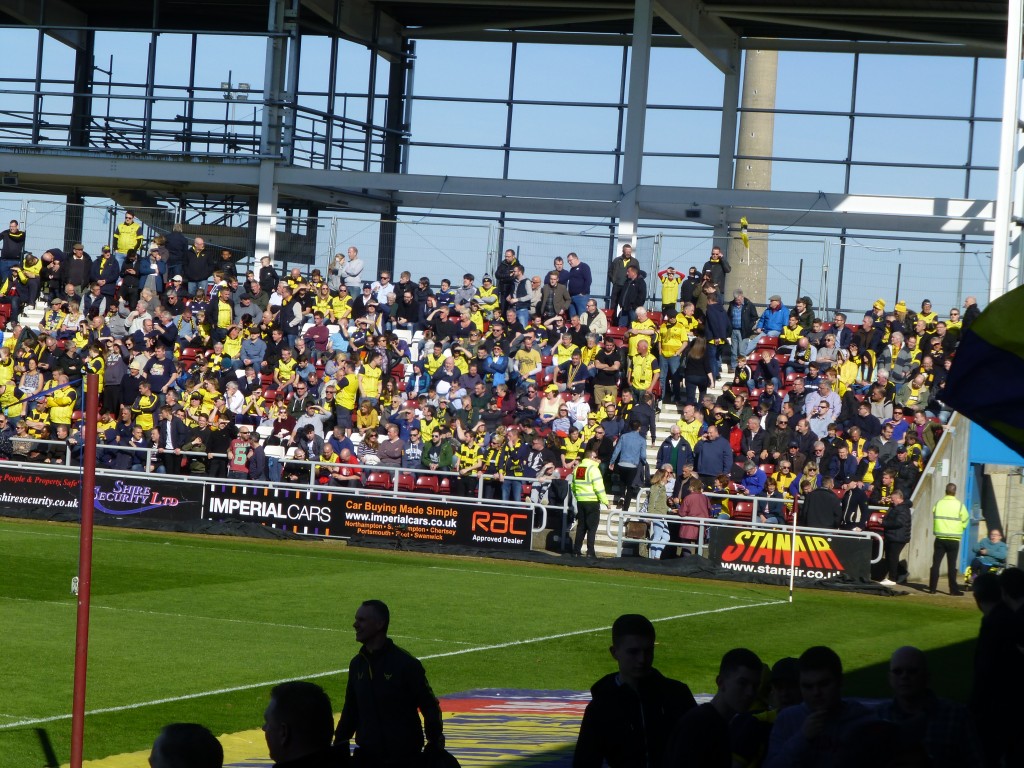 I know no detail of what is going on in the background at OUFC other than that OxVox Chair Jem Faulkner and co-opted OxVox committee member Stewart Donald have met Juan Sartori for an exploratory discussion and Firoz Kassam has been seen on the (his) premises. Anything else on my part would be based on rumour, complete b*****s and guess work. Darryl Eales has done wonders to revitalise our football club so whatever transpires I want him to end up a happy man.
As I was exiting the toilets in the Melbourne Arms, Mr Eales was entering. He was his usual cheery self. And why shouldn't we as supporters look ahead to the future with the same disposition? I know this game has a habit of giving a kicking in the whatsits, sometimes when least expected, but I've no reason to think there's an imminent blow coming.
As for the pub it was just people supporting two different football teams drinking together with no edge whatsoever. Would never happen or be allowed to happen at Swindon. But for pubs, the stop off point on both the outward and return journeys, the Peyton Arms, can't be beaten for those who like a pint of hooky and are wedded to tradition. The picture of Nigel Cassidy and the landlord still remains just above the door in the small bar. A memory of a legend.
It's never clear at Northampton from the ticket stub and signage what turnstile to enter. And there are so few of them. Few is not a description that can be used for the number of police in attendance. They didn't cause me any issues and nor would they anyone who travels just to enjoy the day out, but numbers there always seem rather excessive. There were a gaggle of them, as well as some stewards who were all very pleasant whilst doing their searching, around the turnstile (note singular) including one with "Evidence Gatherer" on his high viz yellow jacket. At one time a boy in blue walked to the front of the queue, had a word with the turnstile operator who then disappeared for a very short space of time leaving us all stood in the sun. Security is vital in this day and age but I can't help but think at some places there is more than needed and at others much less. But again I'm not in the know so have no idea what intelligence had been gathered.
The first half here was, I thought, particularly poor and we were the poorer of the two teams on show.  Mid-table L2 fare more like, not the level we both won the right to play at after last season's efforts.
At times we looked all over the place, were being bullied (mostly fairly) and the passes we played into the Cobblers box lacked accuracy. We couldn't keep the ball for any length of time and our more direct opponents had greater threat up front than we did. We seemed unable to close them down with much effect and our defensive positioning left a lot to be desired.
Even with Marc Richards in their ranks though Northampton were unable to score. They weren't clinical. When we bemoan the lack of a 20 goal a season man we need to remind ourselves that there are not many such players around. Richards has had a lot of game time but only got 8 league goals so far in 2016/17.  His strike partner Marc Smith who joined on loan from Pompey in January has only got two.
We too had a couple of chances. A McAleny effort from distance that went just wide and one from Edwards even further out which was an easy take for keeper Adam Smith were probably the highlights from an Oxford perspective of a dreary 45 minutes.
It was as though, for whatever reason, the top six was not the target. We certainly weren't playing with that extra will and determination when there's something very rewarding to be had. (Or something nasty to be avoided for those at the wrong end of the table). Do we think we've already got the reward in our trip to Wembley next week? I really believe this has distracted focus from the league and I can't blame the players for wanting to play at the national stadium in front of 70-80k. It may be a once in a life time event but which are football people likely to remember in the future, the winner or runner up in the Checkatrade final or a team that made it to the Championship and played there for x no. of years? Which is the more genuine footballing achievement?
Has Mapp realised the current crop are not quite capable of the play-offs and is continuing his team selections with a view to next season?
As for a number of our supporters, there's too much talk of Wembley for my liking and not enough of Bury at Minchery Farm on Tuesday night.
The second half though saw a vastly improved match and much better quality from the Yellows. We were passing man to man and had a lot more possession than in the first. Northampton were still fashioning chances though, some with a lot of help from us. A ball to the far post that we couldn't deal with really should have been converted before they had the best opportunity of the afternoon to find the back of the net. As I recall Dunks had screwed up and Richards then went past Nelson at pace before being felled by Eastwood. Our keeper got down quickly to save and forced the ball up his arm and onto the frame of the goal, with Edwards completing the clearance.
Not long after that they hit the side netting, with Dunkley again looking all at sea positionally. I've stood up for him in a few debates but on current form he does not look good enough for what we are trying to achieve. His headed clearances lack accuracy and on the ball he gets us on edge. I've not really paid much attention to which centre half plays which side but we need a pair that work together well and are comfortable with what they are being asked to do. It may well be that this pairing in those positions are not the way forward.
Having got over that intact, the question was could we push on and gain all three points?
To Lunny's credit he had been on the ball quite a lot in the first period and continued in similar vein in the second. More often than not his pass was to Edwards who must have covered a lot of ground. Josh Ruffels began to get good old fashioned tackles in, which is not something you can say about all our players.  Joe Rothwell showed some trickery on the ball and noticeably Johnson's pace began to cause problems.
But for all that we too did not have a goal in us. Rothwell hit the bar with an impressive curler and with five minutes left, Hemmings missed a sitter. Adam Lallana, with his complete Horlicks against Manchester City, proves that better players than KH will miss easier chances than the one he spurned here, but come on, he really should have put this away. Putting away such chances are the reason we bought him. (Not the first time I've said this).  He had over half an hour to prove his worth and I thought again he came up short.
Overall a draw was a fair result but something that doesn't really help us. Northampton on the other hand were obviously playing for the point with A. Smith refusing to retrieve the ball to take a goal kick with a few minutes left. I thought this was very bizarre behaviour until listening to local Northants Radio on the way back home. It was all about getting onto 50 points and guaranteeing safety from relegation. With another six games to come that was utterly pathetic from League Two's best team of 2015/16. Can't imagine us playing that way under Michael Appleton.
I know local radio is supposed to be (a bit) biased but some of the stuff I heard was utterly laughable. I think it was Terry Angus said something like Oxford never had a chance all game and that looking at the Northampton side he thought they were good enough in every position and with a couple of additions should be able to make the play-offs next season. Keep them blinkers on boy.
Someone else also said that Oxford were just waiting to be beaten as we had something else on our minds, which kind of fits in with some of my comments above. But the fact of the matter is they did not beat us.
I only occasionally look at the websites of other clubs fans but did so after this match and whilst covering the view from the Northampton corner, will throw in a couple of posts. Both interesting.
"Every time I see Oxford it's the same – a team full of identikit ball playing midfielders but no variety, they just always try to walk it in."  (Time out to watch that clip from the IT crowd on YouTube.) Still chuckling.
So that's how we're envisaged by some and, whilst I no way agree 100%, I can see where they're coming from. We've got no midfield enforcer. We've got no big bloke up front. And we do pass a lot. However, anyone who watches what we actually do week in week out would know that none of our players are the same.
"Well, any neutrals looking in wouldn't think that was the best team in League 2 last year playing the champions of League 2, would they?"
They just won't let it lie will they? It was a throwaway remark and in the greater scheme of things not very meaningful but I can kind of see why they got mildly irked. Now for something that one club or (some of) their supporters do or say that really riles, think back to 6 May 2006. To genuine Orient fans who acted with respect to us that day I feel for you, but for those who took the piss, the L2 table makes the pleasantest of reading for Oxford fans. What goes around comes around. Dish it out; take it.  No one knows what the future holds. Well except Orient will probably be playing in the Conference next season and we'll probably be playing in L1. The season after, not a clue.
Blimey I've written all this without slagging off the referee. Mike Jones may be a Premier League official but he didn't show it here. Toni Martinez only had to challenge for the ball to be penalised, yet the worst foul of the afternoon on Johnson, which looked a toss-up between yellow and red, resulted in no card. Hemmings, without the use of arms or elbows, jumped with, not at, the keeper who decided to go down. Never a free-kick but one was given. And he missed or ignored numerous shirt pulls. All this though has unfortunately become the norm.