Article by Paul Beasley Sunday, March 19th, 2017
EFL DIVISION ONE GAME 36: OLDHAM ATHLETIC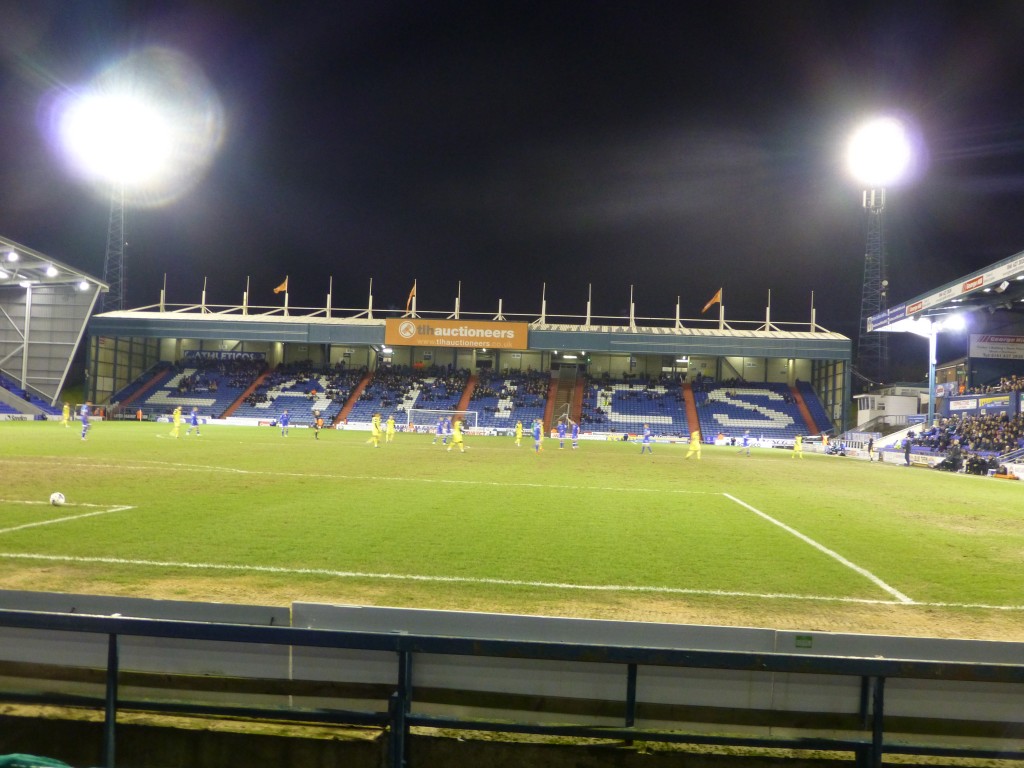 The journey to Boundary Park was trouble free meaning there was time for a few pints in the Ashton Arms. By the accounts I'd read, Oldham is a bit of a real ale desert but this hit the mark. A town-centre free house that looks like it is in a row of terraced housing. Excellent quality ales at £2.50 a pint although I was in disgrace for straying during one round and having Leffe. (I do like a drop of Belgian)
The return trip was something else altogether with motorway closures meaning I did not get home until just gone 2 o'clock. I live north of Oxford so those more southern will have been even more pissed off. Delays and obstacles don't annoy when your team has won but we'd lost so not happy chaps at all. At least I wasn't driving so I had been able to consume a few and did not have to solve the conundrum of how to get home before the morning broke. Thanks, Tim B.
Yes, we lost. Even though I know good runs cannot continue for ever and we were going to get beaten on our travels at some stage, this was going to be a very informative game. A win and the play-offs would have been quite realistic, whether we're actually ready or not. They're not totally out of the question yet but look quite far away on current form.
March has seen us lose three and win one league game so far. So why has our form dropped off? Is it just one of those things? Have we just run out of gas with the squad size and injuries catching up with us? Deep down don't we have absolute belief?
The first game we played this month was that Checkatrade semi-final. Last year after booking our slot at Wembley we won one, drew one and lost two in the league. A theme perhaps with focus diverted onto our big day out away from the bread and butter stuff. Some fans almost immediately began banging on about this event; when would tickets be on sale, how many would we take etc. Ignoring the fact that we had eight games before the final.
It was pointed out to me that Oldham have a very good Tuesday night record. Also they'd only lost one in seven. It is clear that some teams near the bottom are there on (lack of) merit. On this showing not so the Latics.
No way do I think our boys weren't trying, but somehow it looked as though the home side were trying that little bit harder. The threat of relegation, instead of demoralising, gave them that little bit extra. Their motivation and belief trumped ours. This genuinely isn't intended as a criticism it's just the way I saw it.
Oldham were that bit stronger than us and we know that more often than not we get found out by such sides. I mean strong in a good way. I didn't think they were dirty or cheated in any way. We've no complaints other than perhaps that persistent fouling thing again. Robbie Hall appeared to suffer in this regard.  I've no idea whether this was deliberate or just that his skill turned a genuine attempt to win the ball into a foul. None of these fouls individually merited a booking but they did stop any flow we might have forced on the game. The laws of the game state that a player should be cautioned for "persistent infringement of the Laws of the Game (no specific number or pattern of infringements constitutes "persistent")."  Teams who take it in turns to illegally stop a major threat often get away with it.
This isn't intended as an excuse though, just throwing it out there.
The pitch had been identified as one that is not very good and whilst visually it has not reached the ploughed depths of Newport's Rodney Parade, it didn't look Football League standard to me. But the evidence is in the proof of the pudding and I thought the surface, despite its appearance, played at least as well as ours at Minchery Farm. I can't remember once a pass going astray because of it. The ball didn't move as quickly from A to B as it does at some places but that's also down to the tempo a team introduces when they are in possession.
Given what the pitch looked like I wonder if that influenced us into playing more high balls than is our norm.  Time and again Kane Hemmings made a futile aerial challenge which resulted in the centre-half easily heading the ball back in the direction from which it had come.
We know that's not Hemmings's game and in these circumstances we would have been much better off with someone like Ryan Taylor battling away. We bought Hemmings as a goal-scorer. It doesn't appear that he has a lot more to his game than that and here he missed an absolute sitter from an inviting Hall ball. I don't like criticising any Oxford player but can only write this stuff with honesty. I really feel for Kane and am desperate for him to do well and justify the money we paid for him. The fee is known to be six figures and although "undisclosed" is believed to be around the quarter of a million mark. From what I've seen so far there are players around who deliver similar who could have been picked up for a lot less or even nothing.
He has bagged 17 goals this season which can be used as evidence to prove I'm talking nonsense. But if it was, I would respond with the fact that only five have been in the league.
The usual happened before we went a goal behind – top quality saves from Simon Eastwood. We think we've got a good back four but could it be that our keeper makes them look a bit better than they are? Just asking.
From where I was, I thought Chey Dunkley had stood Aaron Holloway up as a defender should but replays show this not to be the case. It wasn't that difficult for the Oldham man to crack a shot off which came back off the bar. The decision Phil Edwards made to run back to the goal line instead of marking a blue shirt increased the chances that the rebound would be headed home, which it was.
When we did have spells of playing the ball around and keeping it we did look the better team but these spells were way too infrequent. Oldham's more direct hard working longer ball style was winning out.
But they didn't get a second and a quarter of an hour into the second half we levelled the score. Terrible Oldham defending set Chris Maguire up one on one with one time one game ex-Oxford goalkeeper Conor Ripley. After a bit of mis-control which sent him wide, Maguire was brought down by Ripley for a penalty. There were no complaints. This time it was back to normal as he buried it.
I was both hoping and expecting us to go on and win it knowing the football we are capable of playing. But no we hadn't turned things immovably our way and only ten minutes later were behind again.
Oldham had a throw in. Oliver banks received the ball. There was no Oxford player within 15 yards of him. The pass he played to Ryan McLaughlin was therefore so so easy to make. McLaughlin likewise had no yellow marker anywhere near him. Unmolested he hit a high ball into the box. Dunks misjudged the flight and headed thin air as Lee Erwin got in between him and Edwards to head across Eastwood. I'm even wondering if our number one should have done better here. The quality of our closing down and basic defending here was non-existent. What's the point in playing good football if you're going to defend this badly? Don't forget the basics.
We still had 20 minutes to salvage something but never really looked like doing so and the way we played didn't deserve to.
Maguire was looking to make something happen but he needs a few around him to be consistently up for it in similar fashion. I've mentioned Hall already and there were little flashes when Conor McAleny had the ball but these were so infrequent as to cause no real discomfort to the defenders. Would he have been more effective alongside a big bloke winning knock-downs? And meanwhile Marvin Johnson remained at left back. We saw very little of him as an attacking force.
We never properly clicked as a unit of eleven players working together, helping each other out and understanding what team mates were about to do.
So am I all doom and gloom then? No, not at all. We could now turn around our home form starting with sinking the Iron on Saturday. Possibly helped along by a goal or two from Hemmings.
It has been a more than satisfactory season thus far with L1 survival already assured, still a slight possibility of playing in the Championship in 2017/18, an F.A cup run to remember, players in the side worth watching and at times seeing stunning football from the best Oxford United side in ages. Oh, and we're off to Wembley again.
If it has to peter out don't make it just yet.
EFL DIVISION ONE GAME 37: SCUNTHORPE UNITED
We thought it was going to be one of those days. It didn't start according to plan. Somehow we got behind schedule so instead of eating our bacon sannies at home decided to pack them and take them with us. Heading down a surprisingly traffic free A34 the conversation went like this. "Did you bring the bag with the sandwiches in"? "No, did you"? "No". "Well I didn't".
Whenever a line-up is announced that has a few talking points, as this one did, I usually end up in conversation with one or more fellow supporters. My take was the total opposite to the opinion that Mapp had given up on the play-offs. Three of our very best players were to be bench warmers. For me they were there to be brought on if need be and by playing the hand he did, our manager was not only seeing what the squad players could offer in the heat of the battle but also ensuring he would likely have more freshness available for next Tuesday when a better team comes to town.
Unsurprisingly I wasn't the only one to pick up on the potential for petering out. Just before the kick-off, which was to be delayed a few minutes, my brother, Peter, put into words my exact thoughts.
The start was delayed not for the reasons sung by the East Stand but because there was a colour clash between Eastwood's top and the Scunthorpe shirts. All rather unprofessional but why didn't the officials spot it earlier?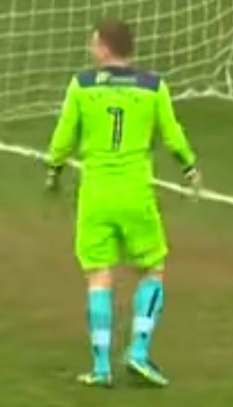 Bet a few clubs, particularly those near the bottom, are green with envy they have not got a keeper this good
One full kit change later, our custodian re-emerged and instead of getting on with it went into the pre-match huddle with the rest of the side. The visitors were now getting quite annoyed.
After the first 46 minutes there's no way on earth I thought that I'd leave Minchery Farm thinking we'd deservedly won. But that's what happened. We scored more than them. We hit the woodwork. They didn't. We had a decent penalty claim turned down. They didn't.
Our performance in the first period was one of the worst I can recall for a number of years. It felt like the bad old days where hope didn't exist. No one in a yellow shirt was playing well. We were slow and ponderous. Closing down was being done by the Iron but not by us. Just before they scored on 12 minutes Peter piped up "we're not marking". We weren't. Paddy Madden's finish was classy.  Other than that the half was classless.
12 minutes was also the signal for the applause for Steve Dyer. R.I.P fella. Such a shame he could not have made it to Wembley again.
When we had the ball they got three or four men around us in double quick time. We had little idea how to get an attack going, even when we had a dead ball to play with. On one occasion we played a free-kick down the line to McAleny who was marked by FOUR defenders. Ball into the box a better option? We're no West Brom, but come on. To be fair to McAleny he did get the ball across although it posed little threat.
Kicking towards the fence we had just the one shot. That was from Liam Sercombe and although it didn't have a lot in it was spilled by keeper Luke Daniels which may have been something to do with the state of the pitch. McAlney had turned his back on the action before the ball had even got to Daniels. He'd made a good run and was probably telling Sercs that a better option would have been to have slipped the ball through. Bearing in mind the clock cannot be turned back, even a split second, the better option would have been to have kept his eyes on the ball and then tried to latch on to it before the defender.  The coaches were probably tearing their hair out. Mustn't overlook the fact though that the loanee from Everton does find some superb positions from which to score but colleagues fail to spot him.
The opposition weren't doing much shooting either.
For the most part though there was little movement up front from us and our passing was of the short sideways and backwards variety.
There were factors at play though that cannot be ignored. The strong wind was against us and the pitch is not fit for our purpose. Bobble bloody bobble. And in front of the South Stand particularly by the dugouts it acts as a brake on the ball. Scandalous.
That aside, we were being bullied, in a way which was probably much fairer than if interpreted just through yellow specs, by a stronger more physical more direct outfit.  Referee Tim Robinson wasn't the worst we've seen but that is not saying much. When was the last time we took part in a game with no cards shown prior to this? So we have to ask had he done with his cards what we'd done with our lunch?
There was a scything down, a show of dissent with the ball being thrown away when a free-kick was awarded, the raising of hands, on numerous occasions a lot of verbals directed at the officials and time and again players stood in front of the ball to prevent any chance of a quick free-kick.  I'll leave you to work out which team I thought were the biggest sinners in this regard.
Robinson though was just all talk and then some more talk. Talk to the captains. Talk to the coaching staff.  The value of which was unclear.
At the break there was unanimous agreement as to how utterly poor we'd been. Not so much a peter out but more of the same and the season would likely be a plummet out.
I've taken to wearing a flat cap to games. We all know that footballing superstitions are meaningless yet some of us are so desperate / stupid enough to create and go along with them.  "It's your cap" said Frank. I was feeling dejected so thought ok then I'll take it off. Into my pocket it went and the rest is history.
What do I do next game? Leave it behind? Wear it first half but not second? Common sense says take no notice of any of it. But when does common sense apply to football supporting?
It was obvious as soon as the second half began that we were closing the opposition down much quicker.
There was all round improvement as a team and individuals too began to show. We suddenly had contenders for man of the match. Lunny became influential, Sercs got busier and Edwards got forward and saw a lot of the ball. We seemed to really want to get at them at last.
Not only was the wind now with us but Scunny were finding it harder to close us down. My observant wife had said they couldn't keep up their first half rate of closing down for the full 90 plus minutes.
Also importantly, in the dressing room whilst refreshments were being taken, our analysts were showing clips of the first half and the importance of "switching" was being emphasised. My understanding of switching is roughly a long cross field ball to change play from one wing to the other. This makes total sense to me as I've noticed in quite a few games an unhealthy obsession for continuing to play short passes in tight areas even though there's been an option to move the ball somewhere with much more space to exploit.
This tactic stretched the Scunthorpe defence and they no longer looked comfortable. It didn't take long for the equaliser to come. It was a long ball from right to left to Joe Skarz in acres of space. Switching I presume. As Joe said in the post-match interviews he doesn't go past players like Johnno does (because he can't).  He just crosses instead. And what a cross this one was. No messing just straight in there after he had brought the ball down in perfect fashion. I hadn't seen Lunny and nor had the defence until it was too late. Instead I was concentrating on Edwards going down. Penalty I yelled. It was a proper side footed finish.  A first time pass almost. Given his normal passing accuracy he was never going to miss a target that big was he?
Lunny v Scunny
It then looked like the game was ours to win. Not long after our captain was nearly on the scoresheet again. This time he bent a 25 yarder over Daniels but onto the bar.
We didn't get another in the period when it was obvious we were on top and Scunthorpe came back into it and had their moments and chances too.
With 20 minutes to go I thought to myself neither of these teams is good enough to play in the championship.
We were no longer being out muscled but were not the dominant force it at one time looked like we might be.
Hemmings replaced Martinez and ended up with 10 minutes game time. He thus didn't have to bother about wasting energy that would be needed later on and was able to put it all in during that short space of time. But he impressed me. He didn't let the defenders relax for a second and will have as good a chance as the other two front men of starting on Tuesday. Martinez had looked more teenager than two and a half million pound man but he's learning that the game is about the muscular side of things as well as the skill bit. I thought once he realised what was happening he held his own physically and won a bit in the air even if not directed to colleagues.
I was surprised to see our first substitute, Johnson, who had come on ten minutes before the second one, played down the middle. Was this purely experimental or due to the state of the flanks but the area in front of the North stand is supposed to be way better than that opposite.
Although we'd seen some revitalisation with that second change there wasn't long for it to have the impact that matters. But as any sensible football follower knows, "it only takes a second to score a goal". So why leave before the end people (that's those that do)? We were not losing by two or three. (And even then I don't agree with it). We were drawing. That equals one point. Just another second and it could be three and a massive difference to those long shot play-off chances.  But still some went.
90 plus one. We were still going for it. From a corner Ivan Toney should have got his header well clear but mistimed his jump. The control and beating of a player in the box we saw next is more associated with an attacker not a defender even of Curtis Nelson's footballing skill. Whether our centre back's shot was touched or not by a marginally on-side Edwards bothers me not a jot. Goal it was. Three points it was. Home win it was.
A win makes the rest of the weekend so much more enjoyable but I reckon Half Man Half Biscuit at the O2 with their thoroughly original surreal satirical rock would have numbed any pain of dropped points. Nigel Blackwell even asked how we got on and also made reference to Headington United.
Oh, I've got to go. Someone's just walked past my window. F***ing 'ell, It's Fred Titmus.