FAN'S VIEW 23/24 – NO.11: SHREWSBURY AT HOME
Last season I kept churning out stats that showed how far we were falling short both as an attacking force and defensively compared to the teams at the top. When it was all over we ranked 16th in the goal scoring charts having found the back of the net just 49 times. Automatically promoted Ipswich scored more than double that. We conceded 56 meaning 11 teams did better than us in this regard.
Now nine games in to this campaign we're averaging two goals a time along with Barnsley. No club has bettered this. Defensively only Portsmouth, Cambridge and Blackpool so far boast a better record.
Well we are second with a game in hand so this is to be expected but what a contrast to 12 months ago.
Our visitors have found goals very hard to come by. They only average 0.44 per game. Cheltenham of course dream of such a return. Shrewsbury last scored in the League in the 41st minute at Fleetwood on 26 August and since then have also failed to find the net in two Football League Trophy games. If they failed to put one past us that would be their fifth league game in a row they'd failed to register.
At the back they've been much more competent only letting in one more than we have.
Unsurprisingly the Shrews have only picked up one point from their last four league matches and currently occupy 18th place in the table.
Easy game then? No of course not. There are no easy games. I don't think Liam Manning is the type of manager to allow complacency to creep in. Also given the strength in depth we have, any dropping of individual standards will likely result in a dropping down in the pecking order.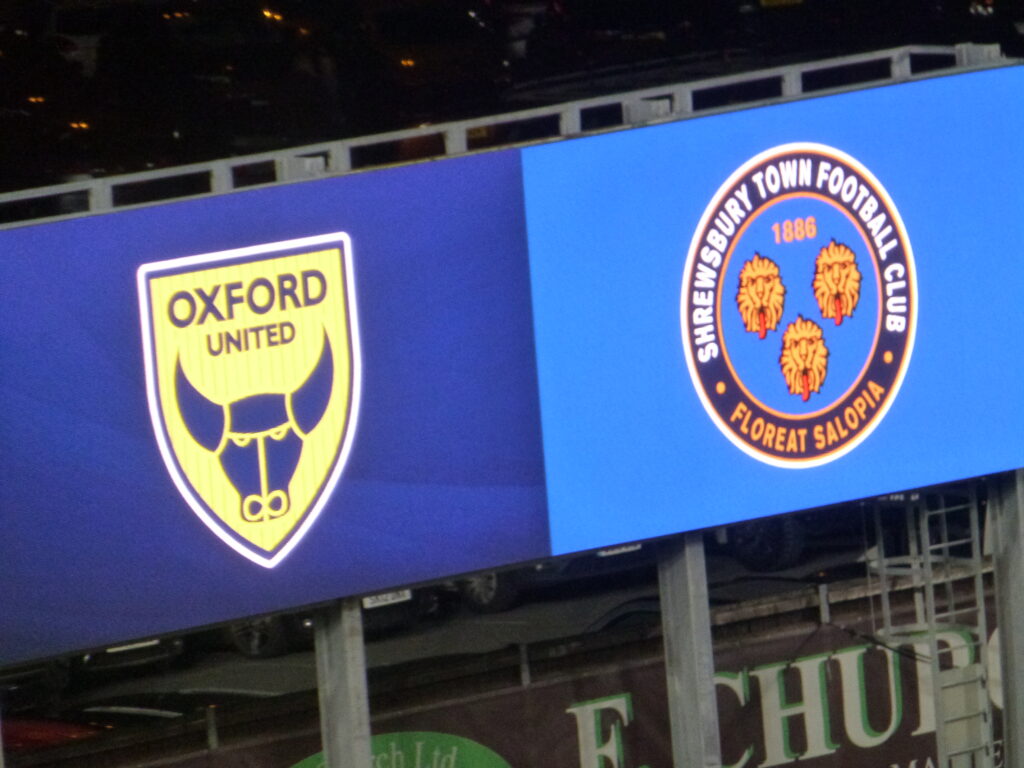 OXFORD UNITED 3 SHREWSBURY TOWN 0
This was an utterly dominant performance. 70% possession. 704 passes made by us and only 288 by them. Our accuracy whilst achieving this was way better than theirs. We had 14 shots with five on target. They had just four with only one – which I can't remember – on target. They never got close to laying a glove on us.
At times the way we knocked it around was superlative. Our players were clearly a couple of classes above theirs. We sit second in the table with a game in hand.
So, I'm almost certainly being much too demanding and never satisfied when I say there were a few things that disappointed me about the whole event.
The size of our home support for starters. Just over 7,000 which is over 2,000 down on the numbers for the Exeter game. I've raised this in the past and have had people give justifiable reasons as to why they, or others they know or people in general, gave a game a miss. I get that and am not having a go at any individual but it does indicate to me that a lot of work needs to be done if our planned journey to becoming an established top 30 club is to be achieved. So what if it is a Tuesday night? Yes we'll have lost some school kids. So what if this was not a top of the table clash? 2k seems a huge drop. The growing buzz that had been around after the Fleetwood, Exeter and Stevenage victories wasn't palpable in this one.
There were other reasons too for the lack of atmosphere around the ground. When all's said and done home fans, me included, were expecting a win even though I'd talked myself into the logical "no easy games" thinking. That doesn't help.
With just 187 away fans present there's no edge, no needle. It all makes for sedate surroundings which just doesn't inspire. These few who did travel deserve a huge round of applause for their team was truly dire. The most uninspiring bunch I can remember this season. I heard near me "glad I don't have to watch that lot every week." I couldn't have concurred more but also know that if the Shropshire lot had been my team I would still be watching them every week.
As for our on field showing I still can't help it but can only be truthful when I say I've still got things to moan a bit about. (I'm pitching for the "grumpy old fan of the year award")
It shouldn't have taken us until the 59th minute to get our second and put such a dreadful team to bed.
We occasionally mixed a bit of sloppy play in with our superior football. Ruben Rodrigues was the epitome of this. He produced some things of pure class but lost the ball way too often. He was really beginning to frustrate me when he was taken off in the 66th minute. Being frustrated by any of our players this season is a very rare occurrence. Perhaps I was seeing what Liam Manning was seeing and thinking the same thing.
It's often said of a footballer "he can pass a ball". On the face of it a banal statement but it means they're quite good at it, better than your average, particularly back in the day when just getting it forward early was a dominant style. All of our players can "pass a ball". If they couldn't they would be nowhere near our first team squad. Some are very good at it. Josh McEachran, RR's replacement, now he can "REALLY pass a ball". He just doesn't give it away. An acknowledged failing of the lad which kept him from excelling at the highest level was his inability to do the ugly things that need doing to become a winner. Although I always get angry at the cynical side of the game I was really pleased with his booking just over 20 minutes after his introduction. Could he soon be starting instead of Rodrigues? It's a great option to have.
We'd not done a lot in the first quarter of an hour other than keeping the ball facing a side with just about everyone back between us and goal. They had good shape and possibly appeared hard to break down.
In the 17th minute we scored. It came about in an instant and highlighted the fact that we've got good players and they've got some bad players. (Okay I've got no idea what their players are really like because I don't watch them week in, week out, but this evening they were bad).
We'd been patiently knocking the ball about when it arrived at Greg Leigh's feet. He took a couple of quick touches to get enough space – he doesn't need much – to whip the ball over.  Marko Marosi, in the Shrewsbury goal, jumped a bit and stretched but let the ball through his fingers. Terrible goal-keeping. An attempt to flick away or punch would have been the second best option after catching it properly. Fin Stevens came hurtling in to fire into the roof of the net at 100mph.  Joe Anderson should probably have been more alert. Bad play by their no.4. More on him later.
More of the hopelessness of the Shrews when Chey Dunkley put a shot way over the bar. I say shot, but that was doing it an unfair kindness. Dunks is of course a centre-half so forgiveness is due.
Not long after that the game killer should have arrived. From a Shrewsbury corner James Beadle fisted the ball away to the edge of the area. A red shirt got it but didn't have the ability to keep it and a first time pass in his own area from the returning Mark Harris to Rodrigues set us on our way. RR's control and then astute moving on of the ball was out of the top drawer. He played it perfectly for Harris who had sprinted forward to cross the half way line. In a thrice he was in the opposition's D with just Marosi in front of him. To his left was Leigh. Somehow he put it just wide.
The rest of the half was a one-sided affair with us playing out from the back with complete confidence. As a fan who still retains a certain amount of in-built pessimism I'm thinking we're one bad pass away from disaster.
We did nearly get that second goal before the break when a Brannagan shot was tipped over after a good move.
The "he can pass a ball" sits just as neatly with our current first choice keeper as with many outfield players in L1. He is capable of picking out colleagues stood in the centre-circle with low pin-point accurate passes. Just before the hour mark he did just that. Tyler Goodrham's first time touch helped the ball on its way forward but it should then have been dealt with by Anderson. He clumsily let the ball hit him and then escape to be pounced on by Stevens. Anderson scythed our man down and having done exactly the same thing just a little earlier it was yellow number two, red and walking for the early bath.
I thought the free-kick Brannagan took wasn't a particularly good one. Certainly not one that had been worked on in the training ground. It was chest high. Ciaron Brown accidently flicked it up with the back of his left heel then was able to side foot past Marosi. Something of a scrappy goal but when it's going for you it's going for you. Teams with momentum make these things happen.
We were in cruise control for the rest of the game just moving the ball about. It was pass after pass after pass.
What looked like a 2-0 thrashing did turn into a score more reflective of the play in the last minute of added time.
We continued to harry them right until the last in a thoroughly professional way. Forcing them backwards Marosi received the ball. What he can do with it at his feet and what Beadle can are two very different things. Marosi was slightly hesitant and didn't appear to have much of an understanding with Dunkley as to who should be taking responsibility as Marcus McGuane and Gatlin O'Donkor were closing in. He did though manage to get the ball to Tom Flannagan but not convincingly so. He took a heavy touch, that lack of control being quite a feature in the Shrewsbury play. Nevertheless again Flannagan managed to salvage the situation getting the ball towards but behind Morgan Fenney.  They weren't comfortable and a big mistake was brewing. Back to Marosi it went next. No surprise, his touch was awful. He could just have whacked it into the stands but so inept was he that he ended up outside the area. His next move was okay. He used his body to push GO'D away. He then had another chance to hit row Z or perhaps even get it well away down the line. Instead he taps it right into the path of Leigh as if they were the best of mates. Leigh's finish from there was something to behold. Marosi's behaviour impossible to explain.
I'll finish by saying that when the return fixture takes place at the end of March Shrewsbury will be much better than they were in this. They have to be, it's not possible to be otherwise. This was the worst Shrews side I've ever seen. Or is it that we are even better than I think we are, including how I saw us in this?
>>>>>>>>>>>>>>>>>>>>>>>>>>>>>>>>>>>>>>>>>>>>>>>>>>>>>>>>>>>>>>>>>>>>>>>>>>>>>>>>>>>>>

COLIN BARSON'S
Shrewsbury Town Financial Analysis
 Shrewsbury Town are one of those clubs that I always think of as a perennial lower league club. They're not a tiny club, but their history, potential, and perhaps their aspirations, point to a club that will probably always be hanging around League One or League Two. Since they entered the League in 1950 that's pretty much what they've done, spending all bar 11 years in the bottom two divisions. Those 11 years, where they were not in the bottom two divisions, comprised ten years (the whole of the 1980s) in the second tier and a solitary year in what was known then as The Conference.
Their finances also mirror this position. In pretty much all of the categories that I've measured Shrewsbury feature about two thirds of the way down the table, which is pretty much where their team seem to finish each season too. They're fairly prudently run though, and not a basket case club in any way. Their attendances are 17th of 24, their income 14th of 17, their expenditure 15th of 17, and their wages 13th of 17. The only outliers to this mediocrity are their Cash at Bank of £1,552,569 placing them 9th of 22 and the club's Equity position of £14,668,637 which is the second best in League One. Most of the positive equity comes from the value of their stadium, which they own, with no debt attached to it at all. The stadium was financed from the sale of their previous ground, The Gay Meadow, to property developers. It was a town centre location, so clearly worth a good few million.
The man behind the way the club is run is Chairman and majority shareholder Roland Wycherley MBE. There are some who think that the MBE refers to a combination of the words end, bell, and massive, and Roland is certainly something of an acquired taste. Now 82 years old, he's been a Director, and then Chairman at Shrewsbury for over 30 years. He seems to see himself as a sort of Lord of Shrewsbury, and the culture at the football club seems to be Roland's way or the highway. There are numerous stories I could tell you about him, but the following give an indication of the character of the man. For instance he has his own seat in the Directors' Box at Shrewsbury which is better and slightly higher than everyone else's seat, referred to by some as Roland's Throne. He's the only person I know who complained about both the food and the wine in the Boardroom at the Kassam Stadium. Now, the catering that Kassam provides is not exactly cordon bleu, but there is a bit of a protocol amongst club Directors that you don't complain. Not only did he complain, but the next season Roland turned up with his own bottle of Chateauneuf-du-Pape which he insisted was served at his table! Away Directors at Shrewsbury are sat in a different room to the home Directors, and one season Roland popped his head round the door and said sarcastically "We've put chips on your menu, as we know how much you like them at Oxford" in a clear reference to his previous visit where he complained about the food. I have a friend who was a Director of Ebbsfleet United when they played against Shrewsbury during Shrewsbury's solitary season in the Conference in 2004. When he asked me who we were playing, and I said Shrewsbury, he immediately said, without any prompting "Is that **** Roland still there?"
There is a lot of discontent among Shrewsbury fans regarding Wycherley's ownership and I understand he is currently talking to people regarding the prospect of selling the club. So, the wind of change may be about to blow through the club. It will be very interesting to see whether that turns out to be a good thing or not?