FAN'S VIEW 23/24 – NO.12: BRISTOL ROVERS AT HOME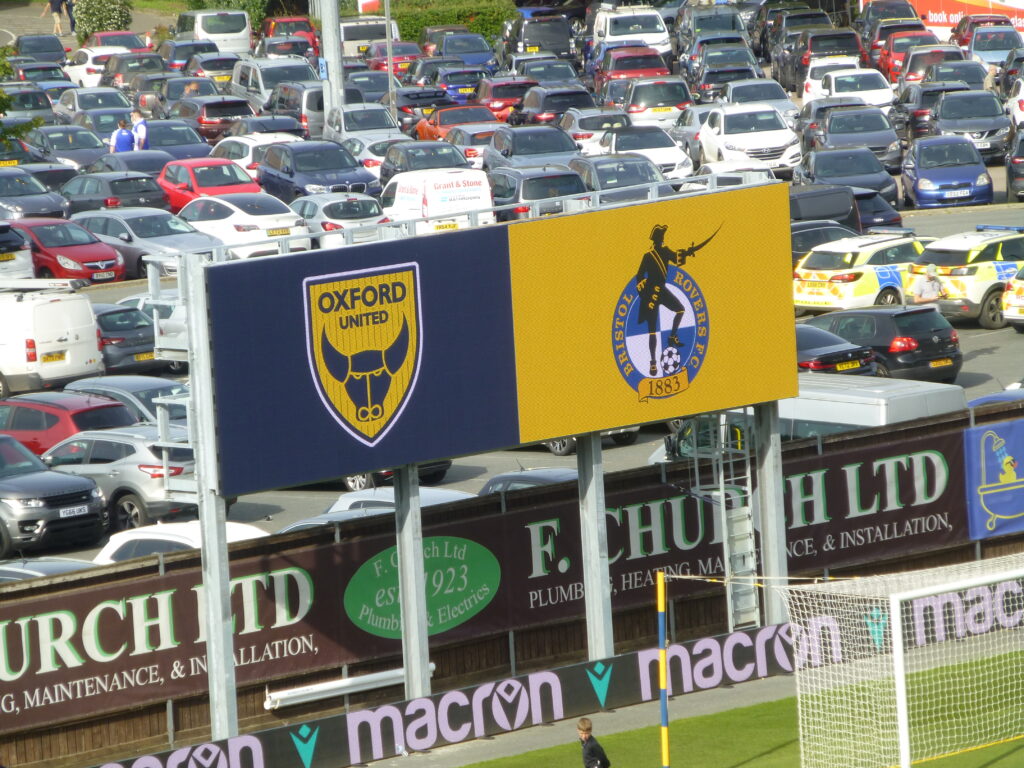 OXFORD UNITED 2 BRISTOL ROVERS 1
Well that certainly left something to unpick. Away from the intensity of lunch time at the Kassam with time to reflect and having watched replays of some of the action I feel more able to give an objective and fair view of what went on than if I'd been asked my opinion at full time.
I'm a 3 o'clock on a Saturday traditionalist and find it hard to get into the groove when we are subjected to a lunch time start. However, the Gas always bring a good following, noise, unwavering support for their side and a crackling atmosphere so there was an event to be had regardless.
I'm assuming the 12:30 kick off was at the insistence of TVP. There were plenty of them around on foot, on bikes and on horses. I'm not party to police intelligence and I know there has been no love lost between certain elements of both sets of supporters in the past, but how long is this going to carry on for? It's a while since anything has really got out of hand, isn't it? Have to say I was pleased that it was a safe environment though.
Rovers were one of the best, if not the best, team we've faced so far this season and we weren't as good as we can be, these almost certainly being linked. For all that though, we won. We found the way, as we tend to whatever the challenge thrown before us. Winning has become a habit. This only happens to good teams.
It could be debated long into the night as to whether this was a deserved victory and I still wouldn't know the answer. I do know we had so many excellent chances to have won this one comfortably if much of our finishing hadn't been downright rank. It was also a fact that we had to rely on keeper James Beadle for a number of top class saves when usually we come away saying that he wasn't really tested.
The visitors had 57% possession and made 521 passes to our 391 and they were slightly more accurate. There wasn't much between us in the attacking stats. Rovers had 15 shots with seven on target. We had 17 with six on target.
The visitors started well and took control of the game as far as having the ball most of the time was concerned. This doesn't seem to bother Liam Manning, who has faith in our defending abilities and is content for his team to maintain a solid shape behind the ball. He knows his men, on most days, are likely to be able to punish their opponents when we do have the ball. If the tactic here though was to hit Rovers on the break I didn't think that was likely to reap rewards given our starting line-up and with Greg Leigh not getting dangerously forward much in the first half.
Funnily enough though we scored with our first meaningful foray towards their goal. Same happened against the Shrews, but this was a very different game.
Josh Grant won a header when we put a cross in but the ball didn't do much more than going up and down but not very far away. Jevani Brown, also using his head, gave the ball straight to Ruben Rodrigues on the edge of the D. RR, as he was taking control with the outside of his right foot, was looking at what was on. In perfect unison with Billy Bodin, who was pointing where he wanted it, RR lifted the ball into his path. Perfect chest work followed by a little feint sent Grant sliding past as he attempted to block. The finish was emphatic.
The inventiveness of Rodrigues shone through in this and he quite possibly had his best game in an Oxford shirt to date. On this form he looks like our most creative player.
1-0 with just 13 minutes on the clock against a team that nearly always has the upper hand in this fixture. They'd won seven of the last eight league games here, scoring 14 and conceding just 4 so this felt most satisfying even if there was a very long way to go.
Very early on it had looked as if we were bound to go behind. James Beadle hadn't dealt with a corner but then made a great block and then a phenomenal reaction save to keep the game goalless. As is usual at corners shirt pulling was taking place, the guiltiest party I could spot was actually Cameron Brannagan. Referee Simon Mather didn't have the slightest concern about this cheating, luckily for us in this instance. It has become an accepted part of our sport and the game is worse for it.
By the time this match was all over, Mather's record in his last four games would read four sendings-off.  He's a card brandisher. Ten in his first game of the season, Reading v Peterborough.
A minute or so after we'd taken the lead Mather started again. Brannagan got a yellow for daring to question the utterly dubious free kick that had been awarded against BB when Luke McCormick threw himself to the ground. If there had been contact it was initiated by the Rovers no. 23. Mather had been totally conned. He wasn't though a few minutes later when Aaron Collins went down, wanting a penalty.  RR was running just behind him and made not the slightest attempt to trip or kick him. Nailed on not a penalty.
It was beginning to look a bit ominous with the Gas putting pressure on and us playing sloppily. Comment was being made that Sam Long in particular was looking a bit dodgy and with the half hour mark approaching it was he who gave the ball away to Collins. Again it was Beadle to the rescue with another great save down low. For a tall man he can rapidly reach ground level.
Some of our defending now consisted of just smashing the ball away. I've got no issue with that. We had a lead to protect, but one that looked increasingly under threat.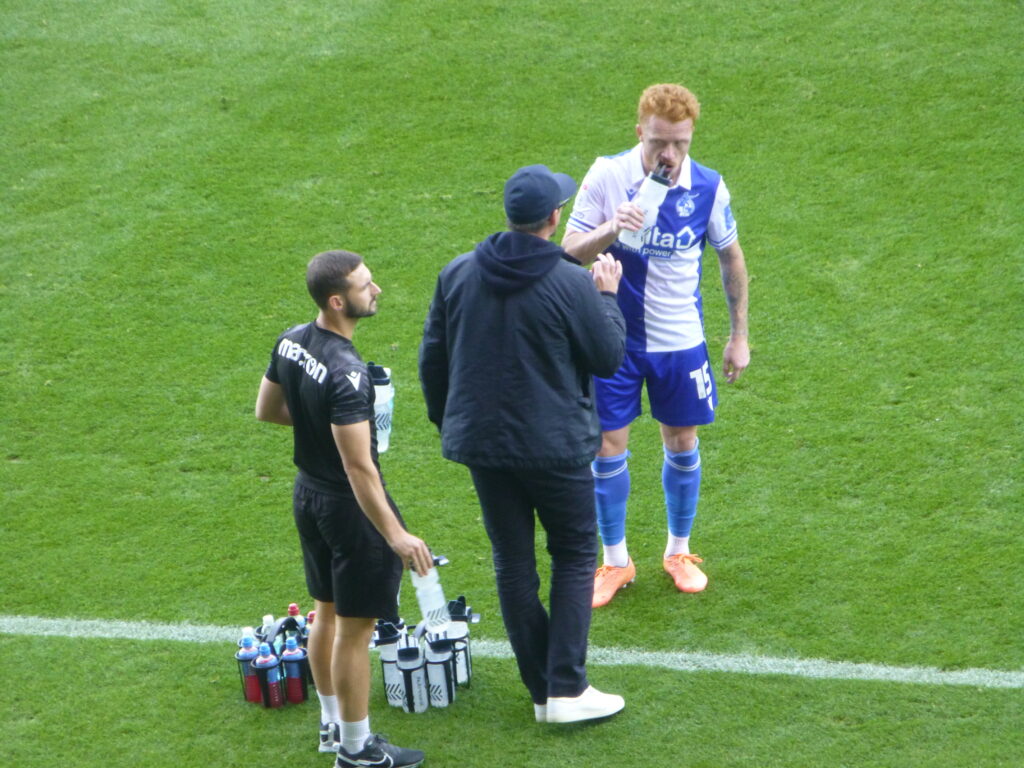 The man in the cap wasn't happy
In the 38th minute Rovers did get the ball in our net but the linesman raised a flag for offside. It was an incisive move but offside is offside. From where we were sat there was no way we could tell if that was the right decision or not. Same goes for Joey Barton in his technical area. A replay shows this to be the correct decision, Collins stepping past Elliott Moore a fraction before the pass was made. Jack Hunt you were wrong. Barton you had no cause to complain. Why Mather engaged in a lengthy chat with the Rovers manager before giving him a yellow card makes no sense. Show the card, get on with the game.
Although we weren't having much of the ball, when we did we could still pose problems for the Rovers back line. With the first 45 minutes almost up, Mark Harris hit a shot straight at keeper Matthew Cox. Our no.9 may have had good movement but what I'll remember him mostly for is the number of times he was caught offside.
Another big talking point was still to come before the teams were to leave the field for the first time. It was one of those where the "you don't know what you're doing" chant could not have rung truer. Four added minutes had been signalled. With just 45 seconds of that time remaining Connor Taylor went for a ball with Harris. Head injury, my arse. Perhaps he got a slight touch in the face nothing more. Mather thinks there's nothing untoward. Hunt has decided there is and catches the ball. He points at the supposedly stricken Taylor. Mather then blows his whistle and indicates a head injury. Who's officiating here? Barton and his men or the one in black? The game restarted not with a free-kick to us but the ball dropped at Cox's feet. Then Mather played on until there's 6 mins and 36 secs past the 45 when only a minute playing time was lost with this. Crazy.
That was nothing however compared to the second half. You are unlikely to witness a madder game of football, but with the officials we are now having to put up with week after week I'm not so sure. Their incompetence knows no bounds.
Stan Mills replaced Fin Stevens at the break. That gave us more of a pacey threat down the right and before the hour was up the same happened down the left with Josh Murphy on for BB.
At the start of this period it was Rovers with most of the ball again and it took Moore less than a minute to get his name in Mather's book. I have no idea how a defender is supposed to tackle in this day and age. If you are directly facing an opponent with the ball is it illegal to challenge for it? Is it illegal to make any contact with the man? Moore clearly won the ball. A good tackle – a good old fashioned tackle. Was he "in control"? Of course he was. Did he go in studs up? Didn't look like it to me and anyway sometimes studs have to be up slightly, it's just natural. Was he looking to hurt the Bristol man? Of course not. But Mather likes a booking.
We did now look more threatening. On 50 minutes we broke. Marcus McGuane got the ball to RR who played a square ball to Harris. Our centre-forward's shot was poor. Lacking power and straight at Cox.
Jevani Brown was next to be booked. We'd been awarded a free-kick but he did what players have been doing for years and put the ball in the net. Seems harsh, particularly as his side were losing but players have been warned and referees are under instruction to show a yellow for such behaviour so no blaming Mather for this.
Murphy's first touch was a shot that Cox had to touch over.
Six minutes after his first yellow, Brown (J) collected his second and marching orders. I thought this was very unlucky on his part. Yes he was slightly late and did catch a speeding Murphy but I don't think there was any deliberate intent. If I was Brown I would be pissed off with my team mate Anthony Evans who, instead of being hesitant, should probably have got the ball himself.
The "it's never easy to play against 10 men" has some credence but at 1-0 up that shouldn't be such an issue with the opposition needing to give it a go to get even a point.
At 2-0 one would think that was it done and dusted but we didn't double our score for nearly 20 minutes having passed up some very presentable chances and even when we did get that lead little did we know what drama was to follow.
We'd put together a move of seven passes and with the eighth, Rodrigues played in Murphy, with Harris having run offside. This was another example of RR's vision, seeing things others don't. One on one with the keeper Murphy's attempted finish was terrible. No coolness. Not clinical.
This makes you think, will we pay for this profligacy? The local Bristol commentators on iFollow reasoned "Oxford should be out of sight". We weren't.
One for the oldies amongst us – "open the gate" the cry at the Manor when Colin Harrington used to set off but not stop in time before running out of pitch. Murphy brought back this memory.
The 80th minute did at last bring our second. It was quite a standard corner and standard header but it had to be won and Long did just that. It went in on the bounce with Cox possibly thinking Gatlin O'Donkor would get a touch. Appeals for a foul on their keeper were laughable.
Some of the Gas now began to leave. What a spectacle they missed.
Instead of just strangling the game we became increasingly sloppy. Both Rodrigues and McGuane were giving it away. That's a worrying sign. Moore though did the necessary, booting the ball away with no thought of trying to bring it down and play it out. I felt heartened.
Then with a minute of the 90 remaining much less so, the worry was back. We'd repelled another attack and Greg Leigh passed the ball out to Mills. At the time I didn't know what happened. I think at times Mills does go down easily and even if he'd been fouled here I was pissed off that he'd stayed down and didn't attempt to get up. Probably unfairly so. After a goal to Rovers had been awarded I saw Mills roll his sock down in front of Mather and point to his leg. Replays show it was 100% a foul by Aaron Collins. He played Mills and none of the ball, our youngster having knocked it past him. A hopeless official. A harsh lesson. Just smash the ball away?
As If that wasn't bad enough ; Oisin Smyth came on in the 88th minute and entered Mather's book with seconds of the 90 remaining. This was never a yellow card. Supposed standing in front of a Rovers free-kick to stop it being taken. No he wasn't. He was just retreating to his defensive position. Harsh beyond belief from a referee who had no common sense or understanding of the realities of the game.
The clock was ticking down though and we were slowly getting there. Eight extra minutes had been added. O'Donkor was doing his thing by the corner flag. Steady as she goes, be professional.
Then on 90+4 it was 10 v 10. Smyth deserved his second yellow. Mather got this right, so okay a bit of common sense. His kicking of the ball away when the opposition had yet another free-kick couldn't have been more idiotic. Engage brain.
A minute later it got more insane. This time Mather and his assistant deserve every bit of abuse they got. Mills jumped in and won the ball. As far as I know jumping in per se isn't illegal. The Rovers man then seemed to swing him round a bit with our man holding his leg on the ground. For me the biggest clue as to what happened and didn't happen was the fact that the visitors just wanted to take the throw quickly.
The Brizzle commentators thought their player Sam Finley, who had already been booked, was in trouble. "Looks like he was a bit rash there, looks like he lashed out". They never mentioned Mills committing a foul. When a bemused Mills got a straight red. That's STRAIGHT RED, not a yellow, they called it absurd and said they thought it was going the other way.
"Never seen an end to a game like it" they said. Neither have I and I hope I never do again. I'll add that I hope I never see a referee as laughably awful as this one ever again. I can of course laugh because we won. We hung on.
On 90 mins + 9 and 38 seconds he blew for full time and it wasn't yet 3 o'clock. It's a mad mad mad world.
>>>>>>>>>>>>>>>>>>>>>>>>>>>>>>>>>>>>>>>>>>>>>>>>>>
Bristol Rovers Financial Analysis by Colin Barson
 A fairly brief one this time, as quite frankly Bristol Rovers don't exactly give out a great deal of financial information through the normal channels, and some of what they do provide appears to be a little questionable to me in the way that it's presented. Further to this, in my many visits to their Memorial Ground, including to the Boardroom, I have yet to see their owner, the somewhat elusive Wael Al-Qadi, so can't add anything much to what they do publish.
Al-Qadi is a Jordanian banker who has been involved with Rovers since 2016 and looks to have taken full control in 2018. There are a number of other companies associated with the football club, since Al-Qadi arrived, some of which have subsequently been dissolved, and some of which have the word "Developments" in their title. That may, or may not, be a red flag, time will tell. The current associated companies to Bristol Rovers Football Club Limited are Bristol Rovers (1883) Limited and The Memorial Stadium Company Limited, all registered at Companies House. The overall control of these companies and the football club is in the hands of Dwane Sports Limited, a company owned by the Al-Qadi family and based in Jersey (so no accounts available publicly). It looks as though the game plan has been to find a site for a new stadium (sound familiar?) and then sell the Memorial Ground for residential development to pay for it. As yet there have been a few false dawns, but nothing in the pipeline. Given the recent charade surrounding Rovers' recent attempt to develop the "tent" end of the ground, without getting planning permission, I'm very intrigued to see how this goes!
The information we do have available shows Rovers to be lower mid table in most areas of their income, but it must be remembered that the season in question was when they were in League Two, although they did win promotion. Their total expenditure was 9th of this year's League One clubs, so very high for what was then a League Two club. The breakdown of their expenditure is the bit I struggle with. They are showing Cost of Sale, which is wages of nearly £10m against a total turnover of just under £7m, a very high figure indeed and equating to a wages to income ratio of 142%, the highest in the division! But, they only show a figure for administration costs of £764,666 which is by far the lowest in the division. So something doesn't add up, and I suspect there are items in Cost of Sale that should be in administration costs. What is clear though, is that they lost a lot of money that year, however they decide to distribute it in their accounts, and continue to do so. They lost nearly £3.8m for the year (18th of 22) and have lost money every year since Al-Qadi has been owner. They have a negative equity situation of just under £7m, although that is after valuing the stadium as an asset worth £5m. There are inter company creditors and debtors, so it's difficult to get a true picture, but they're not alone among football clubs in that situation.
Where will it leave them if there is no chance to move to a new stadium? That's a question that may have a pretty bleak answer, but we know all about that don't we.