SEASON 2020/21 No.26: BRISTOL ROVERS AT HOME
The match of the month in the January edition of When Saturday Comes was Fleetwood 5 Plymouth 1. This is the final paragraph: "The tragedy of this time is that, bar the chosen 80, others could only watch this sunny, entertaining afternoon from behind screens. The conviviality and intimacy of football, and indeed life, slips away, like music heard from a great distance getting quieter all the time."
That strikes a chord right to the heart of everything that is the now and the current now is two months further on from when this fixture took place. Back in full lockdown with no indication that we'll be coming out of it any time soon – and rightly so with Imperial College London's Real-time Assessment of Community Transmission (REACT) Study showing infection rates are not falling and the possibility that the latest strain may after all be more deadly than those that have gone before.
The effect of Covid will obviously vary greatly from individual to individual but there's no question there's a mental health issue to all of this in various aspects: worrying about catching the virus; the impact of having hitherto forms of personal freedom removed and the option of experiencing live the leisure industry in all its forms now being gone.
These stresses though pale into insignificance when compared to those who have caught Covid and suffered from the worst of its ravages. Thoughts are with them and their families. I'd be very surprised if there are many people around who don't know a fair number who have caught the virus.
This brings me onto ….. well I was going to say the extremely sad case of Lloyd Calcutt but having gone onto Yellows Forum to have a look if anything further had been added  in the "Gone but not forgotten" section, I saw another thread had been started – David Cudd (Cuddy). FFS. And there are bastards out there who still don't think this is real.
I don't think I ever spoke to Lloyd but he was one of those faces who always seemed present at away games. I've no idea when he first appeared but he was clearly a lot younger than me. You just kind of expect people like that to be around for ever, shouting, supporting, moaning and celebrating game after game after game. He was a football man who would be seen at Witney (when they still existed) and North Leigh. He was only 38 when he left us.
Every one of my age who has got all those miles on the clock watching OUFC will have known Cuddy, a unique character. Back (a very long way back) in the day he used to run coaches to away games. I had many chats with him during those times but then rarely saw him as support takes different directions. Different stands, different match day routines, different methods of travel to away games. I did come across him again when the Priory was crammed with home fans on match days. I think the last time I spoke to him was when I bought one of those Paulo Di Canio mouse mats from him. We mustn't forget his money raising efforts.  From "Lancashire Live" just over ten years ago, "Thanks to Oxford United fans, who took an interest in Tess after reading about her story, £4,000 has been raised."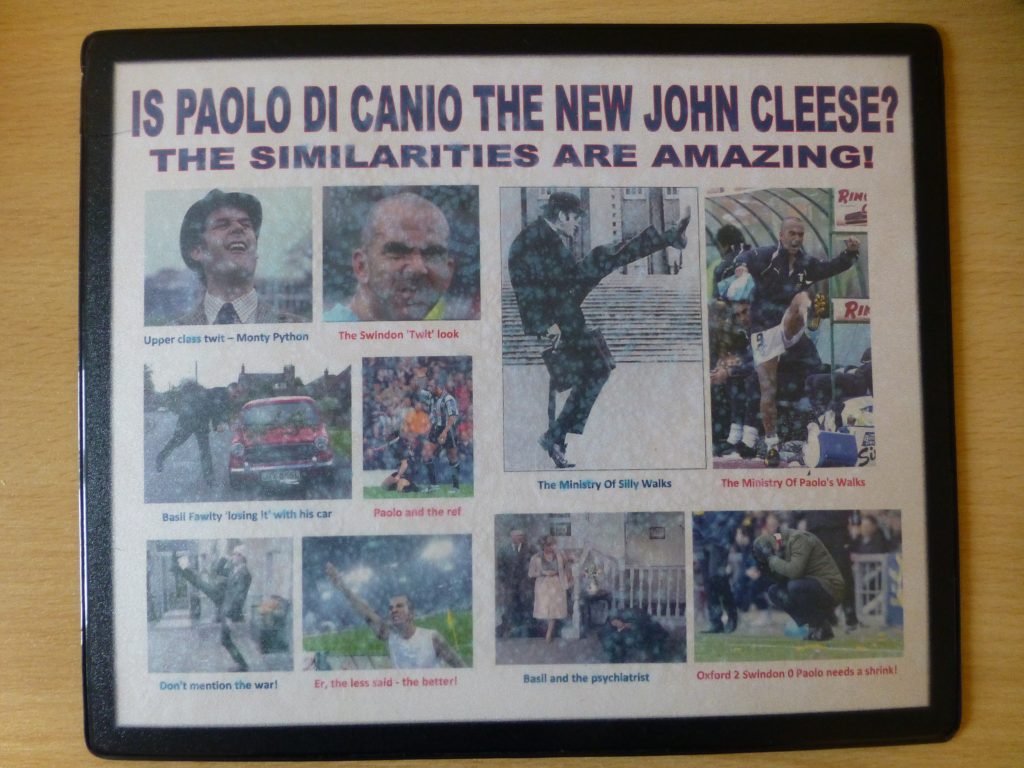 R.I.P to you both and condolences to friends and family who will be feeling it so very deeply. Although I don't believe it was Covid related, John Hedges is another Oxford fan who has recently left us. Again R.I.P fellow Yellow. His spats with Snake (he's been gone a few years now) on an old OUFC forum provided entertainment aplenty.
That we've not played a league game for three weeks is a source of frustration, particularly as we'd at last hit form. Unbeaten in seven -eight if the Papa John's counts – and having picked up maximum points from the last four games before the visit of Rovers.
It should be noted though that it wasn't actually the evil virus that meant our fixtures at home to Shrewsbury and away at Northampton needed to be re-arranged. The Shrews FA Cup tie trumped our scheduled L1 encounter and a waterlogged pitch put paid to the visit to Sixfields.
We're not the only ones who have had big gaps between matches and will have to play catch up but there's only one team, Accrington, who have played fewer games than us. Seven sides have played one more and a further seven two more. Four have played three more and Burton four. I've never known such imbalance but that's the way it is and probably will remain for some time to come. The alternative doesn't bear thinking about. We need our football. It's something to cling on to. I can't describe how deflated I felt when told the match was off last Saturday with only a few hours to kick-off.
Therefore probably looking forward to this one more than ever having been starved of iPlayer action for 21 days. Yes, yes of course I could have watched the Papa John's win against Cambridge but I didn't. Pleased we won for the money and pleased for Robbie Hall finding the back of the net from a free-kick but that's about it.
OXFORD UNITED 2 BRISTOL ROVERS 0
As to be expected we started scrappily after the layoff. Class was lacking all round early on but that was fine because it told us that Rovers, as their form of four straight defeats in all competitions had suggested, were not the strongest L1 opponents travelling on the day for an away fixture.
As the first few minutes ticked by there were hints that we'd get back to what we'd become sooner rather than later. A bit of twisty turny stuff from Matty Taylor, a Sam Long overlap and a bit of football being played on the ground.
Oh yes, all set to become optimistic. Then just a quarter of an hour in there's the sight of Marcus McGuane in obvious distress. He's become one of our most influential players and for me would be a big loss. It looked really serious the way he was taken off. We have subsequently been told it is a thigh strain which will mean he will be out for a while but it could have been much worse and I'd probably forgotten just how good Cameron Brannagan is and will become again. Plus we've got some other very talented players and a solid shape that won't crumble to dust with the loss of one piece of the jigsaw.
We were now winning corners and playing football. Pressure was being applied. Our terrible home record against Brizzle certainly wasn't playing on the minds of anyone in a yellow shirt.
In the 27th minute Luke Leahy was booked, probably a little harshly, for a foul on Olamide Shodipo. That will have impacted his ability to get properly stuck in for the rest of the game but we'll settle for that. It has to be said that Shodipo is a much greater asset now than it seemed he might be in his very early days with us.
Another corner and we keep winning it and keeping it live in the danger area, then there's Taylor to finish. There's not many, if any, as sharp and with such an eye for goal in L1. Earlier in the season he wasn't being fed. Now he is and he's hungry for goals.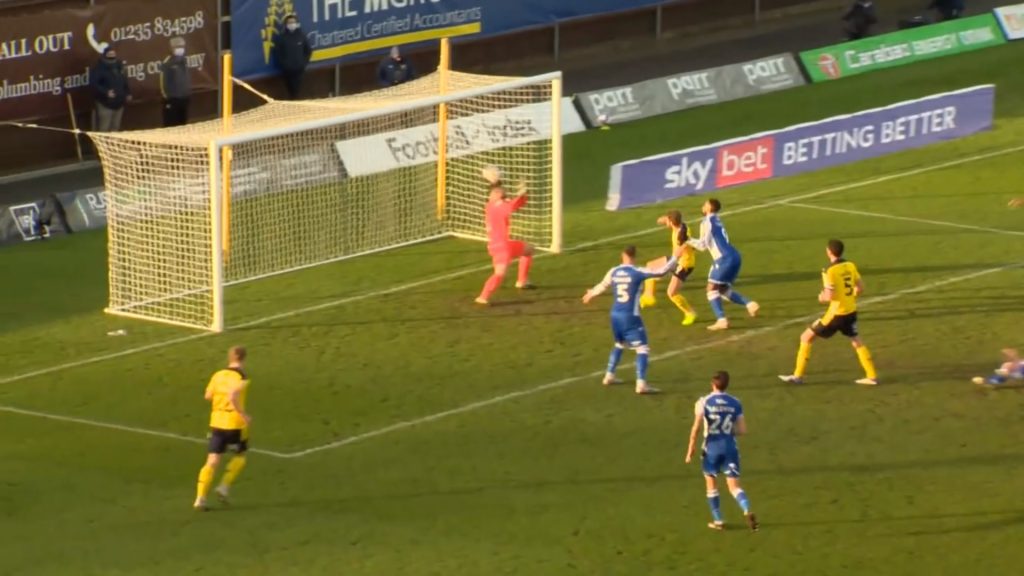 Matty's first
It's very noticeable now how we're vastly more effective in the air in both boxes. Provided we get some quality on the delivery we're potent with Elliot Moore and Rob Atkinson in our ranks and at the other end of the pitch I just love it as time and again they step forward and deal with just about every long ball the opposition play forward. I can't remember when we had such a pairing. Briggs and Shotton, perhaps?
Rovers must have been a bit peeved likely having expected us to take longer to emerge from our enforced hibernation. Probably got a bit confused too as not only did Shodipo and James Henry swap flanks but also at times popped up on the same one as a pairing. All this and no loss of shape.
Our approach gave the very real possibility of additional goals before the break. Josh Ruffels played a beautiful ball across the box but no one got on to it and from a quick throw in Ruffels was again involved, having been sent away by a Liam Kelly pass. A heavy touch meant the reward was only a corner and not something possibly better. From that corner an inventive Taylor header wasn't far away at all. In added time we were still going for it getting into the box and pulling the ball back to win yet another corner. Corners, corners, corners.
When the game restarted Rovers noticeably upped their game with belief being rather more evident. It was now them having chances but no-one was getting onto the end of anything created or if they did they just cocked up with blue and white quartered shirts getting in the way of each other.
If we'd been up against a team who knew how to score goals nearer the top of the table we might have been in a bit of trouble at this stage but as it was our dogged defending was good enough and a repeat of the scrappy start an hour earlier left no lasting mark.
We soon started to click again and we saw further proof that the work Mous has been doing on dead balls is paying off. This time a corner played low to Kelly on the edge of the box resulting in a shot on goal.
Brandon Hanlon for them was looking increasingly dangerous down the left and this was by no means done and dusted however well we were playing. Brannagan was on the verge of a booking that never came although Taylor stupidly did collect a yellow card on the hour mark. Frustrating yes, but balanced against his ability to find the back of the net he has to be totally forgiven (as long as it never ends up costing us).
The next incident of note was a lengthy stoppage in play when one of the assistant referees needed to be replaced having pulled a hamstring.
Once proceedings recommenced we again asserted ourselves but with the final ball into the box not being quite of the quality required. That mattered not when just a short time later Taylor had bagged his second to place himself in joint third place in the division's leading scorer charts. Only Plymouth's Luke Jephcott and Posh's ex-Rover Jonson Clarke-Harris are above him. He's got 11 and they are on 13 both having played more matches.
At the time I didn't have a clue whether he was offside or not but the length of time the ball is in the air is often ignored when fans yell "he's a bloody mile off ref."  This was a high ball forward and having seen a replay I think that he was probably onside and that it was his quick thinking and instinct that got him one on one with keeper Joe Day. As there was no one near him he wasn't under pressure to get the ball under control but the way he does such things makes it look easier than it undoubtedly is. The next bit was getting the goal. He did that with consummate ease clipping it round Day. Moments like that are an utter joy to watch.
A few minutes later he was wisely removed by Karl. Henry, who hadn't been bad but not at his sharpest, went off too. The replacements were Sam Winnall and John Obita.
2-0 being a dangerous score is bollox. Well it is when compared to 1-0 but I did start to get much more on edge than I should have done. Hanlon was still looking like he could and a few of our players were losing the ball. It was the Rovers number nine who gave Jack Stevens his sternest test of the afternoon but our keeper was up to it getting the slightest of touches to send a goal bound shot over the top.
No further goals came but I've got a feeling that once Winnall gets one he'll get more. That's how the song goes isn't it? Obita, who I rate, did look a bit rusty.
Further substitutions were made with two of the ninety minutes left but it was far from over with the ten added mostly to replace the time lost when the officials swapped over. Anthony Forde on for Kelly helped firm things up and Dan Agyei, Shodipo's replacement, added fresh legs up front.
The Pirates continued to try and get something from the game but their finishing continued to be poor and we were at least as likely as them to score again than they were to get their first as the afternoon's entertainment drew to a close.
Putting aside the fact that we've lost McGuane for a while and that Bristol, whilst not the worst side around, certainly are not the best, this return to action was very satisfactory indeed. Another clean sheet. More goals from a deadly striker. Continuation of both our unbeaten and winning runs. For the first time this season having more wins than defeats on the board.
Oh yes, it's good to be back and this time not a three week gap but, all being well, just three days before iPlayer brings Oxford United live to our living rooms once more. I'll settle for that at the moment and will try to ride the positive wave this victory has brought and tell myself that vaccination can, at some stage, mean there will be a glorious day sometime down the line when we're once more sat in our allotted season ticket seats at the Kassam Stadium.