SEASON 2020/21 – FAN'S VIEW No.20: HULL AT HOME
Fans are back but it was never going to be a case of everything is tickety-boo
Whatever method the club chose to make tickets available to fans for this game was never going to please everyone. Whilst acknowledging that these are the most difficult and challenging of times, that does not however mean (constructive) criticism should be ignored and indeed I think much may have already been taken on board.
Whilst the announcement that clubs in tier 2 (that's Covid tier 2 not the Championship) would be allowed 50% of capacity or 2k max only came about a week ago, the day when a limited number would be allowed back in was always coming sometime in the future. Clubs should have had plans in place for this.
Not having been one of those undertaking a pilot when there was the brief window to do so a few months back, OUFC have to go through that process now. Well I presume that's the case and we could not have gone straight back in at the deep end with 2k instead of half that for this fixture.
For me there are three issues to consider. 1. The way tickets were made available. 2. Communication. 3. The efficiency of the Ticketmaster system.
(1) This is obviously linked to 3 given that the decision was that it would be a first come first served basis at 10 a.m. on Monday. That discriminates against those at work who can't get to a computer or spend time on their phone going through what turned out to be a torturous process. I also suspect some of our most elderly ST holders just don't do technology.
Probably the fairest way would have been a ballot of all those ST holders who wanted to attend but given the timescale I don't know how easy that would have been for the club to have pulled off. Other suggestions have been those who booked their season tickets earliest should have got priority. Possibly, but I'd be biased here because I paid up on about day one. Or even those with postcodes closest to the ground, but that certainly discriminates.
Whichever way one looks at it there's a real challenge to get this right.
(2) Communication is something that is absolutely vital in establishing and maintaining harmonious relations between club and fans. Where there's unity there's a greater chance of success. I think it is important to remember that many fans were not best pleased (understatement when many were absolutely livid) last weekend after we lost to a poor Swindon team so best to tread carefully I would have thought.
I've not gone back to the original output from the club and there may have been some misunderstanding on my part but I know for a fact that certain things were said. This game being described as free to ST holders was completely thoughtless and suggests to me whoever wrote this has no grasp of the situation whatsoever. Doesn't anyone do at the very minimum a sense check? As fans we all want to do our best for our club but there are limits and it should work both ways. Most season ticket holders will have paid hundreds of pounds taking into account last season, which was curtailed and this which we've been locked out from, for a product we've not received. Up to now quite happily so.
Then there was the £1 postage which sportingly has now been refunded. The original communication of "paper ticket only" was interpreted by me as meaning issued by the club. There was no mention of printing your own at home.
A final bit of confusion was with regard to social bubbles. My take on this was that the club meant the bubble we'd declared when we expressed our interest, or not, in returning earlier in the season in that survey. On reflection that would have broken government guidelines. It was only in the "Covid-19 Spectator Code of Conduct" received with our tickets that I noted the club saying, "Only individuals within the Government permitted social or family bubble may purchase tickets together."
As ever if I've missed anything totally happy to be put right.
I must add here that I think it was realised very quickly that this wasn't going great and a statement was soon put out saying that for future games it would be different and emphasising again that this was just a pilot.
So, hopefully, lesson learned and well done. We move on. But we've still got Ticketmaster.
(3) Everyone who put in the effort and time to try and bag tickets, whether successful or not, will have their own frustrating tales to tell. I'll bore you with mine.
I had digits poised ready for the starting tape to be raised on the dot but was immediately taken aback as there were way more grey dots than blue ones. They've gone bloody quickly, how fast a finger does one need? Then I remembered the reason for the greyness. Stupid bot.
I was after three tickets as per my OUFC bubble. Self, wife and brother. It looked like our three premium seats in the back row of the SSU were available. I selected them all. Then I couldn't find a basket to put them into. To be fair that may well have been down to my incompetence but given what happened next I'm not sure. Now to be on the safe side I called on my son for help. By now those three blues had gone. I tried another connected trio in the SSU. Seat 1 selected fine, same with seat 2 then I got a message when trying for seat three which I think was this – "Unfortunately we were unable to add the selected seat(s) to the basket. If this issue continues, refreshing the page may resolve it." Refreshing bloody didn't.
Groups of three were disappearing. I tried a couple of others but when selecting the last of the trio got that effing message again. Then I got three but didn't get this message. Oh no, not that one. Instead something about not properly completing my bubble. If I wasn't under pressure to ensure I was at the Kasstad for the visit of the Tigers I would have taken screen shots of each and every hurdle placed in my way as evidence. No time for that.
By now only two seats together left. I went for them but when I tried to add the second seat that first message kept rearing its ugly head and tormenting me. By now I was about to give up thinking it will never happen. My son suggested giving it one more go. So I did and joy, I got two seats and successfully persuaded them to pop into my basket. Now to pay the pound. Credit card details entered and away we go. Except ……. "There has been a problem with your payment". Are you frigging serious? It's at times like these that PCs get thrown out of windows but then I noticed my basket had not emptied so I gave paying a second shot and this time it all went through. We were in.
The whole episode had taken just over 20 minutes and by many accounts that wasn't very long compared with some people. The only reason I can think why Ticketmaster are still in business is that they're almost monopoly in their particular market. How much do they charge for pissing people about so?  ​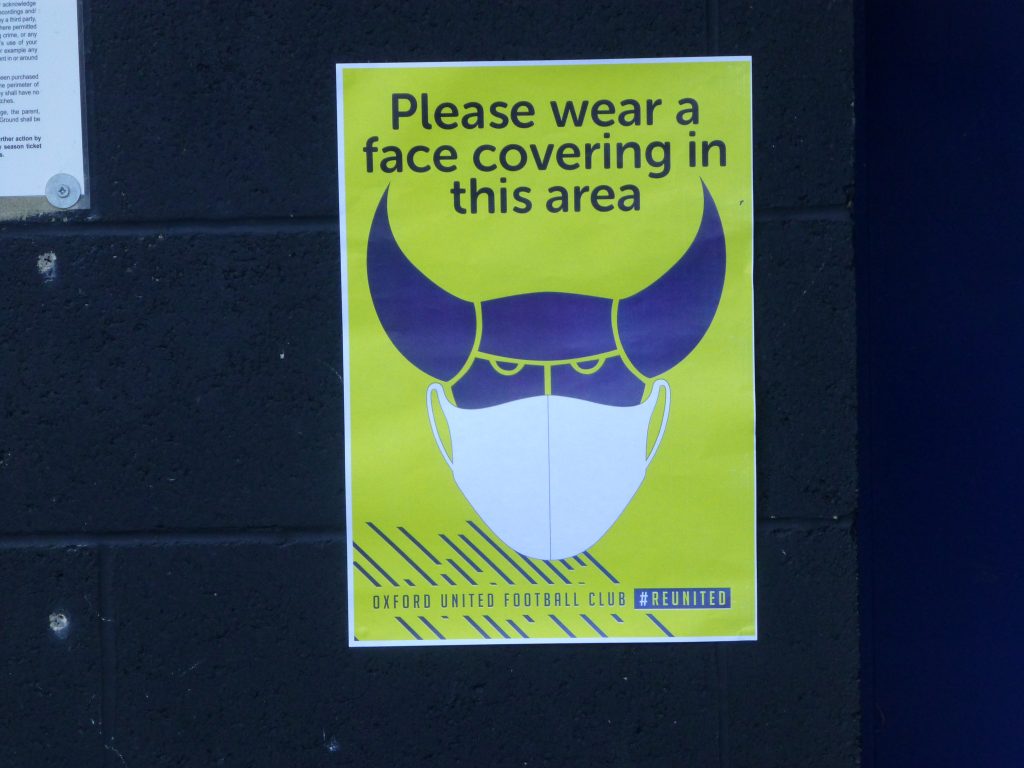 Oxford United 1 Hull City 1
So the day when we could once more watch our team in the flesh at long last arrived and I have to confess to feeling really apprehensive when I set out for Oxford and to having the tiniest of tears in my eyes when the teams ran out. We were back.
It gave a warm feeling to see old loyal familiar faces as we did a full circuit of the ground prior to entering. It was good to chat.
My verdict on the way it was all organised including the stewarding and the behaviour of the fans was 10 out of 10. Yes, exemplary. Crazily in our mad world on every visit to Tesco there's at least one person walking round with impunity. No mask. Not always social distancing. Never challenged by a member of staff. On Sunday I nipped into the paper shop that only had one other customer in. 50% of those buying something had a face covering and remind me of the risk again indoors compared to outdoors.
We may only have had a thousand in but glancing round that came across to me as more than that. And considering so few were in, the singing wasn't bad either and not just from only a single stand.
There was plenty of sanitiser around. Hands cleaned on entry both to the stadium itself and the toilets and after having a pee the option to have another squirt in the battle against the virus. I think this process must have seeped deeply as far as I was concerned because it wasn't until the 43rd minute that I called the referee a w****r. In the old days I probably wouldn't have lasted ten minutes without doing so.
Right let's talk about Andy Woolmer. For the last two or three seasons he's mostly officiated in the Championship so supposedly he should be of a slightly better standard than we're used to. His performance here was poor but for once thank you very much for that as it probably ensured we got a point and denied the visitors a golden opportunity to take away two more than they did.
The reason for my outburst was that we had a free-kick right in front of us. As usual an opponent placed themselves within ten yards of the kick. Woolmer could see this and knew it was an infringement but did nothing. We tried to launch the ball into the box but the Hull man turned his back and managed to deflect it into touch. A referee with a grasp of the game would have ordered a re-take and given the offender a warning.  Instead he over emphasised a mimed throw in as if playing "Give us a Clue" at a family Christmas gathering.
When McGuane had been fouled we managed to keep the ball and had begun to build an attack. It was obvious the right thing to do in the interest of flowing football was to play advantage but no, he pulled the play back and not even in hasty fashion. That was nothing though because in the second half when Hull were through on goal and more likely to score than not he did the same to them.
There were other things about his performance that left a lot to be desired. Whilst our four bookings may well have all been justified it was a mystery why no Hull player also had a yellow card waved at them given some of the rough treatment that was dished out.
This performance told me what I already knew about our team and where we are currently at. There was little if anything new.
The defence is looking much more solid now and Elliott Moore and Rob Atkinson are getting to know each other's game and are forming a decent partnership. The latter once again made lengthy penetrating runs from deep.
At right back Sam Long gets better and better both at the back and when going forward. In the other full back berth it seems that every week it is Josh Ruffels who is charged with marshalling the most dangerous forward we face. Mallik Wilks is big, strong and fast and was a real handful. In the air JR had the better of him but on the ground he really had his work cut out. Wilks was really good at getting close, leaning in and then turning and getting away. Ruff stuck manfully to this task and one excellently timed tackle to concede a corner brought to an end one run that made it into the penalty box. He ended up with a bandaged head to match his mate on the other side to show they were both giving unequivocally and equally to the cause.
Jack Stevens only let one in thus taking his average goals conceded in the league to 0.5 after being picked in the last two. A much better stat than Easty has this campaign.  Again he made one really good save, putting a free-kick over the bar and held the more routine stuff in efficient manner but there was one glaring error that on another day could have been punished and his distribution clearly needs working on. Now he's first choice I assume SE will be between the sticks for the Forest Green game on Tuesday.
McGuane looked quality once more with Jordan Obita and Liam Kelly not being that far behind. Partnerships are forming. Again though there was a fading as the game wore on.
Another familiar story was nothing being created for Matty Taylor with him therefore having to wander from the area where he is of most value to us to get involved.
There were differences though. James Henry was better than he has shown in recent games and the quality of the opposition was superior to quite a degree compared to that which we capitulated to just a week ago.
This then would seem to bode well but is it well enough? Other than Cameron Brannagan, the eleven selected would probably be our strongest starting line-up. I'm not sure where a fit (we can but dream) Sam Winnall would fit in. Probably as lethal goal-scoring substitute but that's about it.
Whilst here we went toe to toe with the league leaders who had won their last four outings and have secured recent draws against the teams now sitting in third and fourth position in the table, I don't think we're candidates for a play-off place. Not quite good enough for that and by the time we get our act together some more in order to start getting wins on a consistent basis, not just draws, we will be too far adrift. But even though we've now dropped back into the bottom four, current evidence tells we're better than that. Looking better and actually proving it result wise are two different things of course.
As in the previous home outing we began on the front foot and were the team dominating possession. With less than ten minutes gone our second most likely goal-scorer had scored. We built from the back with both centre-halves involved having received the ball from Stevens. Moore played a long ball which left McGuane and Obita combining near the left wing corner flag. The move appeared to have broken down but Wilks's attempted clearance was blocked by Alex Gorrin and Obita took control once more before passing to Henry who immediately turned and faced goalwards without being offput by defenders within close touching distance. The shot was rifled home from the edge of the box.
In the second half it was Hull who began to dominate and came across as the physically stronger of the two teams doing battle. It wasn't quite in the only a matter of time territory but nor was it far off. Alfie Jones headed a corner against the crossbar when the taller Moore, although matching his run, couldn't deal with him.
On 68 minutes the pegging back did arrive. Hull had been playing the ball around quite assuredly, although only in front of our well organised defensive wall, when Kelly bumped into the frequently moaning George Honeyman to needlessly give away a free-kick. From this the equaliser came.  Taylor headed away but only to the edge of the penalty area where Greg Docherty returned it on the volley with interest.  I can't say it wasn't deserved but there was a bit of rough and tumble involved. Before the ball hit the back of the net three of our guys had hit the deck. Um!
The way the game had turned as it had been threatening to there was now a bit of that old feeling of once we've let one in another will follow. That didn't happen which indicates there is a growing backbone in this team. We may not have looked like we had anything in our locker to snatch a winner but neither did we look much like we were going to throw away the draw, which was quite satisfying.
A couple of opinions on the game from the Hull end makes for some interesting reading.
Grant McCann
This from their manager Grant McCann, "We knew we were coming to a team that are the best in the league for pressing and winning the ball high up the pitch. We knew what they were about, we just didn't get to grips with it in the first 20/25/30 minutes, they were in the ascendancy, they got the goal and their fans got behind them a little bit."  Are we really that good at pressing? It is not something I would have put a case for.
And from a fan, "I am pleased with the result. City went behind to a competent third tier club".  Competent, yes. As things stand I'd say that's a pretty fair assessment. Perhaps a touch of damning with faint praise but I'd argue that's a solid base on which to build.