SEASON 2020/21 – FAN'S VIEW No.17: POMPEY AWAY
Pre-match
There are good teams and bad teams in L1. Pompey with 16 points from the last 21 fall into the first category whilst Wigan, the team we got that much needed win against last game, are clearly one of the latter, through the fault of Hong Kong-based Au Yeung. Their best players had to be sold by the administrators, Begbies Traynor and new owners are yet to be confirmed. A Spanish businessman, José Miguel Garrido Cristo, is awaiting approval from the EFL. Not that it's got any relevance whatsoever but Garrido Cristo is the nephew of a well-known lion tamer and circus performer, Ángel Cristo. When they come to the Kassam we could be looking at a very different opponent altogether.
Pompey have been there and done a bit of that themselves but now are on much firmer ground being owned by the Tornante Company, an investment company owned by former Disney CEO Michael Eisner.
As is usually the case, on-field strength is dictated by off-field strength and the challenge we face here has a much higher level of difficulty than that three days earlier.
But do we have much of a chance? Were there any signs at the DW Stadium giving hope of a positive outcome at Fratton Park?
After the first half I would have said almost certainly not but come the end of the game my level of optimism had risen a fair bit. The bookies rightly have the home side as favourites at evens with us at 14/5 but I'm not sure which is the better value bet going into the match. The draw is at 27/10.
In that second period at Wigan our wayward passing was largely cut out and we hit the back of the net twice. Tellingly the goals came from moving the ball quickly, either first time or with the second touch. Players were getting back to their better form. With that comes confidence. Alex Gorrin's battling influence shone through and we saw a couple of glimpses of Rob Atkinson bringing the ball out from the back. Provided the key players are fit enough to go again so soon more of this must put us in with at least half a chance of returning with something. Defensive questions still remain of course but we'll see. Fingers crossed.
Portsmouth 1 Oxford United 1
At first glance the team selected was a bit of a surprise but on reflection not so at all with the schedule requiring turnouts twice a week. We'd gone for orange again as that colour had brought the spoils home from up north.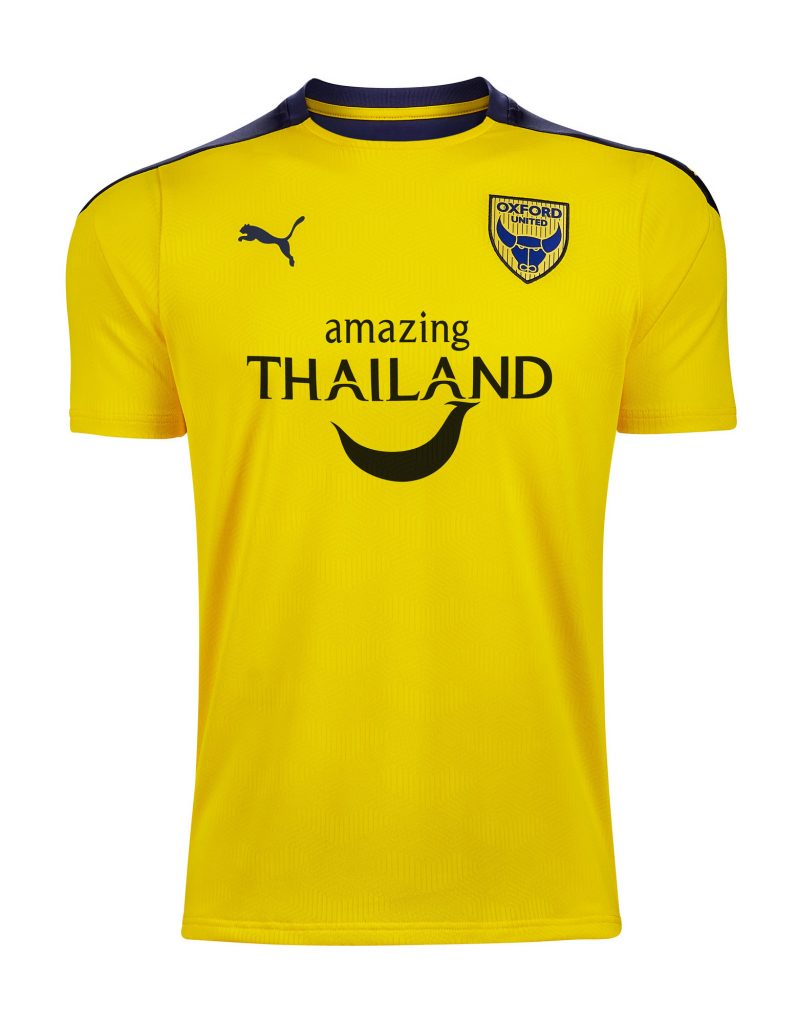 Orange is okay by me as long as we win (or draw) but I prefer this. Half price in the club shop now.
With ten minutes or so gone it looked really encouraging. We were the better team. We had good organisation and Portsmouth, who had spent hardly any of that time in our half, weren't able to do anything to detect whether our defence was dodgy or not. Simon Eastwood had to catch one high ball but that was it. He did so with ease.
Referee Tim Robinson gets most of his work in the Championship but there was a fair bit of the same old same old officiating here. This was a very physical encounter and a nasty body check of the most blatant kind by Liam Brown on Sean Clare should have seen a yellow card brandished but hey it's a man's game and not all of the laws of the game apply early on.
For all our dominance we weren't able to fashion a clear cut chance. Dan Agyei is a player who really frustrates me. This is his second season with us and he's not really done it. His physical presence can be an asset but often when he does one good thing he'll immediately render it meaningless. Here, after a good run, he drilled a cross into the penalty area with way too much power on it.
When we did get the ball in the box we were just crowded out by a combination of sheer numbers of blue shirts and a lack of that extra bit of class needed to test Craig MacGillivray between the sticks.
Then in the 19th minute Portsmouth put a cross in from the left and Sean Raggett jumped and scored with a header with loads of Oxford players quite close by. The bloody usual. Are we ever going to learn? Do we have a defensive coach? Etc. Etc. Here we go. Jeez. That drained me. What about the players?
Naturally this gave Portsmouth a fillip. That easy to score against this lot they must have been thinking. Our play became much more ragged. We began losing the ball more. Passes were poorer and anticipation was now lacking.
In the 27th minute the normally reliable John Marquis put one over the bar and a minute before this Brown had taken Clare again but only got a talking to. At this stage it didn't look like it was going to be our night.
Pompey were now firmly in charge and the evidence said we would likely soon be two down. We were not coping with high balls into our box and one required the bar (not James Henry's head) to come to our rescue. In contrast our balls into their penalty area were poor.
With six minutes to go to half time we showed that we could set ourselves up to pose a threat. In that more forward role I've already massively warmed to Clare. Why oh why did the management team persist with him at RB for so long? I felt sorry for him there. Some square pegs will never in a million years be able to wedge themselves into round holes. SC was my man of the match and the pass he played Sam Long in with was the classiest bit of action we'd produced all game. Long's pull back was a good one too and found Anthony Forde who blazed over. He was another who should have done better.
Long needs a mention here. He's always been a reliable understudy but his game has improved massively recently. Not only can he be trusted to defend as a defender should, his skill on the ball is now becoming a bit of an asset too. Also he never appears to get knackered or injured and on that note Josh Ruffels is getting back onto it too.
We got to the break just the one goal adrift having survived a penalty shout when Ellis Harrison went down. Spot kick no bloody way but it should have been a free-kick because the incident was just outside the box. Man's game. Get up you wuss. Seriously though, this was something else Robinson (the ref) missed but as long as he looks like he's in charge that's alright in the eyes of the assessors if there are any in these covid times.
In the fifteen minutes I had to think about matters before part two, I had hope that we had men on the bench that when introduced could make an improvement. Being able to change five brings a different dynamic. In this respect the EFL are more advanced in their thinking then the Premier League.
Olamide Shodipo had disappointed me. My wife thinks I've got it in for him but I couldn't see that he'd contributed a lot though to be fair early on he did have two or three men around him whenever he got the ball and took a bit of a battering. Thing is that's football. You've got to live with it. Give as good as you get. Be clever, come up with something different. Not go missing. I'm beginning to think I prefer Jordan Obita to Shodipo but I've got very little evidence to go on. Pretty sure though Marcus McGuane is now worth a starting place and in Matty Taylor we obviously have our goal-scorer.
When the game recommenced it was Pompey bossing it again although Agyei was nearly able to control the ball in front of goal after he'd been played in by Long. That though was contrary to most of the pattern of the play. We were giving away fouls all over the place and in the 51st minute Clare got his name taken which was ridiculous considering what had gone before.
By now I was just waiting for the substitutions. Portsmouth weren't the most potent of sides I've seen us up against in L1 but they were on the verge of toying with us and probably expected a second goal to arrive at some stage.
Then we did make substitutions. Just after the hour off went Shodipo, Henry and Forde, none of whom had been any better than ordinary. On came Obita, McGuane and Sykes. Now I'd see if my hope was false. It wasn't. The impact was instantaneous. Sykes showed energy and bite to win the ball back that had hitherto been missing other than in Alex Gorrin. Obita and McGuane had soon combined forcing a great save from MacGillivray.
Now we were in it. Definitely game on. Key not to concede a second though and almost immediately Eastwood had to tip over an effort from Harrison, or was it to prevent an own goal?
Now we were looking as good as we'd been in that period at the start of the game if not better. Keeping the ball. Passing the ball. Atkinson set off on yet another run which, considering he's been out for a while, is quite amazing. If he can stay fit we've got some player on our hands here provided the defensive side of his game improves and late in the game he did what was necessary.  So there's a good chance it can.
He can pass too and never once lost the ball coming forward. Give it five minutes and Championship clubs will be sniffing. The pass here was to Agyei who went down in the box. I have not watched replays but didn't think it was a penalty. Robinson (both of them I suspect) did.
Not that I want it to continue, and we now are much closer to a return of sorts to football stadia, but I've grown used to the new way of watching football and don't find it anywhere as strange as I did at the outset of the lockdown journey. I feel exactly the same amount of tension in our living room as I do in the stands, possibly more. In grounds you're sharing it with your fellow fans. It's not just on your shoulders. It's not so enclosed. I couldn't believe how I was feeling now we'd been awarded the spot kick. I really do need to get out more. (Just over a week to go, all being well)
Who? Our penalty takers are not on the pitch. Who's got the balls? Who is the big man? It's me says a cool Alex Gorrin and coolly he does slot it home. Top, top man. I'm going to allow myself a second man of the match here.
With still over 20 minutes to go what's the name of the game? Try and win it? Hold what we've got? Or a bit of both?
Best to concentrate if nothing else because a couple of minutes later Curtis sliced wide. On another day and all that.
We had a second penalty appeal. Although this looked a lot more genuine than the first you rarely get to double your money in this fashion.
Taylor coming on with eight minutes remaining did point to us thinking we could snatch all the spoils but his contribution was mostly having a flare up with Raggett.
Mous for the spent Clare with four minutes left suggested otherwise, stick not twist.
Portsmouth did, in the final knockings, exert pressure and with high balls being played in it was hold on to your seats time. But we've improved at the back. Clean sheets may be from another era but we no longer leak a couple a game. It's just one and that's a decent achievement against this lot.
Once more we must not get carried away though because they're only average at their place. They've now got nine points from 24 at home. We've got six from 12. Which is the better record?
As ever we move on. We've got another game in four days' time against a side we've just gone above in the table. They're all significant but this one for many is a bit significanter. (Really happy with the draw and had a couple of beers in celebration so why shouldn't I make words up).