SEASON 2020/21 – FAN'S VIEW No.12 – FLEETWOOD AWAY
The build up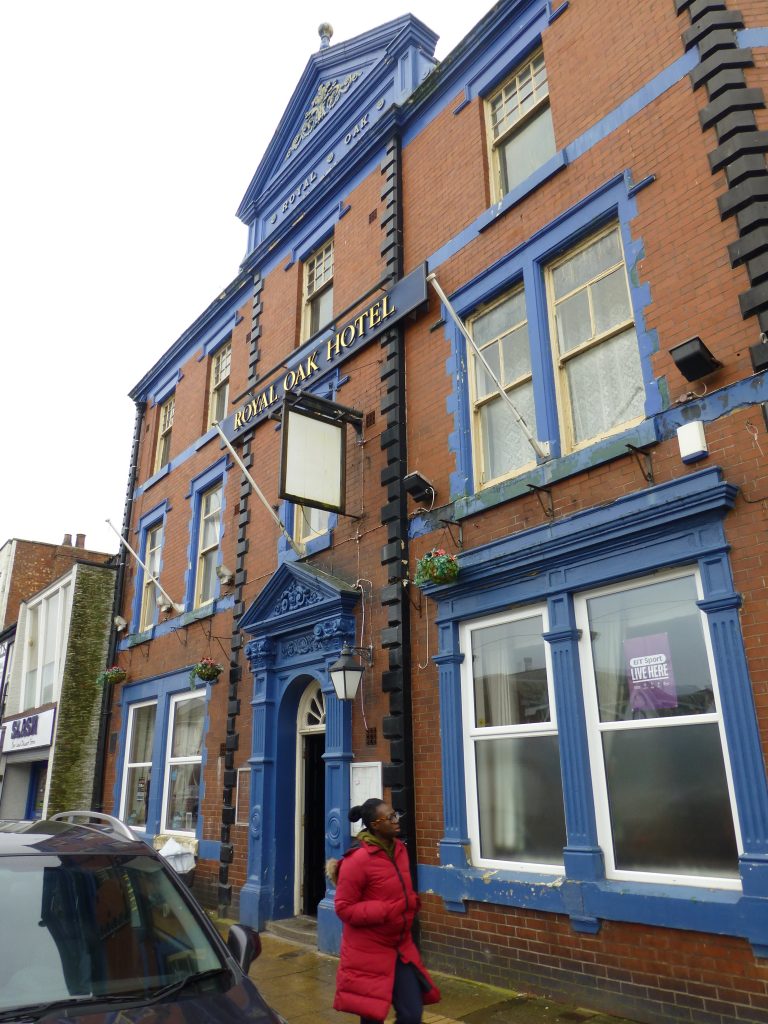 No beers in here this season
Build up? Is there much of this when there's no anticipation of the journey up the M6, then M55, leaving the car in the appropriately named Park Avenue, walking to the Royal Oak for decent northern beers and chatting to the same home fans who would have been stood in the very same positions at the bar as they are year after year?
Actually I suppose there is, although it is all so very different now. However dire we've been at any time during my many decades of following OUFC I'm always searching for that tiny bit of hope that maybe, just maybe, in the next game we'll get it all together and everything will go our way.
So far this season the team have not looked up to much but no way is it as bad as some we've had to endure over the years and we do have some good players on the books but I'm struggling to think when the squad was weaker since we last got promoted to our current level. 2017/18 perhaps under Pep Clotet. Dwight Tiendalli, Xemi (Who? – yes Barcalona B – "won't get fooled again". Possibly too late for that), Gino Van Kessel, Agon Mehmeti, John Obika, Wes Thomas. Even back then though we had Mous and James Henry and we got Cameron Brannagan half way through the season. Also playing were Curtis Nelson, Alex Mowatt, Ryan Ledson and Joe Rothwell who have all gone on to better things as the Championship undoubtedly counts as such.
Whilst writing FVs it is impossible to avoid covering old ground on a fairly regular basis but as that is and always will be part of any current debate that's how it has to be. As usual when there's a poor start to the season, or indeed a poor performance, those who are just poised to criticise with not a word of positivity in their vocabulary want the manager out and a whole new team too. Then there are others who won't have a bad word said against anything to do with the club even if there's a sound argument based on fact as well as opinion that things are far from being right. We've been unlucky. We've played well and not got our just rewards. That sort of thing. It will be all right. We always start badly. Etc.
Any successful side needs to be built on a sound foundation that goes without saying. That foundation I'd say starts with a rock solid back line for starters and then to improve the toughness of the team the rest of the "spine" running through central midfield up to the man up top.
No team in L1 so far has been worse defensively than us but Burton and Northampton have been equally as leaky. It's therefore no surprise that we're 23rd, the Brewers even below us and the Cobblers in 20th.
I fully go along with many who think that Mous is key. He's a player who can read the game, has vast experience, can talk and organise and defends pretty darned well himself most of the time. However I doubt that the plan, even short term, relied on him in any shape or form. For all his qualities, presuming he is fit, can he forge a meaningful partnership with another at centre-half, turn Sean Clare into a right-back and help Josh Ruffels to re-discover his form that rattled off 7 out of 10 game after game? That's one hell of an ask.
Compare and contrast with our opponents. Here's Joey Barton after Fleetwood had beaten Shrewsbury in the week. "We had to defend properly, like we did at Gillingham on Saturday (when Town won 2-0), so overall I'm really pleased to come out of the week with six points and two clean sheets." Defending properly and clean sheets are phrases I'd be so happy to be able to throw into a FV. The last time we kept opponents goalless was way back on 25 February and that was the third in a row. What changed?
I've never made sense of this "bogey team" thing. How over the years when the two sets of players have completely changed can it have any credence? But when it comes to Fleetwood holding sway over us there can be no argument against. This is all well documented. We've played them eleven times, all in the league. Wins NIL, Draws Two, Losses nine. Can any other EFL team boast a worse record against any other? I'd be very surprised if they could.
But hey, I'll hop on the happy bus, for happy people, who believe in fairies and other magical happy things. That record has to end some day and why not this time? (Okay I'm not going to think it through any further, I'm just going to leave it there).
Fleetwood Town 2 Oxford United 0
Any positivity I'd talked myself into had all but dissipated when I saw the team sheet, I'm afraid. Then that was surely proven to be the correct mind-set with only seconds on the clock. "Uncertain defending" said Radio Oxford.  They weren't bloody kidding. It's a given at the moment that we will concede but not this effing early. Should the now much criticised Simon Eastwood have saved it? At the time I thought yes, he should have done better but I perhaps should be looking for a reason to be a bit lenient. There was a gale force wind which we were told was evident one moment then not the next so I'll gracefully say that was a factor, even if it wasn't.
We've had better starts but it looked like it could get even worse. We weren't stopping anything.
Then we had our first shot on eight minutes and soon after Matty Taylor had won a penalty. It was a bit soft but they're often given. Time to take the gift and then start to perform like a team with some belief, understanding and steel. We'd seen none of that in the opening minutes.
Henry, who back in the day was very reliable from 12 yards, hit a fairly tame effort this time. It was at a height which pleases goalkeepers and Jayson Leutwiler kept it out. I thought from that point on we were a beaten side. Negative thinking perhaps but based on the evidence I've seen so far this campaign, almost inevitable.
JH had a pretty woeful game with nothing clicking at all. His shooting and passing were wayward and he looked off the pace. A knee strapping suggests he might not have been in full working order but so threadbare is our squad needs must.
And sure enough we yet again let in two goals. I can't remember when we were last this hopeless at the back. Last season we let in just over a goal a game. In our promotion season it was 41 and in the other seasons since we've been back at level three it has been in the 50s and 60s. We're on course for the 90s unless someone pulls their fingers out. But can we turn players who can't defend into players that can? Over to you coaching staff.
Goals scored by the not so Mighty Yellows a big fat zero once more. That's five times in eight league games we've blanked. Matty Taylor, top quality goal scorer, getting no service whatsoever. I suppose then it is irrelevant that our other goal scorer is injured. It would be a waste of time playing him at present unless he could create for himself. Injury prone when we bought him and living up to that billing, sadly. We've done a lot of spaffing I think.
There was very little to brighten the mood in this game but two players gave it a go. Olamide Shodipo and Sam Long. The former seemed the only one likely to do anything, the only one giving the home defence anything to worry about. He was alone in doing anything remotely close to tempting me out of my slumberous state as I witnessed yet another pedestrian performance from what someone who wasn't in the know would think was being staged by a cast of understudies.  For all that though he didn't produce anything that left a telling mark on the game. Whether that was because he's one of these flattering to deceive types or because he had no one around on the same wavelength meaning there was no end product I don't know. So I have to remain amongst the jury that is "still out." He faded noticeably and was replaced with about a quarter of an hour remaining.
Long, who has never really held down a first team place other than when injuries have meant a hole has needed to be filled, was our best defender and the one who showed a bit of leadership.
The rest were either average or poor and that equals defeat, game after game.
We did manage to get through to half time just the one behind and Fleetwood didn't come across as a side that would give the very best in this division much to worry about but we're not the very best – at the moment we're the very worst and the very worst doesn't take much beating.
One would have hoped that after the break we would have come out with renewed vigour and real determination to stop the rot, but no. We posed no threat at all and Fleetwood were totally comfortable.
Just gone midway through the second period Liam Kelly suddenly came to life. He showed real urgency to get things moving and was seeing a pass. I now showed enthusiasm and felt we could perhaps snatch something. I commented to the family, that we might be alright now that we've got two players playing. Deep down I knew that was nonsense because Shodipo had already started to run out of steam and to top that off Kelly was replaced by Joel Cooper minutes later. None of the three substitutes we brought on made any noticeable impact.
A couple of minutes after our first changes Fleetwood got a second. We didn't bother to mark Paddy Madden. Are some of our players under the illusion that the two meter social distancing rule applies on a football pitch?
This really is dreadful and to those who usually sum up with a few expletives I wouldn't in this instance argue one bit with a "this is fucking shit". That's what I felt on the final whistle and a few hours later still do.
When I've seen something like this I can't bear to listen to the post-match analysis but my wife does and I heard her disagreeing with Karl Robinson. He'd said we dominated the game. I've been a fan of his for a long time but I can't let such bollox go without comment unless I've misunderstood what dominate means. It's to have power and influence and be in a commanding position. Yes, complete bollox.
We're now bottom and that's where we deserve to be having churned out another load of nothingness.
Yes we've got matches in hand but even if the season were to end now and the points per game played so far was applied once more we'd be down.
We've only played two at home however so assuming, or pretending, that we'll be better at the Kassam than we have on our travels there's still some hope. It's Rochdale on Tuesday and if we blow this as we've blown so much so far in such a short space of time, it's probably just as well that there will not be any fans in the stadium to vent their spleens.