INTO THE UNKNOWN
I'll start by saying I'm not quite sure what I'm going to write here but with two games against Pompey rapidly approaching I thought it was about time I bashed the keyboard again with Oxford United Football Club in mind.
It's possible a lot of what I'll say is just stating the bleedin' obvious (am I allowed a Fawlty Towers reference?) but it is needed to put into context where we're currently at. And where is that? The new normal. No-one knows. And if I hear that saying again I'll be tempted to scream – yet I have used it myself.
Time for a rewind. Back to Saturday 7 March. It seems an eternity ago. Almost part of our history in the same way as the '86 Milk Cup Final is and the play-off triumph against York. We'd been 2-0 down at Shrewsbury. Josh Ruffels scored our third in the 88th minute to take all three points.
Players and fans after that 3-2 win. Little did we know
We didn't realise at the time the enormity of that goal. Without it our season would have ended with the final whistle at Montgomery Waters Meadow. The final league table would have us in 7th place with Peterborough taking the final play-off spot. There were further L1 fixtures the following Tuesday. Peterborough beat Pompey at London Road. A win for Portsmouth would have seen them finish second. Another team that blew it was Sunderland. Whilst we were celebrating in Shropshire they were conceding against Gillingham in the 96th minute to drop two points at home. That was really however neither here nor there as they too had a Tuesday game away at Bristol Rovers. The Pirates had managed just one win in their previous 15 league games and had been beaten by the Black Cats 3-0 in the reverse fixture two and a half weeks earlier. Brizzle won 2-0. A victory would have placed Sunderland 4th meaning it would have been them we would be facing on Friday at the Kassam, not Portsmouth at Fratton. Fleetwood would not have made the cut.
I spent my working life as an Internal Auditor which involves much consideration of risk and how it is managed. What is the likelihood of something happening (good or bad) and what is the impact if it does happen, again good or bad?
In the FV after the Southend game I wrote "time to think risk again". I mentioned risk of losing our manager. Remember the Blackpool thing? (Where has that been parked?). I mentioned risk to individual games, particularly with the visit to Shrewsbury coming up and the flooding they'd experienced. If this had not gone ahead our average points per game would have just failed us.
Word for word this is the final risk I noted. "Risk to the season as a whole? The country to be put on lockdown due to the Coronavirus"?
People often think I'm too pessimistic although I'd try and argue it's being realistic but I acknowledge I'm very risk averse. I thought the Covid-19 risk was very very real but at the time didn't want to go any further than posing the question as that didn't seem to be the general mood.
On 13 March the Premier League and the EFL suspended fixtures, initially until at least early April. Almost immediately it became clear that football returning so soon was fanciful in the extreme.
At least the Football authorities had acted even if the EFL then left us in limbo not having a clue as to what would happen next. Meanwhile the Government twiddled their thumbs. By then Boris had attended his first Covid COBRA meeting on 2 March and must have at some stage realised that it was all pretty darned serious after all. 21 days later lockdown was announced.
We were then very much in uncharted waters.
As we remained at home, other than venturing out on hunting expeditions for toilet paper and flour, I was asked are you going to write a Fan's View and are you missing football?
I actually started a FV on 15 March then almost immediately desisted and binned it. Much too early to have the remotest idea of what the future would hold.
As for missing football, my answer back then was a bit of a cop out. "Yes and no". It goes without saying that I missed the match day buzz, the anticipation, meeting up with mates, travelling away, having a few beers, banter and meaningful footie chat with like-minded away fans and then the emotional roller coaster of 90 minutes watching a rather good team in yellow operating at the top end of L1. We had some mouth-watering games coming up. Wycombe away. Pompey at home. Coventry away – oh how I'd looked forward to that one. A day out in Birmingham and the opportunity to test ourselves against the best team in the division. Fleetwood at home. Whilst it was by no means guaranteed that we would have cemented a top six finish there was possibly an equal chance we could have got into the top two. When the safety curtain fell we were only two points behind second placed Rotherham having played the same number of games.
But as this wasn't happening at all it wasn't happening without me so in a way there was really nothing to miss. I also went along with the view that there's more important things to worry about right now than football. It can't though be forgotten that this great game of ours provides escapism and at times like these what could be more tempting?
I then mostly switched off from football and OUFC. I didn't read the forums. I didn't watch the endless repeats of games from the past that were available on the TV. That would only have brought home more than ever what's not happening in the here and now. The past is the past. It's our history. It's the future that's got my focus.
All that said, on the 10th anniversary of the Conference play-off final we sat down as a family and watched it all again on Blu-ray. I was gripped, nothing but my undivided attention. I again felt the emotions, I again cheered when we scored and again had tears in my eyes when Alfie put it beyond any doubt.
Okay, there were times when I couldn't resist a Facebook link to a YouTube clip. 1985 in the top flight. 2-0 down at half-time to Ipswich. Never mind we're kicking toward the London Road in the second half. The visitors go three up. Bugger. A John Aldridge hat-trick in ten minutes and Neil Slatter's first goal for the club later see us home 4-3. At the end of the season we finish 18th on 42 points. Ipswich get relegated on 41. I had to call wife and son to stand before the PC screen to watch. Yes, a little tear again formed. Perhaps I was missing it all more than I cared to admit.
There was another too. A game to remember and we've had a few of those. November 1992, three nil down with just half an hour gone at our beloved former home. We pull one back but then concede another to go in at the break 2-4 in arrears. Next goal puts us three behind and we're kicking towards the Cuckoo Lane end. We get one back but it's the last minute. Jimmy Magilton converts a penalty. Oh well we gave it a go. Then with the last touch of the game Chris Allen saves a point and denies the visitors two. Those visitors were Pompey. This was a second tier game and Portsmouth missed out on automatic promotion at the end of the season only on goal difference. Their manager, Jim Smith.
Memories, they do provide sustenance. They do provide a lift in these dark times.
Another lift was receiving the Oxford United facemask. For some reason I felt more joy when this dropped through the letter box than I'd expected.
I read a little bit of Oxblogger's output but for the most part steered clear of football apart from continuing to read When Saturday Comes from cover to cover. The football family article in the June edition was one of the most heart rending I've ever read. It's about Swindon Town. It's about family. "On January 14, Patrick went to a football game and never came home. He'd had a wonderful, happy evening watching Tottenham against Middlesbrough in the FA Cup with his brother. A cheeky boys' trip to the capital because they could. Full of dreams, full of smiles, full of being 15, he collapsed and died as they walked through Marylebone towards the train home. For Patrick the league table would be frozen from that night". That moved me. Along with many other things it brought home to me that "life's too short" and for some way too short.
Dave Firkin, left. Lewes away 2008.
Every time we lose one of our own there's deep sadness and in April we learned of the passing of Dave Firkin. He'd been around forever and it had not entered my head that he was over 80 years old. One memory I have of Dave is Southend away. It was so long back I can't remember when. Early '80s probably. It was an evening kick off. Mick Brown ran some buses. We got there early. It was carnival day and the pubs were open. We took advantage. I was with Dave and having been in town for quite a while we made our way close to the ground even though there was still quite a while to the game starting. We were in yet another drinking establishment leaning on the bar with our pints when there was quite a noise outside. It was Oxford fans running about making a racket. The landlord shot out from behind the bar and locked the door. "Bloody hooligans, Oxford fans", he said. Me and Dave just looked at each other then back at the landlord before we added "bloody hooligans" and carried on supping.
We waited. Then waited some more. And again. The EFL were supposed to make a decision then didn't. We got confused. The, "you don't know what you're doing" chant fitted the bill. My son said surely they must have had some sort of plan but it would appear not. Most organisations will have a risk register. Likelihood of the season not being able to be completed, extremely low. Impact if season cannot be completed, extremely high. Given the latter there should have been some kind of contingency even if was a bit back of fag packet stuff.
Clearly the hope was that we could resume after just a few weeks hiatus and complete all remaining fixtures. That was abandoned almost immediately even if played without fans in attendance.
There was even talk of the tables staying as they were even if some teams had played more games than others. Without doubt this was complete bollox but there was so much of that poisoning the internet it was not the most ridiculous of suggestions and comments flying around regarding Covid and other emotive subjects.
Back to the waiting game. No more football. Not even play-offs. Table decided on points per game. Top three go up. If that was the way it was to be then so be it. Lucky Wycombe? They certainly weren't the form team when it all stopped but would leap from 8th to 3rd. Next it was mooted that points per game would be weighted home and away. I got carried away in a jokingly couldn't care less way and posted on FB that we were going up. I did of course add the bit about counting chickens.
When it did all get genuinely towards a conclusion and a decision was actually made based on a vote instead of another meeting to decide on a meeting to agree on what the options were about making a decision, OUFC I understand put their tick in the "carry on" box. Not only did this help us take some moral high ground it gave a statement that we believed in our ability to get the job done without the need for the semis and final.
The Premier League and Championship are ensuring that they're not going to have any missing games but whether League One could have pulled that off is another matter with fewer resources and smaller squads. Peterborough United though do have a right to feel hard done by.
Which of the four semi-finalists is likely to be playing against Norwich City, and quite possibly Aston Villa, in a league fixture in 2020/21, whenever that season gets underway?
Which team has best prepared for what's coming without really knowing what it is? Which team has got their players the closest to fitness levels that would be achieved after a full pre-season? Which team will be best prepared mentally, particularly with regard to playing such important games in empty grounds. Premier League and Championship players are gaining experience at this. For the L1 semi-finalists it is in at the deep end.
Pompey are unbeaten at Fratton Park. They'll miss their large home support but their lack of presence isn't perhaps such an advantage to us as some might think. Crowds can turn and get on players' backs. That was even a little bit noticeable when Matty Taylor equalised for us last November. No wonder they want him. Or pretend to want him in order to de-stabilise our preparation. Mind games ahead of the real games?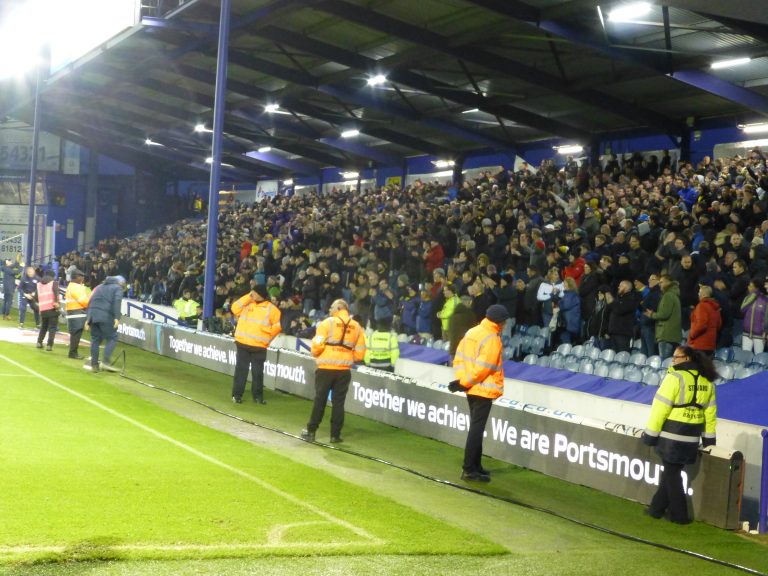 Oxford fans at the end of the 1-1 draw. We won't be there this time.
Pre-lockdown most of our fans I'd chatted to were of the opinion that Wycombe were on the decline to such an extent that they wouldn't even make the play-offs. They'd only won five league games since mid-December. The termination of the season proper came at a good time for them and I wouldn't write off a Gareth Ainsworth team. He'll set them up for a battle.
Fleetwood are feared. They've only lost two league games since the start of November. We've played them eleven times, drawing two and losing the rest. They've got money and like Ainsworth, Joey Barton will not accept anything less than 100% in the getting stuck in stakes (no manager will of course). They've got good players and can play too, which helps.
I honestly have not a clue which of the four teams still standing will soon be mixing it just one step below the Premier League but we should hopefully be in a good place right now. The only player we've lost since we last played is Nathan Holland. Talented that he was, we can do without him. We've still got Marcus Browne. Ben Woodburn is fit again. I'd almost forgotten about Liam Kelly, a real talent. I'm really happy with the choice we have at centre-half. Midfield too. There's talent all over and in Taylor we have a goal-scorer, a vital ingredient at any time of the season. My biggest concern is lack of cover at full-back but we've managed to live with that thus far.
We have to be in with a decent shout.
I can feel the tension mounting already so God only knows what state I'll be in come Friday at 17:30. It will be the strangest of things watching a live Oxford match on Sky at home with just my wife and son for company. Watching Oxford live on TV is the rarest of experiences for me. The last time was the Checkatrade semi-final against Luton in 2017 where my boycott held until the final and even then I had carried a pang of guilt to Wembley. I think the time before that was decades before when we were away at Notts County in a league game which for some reason was screened live. If memory serves I watched that in the back bar of the Swan in Bicester when it was still being run by the legendary Joe Dickson.
It's been a long one so time to sign off.
With us about to once more kick a football in anger I suspect there will be nowhere near the lapse in time before the next FV appears.
Stay safe, sane and supportive.
Good luck lads.