OXFORD UNITED 2 SOUTHEND UNITED 1
Watford 3 Liverpool 0 yells loud and clear that nothing can be taken for granted in football. A coupon buster if ever there was one. The best odds I could find on an Oxford win against the Shrimpers was 2/7. A Southend supporting mate had a tenner on them to beat us at a ridiculously long 12/1 and for a fair bit of this game it looked like he could well be on to a nice little earner.
This performance came nowhere near the standard we'd set in our previous three games against Wimbledon, Ipswich and Accrington. Well, okay just the second half last Tuesday but long held and often quoted football wisdom tells us that to be successful a team needs to be able to win when not playing well. Anyone at the Kassam will know that was very much the case here.
That doesn't mean I think we were lucky or that Southend, who clearly belied their league position, were the better team. That's because our goal-keeper played well and was much more sensible than theirs and also because we possess a top finisher who is currently on top of his game. It wasn't as if the visitors had obvious goals unfairly chalked off or kept rattling the woodwork.
They did have more shots on target than us: five of their nine compared to just three of our twelve. It's those that go in that actually count of course.
There wasn't much difference in the number of passes. Oxford 368 (that's 85 fewer than against Accrington), Southend 333 and they were actually more accurate when making those passes in our half than we were in theirs.
Southend began the game playing neat football and we were doing almost nothing in their half of the field, a field that after so many matches in the space of a couple of weeks now has a very tired appearance. That isn't conducive to slick passing football.
It was a big surprise that we found ourselves a goal up in the 17th minute as we'd not looked remotely threatening. The James Henry/Anthony Forde combination saw the latter put a cross in which was too high for young Icelandic loanee Patrik Gunnarsson in the Southend goal to gather. He only patted it down and Matty Taylor, as he was bound to be, was on the scene ready to swivel 180 degrees and get a shot away. Gunnarsson inexplicably gave Taylor's shirt the most obvious of tugs. The impeded Matty was still able to get an overhead in which hit the cross bar before going over. Gunnarsson then looked even more foolish claiming innocence as referee Lee Swabey pointed to the penalty spot. He did well for not looking the other way as some weak officials do but surely he should have got a yellow card out too.
Like most referees we get these days he was reluctant to book players. There were only two cards shown in total, one for us and one for them. I thought Alex Gorrin had put in a good solid meaty but fair tackle when he received his and that not long after that two un-carded challenges from Shrimpers looked much more dangerous.
Manchester City could do worse than study replays of Henry taking penalties. Gunnarsson went left, the ball went low to his right.
This bonus did nothing to spark us into life as an attacking force with Southend carrying on as they had done before going a goal down. Stephen McLaughlin drilled a free-kick from way out that Simon Eastwood had to be alert to and parry away.
With the half time break approaching Southend had a goal rightly ruled out for off-side but got the equaliser their play probably deserved just before the players trooped off.
A pass from Aussie Mark Milligan dissected our midfield defensive unit allowing Tom Clifford to get a low cross in which a stretching Rob Dickie tried to cut out only to send it goalwards. Eastwood unsurprisingly wasn't expecting this but managed to get a hand to the ball which was then stabbed home from inches out by Lewis Gard who was playing his first game after 16 months out having suffered an ACL injury. We're not the only team with a poacher.
When part two commenced it was still Southend who were moving the ball around nicely. Eastwood was fully extended making a good save to keep out an Eren Kinali effort from outside the box after the midfielder had been allowed to turn. The ball was put out for a corner and not back into an area where we could suffer hurt with Gard again looking like he was ready to pounce if the opportunity arose.
Milligan won a corner and his header was helped along by young Charlie Kelman forcing Eastwood once more to earn his pay cheque. This time he had to athletically flip himself backwards to tip the ball over.
We did belatedly start to give an impression that we'd quite like to win the game and began to go forward with a bit more meaning. Cameron Brannagan drove deep into Southend territory and set Mark Sykes away down the left. The ball was put across the box but no-one could get on the end of it even though we had Taylor and others around. Was it a matter of accuracy? Should he have shot?
It did though look a bit more like what we wanted to see.
After another Henry/Forde link up ended with an incredibly high ball being delivered by JH to the edge of the six yard box at the far post. It came back to Dan Agyei but with Josh Ruffels free to release a shot, our replacement for the booked Gorrin took the wrong option. Instead of laying it back, DA turned and lashed the ball into the side netting. He was then rightly told what he had done wrong. That could have been costly.
I'm still finding it difficult to judge Agyei but he was getting involved. Running with the ball he was tackled and appeared to have lost it although was probably second favourite to pick it up again. The favourite was Marcus Browne who signalled to his team-mate to step away. A first time centre evaded all until it got to Taylor. When he brought it under control with his right foot there appeared little immediately on because a defender was well placed between him and the goal. This time the complete swivel and turn was not tampered with and in an instant his left foot had fired past a despairing Gunnarsson.  Seems there doesn't need to be much on for our Matty to score.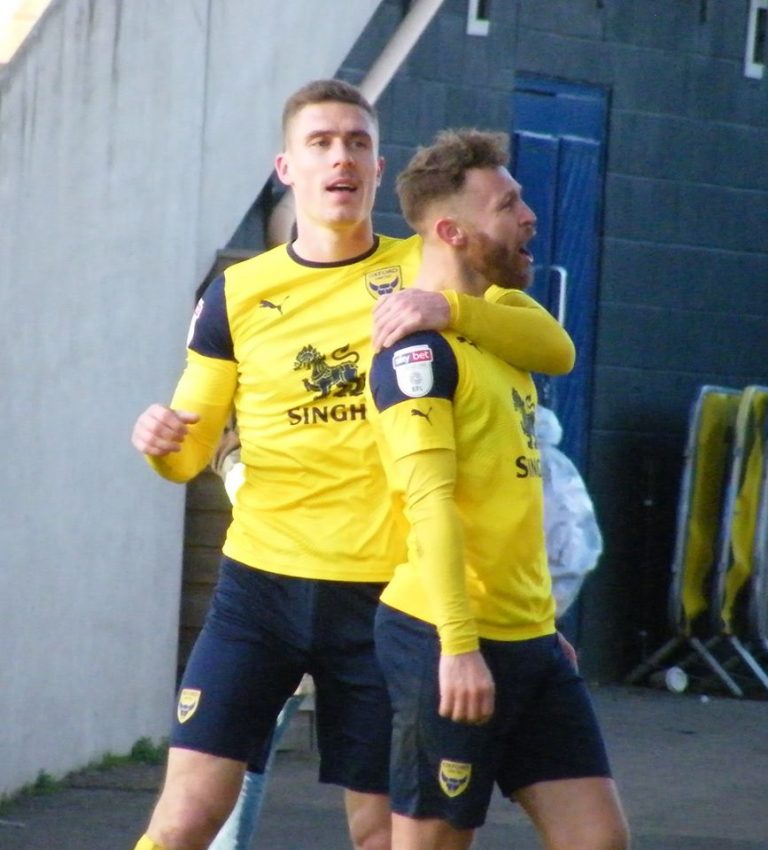 Photo, Simon Jaggs
We're now very well drilled in seeing games out and the remaining six minutes plus stoppage time didn't cause palpitations. Jamie Mackie, who replaced Sykes in the 89th minute, knows exactly how this works and must have a close relationship with corner flags.
So it ended up job done but all concerned will know the report card will have been firmly stamped with a "must do better."
The defence did their job pretty well and at no time during the game were we being run ragged or cut to pieces at the back. That's a reasonable foundation and with Eastwood, who had a strong case for being man of the match, on good form we don't look like leaking many goals. Another who had a good game was Ruffels but that it is defenders being talked of as being some of our best players tells of our lack of attacking panache on the day.  Even so there is still the occasional glimpse that showed the superiority possessed by Browne.
This could have turned out so much worse but having got the win it was time to turn to the other results and so many unexpectedly went in our favour. Peterborough dropped two points at Burton having been in the lead. That though was the second of Ivan Toney's two out suspended. Wycombe lost at Doncaster. Gillingham, who after 15 games unbeaten are now falling away, lost at home to Wimbledon. Rotherham only drew at home to MK Dons and Blackpool got a 93rd minute winner against Ipswich. As Coventry won to go top on Sunday, Sunderland obviously didn't get anything.
So it now looks like this:
| | | | | |
| --- | --- | --- | --- | --- |
| Position | | Games played compared to Oxford | Points compared to Oxford | Still to play |
| 1 | Coventry | One fewer | 7 more | Yes – away |
| 2 | Rotherham | Same | 5 more | No |
| 3 | Portsmouth | One fewer | 2 more | Yes – at home |
| 4 | Wycombe | Same | 2 more | Yes – away |
| 5 | Sunderland | Same | 1 more | No |
| 6 | Oxford | | | |
| 7 | Peterborough | Same | 1 fewer | No |
| 8 | Fleetwood | Two fewer | 2 fewer | Yes – at home |
| 9 | Ipswich | Same | 5 fewer | No |
| 10 | Doncaster | One fewer | 6 fewer | No |
| 11 | Gillingham | Same | 7 fewer | No |
After winning the last four with ten games remaining it looks a lot healthier than it did in mid- February and talk from me of there being no chance of making the top two was a little premature. Coventry at the top with seven more points, and a game in hand on us, do appear to be too far away but we're only five worse off than second placed Rotherham having both played 34 matches. Realistically though finishing in a play-off place is much more likely and that is naturally of course no way guaranteed.
Time to think risk again.
Risk of losing our manager? KR's comments on the five minute forum were reasonably reassuring although a categorical "I'm going nowhere" would have allayed all current fears – that is if you believe anything any manager says about their employment.  I liked the way he kept saying "we" and that there was a game (this one) to focus on and that he would be speaking to Tiger and company early in the coming week to find out plans for the future.  The biggest concern for me was the manager's brief reference to the Oxford public needing to get behind the club by getting more people through the turnstiles to get more money to spend on improvements to the squad etc. I'd 100% agree and whenever I express disappointment when I think crowds are lower than they should be, particularly when we're playing winning and attractive football, most responses are reasons why people have not been. Too many games at once; too expensive; don't like the Kassam; away games are better. That sort of thing.
6,966 home fans saw this win. I don't think this is a bad figure but our average home gate of 7,636 is bettered by nine teams in League One. Sunderland were always going to be way ahead followed by Ipswich and Pompey with there being a gap to the rest. Bolton with their points deduction are on 11,511. Doncaster, Rotherham and Blackpool beat us too and it could be that Robbo sees more potential in the Tangerines. They're averaging 8,804 which would obviously increase if they were near the top and not mid-table.
I think I did my little bit on Saturday by organising beers for mates pre and post- match in our fine city and two of the attendees wouldn't have paid their dosh to the club if it hadn't been for this. At half time though I bet they were wishing they'd stayed in the St Aldates Tavern or the Royal Blenheim.
Risk to individual games? Flooding in Shrewsbury? At least they don't play at Gay Meadow any more.
Risk to the season as a whole? The country to be put on lock down due to the Coronavirus?
At least now we are done with Tuesday nights and can have more relaxing weeks in the knowledge that the team will have better time to recover and prepare for the next few Saturdays ahead.
There's going to be many interesting fixtures between now and the end of the campaign.  Ipswich host Fleetwood on Tuesday and then Coventry on Saturday when Peterborough take on Pompey who, at the time of writing are still in the F.A Cup.
All to play for.
must ….. get…….ball…….to……..corner………..flag.    Photo Simon Jaggs