IPSWICH AWAY
The good old bad old days
After the previous FV a minor debate broke out concerning "must win" games. Which are and are not. This got me thinking that in the old days these sort of topics would have led to an entire article in the hard copy fanzine.
This prompted memories to come flooding back of Rage On, before this modern online techno world came upon us, and still further into the past when the title was Raging Bull.
In that bygone era I played a few game for the RB 'zine team prior to OUFC games and although we usually got beat I recall we won at Ipswich. I couldn't tell you the year other than it was in the late '80s or early 90s. I do seem to remember that we had one guy playing for us that day who turned up on an impressive motorcycle having travelled from London and that under his shorts he wore a pair of really old Y fronts that he said he inherited from his grandad and were "lucky". Bloody hell, I hope this was true because it would have been one hell of a strange dream. The other thing that comes to mind was that he was an undercover cop in the drugs squad. Nurse!
I have other recollections of visiting ITFC away but it isn't surprising that these are a bit hazy as the last time we played a league game in Suffolk was 20 years ago.  It is such things that make following your local team up and down the country decade after decade what it is. Absolutely unique for each and every fan of every club who has done the hard miles throughout their life.
Another time I turned up with a disabled lad in my car and finding parking difficult we asked some stewards if we could park in a restricted area. "I can't walk." And another mate in the car said "No he can't; I have to carry him everywhere". The yellow coats were having none of it.
The game which lives most vividly in my mind is the 3-2 defeat in the top flight in April 1986. The previous weekend we'd won the Milk Cup at Wembley but this was a dog fight at the bottom of the table. That result left us in 20th place on 36 points and Ipswich on 41 in 17th. We did though have three games remaining to their two. One of their goals came from a free-kick which should never have been awarded. It left a bitter taste indeed and to make matters worse the police and stewards refused not only to let us leave the ground on the final whistle, but made us remain on the terracing. We weren't even allowed to take cover behind the stand. For good measure a group of home fans had swarmed onto the pitch in front of us and were pelting us with coins. Someone who is sadly no longer with us was stood close by and was of the opinion that it would take "just ten good men and true to get over the wall and see them off".  Not me, mate. We did get out unscathed but driving away I witnessed a couple of Oxford fans outnumbered and surrounded in a front garden. Not pleasant and chatting to a fellow Oxford fan in the Quadrangle before the Wimbledon game he told me that Ipswich is the only place where he has seen a supporter carrying a knife.
Some yearn for those times but attending football is now so much more civilised and I for one am very pleased that it is so.
For the record we won two of those remaining games at home to Everton 1-0 and Arsenal 3-0 – as if you didn't know – to climb to the lofty heights of 18th and safety.  Ipswich lost their penultimate game at West Ham and while we were putting three past the Gunners were losing at Sheffield Wednesday so down they went. It's never over until it's mathematically over.
Ipswich Town 0 Oxford United 1
Roll forward to 2020 and very different times. Not since the mid-1950s have Ipswich been down in tier 3 of English football. Along with Sunderland and Portsmouth they make up the big three in L1 in the 19/20 season. Expectations will have been high. They still appear to be charging Championship prices, £27 or £30 depending on what seats were being sold at the time people bought their tickets.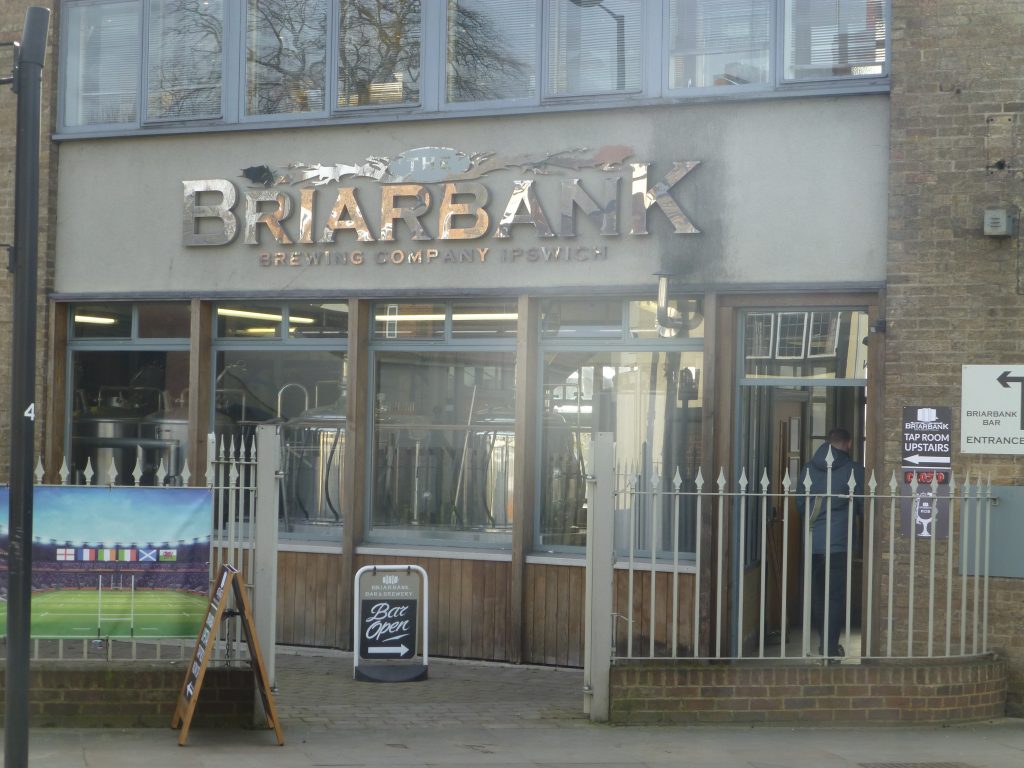 Portman Road is much changed since that 3-2 reverse but it still retains that traditional old school feel. Being in the town centre is a real positive but unlike say Sunderland there was no sense that pre-match build up was beginning hours before kick-off in pubs packed with home support. Walking around some of the streets there was no hint that a football match was to take place a little later but perhaps we went to the wrong places. Actually we didn't as the two drinking establishments we had a couple of pints in provided a choice of quality beers from brewers I'd not previously sampled. Back in the day it would have been unheard of to be drinking in a bar above a brewery. The Briarbank on Fore Street is such a place where on the first floor you can quaff a range of ales produced directly below. There were only a couple of blue shirts in there and they were soon even more outnumbered as other usual suspects appeared in the doorway at the top of the stairs. A couple of minutes' walk away on the same street is the Spread Eagle. They serve six hand-pumped beers all from the Grain, a brewery that has been around since 2006 but I'd never come across before.  Again there might have been one or two blues in there but more Oxford with the usual suspects who had moved on before us already having taken root.  Perhaps all the Ipswich fans were in the also GBG listed Thomas Wolsey that has a "home supporters only" policy on match days.
Inside the stadium there were many fans of both teams. 18,002 of them and 1,365 of us. I thought our support was absolutely tremendous. Everyone seemed fired up for it and other than a couple of low level moans from people near me the backing was 100% positive from what I could detect. Looking around there were naturally quite a lot of people I knew and faces I recognised but in a crowd this size there's always a lot more that I didn't. It would be easy to think they're just day-trippers ticking off a new ground but when conversations are overheard it is evident that they are pretty regular too. This tells me we have perhaps more potential to grow than I'd previously thought; we just need to make it more appealing to roll up to Minchery Farm.
Even though the stands these days are much more family friendly, in a crowd of this size there is inevitably bound to be a bit of gesticulating between the two sets of supporters. In his  trippingovertheball.blog Ipswich fan Martin P Brooks noted that "In the corner of the Cobbold Stand a group of Oxford fans are standing and goading Ipswich supporters in the bottom tier of the Sir Alf Ramsey stand. Pat from Clacton wonders how they managed to get the seats closest to the Ipswich supporters and we decide that the Oxford ticket office must ask supporters if they are would-be hooligans who want to goad the opposition and allocate them seats accordingly".   (Not) funny (at all) how we see things differently. Takes two and all that. All very childish but looking at those few home supporters I thought they're too young to know better, if there's ever such an argument. Some of them looked like they might only just have graduated to secondary school but then on closer inspection one of their main goaders was way older than that. You started it. No you did. Time to grow up perhaps.
I suspect that little lot probably sit in the same seats week in week out and behave in exactly the same way irrespective of who the opposition are. Perhaps Pat from Clacton isn't asking her question to the right football club. Was an entertaining blog though and with "I can't see any mortar boards or gowns" says Mick with genuine disappointment as if he really had expected Oxford fans to be a bunch of academics" Mr Brooks has shown he probably does get town v gown. Unlike the occasional group of morons who think it funny to sit in a line on the floor and make rowing actions. Oh, how we laugh at them for embarrassing themselves.
The hosts set the tempo which was that little bit quicker than your average L1 fare. Although we may have been out of possession for the majority of the time, we stuck with it, kept our shape, worked and worked and never for a moment let our concentration levels drop. Both centre-halves won loads in the air and although, such was the nature of the game, their clearances were often picked up by Ipswich players, we were set to defend and do the necessary again and again.
Ipswich chances were not on target and when for once it looked like they were about to have a golden opportunity to score, poor control let them down. The final count showed them having 68% possession, and 12 shots but only two of these were on target. We had 10 shots with three being on target and one properly on target, i.e. entering the back of the net.
The only goal of the game, just before half time, came from a move that was better than anything Ipswich had managed to put together in all the preceding 43 minutes. Josh Ruffels angled the ball inside to a free running Cameron Brannagan and suddenly we had 3 v 3 and on the attack just outside the penalty area. Our three were joined by James Henry and sensibly this was the pass CB played. All the defenders present turned their attention towards JH and the ball and in doing so unwisely left Matty Taylor in an amount of space finishers dream of. Matty knew where he needed to be, the Ipswich rear guard didn't. Henry knew where his first time pass needed to go. Taylor took one touch to control and with a second thrashed the ball home.
It would be foolhardy to write any challenger off just yet, including Ipswich, but they've now only picked up four points from the last six games. There was no cutting edge to their play, probably a fair bit of that bluntness being created by the way we played, nor appeared to have front men of the quality of those at the very highest L1 level. What I probably mean is that they've not got an Ivan Toney, but who has? They've not got a Matty Taylor either.
We saw the game out in completely professional style and the home team's frustration came to the fore. In the final minute Kayden Jackson walked for kicking the prone Rob Dickie. An incident seen by the linesman but not referee Scott Oldham who did the right thing after consultation.
In the added minutes we did the usual by keeping the ball by the corner flag and here Oldham needs to be given the highest of praise. Not for him a whistle blow and free kick to the defending side irrespective of what had gone on. That's what most referees do. We did nothing wrong and whatever decision had to be made was made. Not surprisingly as Ipswich got more and more frustrated the handbags came out and amazingly it was Jamie Mackie, a late sub for Taylor, who acted as peace maker. When he entered the fray with ten minutes remaining I thought, why? It was worth it just for this.
Whilst our performance against Wimbledon yielded lots more goals and pleasing on the eye passing football, the degree of difficulty that day (i.e. quality of opposition) was in marked contrast to the way we gained three points on Saturday.  Much more hard graft against better opposition. Each in their own way very satisfying but with regard to the results this one has more value because not only did we get those three points ourselves we denied a rival getting their hands on them.
We've now proven we can again put a side playing badly to the sword and also beat a team, albeit one not on the greatest of form, vying for a play-off spot.  It goes without saying that what we need to do is keep winning whoever we are up against. Our remaining fixtures include Wycombe and Coventry away and Pompey and Fleetwood on home turf. We've yet to go toe to toe with a very much in form side that is above us in the table. Okay, there was Peterborough and look what happened there but we're now seemingly on much better form than we were that day. Yes, form comes and goes as we all know. Perhaps those aforementioned teams will have dropped off a bit before we face them.
For now we should forget them because tomorrow we face Accrington Stanley and that demands 100% focus. They're 14th and will not be contesting a top six slot but only lost in added time to top of the table Rotherham last time out and won their three games before that.
The six points we've picked up from our last two outings and the way they were gained has shown our intent to remain in the hunt but the remaining 12 matches constitute "a long way to go" and as we start that journey we're a bit adrift.
| | | | | |
| --- | --- | --- | --- | --- |
| Position | | Games played compared to Oxford | Points compared to Oxford | Still to play |
| 1 | Rotherham | Same | 9 more | No |
| 2 | Coventry | One fewer | 9 more | Yes – away |
| 3 | Wycombe | One more | 8 more | Yes – away |
| 4 | Sunderland | Same | 6 more | No |
| 5 | Peterborough | One more | 4 more | No |
| 6 | Fleetwood | One fewer | 3 more | Yes – home |
| 7 | Portsmouth | One fewer | 2 more | Yes – home |
| 8 | Ipswich | One more | 1 more | No |
| 9 | OUFC | | | |
Realistic ambitions of a top two finish are long gone and this shows that we've got our work cut out to claim one of the next four slots but teams above us have to play each other starting with Tuesday when Rotherham go to Birmingham to play Coventry and Sunderland host Joey Barton's Fleetwood who have won their last five including beating Portsmouth on Saturday.
This is an intensely intriguing phase of the 2019/20 campaign. Hardly time to draw breath. The shelf life of this little piece clearly being very limited because there will be a more up to date story to tell as soon as Stanley are heading back up the M6.