BURTON AWAY
Before our trip to the Pirelli Stadium the current form of L1 sides over the last few games was:
| | | |
| --- | --- | --- |
| | POINTS WON IN LAST FIVE GAMES | LEAGUE POSITION |
| Peterborough | 15 | 3 |
| Portsmouth | 15 | 5 |
| Rotherham | 12 | 1 |
| Coventry | 11 | 4 |
| Sunderland | 10 | 6 |
| Wycombe | 9 | 2 |
| Fleetwood | 9 | 9 |
| Doncaster | 8 | 8 |
| Gillingham | 7 | 12 |
| MK Dons | 7 | 19 |
| Southend | 7 | 22 |
| Ipswich | 6 | 7 |
| Burton | 6 | 11 |
| Oxford | 5 | 10 |
| Rochdale | 5 | 18 |
| Accrington | 4 | 17 |
| AFC W'bledon | 4 | 20 |
| Bolton | 4 | 23 |
| Blackpool | 3 | 14 |
| Lincoln | 3 | 15 |
| Shrewsbury | 3 | 16 |
| Bristol R | 2 | 13 |
| Tranmere | 0 | 21 |
It's no coincidence that the top six have picked up more points than the rest over this period or that we've tumbled down the table. Peterborough, who along with Pompey, have gained maximum points over this period, which is 300% of what we managed, were probably that much better than us last Saturday.
Now is the time to get back on track. No messing.  Just do it. This should be a decent opportunity. Burton are not having a great time of it themselves and have failed to beat Accrington and the Gills in their last two home games. If we fail to deliver here I'll be close to writing the season off.
Burton Albion 2 Oxford United 2
At about 8:15 I couldn't help thinking that true football fans are born to suffer. I'm not talking about the cossetted armchair sitting in front of Sky/BT premier league fan who has picked a top team they have no true connection with and who gets upset when they have not won a game because it is their divine right to do so, end of. I'm talking about those who follow a team lower down the leagues, who have an intrinsic link to their club and week after week (make that twice a week, currently) get off their arses and turn up home and away in support.
We were stood on the terraces, with a few in the seats and it was as if we each had an individual ice machine trained on us. This was the coldest I'd been since we were turned into blocks of ice at Gateshead.
We were a goal down and second best to a mid-table team and a realistic assessment of what we saw before us was that the play-offs were not going to feature us. A season that promised so much is starting to greatly disappoint such is our inability to stick with the front runners now that the pace has increased as we enter the final third.  At least this let down is happening in L1 and not the Conference so I suppose it could be worse. Thankful for small mercies and all that.
To be fair to Burton they looked at least a half decent side, confident on the ball with strong runners and quite well organised. But that's a standard that is to be expected in tier three and it also helps when the opposition is generous.
There had been warning signs before we went behind in the 20th minute. Mous headed away a long ball from John Brayford which should have signalled main part of defensive job done. Liam Kelly was a couple of yards goal-side of Ryan Edwards in a good defensive position but just stood as the Brewer ran past him and on to the ball before firing a shot just over. That was a lack of awareness, alertness call it what you will but it just wasn't good enough. I'd highly praised the loanee from Feyenoord after the Newcastle replay but if a player is not switched on for every second of a match they are likely to be a liability. It wasn't to be his day as he went off with a hamstring injury soon after. That's another, oh bugger, to go with the targeted and unprotected Marcus Browne in the treatment room.
The first Burton goal came when Matty Taylor lost the ball ten yards inside his own half with almost the entire set of his team mates being further forward than he. Why and how we got into that state I don't know but it didn't make sense.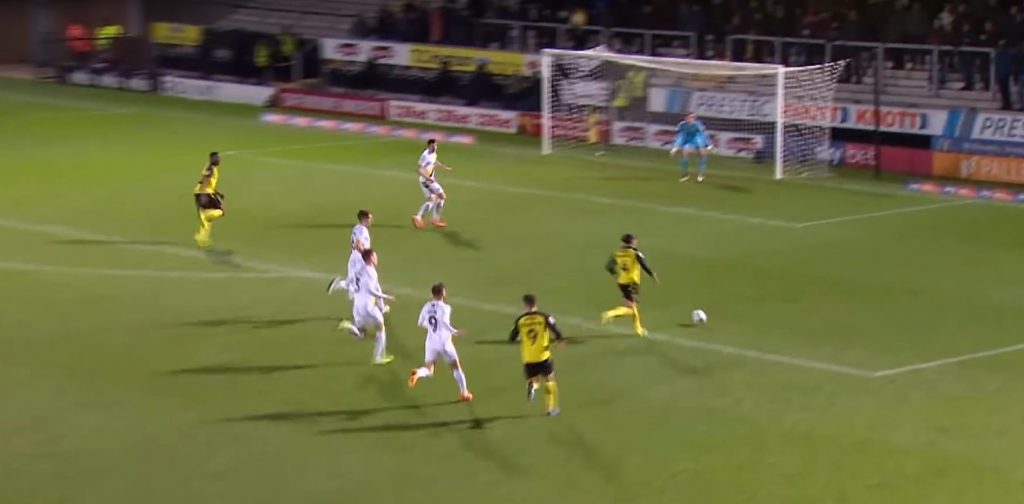 Burton's first coming up
As Nathan Broadhead was doing the robbing Josh Ruffels was pointing for our centre-forward to feed the ball back to Simon Eastwood. He knows a thing or two about a back-pass does our Josh. Edwards was once more that split second quicker to react than any Oxford player and in a trice was into the penalty area with no defender within proper defending distance of him. Rob Dickie won the challenge to get to Edwards's cut back to such an extent that he put the ball past Easty. Perhaps we were a bit unlucky but being a touch off the pace set by Burton we couldn't argue with the score line.
Further damage could have been inflicted with the home side breaking into oceans of space and any Oxford midfielder just following in the wake of the attacking player. That this was so and no challenges were coming in told that errors so obvious at Peterborough had not been eradicated.
Thankfully though Eastwood was equal to anything that came his way and we were not without the odd chance of our own although they certainly were not plentiful. Kieran O'Hara, the keeper on loan from Manchester United needed to use his legs to keep out a close range effort from Holland who possibly should have done better.
When the second period settled into some kind of rhythm it was evident that we were much improved as we kept the ball a lot better and the game was mostly taking place in the Burton half. That said we weren't creating many chances although a James Henry long shot did bounce just wide after an impressive Oxford move. JH did make a few mistakes but there were many signs showing that he was much closer to his influential best than he had been in his first two games since returning from injury.
Dan Agyei came on for Mark Sykes in the 62nd minute and just one minute later had got his name on the scoresheet. Holland found Taylor who stretched, controlled, turned and sent a pass dissecting the Burton back line onto which our no.23 ran taking it on into the box. As a defender leapt in, Agyei's shot cannoned off O'Hara's body, which had been placed near the penalty spot. Up the ball looped and into the net.
I'm not one who up to now has been strongly advocating that Agyei be given more game time and should probably be featuring in the starting XI. I don't know how he's performed in training but now must be the time, surely. He brought a physical presence up front that had been lacking and his hold up play isn't bad. Whilst in no way lauding him as a natural goal-scorer the stats show that he's clocked up just 91(NB: This doesn't include what's added at the end of a game) league minutes and in that time has scored twice. One goal every 45.5 mins on the pitch is some strike rate. No player can keep that up but perhaps it does give a clue. Jamie Mackie's ratio is a goal per every 703 minutes playing time as many of his detractors will keenly point out. (Thoughts are with JM who was called away at the last minute because there had been a family bereavement and it is at times like that when football becomes secondary.)
By now we were in the ascendancy but such is our current defensive frailty it was Burton who got the next goal of the contest. This came less than 10 minutes after we'd drawn level. Jamie Murphy collected a high ball down the wing and in doing so beat Sam Long with ease coming inside. He then skipped past Gorrin and then turned his shot past Eastwood at the near post where the gap that had been left was much too inviting to refuse. It has been talked of as being a goal of quality which it might have been but to take that at face value would be ignoring more sub-standard defensive play.
Yes, we did equalise in the first of the four additional minutes. Yes, I did jump up a bit. But it was just a bit as I wasn't overjoyed about getting just a point against a team that are where Burton are. If we are to challenge at the top these are the sort of places we have to go to and win. We're just not cutting it
That we did keep going to salvage a point does, I suppose, say that we have not thrown the towel in, which obviously would be a really stupid thing to do. It was pleasing to see Anthony Forde back at the end of the game and that he replaced a full-back showed that we were going for it. His high and bendy corner had O'Hara at such full stretch that he could only punch the ball directly upwards. Gorrin kept his eye on it as it dropped, controlled it and slipped round sub Kwame Thomas, a forward who had only come on a couple of minutes earlier to help run the clock down. After beating his opponent Gorrin recycled the ball into the danger zone where Dickie hammered it goalwards from a few yards out and Taylor hammered it some more from even fewer yards out to grab a point.
So we've now got just four days before we go again. Kelly is injured. Gorrin is suspended. I'm assuming George Thorne is still a bit over-weight. Browne? These thoughts don't fill me with confidence but we are at home where we've only lost twice as opposed to six times on our travels. I'm told that although Sunderland are picking up points they have not been playing that well. I'll therefore note them down as not being as good as Rotherham and tell myself that perhaps, just perhaps, we can start to get our league season back on track when the Mackems come to town.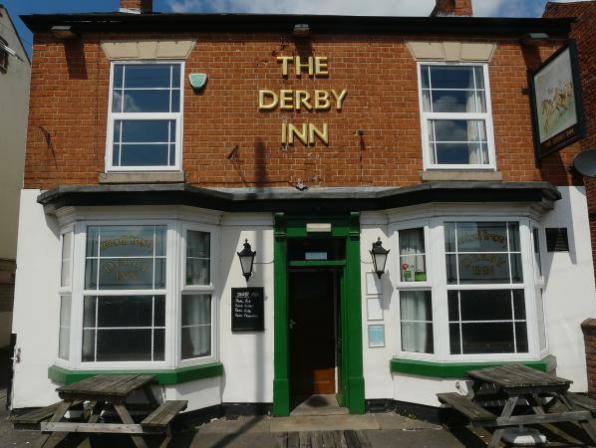 Barmaid of this friendly local took pity on us and let us in before the scheduled opening time because it was so bitter outside