SEASON 2020/21 – FAN'S VIEW No.3 – WATFORD AT HOME
Lack of experience?
Computers have programmes working away in the background and I think my brain must behave in a similar way by slowly picking over things Oxford United as I go about my daily life. Every now and again thought and ideas are thrown to the forefront.
I'd given my reasoning for why we were second best at Lincoln. The inability to break down a massed, well drilled, hardworking defence. Couldn't slide a ball through to a runner. Couldn't dribble through. Couldn't pepper the goal with accurate long range efforts.
But more came to me later. The Radio Oxford commentators when trying to understand why we were way off our sparkling best of 2019/20 noted that of the starters at Sincil Bank only two were new additions to the club. That is true but on reflection we were greatly lacking experience. The type of experience that comes with having a few hundred games under your belt and knowing the game inside out. The talking, encouraging, organising and leading by example.  Obviously it is necessary for them to still be able to play the game with their feet and bodies as well as their heads
Let's go back to that 6-0 thrashing we dished out last season. Both Mous and Jamie Mackie started. This time the former didn't feature and the latter has decided to call it a day.
Mous has a calm head. He's made over 400 league starts, 97 of which have been for us. He's 34. His partner at centre half was Rob Dickie who we knew would be moving on for money we need to keep the club less financially insecure than it would be otherwise. When players that good go they are missed. By then he'd already played nearly 60 league games for us. Suddenly we had a centre-half partnership of Elliott Moore as the senior of the two with just 12 league starts and Rob Atkinson making his league debut only ever having played in the National League previously. Somehow I don't think that can have been the plan.
Mackie clocked up 343 league starts and a further 150 appearances as sub. He wasn't everyone's cup of tea but knew as well as anyone how to get amongst the opposition, attempt a bit of roughing up and at times buy a free-kick or two. If a slightly younger JM had played against the Lincoln defence on Saturday they would have known they'd been in a game. As it was I suspect they went home and told their other halves, or Mum and Dad, that it had all been relatively easy.
We have other players who have played quite a lot of football (Josh Ruffels) or a lot of football (James Henry) but they've both been struggling with their own games a bit since the re-start anyway and are not natural leaders. JR is of course now out for 3-5 weeks. To be honest he deserves a rest and will probably come back fitter – although he's a very fit guy anyway – and re-charged.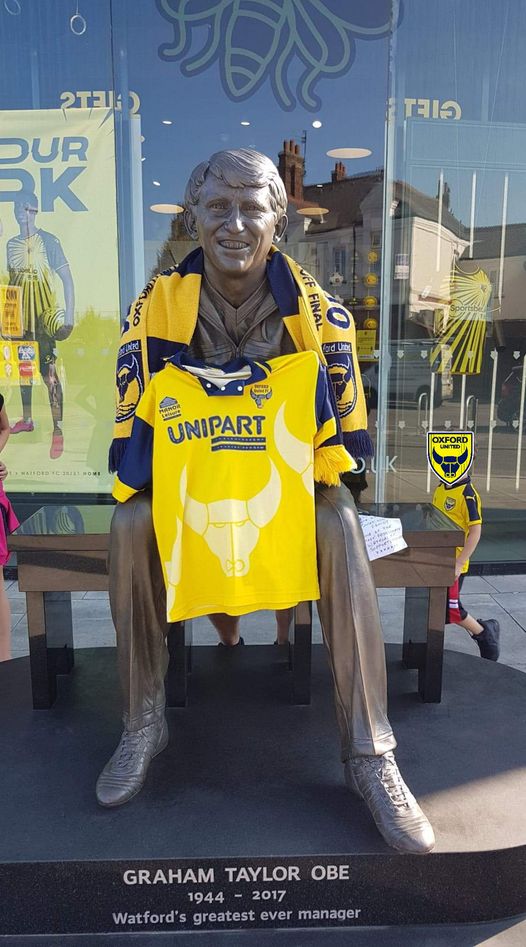 CARABAO CUP ROUND 2: Oxford United 1 Watford 1. (Pens – We couldn't score. Watford could) 
With both teams making eight changes from their starting line ups three days earlier it could be argued that this was almost a reserve fixture. It showed just how valuable this competition is viewed by the managers when compared to the league which is where the truer rewards really are. The lack of prize money is scandalous and without crowds in attendance or TV money of substance what is left? (It is only fair to add that the EFL is a members' organisation and any prize fund has to come from somewhere. Money does not grow on trees as we're very much going to find out sooner rather than later in the real world).
Once the game started you can forget all that. I was absorbed and wanted to win it as much as any other.
At least Mous was playing but almost immediately he had his pocket picked by Jerome Sinclair as he tried to shield the ball over the by-line and Jack had to come to the rescue to keep out Croatian Stipe Perica who only signed for the Hornets a week ago. To make matters worse Mous went down uncomfortably and a few moments later required treatment where it initially looked like he would have to go off. Thankfully Amy Cranston gave the okay for him to carry on.
In those first two or three minutes our defending looked hopelessly amateurish. Although knowing that games are 90 minutes duration, take a bit of time to settle into any pattern and go through the oft quoted "twists and turns" I still immediately thought that this could be a long old evening. That was confirmed for me when Stipe then hit the bar on 10 minutes.
But soon it was our turn to take the game to Watford and at that stage it was obvious that the team that had the ball looked decent whilst the one without it looked uncomfortable.
For the rest of the first period we were the ones largely in control and playing the football. Our reserves were coming across as nothing of the sort and by the time the final whistle went I thought just about every one of our starters had claims to do so again when we host Sunderland this coming Saturday.
The goal is well worth re-living. Cooper came down the left and came inside using strength and determination to get the ball to Robbie Hall who rifled it home with pace from the edge of the area. After that there could have been many more.
Keeper Daniel Bachmann was on top form stopping just about everything coming his way; a low effort from Derick Osei Yaw, a Cameron Brannagan shot from distance. Moore then hit a post when sticking a leg round a defender from a corner and Joel Cooper blazed over an open goal when getting onto the rebound from a saved Sam Long shot.
And there was still time for a Moore header from a free-kick to require another good stop from Bachmann.
Yes we easily could have been two, three or even four up at the interval but we had to make do with one and to be fair to Watford they had a couple of other chances too.
After the break they improved, no doubt having been given a talking to by Vladimir Ivić who is taking his turn of a few months in the Watford manager's seat. But they didn't score and it began to look like we might survive intact and had chances to put the game beyond the visitors reach. Osei missed an absolute sitter.
As the game wore on we became tired of mind and body and even though Watford were playing with ten men, due to injury, from the 75th minute it was they who around that period began to look the fitter and stronger side. When half-time came we had had the greater possession but at the final whistle the stats said 50:50. That is quite telling.
In the end it wasn't just those missed chances that cost us it was the changes we had to make and chose to make with the Sunderland game in mind.
Mous finally succumbed to lameness in the 70th minute to be replaced by Kyran Lofthouse. No disrespect to youth but experience is useful when up you're against it. The greater worry is of course Saturday. Sean Claire and Cameron Brannagan both went off in the 66th minute presumably saving them for then. Liam Kelly and Marcus McGuane came on. I think this weakened us. Those two had been part of the disappointing showing at Lincoln and they disappointed me here a bit too. There was no evidence for me that they had fresh legs, legs that would keep the game within our clutches, even if only just.
Brannagan was a big miss and Clare showed why he will be considered our first choice right-back.
Although we'd looked very vulnerable on a few occasions with the clock ticking toward the ninety minutes it appeared we'd get away with it thanks to a couple of Jack Stevens saves and the Hornets themselves not being deadly in front of goal.
Then almost at the death it happened. A Watford player with 47 on his back was given way too much space out on the right to bang a high ball into our box. It was perhaps a bit hit and hope but very dangerous nevertheless. Deep it travelled to the opposite side of the six yard area and a white shirt did well to get a head on the ball and keep it in play. We had a numerical advantage and if all our players had been properly switched on we could and should have prevented this equaliser lucky though it was. Teenager Joao Pedro who had given us a lot to think about when he came on swung and failed to connect properly. Unluckily for us it went to the unmarked Ken Sema for a tap in from a couple of yards out. I can't not place a huge amount of blame on Kelly for this. I find it totally unacceptable when players don't do the basics and switch off. When the ball was flying through the air for some reason he had his hands in the air and had all but stopped playing. No awareness, not bothering to see if there was a man that needed marking and even worse he let the scorer run past him in the first place. When I first saw Kelly I thought what a great little ball player he is but if he is not going to do those basics he's not for me in a yellow shirt. I hope that was a one off but like Marcus Browne at Wembley, what was he thinking? Forde also did nothing to pick up the scorer after Kelly had let him go. Conceding in such a way was totally preventable.
Our attempts in the final minute and the five added were laudable as we so very nearly snatched back the lead. A Hall glancing header from an accurate little chip in by teenager, for now, Lofthouse, was unsurprisingly kept out by yet another excellent save from Bachmann. He might have had one of the best games we've seen from a visiting goalie for many a day but it isn't as if keepers have not played magnificently against us before or that he was the only reason we didn't progress.
When it went to penalties it was, in the circumstances, almost a given that we would lose. I felt our chances were only about 10-15%. I looked at our lack of experience. No Mous, James Henry or Matty Taylor out there. No Simon Eastwood a decent stopper of spot kicks. Throw in the way Bachmann had been playing which almost made him grow six inches to fill the goal. I was still a bit surprised though that we failed to score any of our three whilst they scored all theirs.
A couple of ciders were called for as I was pissed off that we lost but there's not a great deal of concern about going out of the 2020/21 version of this competition as it gives little back and the performance was much more encouraging than that in our first league game.
Not something I normally do but as these were largely players that are mostly in the shadows thought I'd give my opinion on them.
Jack Stevens – Did nothing wrong. Competent and confident. But won't be replacing Simon Eastwood.
Sean Clare – Closer to Chris Cadden than anyone else we've got at the club. Likely to be adding something attacking wise. A first choice.
Sam Long – He'll fill in anywhere along the back line and do his best to do whatever is asked of him. The type of squad player that is needed to plug gaps wherever they appear.
John Mousinho – After that blip in the first few seconds I thought his experience was a real bonus. (Sorry but that's my topic for this FV and I am going to stick with it). Would probably have started against Sunderland if injury had not won out in the end.
Elliott Moore – Looked more comfortable alongside Mous and a danger to the opposition from set pieces. One excellent bit of skill and composure to get the ball out when we were under pressure. An obvious first choice.
Cameron Brannagan – Loved the way he played. Near his best. Constantly involved and can shoot from distance and importantly hit the target. I fear the next time a Championship club comes a looking he'll be the one that is plucked. We did really well to get him to sign the new contract.
Robbie Hall – I'm not going to employ the orgasmic tones of Nick Harris but yes RH had an excellent game. He's probably not played this well for years. Beating men, neat incisive passes and didn't look off the pace. And of course the goal. If he can keep this up and stay fit he has to be a contender for a league starting berth.
Anthony Forde – Apart from dozing for the Watford goal I thought he had a very good game. Intelligent performance. I thought he was a bit Brannagan and a bit Henry. Another who should seriously be considered for the league team.
Joel Cooper – Other than just over 20 mins at Sincil Bank this was the first proper sighting. A bit quicker than some and clearly strong and willing to get stuck in. Probably not a league starter yet but when he gets fitter and more attuned to L1 likely to definitely be in the frame.
Dan Agyei – Another with strength who gives opponents something to think about. More likely to come on from the bench than be a starter whenever we have one of our recognised finishers (Matty Taylor / Sam Winnall) fit.
Derick Osei Yaw – Early days but I really think he has an eye for goal. The management will know if there is enough in his all round game. That's something I've only just thought about.
Looking forward to Sunderland now much more than I was but quite worried about the alarmingly early in the season mounting injury crisis.