OXFORD UNITED 1 LINCOLN CITY 0
When we destroyed Lincoln at Sincil Bank in September Michael Appleton was looking on from the stands ready to start work as their new manager the following Monday.
He brought a record of three wins, one draw and six defeats in the league with him to this Boxing Day fixture. The stat to take the most notice of though is that in those games there had been very few goals. Seven scored and nine conceded. Defensively that is an improvement which is off the scale, in all those fixtures to only let in one and a half times the number of goals we racked up on their turf in just 90 minutes.
This was therefore almost certainly going to be a very tight game when taking account of the fact that our back line has not been breached in a L1 game at home since the last day in August and our goals have themselves rather dried up. We have not got more than one in any competition since we put four past wretched Southend a month ago.
As a festive match this never fully sparked into life on or off the pitch.
Getting another 10k plus gate is not to be sniffed at but that should in my head be quite easily achieved over the Christmas period. The club had to go for a hard sell and discounted tickets to get there. However there were 9,485 in the home areas which is an increase of 1,164 on the Wycombe game. For the numbers present I wouldn't say the atmosphere generated was anywhere near cracking and although they sung a bit, the visiting Imps only numbered 630 which I consider to be poor. They took 1,102 supporters to their previous away fixture against Coventry in Birmingham.
These were two teams with a very similar passing game. We made 483 passes to their 421 with the accuracy of both being almost identical, 81% to 82% but we did have the edge in their half.
We weren't as sharp as we sometimes are and didn't always move the ball on as quickly as I would have liked to see. Plus there were more individual mistakes on show than we've become accustomed to. James Henry in particular looked well short of his top game and more than once stumbled over the ball.
It was the case that at Oxford Mapp took a while to impose his style on our side. It also helped when he got his own players in. This is very much the case with what is happening at Lincoln at the moment. There were rare occasions when I thought the insistence on knocking it around at the back would get them into trouble as we put on a bit of a press. At times that did my head in during his early days with us but of course it all paid off in the end.
The Lincoln team though were clearly working for their new(ish) manager and will want to prove themselves worthy of remaining in his plans going forward. He has already signed a forward from Waterford and wants three or four further new faces coming in when the transfer window opens in a few days' time.
With the red and white stripes being on us so quickly and any mistakes that were being made by either side being done so well away from the net they were defending, if the contest was to be settled it was likely going to be with something a bit special.
That specialness came from Shandon Baptiste's right football boot 36 minutes in. If you haven't yet seen the goal with added Alan Partridge commentary on Twitter I suggest you take a few seconds to do so. "Shit, did you see that? He must have a foot like a traction engine".
Baptiste started the move by playing the ball to Chris Cadden wide on the right and getting it back again not quite midway in Lincoln's half. He then turned half round his man and drove forward, the defender not giving up. Another then arrived on the scene and another turn saw off this one. I'm now thinking, pass it, pass the bloody thing, you'll lose it.  Cadden had continued down the wing and was pointing where he wanted the ball delivering.
Often goals are said to have gone in "the top corner" when nowhere near. This prodigious strike absolutely went in the top corner. Josh Vickers in the Lincoln goal launched himself but he was never going to stop it. I doubt the best keeper in the world would have.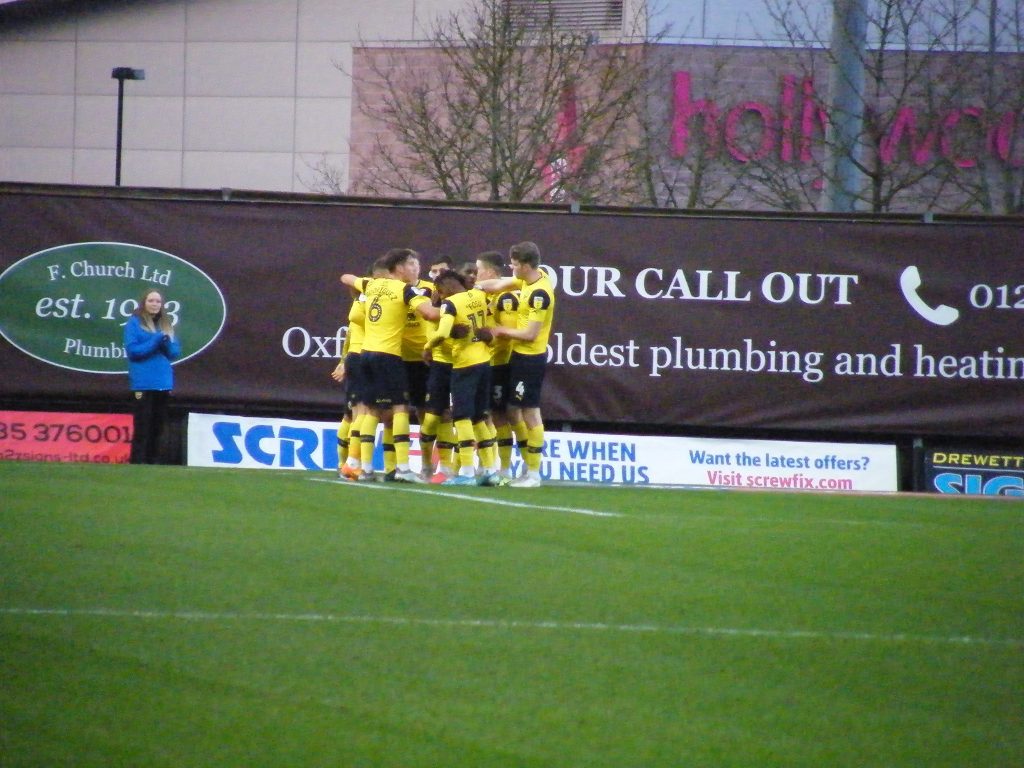 Ordinary celebrations following an extraordinary goal. Photo, Simon Jaggs
We'd gone quite close to opening the scoring earlier than this and whilst there is evidence to say the gods were on our side and we got away with one (the two extra points, actually) as in the very last seconds Lincoln hit the post and we also had to thank Josh Ruffels for hooking one away when a goal looked almost inevitable. Even Vickers had gone up and Lincoln were understandably by then employing Wycombe like tactics.
Harsh it may be in the world of stats but striking the frame of the goal does not count as a shot on target so Lincoln ended up with a big fat zero in that column. We notched a four so have plenty of evidence to produce a counter claim that we just deserved the win.
We'd gone close a few times before we registered. A move down the right involving Rob Dickie, Cadden and Baptiste got the ball to Cameron Brannagan on the edge of the box. Taking it away from a defender he was forced away from goal but turned back really quickly and in a trice had sent a shot just wide. When we're not bringing our A++ game it is actually easy to overlook how well we are doing. It's standard stuff now that we'll put together multi pass moves before unleashing an effort at goal. We mustn't get blasé about this. (I hadn't appreciated that there were 13 passes without an outfield Wycombe player touching the ball in the build- up to our goal until I saw a replay after I'd written the previous FV. Well worth a mention here).
That wasn't Brannagan's only first half attempt on goal. Another shot from similar distance needed a very good Vickers dive to keep it out.
It is fact that the mark of genuine contenders is that they can grind out results when not playing at their best so we can take great comfort in our bid to make this season very special from what we did here. But for me what now makes this an absolutely superb result is the fact that we had so many players who had to play even though they were ill. I wasn't aware of this until Radio Oxford informed me after the game. Anyone who does any regular exercise, be it jogging, using a cycling or rowing machine, will know that if you feel rough with a cold, stomach bug or whatever the times you'll be able to achieve will be down by at least a few percentage points on your very best. More likely though you'll give this kind of thing a rest until you feel better. It's no fun tiring yourself out when you feel rough. Yet this is what some in yellow put their bodies through for the cause and came out triumphant.
Within this display I thought we had a player or two who were outstanding. As sure as the sun rises Baptiste was going to be the sponsor's man of the match because he scored a goal. My vote goes to Brannagan. He was doing everything quicker than everyone else and constantly got himself in space even in a tight game such as this. Mous too deserves special mention. His experience was invaluable as the sickly yellow animal found a way to get the job done. In the second period when we were at our most vulnerable and a couple of Lincoln breakaways looked like they might bring a reward he did what was necessary. That meant taking one for the team when he pulled back Tyler and accepted his booking. Much as Lincoln protested, a yellow card was the right decision from referee Will Finnie. Our captain was not the last man, Dickie had got back too. These incidents are something I don't like to see, but I do really when it helps my team. It's all part of the game and the same for both sides who know what the laws say the punishment should be.
Finnie was by no means the worst official we've had but his performance was a little mixed. After initially whistling and awarding us an indirect for a back pass he changed his mind. If it had been a knee that played the ball back then he did eventually make the right decision, so well done.
As the game entered its final stages Lincoln players were going down on the slightest of contact and were getting free-kicks which ended up being hit into our box. That was rather concerning. When our guys started trying the same we got diddly squat. In the end this did not matter.
So little time to rest and recover now as we go again on Sunday in one of the least appealing fixtures of the season at the Cherry Red records Stadium for our last match of the decade, a period in which we've gone from near the top of the Conference to near the top of the L1. That's excellent progression in very competitive times whilst being somewhat hamstrung by huge rental and services charges.