WYCOMBE AT HOME
Our Opponents
If there was an award for over achieving in L1 going into Christmas, Wycombe would have won it by a country mile. Even their most optimistic of supporters could not in their wildest dreams have placed them top of the table seven points ahead of their closest chaser.
They brought a phenomenal league record to Oxfordshire. Only one defeat and that was away at Gillingham back in mid-September. They'd kept clean sheets in the last six games and away had conceded just four goals in total.
They're still being written off by many as long ball dirty bullies but I can't believe they are where they are without having something else.
I've never been a Gareth Ainsworth fan but having seen and heard him on EFL on Quest the other week thought he talked a lot of sense. In the past I've found his constant "little Wycombe" mentality quite tiresome. He kept pointing out that they have not got the resources of most of their rivals so had to do what they had to do. And you can't say it hasn't worked for them. They can't afford a Will Grigg for £4m, although nor can we come to that.
Without resorting to internet research Adebayo Akinfenwa is the only Wycombe player I could name. I'm always taken with the way AA plays. So very different in physique to any other professional footballer, he has a touch that belies this and is almost an immoveable object when used as the target man.
Despite their achievements this season their average home crowds are only 5,576, an increase of only 187 on 2018/19 when they finished in 17th place, three points above the relegation zone.
Since 2015 the Adams Park capacity has been under 10,000. Then the capacity of the Bucks New Uni Stand terracing was reduced from 1974 to 1494 under the Sports Grounds Safety Authority regulations. Apparently the measurement of the stand had been incorrectly calculated as had the formula to determine the allowed capacity. How many years did they get by with no issues whatsoever?
The latest accounts of Wycombe Wanderers Football Club Ltd being those to y/e 30/06/2018 are of a "small company" so it is not that easy to come by the usual information of wage bill etc. but the "anticipated loss" was quoted as being £667k with net liabilities being £780k.
Ownership of Adams Park is held within Frank Adams Legacy Limited.
The parent company of both is Wycombe Wanderers Supporters Group Ltd but this is all about to change as the Trust has just agreed to sell 75% of their shares to Rob Couhig. Earlier this year Couhig was close to buying Yeovil Town FC. A Wycombe fan I was chatting to in the Catherine Wheel before the game told me Couhig is worth a few billions. Is he? It is hard to tell. And even if he is will it be good for Wycombe? They'd no longer be a tiny under-funded outfit and couldn't play that card any more. Any big money signing could upset the applecart of togetherness. This could go one of two ways, or perhaps not at all. It's another watch this space, as it will be at our football club when this season is over. What will our owners do depending on what division we're in?
Oxford United 1 Wycombe Wanderers 0
No team in L1 plays the way Manchester City do but the style of some, or more accurately one in particular, is much further removed from that type of game than the rest. The contrast with Wednesday night was stark. This at times was more slugfest than a beautiful work of art.
There was a time when we used to get bullied and were easy prey. This most obviously is no longer so. Individually we might get pushed over – and who wouldn't go down when on the end of an Akinfenwa shove – but as a team collectively with this bunch of players we'll stand our ground against anyone. Jamie Mackie brought his degree in shithousery with him when he joined us and we've been all the stronger ever since.
The Chairboys started well. Full of the belief you'd expect given their lofty position. They were full of energy with nothing having been taken out of their legs in midweek. Akinfena was a focal point and the livewire Scott Kashket was a potential danger. Conceding early on would have been quite disastrous because this team can defend as they showed all afternoon to good, but not good enough, effect. They closed us down and got stuck in quickly. Tight marking robbed Tariq Fosu of the ball a couple of times and challenges that were possibly from behind won them the ball. If that had been us I would have been well pleased.
As we now go about our business in such a professional way we remained patient, playing our simple passing game with the ball being ours much more than it was Wycombe's. Fosu began to have a bit more joy and then when we put together our first real move of the game a goal came.
The ball came out from the back. Alex Gorrin gave it to Rob Dickie who pointed and then moved it on to Chris Cadden. CC knocked it back to Shandon Baptiste who had found plenty of space. SB's long cross field ball was expertly controlled on his knee by Fosu wide on the touch line. Cameron Brannagan came to collect and instead of playing the ball into the centre of the penalty area, aimed a shot back inside the near post. Ryan Allsop kept it out at full stretch and with James Henry being more alert than any Wycombe defender, had to react a second time to protect his goal. Third time he couldn't repeat the feat with Henry doing a complete swivel and lashing home the only goal of the game.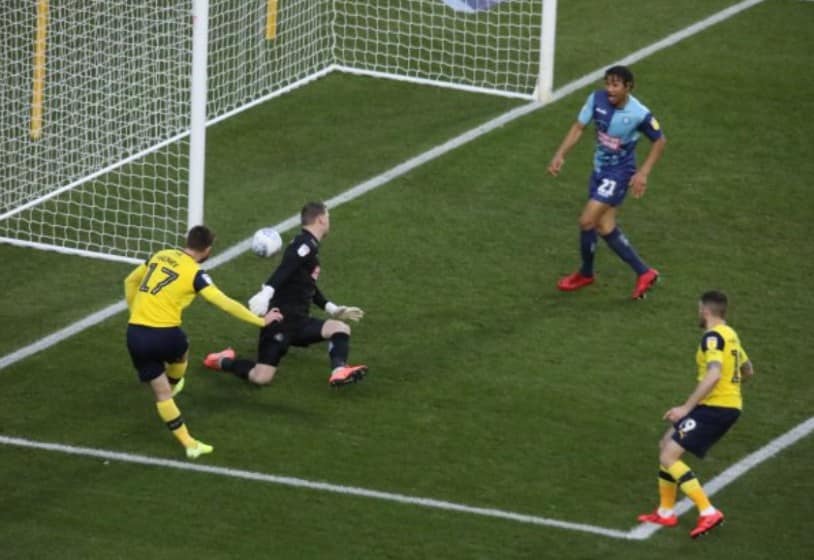 Photo, Darrell Fisher
The biggest drama of the game by far took place three minutes later. Baptiste's pass to Gorrin was just a little short but our man got to the ball first. He slid in to win it and did so without studs up. Kashket got there slightly later and contact was made. Nothing malicious nor done in a way as to endanger an opponent. In the good old days it would have been called a proper challenge. Probably not even a free-kick even in 2019 but I could see why in the current climate one would be given. I didn't think Kashket was hurt and observed no noticeable effects on how he played thereafter. The Wycombe forward stayed down as if to say he needed a stretcher. His team mates converged on referee Lee Swabey obviously wanting us to be reduced to ten men. So, oh the irony in that it was they who lost a player and also bearing in mind the way they've played the game over the years.
Swabey was one of the best L1 officials we have had for quite some time. On 20 minutes he gave Akinfenwa his first yellow card. A high ball was caught by Jordan Archer. The Wycombe barrel was in the vicinity and administered a shove into Cadden's back. Any Akinfenwa shove is a big one and bound to send a jolt through the recipient. CC who, with his back turned, did not see it coming went to ground. Weak referees let this sort of thing go. It allows teams like Wycombe to play the game their way. Michael Brown on EFL on Quest said this should not have been a booking. I say Mr Brown is talking out of his arse.
At the time I had little idea what was going on when the marching orders came. I saw bodies everywhere, mostly standing but one on the floor, shirts being pulled, and players trying to protect their team mates. Could it be a red for Gorrin? Mackie had run the last ten paces towards the melee and got heavily involved. Could it be him?
Having watched a replay it is still hard to work out the details. There was lots of touching and Mous did touch Akinfenwa who then came up with his second push in a few minutes. This push incorporated a throat grab too. Whether this warranted our captain staying down as he did I don't know. Blue shirts stood over him but perhaps any accusations of play acting would have been better aimed at one of their own.  The mess they then found themselves in could probably easily have been avoided.
Photo, Simon Jaggs
We'll never know how 11 v 11 would have panned out. As it was Wanderers continued to play the same way but without the big man up front which was strange because their effectiveness had been greatly reduced.  Having said that our back line had stood firm even with him on the field. Dickie was as good as ever and the way Mous read the game was exceptional. He had that instinct that placed him in the right place at the right time. He also showed that he was physically stronger than Kashket when the need arose.
Time wasting has been part of WW's tactics for years but another strange one was that they kept doing so even after they'd gone behind. Defensively though I thought they played us very well throughout the entire game.  We were just as good in that department and these must be two of the very best defensive units in this league.
We couldn't find our way through a second time although Allsop did well to turn away a Fosu shot after a bit of twisting and turning and then to get a palm on a Mous header from a corner.
If they did have one weakness at the back I would say it was Allsop's failure to come off his line and collect corners and crosses. If the ball was close to him he was fine, otherwise not so. He was though helped by some leniency from Mr Swabey who allowed him to man handle Baptiste out of the way at almost every corner. SB did nothing in Mackie fashion to justify this but keepers are allowed to flaunt certain laws of the game.
Kashket was replaced by QPR loanee Paul Smyth in the 62nd minute and they then went 110% (this percentage is allowed in football) route one. At every opportunity Smyth hurled a throw into our penalty area. Free-kicks were similarly launched and on one occasion the ball was thwacked skyward in a manner I've never ever witnessed even on a park pitch.  Other types of attacking our goal were no longer being considered.
Before that change once or twice there was a tiny hint that we might get caught on the break as we forced the game a little more than we needed to and lost the ball. At 1-0 up all we had to do was keep the ball. Forget any pretty patterns, get the three points.
We did get the ball in the net a second time but Matty Taylor was marginally offside although this didn't matter and we stood firm against any bombardment when it came. Of course without Akinfenwa their armoury was much reduced although with the ball ricocheting about it does become a matter of percentages at times and the ball can end up beyond the keeper with just brute force and little skill required. That hardly matters though because they all count.
Keeping them out ensured the right outcome. Football, not that there was a lot played, won the day.
Time and again after I've seen Wycombe play I've thought "wouldn't want to see that every week" but you have to grow to love what is put before you or you would grow out of love with your football club. Clearly the visiting fans are fully behind their team and must feel they are achieving something very special. They had every right to let it be known that they are top of the league and the applause they got at the final whistle said we're still right behind you, we know you'll give a 100%, keep doing what you've been doing. Whilst throwing in the usual acknowledgement that all football fans are biased, whether they like to think so or not, I thought the reaction of those from Buckinghamshire when CC was taken out off the ball as he made a break down the line showed they'd been fully indoctrinated into the Ainsworth cult.
The objective of getting a five figure gate was achieved and possibly for the first time we can claim to have had a higher attendance on the day than one in the Premier League. We bettered the number that were at Bournemouth for the visit of Burnley by 103. Of the 10,123 at the Kassam the actual number in the away section is unclear. On the official WWFC site on Dec 2nd they announced all 1,825 seats available had sold out. Their match report which does have some inaccuracies and also spurious claims has the number of away fans as 1,803 which is one more than recorded on ours.
Whatever figure you take leaves approx. 8,300 supporting the yellows and whilst this is commendable, greedy that I am I was disappointed to see any empty seats. I'm not going to get carried away particularly as some were attracted by the offer that allowed entry for a tenner. I would dearly love to see them attending on a regular basis in the months to come. Your football club is there for life, not just Christmas. Karl Robinson, his coaching staff, the players and owners all deserve at least these numbers turning up week in week out with what is being produced as we enter a new decade.
The future looks to be brighter now than it has done for decades although there are no guarantees it will be a smooth forward trajectory. But who would have thought back in the '80s we would have done what we did under Jim Smith? That banner briefly brought tears to my eyes.
Photo, Darrell Fisher
He will be proud of what we're building now and the quality of the players now wearing yellow. There are many that could be picked out here.
Gorrin did his usual midfield snapping along with keep ball passing and running with it too when the opportunity arose. It was a very wise move by KR to take him off at half time with a second yellow card, possibly encouraged along the way by a Wanderer or two, a very likely outcome if he'd been left on.
I was massively relieved when Brannagan, after receiving lengthy treatment, was able to continue. He is absolutely key to us being as successful as we possibly can be whilst he's an Oxford man. It will soon be two years since he arrived and he's got better and better. He knows where he's going to play the ball well before he's received it and when the occasion demands, moves it on quicker than any other. That's great for the tempo of our game. He also covers so much ground, is always available to receive the ball, closes down the opposition and gets a few goals too. His value must now be a few million, surely.
Knowing what we were up against, the three points was the clear target no matter how this was achieved and coming off with no further injuries was another objective. So two boxes ticked.
The stats really do give a very accurate impression of what actually took place. OUFC possession 80%. OUFC passes 575, WWFC passes 146. OUFC long passes 58, WWFC long passes 66. Passing accuracy OUFC 90%, WWFC 45%. Passing accuracy in opponents half, OUFC 81%, WWFC 33%. Crosses, OUFC 34, WWFC 4. Corners, OUFC 12, WWFC 0.
I don't care much about the "is it a derby or not" debate. It's a football match against a team about 25 miles away.  What will have happened though is that the feistiness we are bound to encounter when we visit Adams Park on March 21st will be increased even further after what occurred here.
I'll finish by picking a few bits from the official WWFC match report.
"Akinfenwa was the first name in referee Lee Swabey's notebook as the striker looked to compete for a high aerial ball from Ryan Allsop and accidentally struck Chris Cadden in the face with his leading elbow".  Whoever wrote that needs to take a look at the replays again because that was not what happened at all.  They must be pitching for their next job, writing press releases for a political party.
"In what was already proving to be a feisty encounter, the Wanderers were reduced to ten men after an altercation broke out following a nasty challenge from John Mousinho on Kashket. Akinfenwa joined the melee and appeared to grab hold of an Oxford player, forcing the referee to produce a straight red card". With Mous looking nothing like Gorrin and it not being a straight red, I suggest a specsaver voucher as a Christmas present would not be amiss.
"A volume of noise from the travelling supporters developed as the Wanderers began to assert a loose grip on the game, stretching the Oxford defence with balls out wide and into the channels whenever they regained possession". What?
Blinkered views from both sides of the fence. Don't you just love it? That's what gives football a spice that makes it something special, even if also horrible, at times. Easy to say when we've won. But win we did so I am saying it.
Once again we come to that time of the year – Merry Christmas one and all. That's everyone connected with OUFC including all of our supporters and also any fan of other teams who may have happened across any FV even if my yellow take on things have pissed them off. Again, that's football.
Enjoy your turkey (or veggie equivalent), trimmings, Christmas pud, presents, family and then the next episode a day later with the return of Mapp and some Imps.