Article by Paul Beasley Wednesday, October 30th, 2019
SUNDERLAND AT HOME – EFL CUP
The build up
I couldn't work out how big/important a game this was. The winner goes through to the quarter finals. We've not been there for 32 years. So pretty big then. But there's little money to be made from winning games and even the tournament itself when compared to the FA Cup. I read somewhere that there is no prize money for any club until the semi-finals but I'll go with the Sports Journal who quote the following: Round 1 winners, £5k; Round 2 winners £7k; Round 3 winners £10k; Round 4 winners £15k, Quarter Final winners £25k, Semi-final winners £25k, Runners Up £50k and winners £100k.
In contrast all third round FA Cup winners end up £135k better off. The EFL should hang their heads in shame. Carabao sponsor this competition to the tune of £18m over three years. So where does the money go?
Teams involved also get 45% of the gate money, presumably after expenses.
But when it comes down to it on the evening where two teams are doing battle in front of a full house it's all about the glory of victory and progression to the last eight. The cash will just be an afterthought, if that.
The West Ham game was not a sell-out. This was. Cheaper prices and it being half term in the schools' calendar may have been a factor but it tells that Oxfordshire was interested. That's a very good thing.
Nationally this went under the radar. All Premier League clashes are always noted, as are EFL teams playing a top flight outfit (Burton v Leicester) which was the case with us in the second round. Crawley v Colchester had novelty value as this draw meant a team from tier four would be in the last eight. An all L1 match – no-one was bothered other than us and the Mackems.
After the Rochdale game Karl Robinson made comment about the number of players we've had or have out injured. I think I picked up that the average number per squad at our level is 3.2 but that we've been running at 5 or more. Earlier in the season when we'd picked up injuries I'd worried that it would really affect how well we'd do but we've taken all losses in our stride and carried on winning regardless. Some players are probably more key than others though. Karl then went on to say that he had already picked the team for the visit of the Black Cats but would now have to make a change because Cameron Brannagan was down as a starter. This meant that Sam Long, not Chris Cadden, was going to start at right back anyway. We have kind of like for like replacements in many positions but I don't think there's anyone like CB. There's a strong argument that he's our most influential player. Does that make him our best? Possibly. It could well make him our most valuable in the transfer market.
Full House
Oxford United 1 Sunderland 1
Then penalties
Oxford United 4 Sunderland 2
The traffic around the Kassam Stadium was horrendous and if/when (take your pick) we do progress to the Championship and experience attendances similar to this on a regular basis, then a solution to the travel and parking issues really does need to be found. Lucky for the owners of the many vehicles abandoned on the grass verges along Grenoble Road out towards Sandford they were not ticketed.
It took us an hour from Bicester to get there. Bloody A34. Once legally parked up we still had plenty of time to kill so decided to do the quiz from Saturday's Times newspaper. It consists of 20 questions and although they're bloody hard the first few tend to be the easiest of the lot. We thought we'd started quite well and knowing how many we usually get right I said if we get more than nine right we won't lose the match. Absolutely meaningless and ridiculous but it kind of puts pressure on. Football and superstition are strange bedfellows. Reading the answers out, we got the first seven right. Then the next 10 wrong.  We needed the last three. Amazingly we got them. "God" Gary Ablett represented Hawthorn and Geelong in Australian rules football. And then to clinch it Mrs FV recognised a picture of Mont-Saint-Michel. Phew. Was that an omen telling us the match would go down to the wire?
I thought this was quite a poor performance. We didn't click as a team as we have done recently. There were many individual errors, some players had large periods where they were little more than passengers and some of the decision making when we were attacking indicated greed as opposed to team play.
This all sounds rather damning so time to introduce a different perspective. I spoke to Joe from Banbury at half time and he said that there were a few whingers sat just in front of him. I don't think I'd ever stand up for a whinger (unless I'm deemed to be that whinger) but pointed out we were playing nowhere near as well as we had over the past few weeks. Joe then guiltily confessed that this was his first game of the season and to him it looked much improved on what he'd seen last time. He thought we looked much more solid as a defensive unit. He also reminded me that ten years ago we were a Conference team.
Yes, we've been spoiled with scintillating football and all these three nil wins. On reflection what we put on here was the showing of an average mid-table L1 team.
I'd still say though that we got incredibly lucky. For me Sunderland should have had a hat full of penalties in normal time. That doesn't mean they would have scored them though as evidenced by their efforts in the shoot-out.
In each half I witnessed clear shirt pulling from our defenders when the visitors had corners, with no noticeable six of one half a dozen of the other about it. I would have been yelling for it if it was the other way round.  There's clips on the internet where the bar at the bottom of the screen can be dragged along to watch their penalty shouts in each half in minute detail and they reveal how fortunate we were. In the first half Simon Eastwood wiped out Joel Lynch after the Sunderland man had played the ball. In the second the evidence is that Sam Long did not play the ball but brought down Luke O'Nien.
Experienced Championship referee Stephen Martin wasn't for making these big decisions nor for booking anyone. When Robbie Hall was absolutely battered in front of the travelling fans we knew that his cards, if he'd bothered to take any out on to the pitch, would remain in his pocket. If he had reached in then and brought out a red it wouldn't have been a surprise.
Is a team lucky if their opponents are shit at finishing? Max Power came up with one of the worst misses we've seen at the Kassam.
Sunderland hit the frame of the goal twice and from one a goal resulted. Not for them but for us. Grant Leadbitter slotted a superb pass down a narrow channel onto which ran Marc McNulty with perfect timing. His first time effort struck the base of the post. Sam Long got the ball away down the wing and a purple shirt was onto it but with no proper control and Hall was able to touch it with the outside of his foot to Matty Taylor. A quick break was now on. Progressing from the half way line we had 4 v 3. James Henry was the next recipient, immediately moving it on to Tariq Fosu on his left. In the box it looked like a first time shot was on but TF came inside between two defenders and with a third sliding in couldn't unleash anything. Sunderland now had more back but they all congregated in the same area. The poke back went just behind Henry but Hall, who had continued his run and then slowed up on the edge of the area, remained unmarked and drilled a beauty left footed into the goal.
This was against the run of play but aren't most breakaway goals? It wasn't a tactic we were employing just the way the game was playing out as Sunderland had taken matters to us with confidence from the off. This though proved that their defence could be got at.
Although we began to attack more now it was done in a way that said more about greed than team play. If we'd stuck to our passing principles we might have got a second.
As the second half progressed many of our players became visibly tired and the ascendancy was with Sunderland although as we were able to clear most things there was a chance we'd see the game out in this manner.
We made it to the 78th minute before we failed to do this from one of the ten corners Sunderland had. Crowd scene corners can be a lottery. With half the players on the pitch going for the ball it was one of their heads that made contact but with the ball falling loose Taylor should still probably have got it away. He didn't appear to have his balance right and McNulty was able to swivel and finish from a couple of feet out.
I now feared the worst. We had a lot more players running on empty or close to empty than they did. Just as well extra time no longer plays a part and as we kept going with enough about us to get to the final whistle still on even terms, we entered a whole new competition.
Again I feared the worst. We couldn't do what we did against Millwall surely? These things even themselves out don't they?
Not if you're properly prepared they don't. It's in the head, body and legs.
Henry sent Jon McLaughlan the wrong way. Perfect.
Max Power hammered past Eastwood. Can't argue with that.
Anthony Forde accurately placed his close to McLaughlan's right hand post with enough pace to do the job but the keeper got quite close. Good to see AF back.
O'Nien rolls it one way and Eastwood goes the other. I quite liked his little gesture to the East Stand.
This is getting incredibly tense and I can't say I'm enjoying it. Who will blink first?
Fosu up next. I'm worried. He looked knackered at the end. Tired legs don't score penalties. Up he goes, stuttering run. Doesn't bode well. McLaughlan well beaten. Phew!
Will Grigg way over the top. From the Ready to Go Sunderland message board: "Couldn't finish his dinner".  They don't rate Charlie Wyke either, "Wyke looks like a bricklayer who is shit at football, and Grigg looks like a footballer who is shit at football." "Grigg is a low league clogger". "Striker my fucking arse". "He's worse than a man short. Doesn't score, doesn't tackle, doesn't jump, doesn't press, doesn't even get into scoring positions most of the time. He's a complete waste of a shirt."
Advantage us then but still a job to do.
The fourth official had been a bit slow in putting the board up to get Mous on for Shandon Baptiste in the final minute. Any slower and we would have been without our fourth penalty taker. More worry from me because Mous had not touched the ball in the seconds he was on. Emphatic. 4-2.
Now they had to score their remaining two and we had to miss our last one for us not to progress before sudden death.
Eastwood then came up with the first save in this mini event as he kept out McNulty's attempt and we were through.
Dramatic.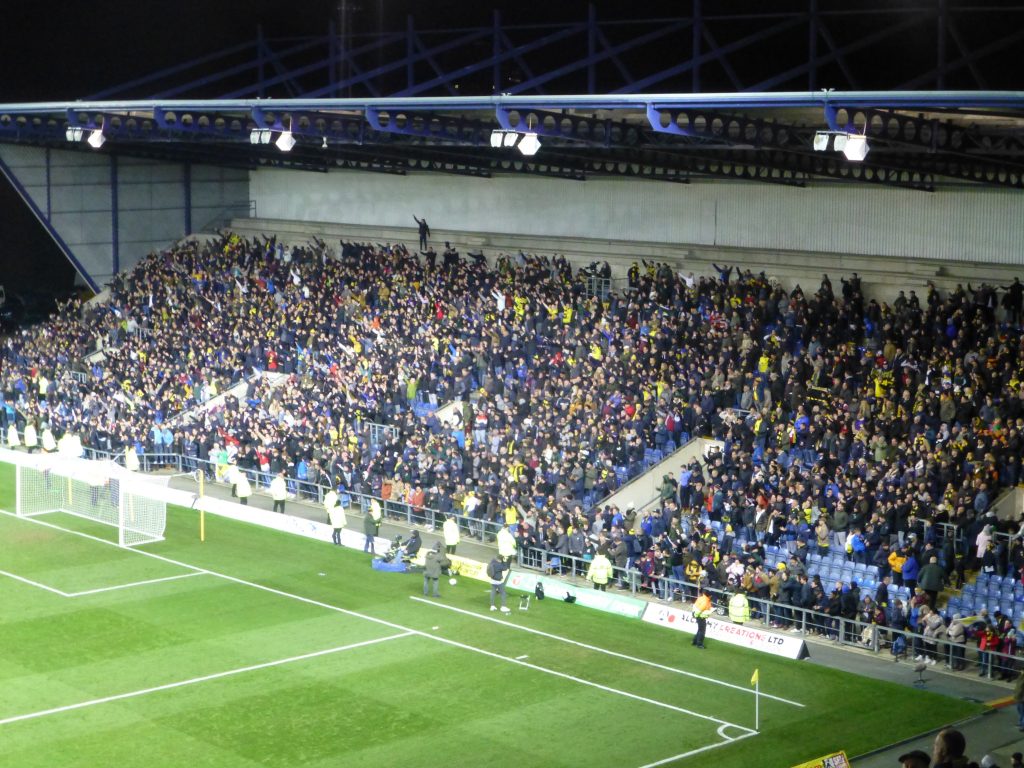 Celebrations in the East Stand after the penalty shoot out win
What a time to be an Oxford fan even if this display contained many flaws. To keep this dream going in the League and Cups we will need to get back to what we've been doing and cut out the errors which were evident here. So who did what?
Other than throwing the ball straight to an opponent which could have cost us when trying to get a quick attack going, Eastwood did his job well. Was there a rumour that he'd been ill overnight and nearly didn't play?
Early on I thought it noticeable that Sam Long isn't the attacking winger type that Cadden is but come the final reckoning he had to be a contender for man of the match. Very solid defensively for the most part and tidied up really well a couple of times when we nearly got undone in the first half. And he does get forward quite effectively at times. Perhaps the final delivery could be improved but I'll put that down to tired legs late on. The only real mistake I can recall was one dodgy header that nearly led to a good Sunderland chance but given that we were under a lot of pressure that's not bad. I'll ignore the (non) penalty tackle as it wasn't given.
Josh Ruffels was targeted with long high cross-field balls and although he's a guy who, for a full-back, is very good in the air, he was losing out a lot. From this Sunderland were able to mount attacks. The rest of his play was the usual reliable 7 or 8 out of 10 stuff and he has to be one of the fittest players in the EFL. When others had wilted near the end he made one powerful run before playing a pass so good it equalled if not bettered what Leadbitter had delivered earlier.
Another factor in our full-back play was that often they probably weren't getting the help they deserved when we did not have possession and that was 52% of the time.
I can't remember Elliott Moore doing anything wrong and Rob Dickie cocked up just once. That was what led to the sitter Power failed with. When we get away with such things they are easily glossed over.
In central midfield Brannagan was, as suspected, a huge loss and his absence likely explained why our standard had dipped. He's usually available in space to receive the ball throughout an entire game and is able to open things up with team-mates being freer themselves to in turn get the ball.
The player who came in for him, Shandon Baptiste, was a big disappointment. He never seemed to become fully attuned to the game and lost possession much too often. He was another who ran into trouble when more focussed on going for goal himself instead of passing to another yellow shirt. He nearly got his name on the scoresheet in the second half forcing a good save from McLaughlan. Must remember he's only 21 and hasn't got many games behind him.
With different people around him Alex Gorrin had to do what he always does but even more so. He was cream crackered at the end and no wonder.
James Henry gave us another solid reliable performance and like JR had running in him when others didn't.
I was chuffed for Hall when he netted for the first time in years but sadly still can't see him as a 90 minute player that we can rely on. I don't think there's enough defensive cover in him and there's long spells when he went missing. He was one of those guilty of going it alone instead of getting his head up. There was the odd occasions when he did something exceptional like when he beat a man down the right with some of the quickest feet movement you'll ever see. Pretty sure his feet are quicker than his legs. He won a free-kick for that.
Fosu wasn't the standout he often is but a danger nonetheless. He's another I thought was too greedy but this is something else I may have got wrong all round. Did players hang on to the ball too long because there weren't the numerous passing options available that there have been when we've been scoring for fun with CB on the park?
Taylor had little involvement in the game but being the predator he is even when quiet there's a chance he'll pounce and convert in a split second. That never happened but I felt sorry for him as he got almost no service from anywhere on the pitch. Jamie Mackie defensively is one of our best players at winning duels when we're defending corners. MT doesn't bring that to the party nor has the nuisance value Mackie has in unsettling defenders although it is not for the want of trying.
The quarter finals are not until w/c 16 December so we must now put this adventure, whatever the draw brings, to one side and concentrate fully on first the league then the FA Cup.