SEASON 2020/21 – FAN'S VIEW No.2
(Leasing / Bubbles / Managers / (Some of) Lincoln away)
Leasing.com Trophy
Worth bothering with?
Not even sure I'd realised that the EFL Trophy was sponsored by leasing.com last season. I still thought it was the Checkatrade which shows how little interest I have in it. It was a three year deal with a £3m annual prize fund so crazily in these fan-less times is a more appealing competition to win than the League (Carabao) Cup from a financial perspective. That is its only redeeming feature. I feel obliged to say it as I do every season – you can stick your U21 sides.
I don't turn up for these fixtures as a matter of principle so not a cat in hells chance of me paying a tenner to watch on iFollow.
The Denmark v England game was on (and what a depressing game that was to sit through). Not Iong after that had started I remembered we were playing the Chelsea Children. There are lots and lots of Chelsea Children. The Pied Piper of Stamford Bridge is constantly touring the country luring five year olds to West London or more truthfully their parents into signing a piece of paper legitimising this practice. One in a 1,000 get close to the first team the rest are farmed out on loan to clubs throughout the UK and Europe but they're still left with some who need a game, hence Tuesday night.
My son checked his phone for the score: 2-0 up. I did care a little bit. Really good start I said wondering how many we would score. "Half time" he said, "seven o'clock kick off."  Yes, best get it over and done with. One conceded but a win still achieved meaning I presume we've bagged a few quid. Biggest worry is injuries – Sean Clare. Going to miss a game or two or just went off as a precaution? If it was the latter that proves how risk averse we are or that the League is 100 times more important than this, which it is.
Seems Derick Osei Yaw can score goals and Dan Agyei can pounce and punish mistakes too. Here's hoping they can do the same when they're representing us in the real thing, the League.
Bursting those little bubbles of hope
The FV was obviously never intended to be a vehicle for political views, or the catalyst for such debate, and my intention is to keep it that way but have to be honest and say I'm not sure I can guarantee that.
I'm going to get into "stating the bleedin' obvious" territory now. The biggest influence on how all our lives are being led, or should be led, at present is Covid-19. Or probably more to the point what the government are asking or demanding we do.
From the very start, whenever that was, there has absolutely been a need to be flexible and have the ability to react quickly as more was learned about the nature of the virus almost on a daily basis. Common-sense dictated that a risk averse approach, at least in the early days was the way to go although some didn't think so even then. The challenges are off the scale when compared with anything the world has faced in recent decades. Economies and life itself needed to be kept going and of course still do.
We may never get back to the old normal but steps away from total lockdown were providing hope and also a deep appreciation of what over the years is easy to take for granted. Football. Live football. Being in a stadium somewhere in the country watching my beloved Oxford United.
The Social Bubble survey felt like a tiny piece of progress. I had an email. Mrs FV who is also a season ticket holder didn't. No worries I said you're in my bubble anyway, or will be when I fill the details in. Our third bubble member is my brother who sits next to us.
Quite a conundrum trying to fit as many season ticket holders in as possible. The bigger the bubbles the more that can fit in I am assuming meaning the number of times everyone misses out will be reduced. Hopefully there's a piece of very clever software on the case.
The survey contained this wording "by acknowledging this form you are accepting that you will have to sit in a different row, seat or stand so that the football club can accommodate as many supporters as possible".  That will be standard wording across all EFL clubs. Anyone in these circumstances who was to throw a childish tantrum because they won't be allocated their usual pieces of blue plastic would look foolish in the extreme. However that said, as all our bubblers have paid SSU premium prices we would be peeved if we were moved to the cheapest seats in the East stand. Personally I think 1893 club should take priority as they've paid the most. But of course a social bubble group could contain fans who normally sit in different stands. Some have lost out more than others already.
We shall see. Or shall we? Well possibly not as soon as we thought.
On Tuesday night it became known that the Government were going to change the social meeting restrictions yet again to combat the steep rise in the number of new coronavirus cases. From Monday only six people allowed to meet socially either indoors or out. There's absolutely no logic to having the same rules for outside as in. Because there has been confusion previously – and no bloody wonder – they want to suddenly make it simple. How simple do people have to be not to know whether they are in a building or in the fresh air? Ah, but does being in a football ground count as being inside or out?  Well, yes indeed.
I thought well that's it. No chance of getting back in the Kassam, in any part of the ground, for the Crewe game now. And also an end to playing walking football which has started up again in recent weeks – all very well organised and sanitised. (A plug for Bicester Fossils here and I know the Oxford  lads are back at it too).
The following day I spotted the smaller print that it does not apply to "organised team sports". Great we're back on.
Or probably not. October 1st was the date when it had been planned for fans to return to sporting events. On Thursday the government said it was reviewing that date. Given the way some people behave can you blame them though?
Cambridge United were allowed to have fans attend their EFL Trophy game against Fulham U21s. The attendance was 862. Social distancing measures were in place and masks were worn. Shouting and singing were discouraged. According to reports noise levels grew as the game wore on.
It had been planned for Cambridge to host a second pilot this Saturday with 2,000 fans being allowed to watch the League Two game against Carlisle. Tickets were issued. The Department for Digital, Culture, Media and Sport then came up with new guidelines on Wednesday saying that pilot events would now be limited to 1,000 spectators. So Cambridge had to backtrack and cancel pilot no.2. There was no way they were going to be able to select 50% of the 2k who were going to turn up and tell them they couldn't whilst the other 50% could.
Realistically I don't think that there's much, if any, chance of me or any Oxford fan watching the game against the Railwaymen in person. I hope I'm very wrong and it turns out it is safe to do so though.
Ridiculous and disappointing just doesn't come close to describing the situation we're in.
Managers – Past and Present
There are many ingredients that need to be just right to make a successful football club. The manager is absolutely vital to ensuring the team is a winning one. Okay no team wins every week so by that I mean wins quite a lot more games than it loses.
Our current incumbent Mr Karl Robinson has just signed a new four year contract. His opposite number at Sincil Bank, Michael Appleton held that post for three years from July 2014 to June 2017.
Both are managers that get their teams playing a passing possession game.  Or at least that's what I thought they did. Mapp started off at Oxford thinking this philosophy alone would bring success. The first four games were all lost. The first win didn't come until eight games in. I think it wasn't until we then became a bit more pragmatic that things started to turn around.  A realisation that a battle had to be won before the football could be played. League Two is not the ideal setting for tika taka and nothing else at all. It was at that point I became a fan. There was improvement but it wasn't until late March that the season really took off and we went unbeaten in our last nine games. That was too late to achieve anything though other than to set ourselves up for promotion next time around. The lesson being, without doubt, give a manager time. Unless of course they are totally incompetent. I was by now even more of a fan and when he did leave after one season in L1 was sorry to see him go.  His Oxford record in all competitions P 173, W 78, D46, L49, win percentage 45.1.
Under the Cowleys Lincoln played a very different style to that which Mapp coaches and it is little wonder he lost 50% more league games than he won last season. I'm expecting something rather better from the Imps this campaign. The time a manager needs is so that he can get his ideas over to an inherited squad, work out if the players he's got can implement those ideas and if they can't get them out and get replacements in that can. Easier said than done.
Given the chance would I swap Robbo for Mapp? Absolutely not. Never (or very rarely) go back. KR's enthusiasm is infectious. He's bought into the Oxford thing. The thing we're a part of and I don't see how anyone can deny that we've seen some of the best OUFC moments under him that we've seen in decades and probably the best football too. He too had a slow start not getting his first league win until the sixth match. His Oxford record in all competitions now reads P 123, W 50, D 36, L 37 win percentage 40.7. Of course there are weaknesses, all teams have them, but not only has it largely been pleasing on the eye but we've got results too.  And we were so very close to getting back to a level we'd not experienced since 1998/99.
Lincoln away at home: City 2 United 0
Just before any season begins many fans become obsessed with predictions, not only for their own side but every other team in the league in which they are competing. That's very much a hostage to fortune thing. Leave it out and see how everything plays out. But we're all tempted aren't we? So my prediction is, that the result at Sincil Bank won't be 0-6 this time around. I refuse to look any further into the future than that.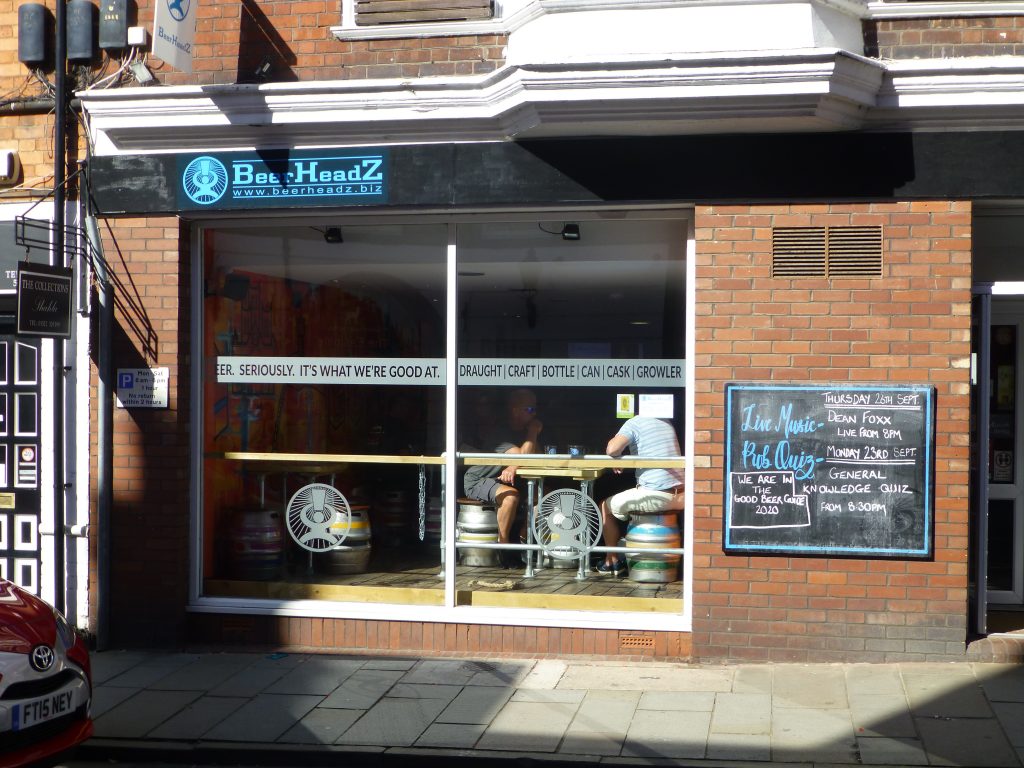 No drinking in here this season
When I said I was missing travelling to this fixture my brother said yes, but think about how much money you are saving. A tenner to watch on line and the whole family can watch too. It would cost more than that just to get in by a fair few pounds if we'd travelled north. Then there's the cost of travel and although that is optional, beer. Beer is nearly impossible to resist, it's all part of an away day. The pubs, the banter, the crack, meeting up, chatting to home fans of the friendly variety. Whilst I wouldn't put Lincoln right at the top of the pubs/beer premier league with the likes of York I'd probably put it mid-table. A sad loss of a day out.
Also on my brother's suggestion I contemplated asking to be picked up just gone half past nine, driven around for a couple of hours by our chauffeur Tim then dropped off outside the Bell (Bicester) just before midday. I could pretend it was the Golden Eagle. Beers in there then down to the Angel (that could be the Cardinals Hat) although the short walk would no way replicate the almost vertical slog up Steep Hill.  Then trot off home to arrive at 2:50 where perhaps I could ask my wife to act the part of turnstile (front door) operator.
As I'm not really that crazy I did no such thing.
As it turned out the day could not have been much worse football wise nor the contrast with the team's last visit to the cathedral city any greater.
I don't know why but having looked at the starting eleven I thought that something didn't look quite right although I couldn't quite put my finger on what. This isn't hindsight, my son will testify to it.
There were no pre-match beers although having seen the first half a few would have helped.  The earliest of days of course but that was not good, not good at all. Other than the first couple of minutes when Matty Taylor nearly got on the end of a ball whipped in from James Henry and almost got lucky when a clearance from keeper Alex Palmer cannoned off his back there was almost nothing to be positive about.
We gifted the Imps a goal after just six minutes. A poor Rob Atkinson pass from the back went straight to an opponent which resulted in a cross soon coming in. That was headed home by Anthony Scully with Sam Long not having got into a position to prevent him doing so.
From then on Lincoln adopted a pragmatic approach – one that said we are not going to lose this. You will not score. We have the lead. Everyone got back. They seemed to be winning every battle. Our possession was not getting us anywhere. Balls into the box were of no quality and easily defended. We didn't have men in there anyway. And even if we did they were bigger than us.
What was the problem? Lack of genuine pace perhaps. Although that is a great asset to have that wasn't really it here with the home side sitting so deep. The way through? Maybe close control and a tricky little dribble. We had no-one who attempted that and I'm not sure any of our current crop have that in their locker. Tariq Fosu-Henry and Shandon Baptiste are now at Brentford. We don't have Marcus Browne this season (yet?).  Maybe a threaded pass that unpicks the lock? That didn't happen. Liam Kelly did not come over as the creative force I thought he could be. An accurate shot from distance that makes the massed ranks of red and white shirts between ball and goal an irrelevance? No, not that. We didn't have one shot on goal in the first period, not even off target.
Another great worry was that Lincoln, even with their very low percentage of possession, were creating the odd chance or two and looked much likelier to get a second than we were to get our first. Also we were looking shaky when high balls were played into our box.
But there was a second half to come so perhaps matters would take a turn for the better.
They absolutely did not. In fact it got worse. Quite a bit worse. At least we started part two a touch brighter with Cameron Brannagan firing a decent shot on target but we weren't really hurting them. I didn't have much belief that we would turn it around. Taylor had nothing to feed off. Free-kicks we were awarded came to nothing. We just don't pose problems from them. Given Elliot Moore's size they should, even if it is just in a basic fashion.
Then on 64 minutes iPlayer froze. Having done a few checks we discovered the problem was with our ISP. They're aware of the problem and have a target to get it fixed by half past one in the morning. (It was actually restored at 23:15). Gee, thanks Virgin. So that was a tenner well spent. And so much for the Sky subscription via Now as no Liverpool v Leeds or West Ham v Newcastle for us to take our minds off the yellows not firing at all.
The rest I can only guess at based on the Radio Oxford commentary, most of which I listened to, although I wasn't far off jacking it in.
Josh Ruffels' injury had happened whilst we still had a picture. That's one of the last things we wanted to happen. As we all know we have no proper cover at left-back. Bugger.
Two down. Another high ball we can't defend. Bugger.
Rob Atkinson sent off. Bugger. At least we have Mous, an experienced head and one that may have helped out here if he'd been on the pitch but as he's our free-kick coach he has got enough work to do on the training ground.
It goes without saying that was all pretty crappy. Many players disappointed me as did the whole team performance. It is just one game though so I'll leave it there and say in conclusion well done Lincoln. Well done Mapp, you won the tactical battle and got a lot more out of what you had available than Robbo did with his assets, although our manager did say it was a good time to play us. That may have been kidology or did it just give a fillip to the Imps?
So no way can I agree with Robbo when he said, "I think as a whole, we outplayed them, we dominated the ball, we asked more questions in the second half than we did in the first half".  No, we were outplayed and outthought. Football is about winning games not having possession when that possession is doing nothing to hurt the opposition.
Before I sign off I'll pose these questions. Is Sam Winnall still as good as he was when playing for Barnsley against us at Wembley? How injury prone is he? What needs to happen around him for him to score goals?