Article by Paul Beasley Sunday, October 27th, 2019
ROCHDALE AT HOME
The week gone by
James Henry. Photo Simon Jaggs
I'm well pleased with the news that James Henry has signed a new contract but don't know what to make of Erick Thohir's departure from the board. Is it meaningless or a vital cog in the ownership and financing of the football club? I, like most fans, have not got to the bottom of how the debts are actually currently being covered or what each of the directors is bringing to the party, if anything. That's not necessarily a bad thing because hands are not declared in the commercially sensitive world and a football club fits into that in its own unique way. We believe, or at least like to believe, that there's a lot going on in the background concerning the ground, a new one somewhere down the line or significant developments (pun intended) regarding the Kassam. And purchasing the training ground too.
Only time will tell.
The Bury farce continues to hang like a shadow over our division. I've written plenty about it previously but keep coming across new material that is worth sharing. Not for the first, or last, time I'm going to lift from When Saturday Comes. In the October edition there's a piece entitled "Gigg Economy" written by Bury fan Chris Bainbridge. It's worth reading the lot but here's a few extracts. "Steve Dale bought Bury for a pound in November 2018, freely admitting to no interest in football or prior knowledge we even existed. Some sceptics amongst us questioned his motivation from the start, suspecting Dale just wanted to run the club down and sell off the land. His previous business track record lends credence to this suspicion, with over 40 companies he's been associated with going into liquidation. It was a concern when Dale announced that the finances were much worse than he realised when he first invested his single coin".
Every other League One team had a game on Tuesday night except us. As the Shakers never got out of the starting blocks for 2019/20 it was our turn to have a rest day. Others are thus no longer as many games behind us and two teams, Lincoln and Wimbledon, have actually now played a match more.
We only dropped one place into sixth and there are now just three sides with games in hand who have a realistic chance, as things stand, of over-taking us once they've played catch up.
In the last FV I wrote that Ipswich looked a class apart, which was actually based on the League table not having closely studied how they've been playing. Since then they've been defeated 2-0 at Accrington and beaten 2-0 at home by Rotherham. What do I know? Well, that form comes and goes and there's no such thing as a cert. (What about us yell Southend, we lose every week)
Our opponents
On the subject of turning form around, Rochdale were in 19th position at the close of play on October 5th. Since then they've won all three games and a win at the Kassam would put them just one point behind us with the same number of games played.
The Dale won promotion from L2 in 2013/14 and have remained at the level above ever since. Their finishes have been between 8th and 20th with the last couple of seasons bringing their two lowest placements. To survive at this level is quite laudable. They've got the fourth lowest home attendances in L1 at 3,572 which is almost identical to what they ended up with last season.
To y/e May 2018 they made a net loss after tax of £306k. The previous year they'd been profitable to the tune of £1.4m. The difference largely being explained by the reduction in transfer fees from £2.2m to £711k. The wages and salaries bill including social security cost was just £3.2m which is very low in comparison to many of their rivals. Fair play for living within their means. The balance sheet shows net assets of £2.6m. Just to repeat, that's assets not liabilities.
They own Spotland and have Rochdale Hornets Rugby League team as long term tenants.
Oxford United 3 Rochdale 0
Walking away from the New York Stadium a week earlier an Oxford fan from Nottingham dared to say, "We're going up". My response was don't tempt fate, don't be so ridiculous. It's easy to get carried away isn't it? But its game after game we're producing the right stuff and after this latest home victory by the usual score I have to say we're serious contenders.
It could all go wrong, of course it could. But why would it? In all my time watching OUFC this has to be one of the best periods to be following the club for quality of football being produced. Much as I loved the Mapp period I'd say we're playing better now than when he was in charge and this is at a higher level than the one at which he achieved his success. The only era I'd say that trumps this is that of Jim Smith first time around. A different world, in different times with different dreams.
But there's no doubt I am getting carried away. Our season is but 15 league games old. Stating the bleedin' obvious, "there's a long way to go".
If there's a God that has a brief overseeing both football and beer then he/she/it did us proud by scheduling the Oxford Beer Festival on the same day as a home fixture. Due to the lack of decent real ale pubs anywhere near the isolated Kassam I now don't usually touch any beer before a home game. With this event on though it was well worth starting the morning in the Town Hall in the city centre three and a half miles away. For anyone who likes their beer (real) and cider (real) I'd thoroughly recommend it. The choice of styles and quality cannot be faulted. Not only was the layout completely different than when I'd attended on Thursday, the opening night, the beers on offer were totally changed too. I will say I thought some of the beers were a bit pricey though. A noticeable trend at many beer festivals. Don't push it.
Sat with a number of Yellows (and an Ipswich fan) the news began to filter through that games were getting called off due to waterlogged pitches. There was a strong hope that ours would be added to the list which would mean we could continue supping ale throughout the afternoon with clear conscience. As that wasn't to be, I headed for the 3A bus scheduled to depart from near the (currently closed) Mitre at 10 past 2. Most were going to cut it even finer to make kick-off.
From the group of Rochdale supporters who were treading the same path as me I learned that they played football including playing it out from the back. That increased my confidence that we would win no end.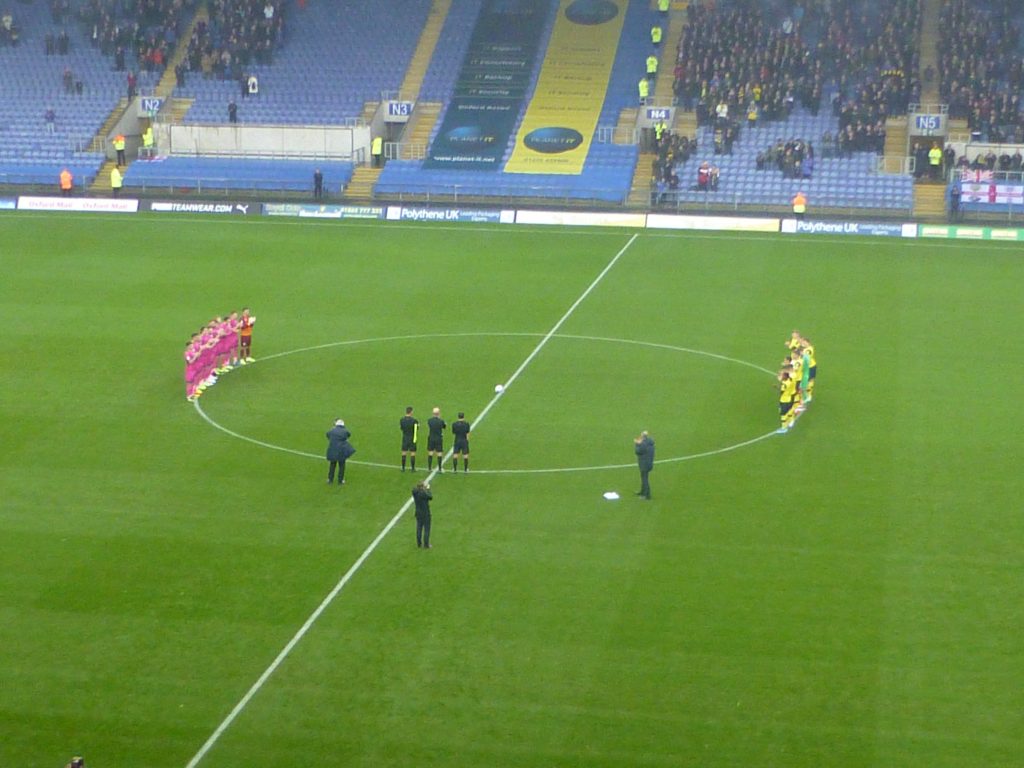 Prior to the start we had a minute's applause for Womble. All officially done with dignity. Again I had tears in my eyes. Well done Oxford United.
The first ten minutes or so there was little in it with both teams passing the ball efficiently when they had possession. This though is all part of our game plan, take it steady, see what's what and size up the opposition.
What we then produced was a thoroughly professional performance against a team that aren't in any way a bad side. We totally bossed proceedings and if there's one criticism it's that we could quite easily have doubled, or possibly even trebled, the number of goals we put past the team in the salmon pink. But if you score some, or even just one, but don't concede any that's really irrelevant.
We had 30 (that's a helluva figure) shots with eight on target. Simon Eastwood had his easiest game of the season so far. He didn't have a shot to save. Of the five efforts on goal Rochdale came up with not one was on target. They did get the ball in our net once but the linesman, who was in line, raised his flag to indicate offside.
That we had 67% possession further demonstrates what a stranglehold we had throughout.
I cannot remember when an Oxford Utd team had such confidence and self-belief. The way we move the ball is with rhythmic efficiency and there's no way we look like losing it or playing a game that requires a level of skill we do not possess. Quite a few teams think they're better than they are and get caught out. That's not us at the moment. We know we're good. Every single player, starter or sub, looks totally comfortable on the ball.
We were two goals to the good with half an hour not yet on the clock.
The first came from a Cameron Brannagan corner hit long on to which Alex Gorrin, having stepped back from his marker, was able to place a header into the danger zone. Josh Ruffels, who'd made a run whilst the ball was in the air, stabbed home.
The second was a finish showcasing a player at the very top of his game. The scorer, Tariq Fosu, was involved in the build-up, playing a ball to the ever available Chris Cadden on the right. Our loanee attacking full-back spun it first time into the box and after a stretching defender had missed it, Brannagan hammered a shot against the crossbar. Usually in such circumstances the ball continues over for a goal-kick, bounces down just in front of goal or rebounds to end up some distance from goal. This was different. It just went straight up in the air and kept going, giving all around plenty of time to consider their options. Fosu calmly waited and then delivered a side foot volley along the narrow channel to goal that only he had spotted.
A Jamie Mackie header from another sweeping move nearly extended our lead but it was directed too close to keeper Jay Lynch.
Five minutes before half time not only were we two goals to the good we ended up with a man advantage too. On the day I thought what a good tackle Aaron Wilbraham had put in and didn't even think it was a free-kick let alone a card of either colour. Anyone sat close by who voiced an opinion thought the same and there were no opposite views expressed during the half-time chatter. I feared it would spoil the game.
I was however well aware that referee Nick Kinseley had a better view than we did and from a different angle. He'd shown the red with no hesitation and so I wasn't entirely surprised that after watching slow motion replays it supported his decision. If it had been an Oxford player getting his marching orders in such circumstances I'd probably be trying to argue that the outcome was harsh but the case would have been flimsy. Wilbraham might have "got the ball" but that was with his calf and after his studs had made dangerous contact with Fosu's leg sending him nosediving into the turf. The reaction of the yellow shirts and Karl Robinson was very telling.
Forty year old Wilbraham was only starting because Ian Henderson, the one player Rochdale have who can score goals according to their fans, was only fit enough for the bench having not trained all week. Henderson did appear a couple of minutes after the restart and it was he who netted the offside goal in a way that showed he is a finisher and if he had been fully fit we would probably have had a harder game on our hands. He did nothing else of consequence though.
Lynch was a busy man ensuring the score wasn't extended and at times his goal lead a charmed life. From another corner, this time taken by Henry, Rob Dickie shaped to head home only to be pushed past the ball by a defender who had got the wrong side. Whilst most Oxford men were appealing, Shandon Baptiste just got on with it. He banged the ball back into a cluster of players. Mackie took everyone by surprise by ducking under it, not least Dickie who had only just got to his feet. It could have been the easiest of tap-ins. Scrambling back towards his goal Lynch made an unconventional save by scooping the ball behind him then spinning round and gathering.
The third did come eventually with four minutes of regulation time remaining. Robbie Hall took a free kick from just outside the penalty area and a yard from the bye-line. With the expectation being that he would chip it in instead he pulled the ball back to Henry whose shot was parried by Lynch to Sam Long who hit it into the ground and into the goal.
Not for us, sitting back. We had six or seven in positions where it could have been them getting a shot away if the block had fallen differently.
With the team functioning as it is I could easily repeat what Mous, Dickie, Mackie, Brannagan, Fosu, Gorrin, Henry, and Cadden are bringing to the party but instead I'll move on to some who are a bit more in the background.
Ruffels should really be included in the list above but how can anyone write about this game without mentioning that turn he did. On the radio it was described as a Cruyff turn but I'd need to see it again to confirm if that was so. Whatever it was it was wondrous.
Long played for 41 minutes and in that time made just one mistake when he failed to control a long ball played to him down the wing. He was as much involved in attacking as the man he replaced and had such a good (half) game that my brother's comment that he could easily be man of the match wasn't as outrageous as it might sound.
Then there's Robbie Hall who only had just over a quarter of an hour to impress, but impress me he did. Previously I've doubted he'd get back to what's needed at this level but here he looked quicker and did some things that were well worth watching.
And by coincidence Simon Jaggs captured all three together
And talking of well worth watching there were just 6460 home fans present which was an increase of only 90 on the Doncaster game. I really am disappointed in the Oxfordshire public. They'll come out of the woodwork and think they're proper supporters, all face painted up and waving dodgy flags, whenever we get to Wembley in Mickey Mouse tournaments or draw a giant at home in a proper cup, but they're needed now. Seems Karl's plea has fallen on deaf ears. I will add though that those who do turn up week in week out and whenever they can are giving good backing.
I don't know what more I, and people like me, can do other than to keep pointing out what's happening and that it won't last forever. I also feel the need to point out how massively disappointed I am with the club shop in the covered market. I hate slagging the club off but it has to be said. Crap. Why the **** are there not posters in the window advertising the next few fixtures? Why not point out where to catch the bus from to get to the Kassam from the city centre? There still are some posters up giving the opening times but one poster gives one set of opening times and another different times. A bloody joke and it's not the first time I've mentioned this.
The team are playing some top football and getting the results to boot. The training ground is a top facility. So why are we so far behind in other areas?