Article by Paul Beasley Sunday, October 20th, 2019
ROTHERHAM AWAY
Our Opponents
Rotherham have the 5th highest average home attendance in L1: 9,640. I'll gloss over how pathetic ours is in comparison. Even though we've only got three sides the capacity of the Kassam is marginally bigger than that of the New York Stadium.
In 2000/01 when we finished bottom of Division 2 (Tier 3) the Millers exited in the opposite direction finishing second to Millwall. They then spent four seasons at the higher level but finished in last place in the Championship in 2004/05. Their second season in League One saw a further relegation.
Next came a six year stint in the bottom tier of the Football League. In 2011/12, our second season after returning from the Conference, we had more than double the number of people coming through our turnstiles than they did theirs. The respective averages were 7,451 and 3,498.
The following season Rotherham were promoted, as they were the season after to get back into the Championship beating Leyton Orient 4-3 on penalties in the play-off final. Clearly very tight but instead of getting to perform within touching distance of the Premier League the O's were playing in the National League just four years later. What a precarious game football is. You never can tell for sure where a club will end up a few years in the future. In that final Orient brought on a 20 year old substitute in the 106th minute, John Lundstram.
Rotherham have now turned into one of those yo-yo clubs. Relegated from the Championship in 2017/18 they went straight back up, again by the play-off route, then finished third bottom to drop once more.
Rotherham are currently two points behind us but have two games in hand. Their recent record is pretty good – 11 points from their last six games – but doesn't quite match ours. The previous Saturday they won at Blackpool and the week before that spanked Coventry 4-0 at home so are a team to be taken very seriously. (Aren't they all?)
Compared with most League clubs Rotherham are in a fairly healthy state but still are not profitable and are in the red. The latest filed accounts for the year ending 30 June 2018, when they were a L1 club, records a loss of £511k with net liabilities of £3.6m. That's made up of £850k called up share capital and – £4.4m retained earnings. There's a note that with relegation came a reduction of £4.8m in award from the EFL and Solidarity Fund.
They sold 5,582 season tickets which was down by 10% on the previous figure when the football on offer was at Championship level. Wages and salaries including social security and pension costs came to £6.3m
Rotherham United 1 Oxford United 2
Having missed the trip to Accrington it felt like ages since I'd last watched the Yellows on opposition turf. I was glad to see that there was no gap in Fan's Views as Will Green stepped in. I enjoyed the read. I'm more than happy for others to take the slot from time to time whether I'm in attendance or not.
For our pre-match pints the local Chantry Brewery has to be thanked. They run both the Cutlers Arms and the New York Tavern, establishments within 150 yards of each other on Westgate a short walk from the ground. Both are GBG listed. The former is a grade 2 listed building with some original tiling, curved bar area and art nouveau windows. It's one of few surviving Edwardian buildings in the town centre. The latter is more airy but has also been a pub for many years. Since 1856 in fact.
Football chat in each with fellow yellows, some we know well plus some I've never spoken to before and home fans alike. It's what away days are all about and I should mention the choice of fine beer available, an extensive array from Chantry plus a fair few others from independents. First round for two pints came to all of £5.40 and that included one at over 6% ABV. The second round was just a fiver.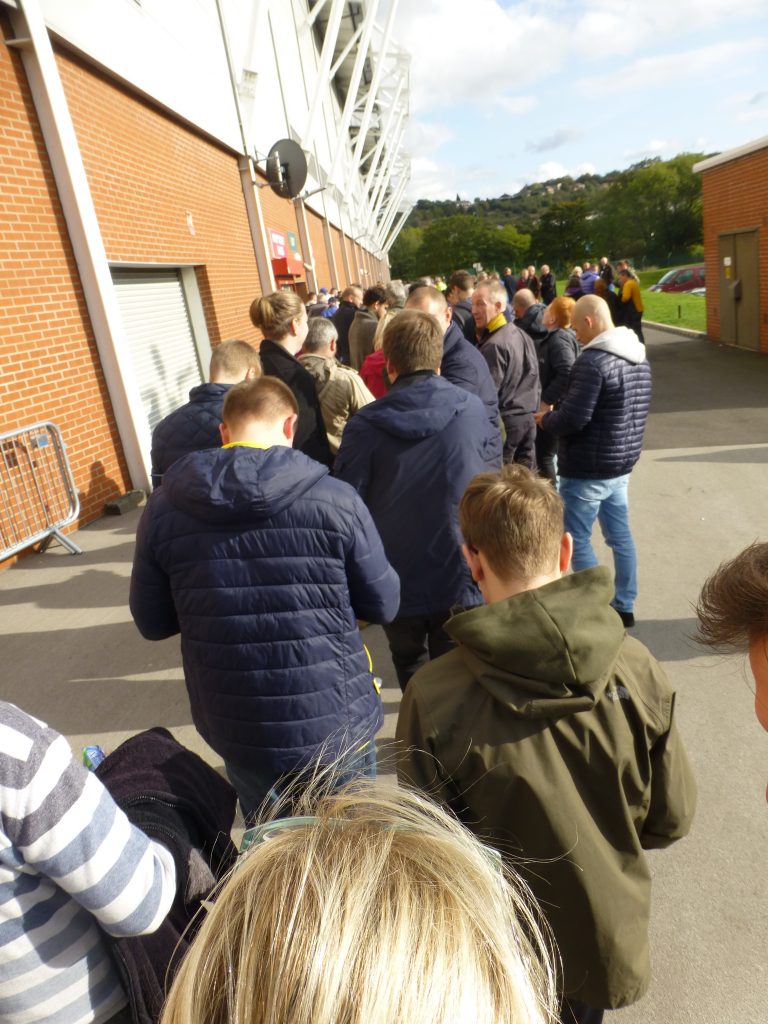 A great start to the afternoon but there was a backward step on arrival at the away turnstiles at quarter to three. I'd neglected to purchase a ticket prior to travelling so had to first queue to buy one then join a further queue to get in. It was all pretty slow and I was just taking a seat as the game kicked off.
This was a very close game indeed with each side having spells when they were in the ascendancy but at no time did either get fully on top and look like they could take the spoils with relative ease. I'd suggest this is evidence that two good sides were going toe to toe.
For us to take all three points with a victory by a single goal, where the stats show a very different picture to when we've recently swept opponents aside by scoring loads without reply, indicates we've got some real depth to what we're now all about. Make no mistake this was just as satisfying as our victories against Lincoln and the Hammers, but in a different way.
In addition to Ipswich, who are looking a class apart, there will be a large number of teams who genuinely believe that they are in with a very good shout of promotion, if not automatically then through the play-offs. Fair play to Wycombe who are massively punching above their weight, they must have something about them, but it's going to be hard for them to go the distance. Peterborough had undoubted quality even when we did them twice early on and they've now got it together. But the rest? We have to be in there and I'd say the Millers are too.
Dare to believe? It's a scary thought isn't it? Scary in a good way mind.
We only had 45% possession here. Of the duels Rotherham won 67% and of those in the air 64%. They made 332 passes to our 269 and when it came to those of the long variety there was little in it. For them 73, for us 69. They shaded the accuracy too, 64% to 60% overall and in the opponents half of the field by 54% to 51%.
These figures give the impression that we were second best but there are other telling stats too. They only had eight shots and of those only two were on target. In contrast we had 11 with seven correctly aimed. Defensively Rotherham made or attempted 21 tackles, us just eight.
This tells me that we created a lot more than them and that for the most part we had good defensive shape where tackling, which it can be argued is a last resort, was not needed.
Coming away on the final whistle I thought we deserved to shade it and feel this information backs up that opinion.
The home side began the stronger and they were never going to break in the manner of some of the sides we've faced over the last few weeks. They mostly played the game in the right way. No feigning injury or going down at even the slightest of touches. Refreshing to see.
With us not really being able to get our passing game fully operative, long balls were all being won by bigger Rotherham men in their rear guard. We've seen this before and Matty Taylor is not Jamie Mackie.
Our opener came somewhat against the run of play. Miller's defender Matthew Olosunde slid along the ground to cut out a ball down our left wing but having got to his feet was robbed by Cameron Brannagan who used great strength in a shoulder to shoulder. There was a day when we were being pushed about. No longer. Our man ran with the ball across the line marking the penalty area and laid a pass into Tariq Fosu's path. With his right TF took it past a red shirt, took another touch with his left and then with the same foot fired from 15 yards out as accurately as one could wish for past the valiant effort of the diving Daniel Iversen.
There was so much to admire about this goal. It was all done at speed and with intent going forward and players that are two footed are much more dangerous than those who are not.
Our lead was achieved in the 23rd minute and, despite nearly conceding soon after, we went on to have a ten minute spell where we were taking the game to Rotherham and looked very much like getting a second.
Rotherham were denied an immediate response by Chris Cadden in an incident where there's a penalty debate to be had. A high ball was headed on by Michael Smith to runner Matt Crooks and we looked vulnerable. Two players, John Mousinho and Elliott Moore went to him. Jake Hastie was left in space and when he received the ball, set himself and hit it low past Simon Eastwood. Meanwhile Cadden had got back and was able to keep it out but not in conventional style. It looked like he tried to clear it with one foot but missed, only for the ball to make contact with the other and rise up onto either his chest or arm before ending up in Eastwood's possession. On the day from behind the goal not a hint of handball but I can now see why there were big cries for a spot kick from Rotherham fans on the side. Having seen replays I'm still not sure.
Our close efforts came from firstly Brannagan and then Mousinho. Mark Sykes lost the ball then got it back again before moving it on to Fosu. This guy can beat men for fun and also see a pass. The ball was angled into the box where Brannagan was onto it forcing Iversen to make a save with his feet. We can now fashion chances from out of nothing. Gone are the days of sideways and backwards with no penetration. Getting midfielders making forward runs into the box helps as does having a player with Fosu's talent in the team. Mous's was a more routine effort, putting a flicked on corner over the bar. So we're now dangerous from set pieces too.
That we didn't score again during this spell of pressure meant the predictable "we'll probably live to regret this" thoughts loomed large in the mind.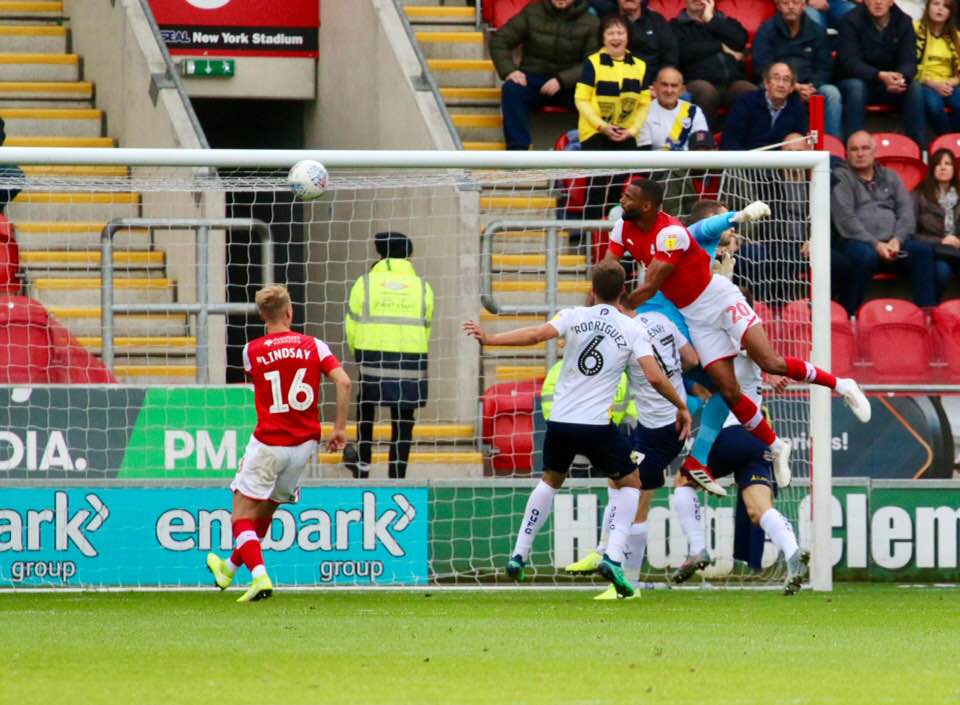 The equaliser. Photo, Steve Daniels
And so on 35 minutes it came to pass: 1-1.  Michael Ihiekwe won a tussle with an Oxford player who was robbed too easily. He came away with the ball, went past Josh Ruffles then between a retreating JR and Alex Gorrin before passing to the wing. Although we had numbers running back we were not set properly and Smith's first time cross was headed directly upwards by Crooks. We did not get a challenge in. Many players, including Eastwood, converged on the dropping ball. We had them out-numbered but Ihiekwe jumped highest to score. James Henry (surely it's not his job when we've got much taller centre-halves) hardly got elevated and Eastwood's timing was off and his punch missed. "Some tentative defending" they said on EFL on Quest.
It was now Rotherham's turn to look the likelier.
Like the first, the second period had spells where each side was doing the attacking. Both believed they could win. Losing a lead with a bit of dodgy defending had not knocked our confidence.
That lead was re-gained just shy of the hour mark. Fosu received Gorrin's straightforward pass out wide and, proving yet again what a varied game and vision he has, got it expertly to Brannagan in that familiar territory, the opponents area. CB took the ball back out of the box and as he did so, as if struck by lightning, two defenders dropped on their arses. Next he turned and put a pin point cross onto Taylor's head. The positions the returning "one of our own" takes up is something I can't remember any other forward taking up for many a year (decade?). He's much better than I thought he would be. A natural goal scorer. Here he popped up between two much larger opponents bang in the middle of the six yard box. He jumped but they didn't as neither was quite close enough. The ball was glanced on its way into the net. Again Iversen was close to denying us but the bounce increased the difficulty of what was required of him so it was 1-2.
The winner. Photo Steve Daniels
Again we had more chances but did not add to our tally. From one of our many corners the ball was headed back in from the edge of the area and after a Ruffels touch Taylor was faced with a chance players like him bury. However, from point blank range he hammered it straight at Iversen. That there was a suspicion of offside is a moot point.
This time not scoring again didn't matter because the regained lead was never relinquished. There was no stadium clock in sight and I also forced myself not to look at my watch meaning I had little idea how long was left which took away a fair bit of pressure which comes with counting down the seconds.
Not that it was without tension, especially when we came within a whisker of dropping those two extra points. A late Rotherham raid down the left resulted in Olosunde putting a low hard cross into the six-yard box which hit Cadden and was heading inside the post until Eastwood pushed it round. He was more than deserving of the slap on the back he got from Mous for that action.
With ten to fifteen minutes left a tired Fosu was no longer able to get away when given the ball and if he'd had any of his earlier spring left in his steps he'd almost certainly have put away a third in added time instead of hitting the post.
There will come a day when again we don't play well. But witnessing the form almost the entire side is on individually at the moment and the way we are playing as a collective that looks some way off. Particularly as we've so far been able to overcome losses through injury and suspension with little noticeable negative impact.
With Rob Dickie suspended Moore came in and didn't do badly at all. I'd expect him to win rather more in the air than he did, but given game time he'll mark that bit tighter and will therefore be able to out jump shorter opponents. When everyone is available I don't think it was anyone's expectation that Mous would be keeping him out of the team at centre-half but our captain is playing so well now it would be a travesty to leave him out.  His experience is so welcome when we're under pressure.
The one player who I thought fell short of the incredibly high standards we've set was Sykes. Again he'll probably get sharper with more game time but if others are on better form than him that is less likely to happen.  The game was so quick and he got caught in possession a few times. Top players make time which means their brains and feet are attuned to the tempo of what is going on around them. The contrast in what Sykes and a non-knackered Fosu were producing was quite marked.
An away contingent of 734 was more than acceptable and the support given throughout commendable. I couldn't help but note that when the 16th minute arrived bang on cue the Oxford fans were participating in the minute's applause for 16 year old Miller Charlie Louise who sadly died during the week. Not all home fans close by were as quick to join in. This is no way a criticism just an observation. In the 66th minute we set off again on a dummy run for Womble. The biggie will be next Saturday. It will be emotional.
There's one other comment I'm going to make regarding our followers and I do so whilst shaking my head because it's something of no importance whatsoever and I just don't get it. A corner is awarded. The ball has to be placed within the small quarter circle near corner flag. Within includes even the tiniest of overhang of the ball placed seemingly without. And even if it is placed without it will be only an inch or so adrift of where it should be. Utterly meaningless in the great scheme of things. Yet we had a few hundred people going apoplectic in this part of South Yorkshire on a couple of occasions on Saturday.  Chill people, chill. There's a lot more important things to get concerned about in this world of ours in 2019 and remember not everyone who started the year is going to be lucky enough to be around for the start of the next one.